The Blue Bird (1940) was 20th Century Fox's intended answer to The Wizard of Oz (1939). It starred 12 year-old Shirley Temple, yet it flopped dismally. Audiences were not willing to accept her in a 'not too nice' role. Consequently, it became the picture that ended her remarkable run as America's favourite little girl. In December 1939, about a month before the film opened, she and Nelson Eddy performed a 30-minute radio adaptation of the play on the Lady Esther Screen Guild Theatre, a performance that might easily have cost the twelve year-old her life! A deranged woman had been stalking Shirley for some time and managed to get to within three feet of the stage with a loaded gun before being stopped and disarmed!
Desmond Llewelyn in WW2 and in later years
Welsh actor Desmond Llewelyn played 'Q', the gadgets expert, in 17 James Bond films. In World War Two he served as a second lieutenant with the Royal Welsh Fusiliers and was sent to France in early 1940. Over-run by a German tank division, Llewelyn and his comrades jumped into a canal and attempted to swim to safety, but were captured and spent the next five years as POWs. Towards the end of the war he was digging an escape tunnel when apprehended by his German captors and sentenced to 10 days in solitary confinement. 'It was a blessing of sorts', he recalled later. 'After spending every day of several years sleeping in a room with 50 other people, the quiet and privacy was rather nice.' In 1945 the Americans liberated the camp and he was able to return home and resume his fledgling acting career. A road accident in Sussex in December 1999 took his life at the age of 85.
Butch & Sundance contemplating the jump
In Butch Cassidy & the Sundance Kid (1969), there is a famous scene where Butch and Sundance leap off a cliff into a river. When it came to shoot the scene, the two stars started the jump in Colorado and landed on a mattress a few feet away. Their stuntmen, meanwhile, were back at the studio's Century Ranch near Malibu, California. They completed the jump by leaping off a construction crane by Century Lake. The crane, of course, was obscured by a matte painting of the cliffs.
Elliott Gould & Nina Van Pallandt in The Long Goodbye (1973)
No doubt fans of Robert Altman still wax lyrical about his 1973 feature The Long Goodbye, a picture that stars Elliott Gould as detective Philip Marlowe. I watched it for the first time recently and hated it. Mind you, I have never been a Gould fan and his leading lady in this arty rubbish, Nina van Pallandt, is equally unimpressive. Back in the sixties she was one half of the Danish folk-singing duo who performed as Nina and Frederik and pumped out a few hits before they divorced. In the 70s she was the mistress of hoaxer Clifford Irving. In fact, she was vacationing with him in Mexico at the time he claimed he was interviewing Howard Hughes for the 'biography' he said was sanctioned by the eccentric billionaire. Hughes actually came out of seclusion to repudiate the work. As for Nina's ex-husband, Frederik van Pallandt, he was shot to death in May 1994, (along with his second wife), aboard their yacht in the Philippines. Their killers were said to be river pirates, but rumours suggest that Frederik's drug dealing may have seen him taken out by the cartels.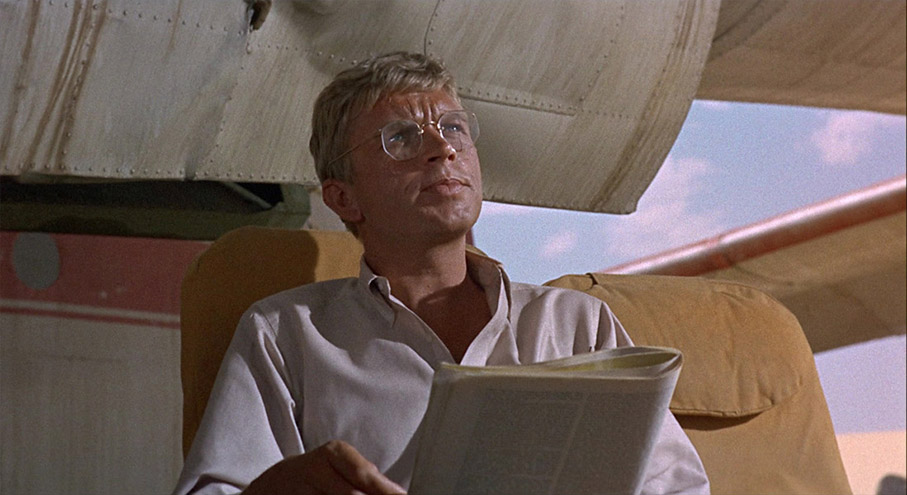 Hardy Kruger in The Flight of the Phoenix (1965)
German-born Hardy Kruger was nominated for a Golden Globe for his outstanding performance in the 1965 drama The Flight of the Phoenix, but for reasons known only to him he refused the nomination. He was born in Berlin in 1928 to parents who were ardent Nazis. Hardy grew up in the Hitler Youth and was taught 'to love Adolf Hitler'. In March 1944, the 16 year-old boy was conscripted into the 38th SS Division Nibelungen and thrown into heavy fighting against the Americans. When ordered to shoot a group of GI prisoners, he refused to do so, and was sentenced to death for cowardice. Another SS officer rescinded the order and saved his life. Kruger hid out in Tyrol until he was captured by the Americans, escaped from them and was recaptured. He has since said that the whole SS experience brought about his break with Nazism.
Grayson & Lanza in The Toast of New Orleans (1950)
Although Kathryn Grayson and Mario Lanza had appeared on-screen together previously in That Midnight Kiss (1949), they did not get along at all together when they made The Toast of New Orleans a year later. While shooting the love duet scene from 'Madame Butterfly', Grayson recalled that the Italian singer kept trying to French kiss her. This was made even more unpleasant by his habit of munching on garlic beforehand. When he persisted with his advances Kathryn decided to do something about it. She had costume designer Helen Rose sew pieces of brass inside her glove, and every time Mario tried to kiss her, she slapped his face with her brass-loaded glove! One of these smacks was included in the movie. She was so fed up with her amorous co-star she refused ever to work with him again.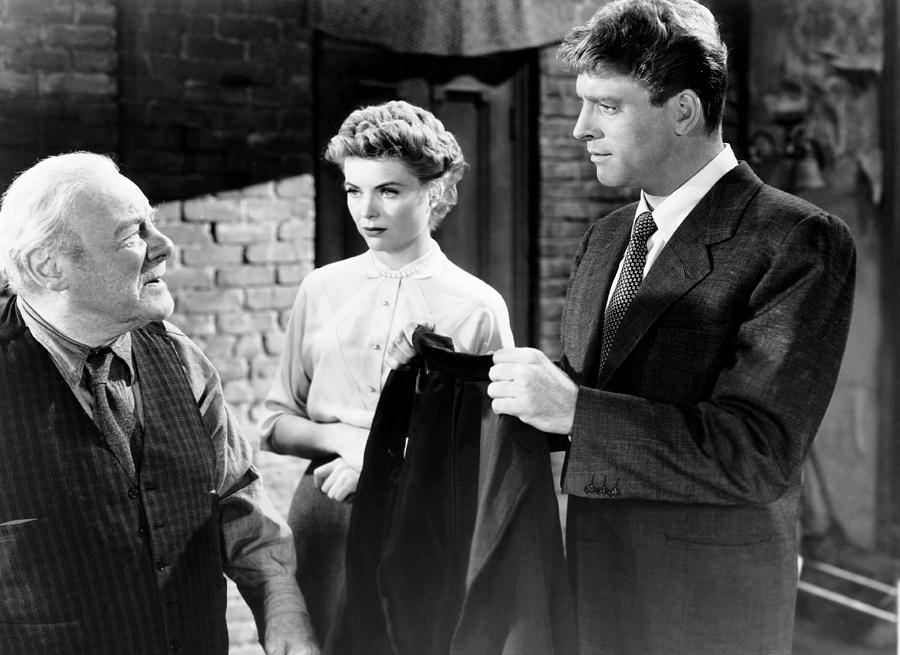 Edmund Gwenn, Dorothy McGuire & Burt Lancaster in Mister 880 (1950)
The 1950 feature film titled Mister 880, is an interesting story about an old man (portrayed by Edmund Gwenn) who printed his own counterfeit $1 bills. And he did so for ten years before being caught by the Secret Service. The movie is based on the true story of Emerich Juettner, an elderly junk dealer who printed only enough phony notes to get by, which possibly explains how he got away with it for so long. His life of petty crime came to an end when he was forced out of his New York apartment by a fire in 1948. The firemen who extinguished the blaze left some of his belongings in a nearby alley where, a few weeks later, some local boys found a few of his fake dollar bills. The phonies were not difficult to identify because Juettner had miss-spelled the word 'Washington' as 'Wahsington' on each note. He was arrested and sentenced to nine months in jail – plus a one dollar fine! 20th Century Fox purchased the rights to his story for a lot more money than he ever made as a counterfeiter.