Max Steiner in 1942
When it comes to determining who was 'King of the Movie Score', buffs would probably fall into one of two groups depending on age. Those born pre-World War Two would more than likely vote for Max Steiner. Those born after the war would possibly favour John Barry. I have been a Barry fan ever since the day I first saw Zulu (1964), but it is worthwhile examining the records of both gentlemen and then let you be the judge.
Steiner arrived in this world via Vienna, in what was then (1888) part of the Austria-Hungary Empire. He was a musically gifted child who composed complex works as a teenager. At the age of 13 he enrolled in Vienna's Imperial Academy of Music and completed the eight-year course in a single year. As a boy he was given piano instruction by his father's good friend, the legendary composer Johannes Brahms, and became a professional conductor at sixteen!
Following a brief sojourn in Britain he wended his way to the USA where the advent of 'talking' movies saw him quickly snatched up by the studios. Before long he was enhancing films with his ability to create leitmotifs for individual characters and for fully integrating his music scores with the action presented on the screen. Until then musical scores simply provided mood music. Steiner changed all that forever.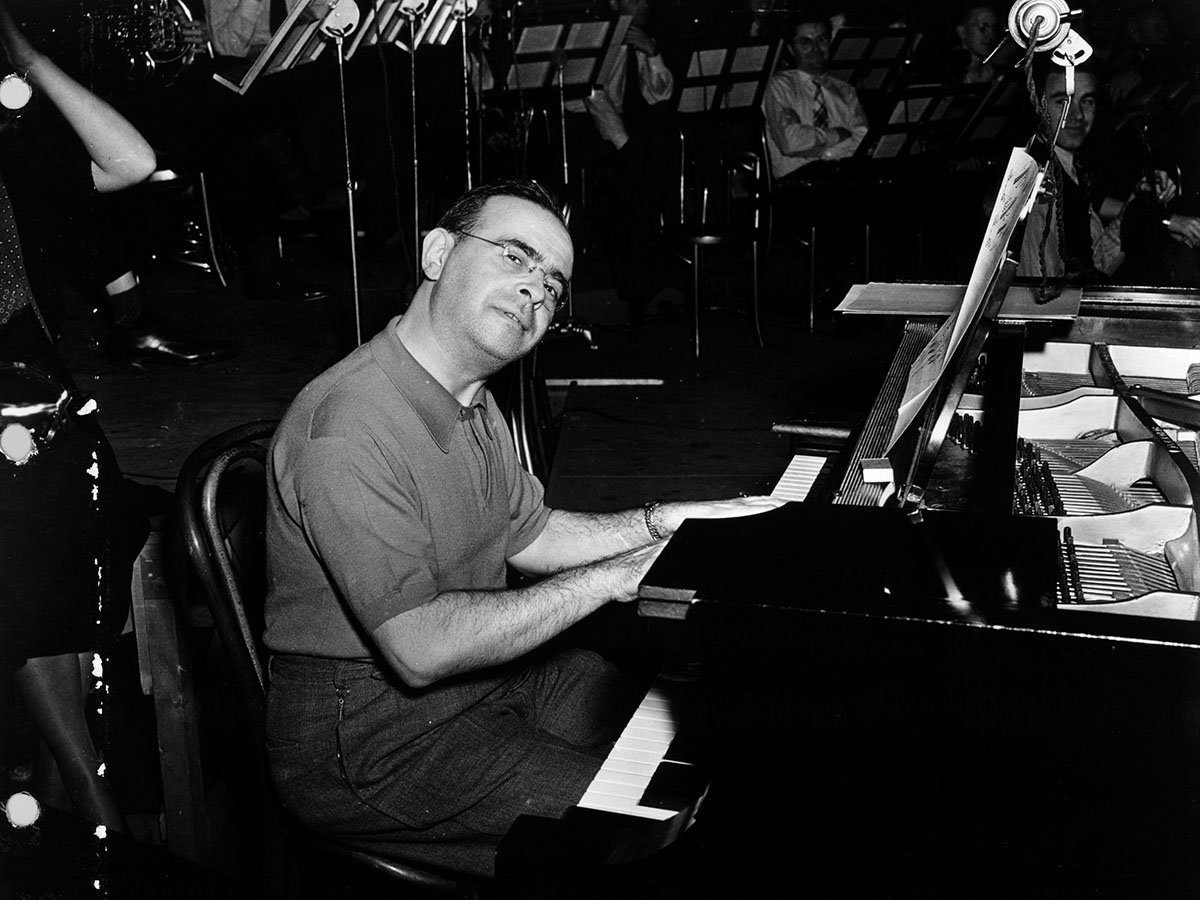 Steiner conducting the score for Gone with the Wind
From the thirties until the sixties he created an astonishing number of scores for movies of all genres. Nominated for no fewer than twenty-four Academy Awards during that time, he won three times – in 1936, 1943 and 1945. The films were The Informer (1935), Now, Voyager (1942) and Since You Went Away (1944). Some of his unsuccessful nominations are, arguably, even more interesting – Gone with the Wind (1939), Casablanca (1942) and The Jazz Singer (1952), for instance. He also composed the familiar theme from A Summer Place (1959), as well as the Warner Brothers fanfare that we've heard introducing the studio's pictures ever since.
To list all the films Steiner scored would take more room than we have here, but he deserves to have a few of the major ones mentioned for posterity: The Gay Divorcee (1934), Jezebel (1938), Dark Victory (1939), The Letter (1940), Sergeant York (1941), Rhapsody in Blue (1945), Night and Day (1946), Life with Father (1947), Johnny Belinda (1948), The Caine Mutiny (1954) and Battle Cry (1955, are some of those which resulted in Academy Award nominations.
Max wasn't always at Warners. He started with RKO in 1929 where he pumped out scores for a staggering 111 movies in just six years. In 1936 he moved to Warners and remained with the studio until 1965, although he occasionally did work for David O. Selznick, including scoring Since You Went Away in 1944. Incredible as it may sound, he worked on 36 films in 1934 and on 37 more the following year! He was Bette Davis's favourite composer and scored Kate Hepburn's first eight pictures. He married four times in his life and his only son, Ronald, committed suicide in Honolulu, Hawaii in 1962 at the age of 22. Max died from heart failure nine years later, aged 83.
John Barry as a young man
Born in York, England in 1933, John Barry was the son of a father who owned several local cinemas so he grew up in a movie environment. His interest in music came early in his life as he followed jazz bands after completing a three-year stint in the British Army as a bandsman. It was not long before he started his own band, calling it The John Barry Seven, in 1957. He hated performing with the Seven, but it was a means to an end. A chance encounter with pop singer Adam Faith saw Barry arrange his next single, a tune titled 'What do You Want?' which raced to # 1 on the British charts. John and the Seven tasted moderate success for a while on EMI until he was asked to help with the music on the first James Bond film, Dr No (1962).
The sixties was a prolific decade for Barry, especially through his association with the James Bond films. He penned the 007 theme that was introduced in Dr No, and it carried on into all the films released by the franchise. The next three Bond pictures produced, arguably, the best of the 007 theme songs – From Russia with Love (1963), Goldfinger (1964) and Thunderball (1965) – and he wrote them all. In 1964, his brilliant score for Zulu contributed greatly to the enormous popularity of that film and deserved to be recognised by the Academy. It wasn't. He always felt that 'Goldfinger' was his best work, even though the first three notes were identical to the opening notes in Henry Mancini's 'Moon River'. His least favourite score? The Man with the Golden Gun (1974), because he was given just three weeks to come up with it.
He wrote 'We Have All the Time in the World' for On Her Majesty's Secret Service (1969) and A View to a Kill (1985). In all he was involved in twelve Bond pictures. In 1967, he picked up two Oscars for Born Free (1966); one for the film's score and one for Best Song. Two years later he won again, this time for the fabulous score for The Lion in Winter (1968), one of my all-time favourite soundtracks. One of his most beautiful scores was for the greatly under-rated 1970 feature The Last Valley. It, too, went unrewarded. Un-noticed almost. A nomination for Mary Queen of Scots (1971) was unsuccessful, but fourteen years later he took home a statuette for Out of Africa (1985). Another much-deserved victory in 1991 for Dances with Wolves (1990) came along, but his final nomination, the score for Chaplin (1992), missed out. Another popular piece created by Barry was the theme from the sixties TV series The Persuaders.
Barry with his wife, actress Jane Birkin
Like Steiner, John Barry married four times. His second wife was British actress Jane Birkin (1965-8). Readers may recall that she was the actress for whom French design house Hermes named and designed a handbag back in 1984. The now famous 'Hermes Birkin Bag' is a highly prized (and expensive) item worth around $6,000. After a film circulated in 2015 that demonstrated animal mistreatment at a Texan leather farm allegedly used by the firm as a supplier, Jane asked that her name be removed from the item. Her marriage to Barry produced one child and a divorce. In 2011, the wonderfully gifted composer suffered a heart attack and died at the age of 77.