Marc Lawrence as Vinnie 'The Cannon' DiMotti in The Big Easy (1986)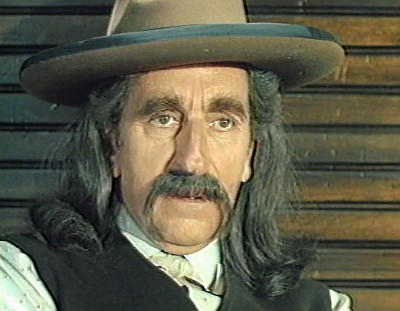 Jeff Corey in Little Big Man (1970)
Anne Revere in National Velvet (1944)
Character actor Marc Lawrence appeared in over 200 films and TV shows during his long career. Avid fans, especially of gangster films, would instantly recognise his face, although few would probably recall his name. In the 1986 police drama The Big Easy, for instance, he had a small part as an Italian mob boss named Vinnie 'The Cannon' DiMotti. In real life, Lawrence was a close friend of mobster Charles 'Lucky' Luciano and often visited him in Italy after the gangster was deported. When Lawrence was blacklisted as a Communist by the House Un-American Activities Committee (HUAC) in 1950, he weakened and named actresses Anne Revere and Karen Morley, as well as actors Sterling Hayden, Jeff Corey, Larry Parks and Lionel Stander as fellow-travellers. All were blacklisted because of him. Decades later his daughter Toni Lawrence would become the second of Billy Bob Thornton's six wives. Marc Lawrence lived to be 95, dying of natural causes in 2005. Noticeably, his name was not included in the necrology of deceased film actors in the previous year at the 2006 Academy Awards.
Anabel Shaw in Shock (1946)
Lynn Bari in Shock
Almost forgotten today, the lovely Lynn Bari was second only to Betty Grable as a World War Two pin-up favourite. On the set of Shock (1946), she was chatting to co-star Anabel Shaw and happened to mention that she was directly descended on her mother's side from the Revolutionary War hero Alexander Hamilton. She was duly astonished when Miss Shaw informed her that she was directly descended from the then Vice-President of the United States, Aaron Burr, the man who shot Hamilton dead in their famous duel of 1804.
The one and only Margaret O'Brien
The 1944 musical titled Music for Millions featured child star Margaret O'Brien, Jose Iturbi, June Allyson and Jimmy Durante. World renowned harmonica player Larry Adler was almost fired by producer Joe Pasternak who listened to a far inferior player and was unable to spot the difference. Director Henry Koster interceded on Adler's behalf. This is the picture in which six year-old Margaret O'Brien was required to cry as Adler played his rendition of 'Claire de Lune'. She famously posed the question to the director – 'Shall I let the tears run all the way down my face, or shall I stop them halfway down?'
The then unknown Madonna was struggling to make ends meet in 1979, when she agreed to pose nude for a series of photographs, some of the sessions being conducted at the photographers' apartments or homes. She even agreed to star in a soft porn movie titled A Certain Sacrifice. It wasn't much good and quite tame by today's standards. When she became famous, however, two men, Martin Schreiber and Lee Friedlander, decided to capitalize on her sudden fame by selling some of the nudes of the new superstar to Playboy magazine in 1985. Within a very short space of time Penthouse magazine published seventeen more shots of a naked or semi-nude Madonna. Inevitably, a video version of A Certain Sacrifice emerged soon afterwards and was seen around the world. At first she was understandably furious, but over the ensuing decades Madonna has herself used sex and nudity to promote her stage acts and her movies.
Billy Hayes at his sentencing 1974
In Midnight Express (1978) there is a disturbing scene in which Brad Davis (as Billy Hayes) bites the tongue out of a fellow inmate in the prison. It upset the crew so much, that they all walked off the set, leaving director Alan Parker and the two actors to accomplish the scene alone. For the scene to work Davis had to carry a pig's tongue around in his mouth! Although the film is supposedly based on the experiences of prisoner Billy Hayes in a Turkish gaol, the man himself was quick to point out that the movie was an exaggerated version of that happened to him in Istanbul. In fact, he has since gone back to Turkey and publicly apologised for the extremely negative impression the picture has painted of the people and of the nation as a whole.
Karen Morley (L) & Greer Garson in Pride and Prejudice (1940)
The name Karen Morley probably does not ring any bells with most fans of the cinema, but she enjoyed her moments in the sun, particularly in the 1930s and 40s, as brief as they were. Howard Hughes selected her to play the blonde moll in Scarface (1932), the same year the 23 year-old actress wed director Charles Vidor. Fans of the 1940 classic Pride and Prejudice will recall her playing the wife of the pompous Mr. Collins, (memorably played by Melville Cooper). Karen only chalked up 48 screen credits before her career was unexpectedly cut short. She was one of the Communists that were blacklisted after being named by actor Marc Lawrence (see above) to the HUAC in 1950, making just one independent film after that. She passed away, forgotten by the industry, at 93 in 2003.
The Dead End Kids
Sam Goldwyn brought the Dead End Kids from Broadway to appear in his 1937 feature Dead End and immediately wished he hadn't. They ran wild through the studio, destroying property and even crashing a truck through a soundstage. He decided enough was enough and vowed never to use them again, selling their contract to Warner Bros. Goldwyn also hated the way the slums were depicted in Dead End, complaining, 'Why do directors always want these slums to be so dirty?' Clean it up!' he ordered. It took director William Wyler quite some time to convince him that the picture's credibility would suffer if a slum were depicted as a nice place to live!
Warner Bros convinced its biggest available stars that it was their patriotic duty to appear in Thank Your Lucky Stars (1943) for nothing, because the proceeds from the picture would be going to the Hollywood Canteen. Errol Flynn was one of the stars recruited to sing a song in the movie, even though he was right in the middle of his famous trial on two counts of statutory rape. The film made a lot of money and a small portion of it even made its way to the Canteen. The studio got the rest.