Early western star William S. Hart
One of the earliest stars of the cinema was a strapping 6'2" former New Yorker who lived for a while during the 1880s in the wild Dakota Territory, a man named William S. Hart. He began studying acting in 1888 and, from 1907 until his retirement in 1928, appeared in 75 silent movies, many of them westerns. In fact, in 1975, he was inducted into the Hall of Great Western Performers of the National Cowboy and Western Museum as the first of the great western stars of the silver screen.
Tom Mix & his horse Tony
At the height of his screen popularity, a famous prohibition lawman and former bodyguard of the President of the United States, changed his name to 'Two-Gun Hart' in his honour, and even patterned his life after the actor he so admired. 'Two-Gun Hart' seldom mentioned his real birth name, and little wonder. He was born James Vincenzo Capone and was the older brother of notorious gangster Al Capone!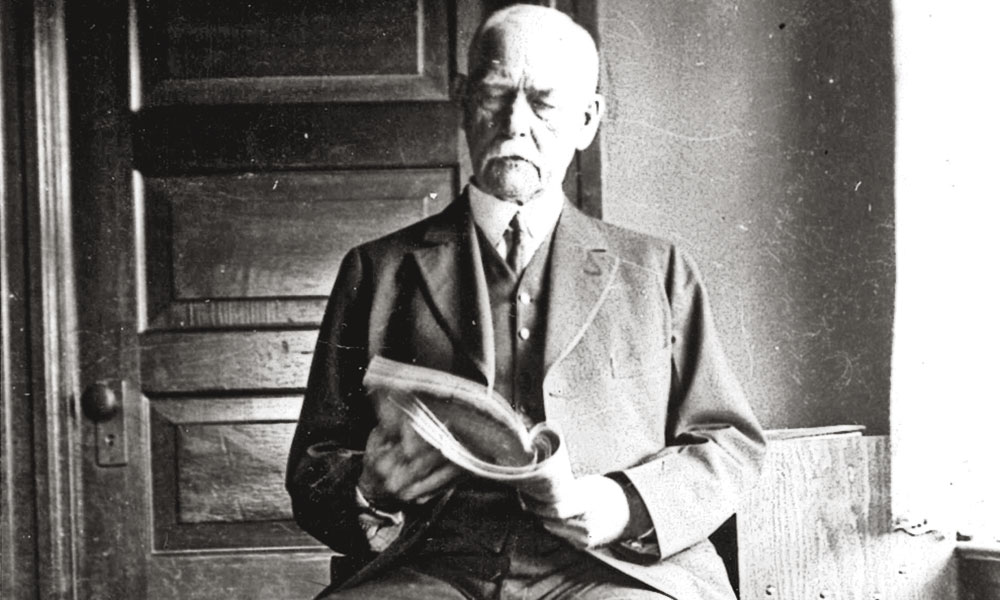 Legendary lawman Wyatt Earp in his latter years
Like another popular cowboy star, Tom Mix, Hart was a friend of legendary lawman Wyatt Earp. When Wyatt passed away in 1929 both actors were pall-bearers at his funeral. Another close friend of Hart's was aviator Amelia Earhart. He invited her to his Newhall mansion for dinner one day, for the purpose of complaining to her personally about the noise her aircraft made whenever it flew over his home. By the end of dinner, however, they had become firm friends. On a darker note, he once owned the Span Movie Ranch, later to be the residence of the Manson 'Family'.
Glenn Close, John Malkovich & Michelle Pfeiffer in Dangerous Liaisons (1988)
Unlike a multitude of fans who made Dangerous Liaisons (1988) a box-office success, I found the film woefully miscast. Juvenile actor Keanu Reeves (as Chevalier Darceny) looked completely out of place in a costume drama set in Napoleonic France. John Malkovich's character's obsession with bedding Glenn Close's character did not ring true, given that Glenn is not a very desirable looking woman by any stretch of the imagination. And speaking of desirable-looking, who decided to cast Malkovich as the 'irresistible womaniser', the Vicomte de Valmont? The man is even less attractive than the object of his affections, and to make matters worse, he chose to play the part in a completely 'campy' manner. I am not a woman, so I am a little hazy on what an 'irresistible' man is supposed to look like to the fairer sex, but I should be greatly surprised indeed if he resembled Mr. Malkovich.
Wes Studi as Magua in The Last of the Mohicans (1992)
Russell Means as Chingachgook
Eric Schweig as Uncas
As we know, things are seldom as they seem in most movies. Take the 1992 feature The Last of the Mohicans, for instance. Throughout the picture there are numerous verbal exchanges between several of the leading players, each in his own Native American tongue, and this in itself presented problems. West Studi, for example, spoke in his native Cherokee when arguing with the Huron chief towards the end of the film and was mostly unintelligible to the native Mohawk speaker, Mike Phillips. Russell Means portrayed the Mohican Chingachgook and Eric Schweig played his son Uncas, yet during their conversations, (supposedly conducted in Mohican), Means spoke in his native Lakota Sioux and Schweig spoke his own native Northern Inuit! In short, nobody seemed to have any idea what anybody else was saying.
I have never shared the general enthusiasm for the 1950 whimsical feature Harvey. In it Jimmy Stewart plays a character named Elwood P. Dowd, a drinker who sees and converses with a large rabbit (named Harvey) that most other people cannot see. It is made pretty clear that Elwood is an alcoholic, but therein lay a problem. The Production Code would not allow Stewart to be shown drinking to excess on film. Consequently, we see him take just one drink throughout the entire picture! Presumably, the censors believed that cinema-goers, seeing Elwood getting drunk, might immediately rush out and get drunk themselves, so that temptation was removed from them! Surprisingly, (to me anyway), the film did pretty good business although it failed to recoup costs because Universal had paid Mary Chase a million dollars for the rights to her Pulitzer Prize winning play.
Neil Simon wrote Chapter Two (1979) about his own life and his marriage to actress Marsha Mason, six months after his first wife, Joan Baim, had passed away. In the movie, James Caan plays the character based on Simon himself, while the playwright's real life wife, Marsha Mason, plays herself. In the play/movie Caan's character meets and marries Marsha's character ten days after they meet. In real life Simon married Mason 22 days after meeting her. He wanted her to star in the play on Broadway, but the thought of publicly baring their marital problems night after night did not appeal to her in the slightest. Simon's Barefoot in the Park (1967), by the way, was based on the early weeks of his marriage to Baim.
Joaquin Phoenix as Emperor Commodus in Gladiator (2000)
Anyone who has watched The Robe, Quo Vadis, or any of a dozen movies about gladiators fighting in the arena, would know that a 'thumbs-up' signal from the Emperor meant the fallen man would be spared, and that a 'thumbs-down' sign meant he would be instantly put to death. History, however, tells us this is simply not the way it was. In reality, 'thumbs-up' signified sword action and death; 'thumbs-down' indicated a sheathed sword and mercy! The director of Gladiator (2000), Ridley Scott, was well aware of this but chose not to implement his historian's advice. Audiences had been conditioned to the 'thumbs-down' gesture signalling 'no mercy' since movies began. He had no wish to confuse audiences needlessly, so it seems we are going to be stuck with getting it wrong, probably forever.
The mighty Phar Lap 1930
Towering Inferno portraying Phar Lap in the movie
There is a fine 1983 Australian film called Phar Lap that follows the extraordinary career of Australia's greatest ever racehorse. Well, actually, Phar Lap was foaled in New Zealand, but Aussies have a habit of claiming anything good from New Zealand as our own. (Phar Lap and Russell Crowe are two examples that immediately spring to mind). A New South Wales racehorse named Towering Inferno bore a strong physical resemblance to the mighty Phar Lap, so he was selected to portray the legendary galloper in the movie. Towering Inferno was indeed a beautiful looking animal, but it was common knowledge that he would be hard pressed to run out of sight in a sandstorm, so there was a lot of 'fudging' involved in shooting the race sequences. Sadly, he was killed by a lightning strike in April 1999.
Loretta Young in The Farmer's Daughter (1947)
In the entire history of the Academy Awards the most stunning upset was Loretta Young's win for The Farmer's Daughter (1947). Not only was it the first win for a comedy since Claudette Colbert scored for It Happened One Night back in 1934, but Loretta somehow managed to garner enough votes to beat the red hot, odds-on favourite, Rosalind Russell, who was considered unbeatable for her dramatic turn in Eugene O'Neill's Mourning Becomes Electra. It was also a mystery how Loretta could win when she was virtually absent from the entire second half of The Farmer's Daughter! It may have had nothing at all to do with the result, but bookmakers saved a fortune when Russell lost. Curious.