James Mason & Danielle Darrieux
 5 FINGERS (1952) World War Two – Espionage in Ankara, Turkey
Possibly my favourite espionage movie of all time, thanks to the superbly convincing portrayal of the spy by James Mason and the delightful performance from Danielle Darrieux as the Countess Staviska (a fictional character). John Wengraf as Franz Von Papen deserves mention as well. It is the story of the spy, code-named 'Cicero', a valet at the British Consulate in Ankara, who used his sexual relationship with the ambassador (not even hinted at in the film), to photograph top secret data, including the plans for D-Day, and to sell them to the Nazis. A first-class thriller from beginning to end with a terrific sting in the tail.
  L to R: Frank Sinatra, Deborah Kerr, Burt Lancaster, Montgomery Clift & Donna Reed      
FROM HERE TO ETERNITY (1953) World War Two – Army life and romance prior to the Pearl Harbor attack of 1941.
A truly great movie, full of interesting characters played by the likes of Montgomery Clift, Deborah Kerr, Burt Lancaster, Frank Sinatra and Donna Reed. The story plays out in Hawaii in the weeks leading up to the Japanese attack on Pearl Harbor, December 7, 1941. It is a black and white production, so that it can incorporate real wartime footage of the attack. The censors made sure that none of the realism in James Jones' novel made it to the screen. Consequently, there are no expletives, Donna Reed plays a dance hostess instead of a prostitute, and Deborah Kerr's character does not contract VD from her husband as depicted in the novel. Despite the widespread sanitising the movie is a classic, one that has not dated an iota over the six or so decades since its release.
Mel Gibson & Mark Lee
GALLIPOLI (1981) World War One – Two young Australians volunteer for service in the First World War
The name 'Gallipoli' is known to just about every Australian old enough to read or understand ANZAC Day, a public holiday celebrated every April 25th since 1916. Gallipoli (April 25, 1915) was the first battle in which the Australian and New Zealand Army Corps (ANZAC) ever participated. This movie is about two young Australians (played by Mel Gibson and Mark Lee) who experience, first-hand, the horrors of 20th century warfare when the ANZACS go ashore at Gallipoli in the Dardanelles, Turkey. Gibson's career was just starting and he really impresses. Mark Lee does well, too, but his career never really advanced much. Other than the two main characters who are fictional, the sequence of events is historically accurate, including the suicidal attacks at The Nek that needlessly cost hundreds of Australians their lives.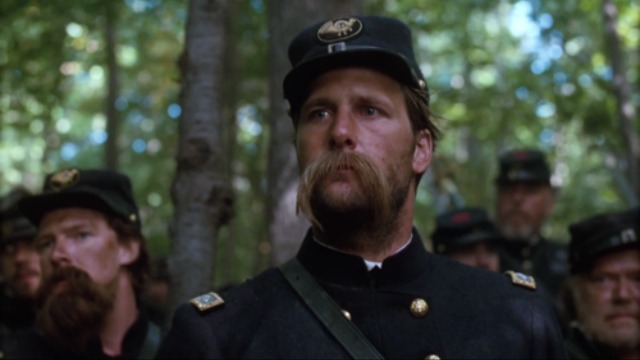 Jeff Daniels as Colonel Joshua Lawrence Chamberlain
GETTYSBURG (1993) American Civil War – A well-acted, although overlong, reconstruction of the 1863 Battle of Gettysburg, the most pivotal battle of the US Civil War.
This movie is very much a 'labour of love'. At 4 hours and 31 minutes it is officially the longest American movie ever made. Director Ron Maxwell was understandably reluctant to discard many of the wonderful scenes he had shot. There are so many fine performances here; Martin Sheen as General Robert E. Lee; Tom Berenger as Lt. General Longstreet; Stephen Lang as Major General George Pickett; Richard Jordan as Brigadier General Lewis Armstead and, especially, Jeff Daniels as Colonel Joshua Lawrence Chamberlain. Daniels is so impressive, it is worth watching this long film just to enjoy his remarkable performance.
GLORY (1989) American Civil War – The story of the 54th Massachusetts Regiment, the first black regiment in the Union Army.
I am not a fan of movies that depict warfare as a glorious experience, much less one that actually bears the title, Glory. War is the ultimate evil, in my opinion, and no amount of assurances from politicians that it is justified or glorious can alter that fact. Having established that, I must say that, as an entertainment, Glory has some wonderful cinematic moments. Many critics felt Matthew Broderick was miscast as Colonel Robert Gould Shaw; that he looked far too young to be believable as a colonel, but the real Shaw was only 23 and equally youthful-looking. I think Broderick is exceptional in this picture.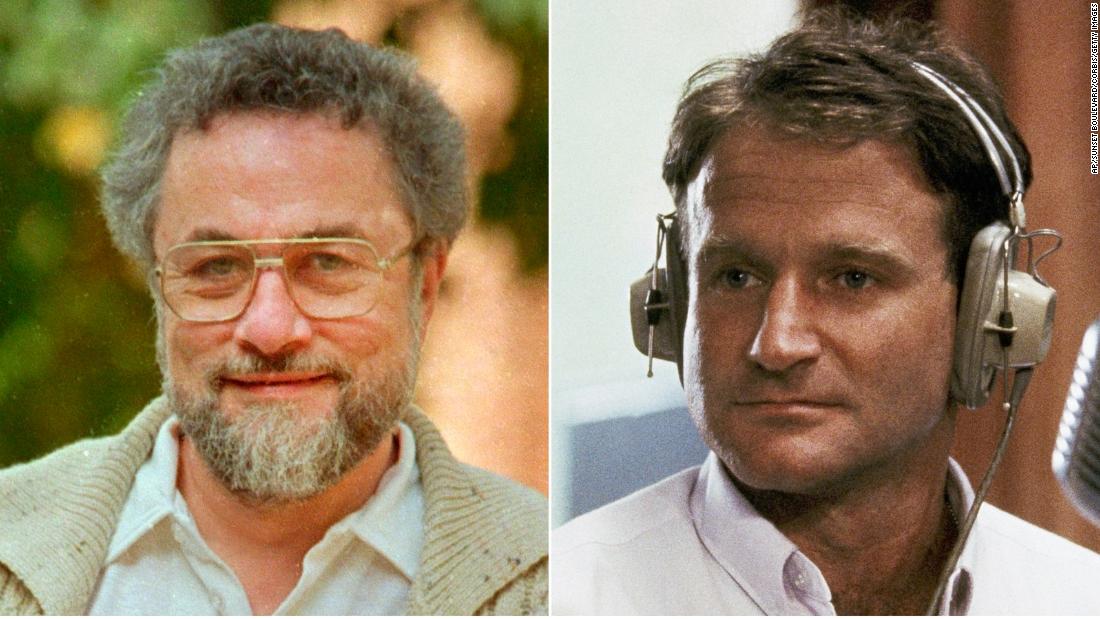 Adrian Cronauer & Robin Williams
GOOD MORNING, VIETNAM (1987) Vietnam War – A fanciful account of military DJ Adrian Cronauer's 1965 tour of duty in Vietnam.
Comedian Robin Williams is quite brilliant as the popular Armed Forces DJ, although even Cronauer himself was the first to acknowledge he was nowhere near as humorous as Williams in real life and that the picture was only about 45% accurate. A lot of liberties were taken in this account of the Cronauer's 1965 experiences in war torn Vietnam. None of the other characters in the studio were based on real people and he was not sent home for disciplinary reasons. He simply finished his tour and was rotated home. Cronauer said, if he had done even half the things Williams did in the movie he would have been court-martialled and packed off to Fort Leavenworth. The late Robin Williams at his very best.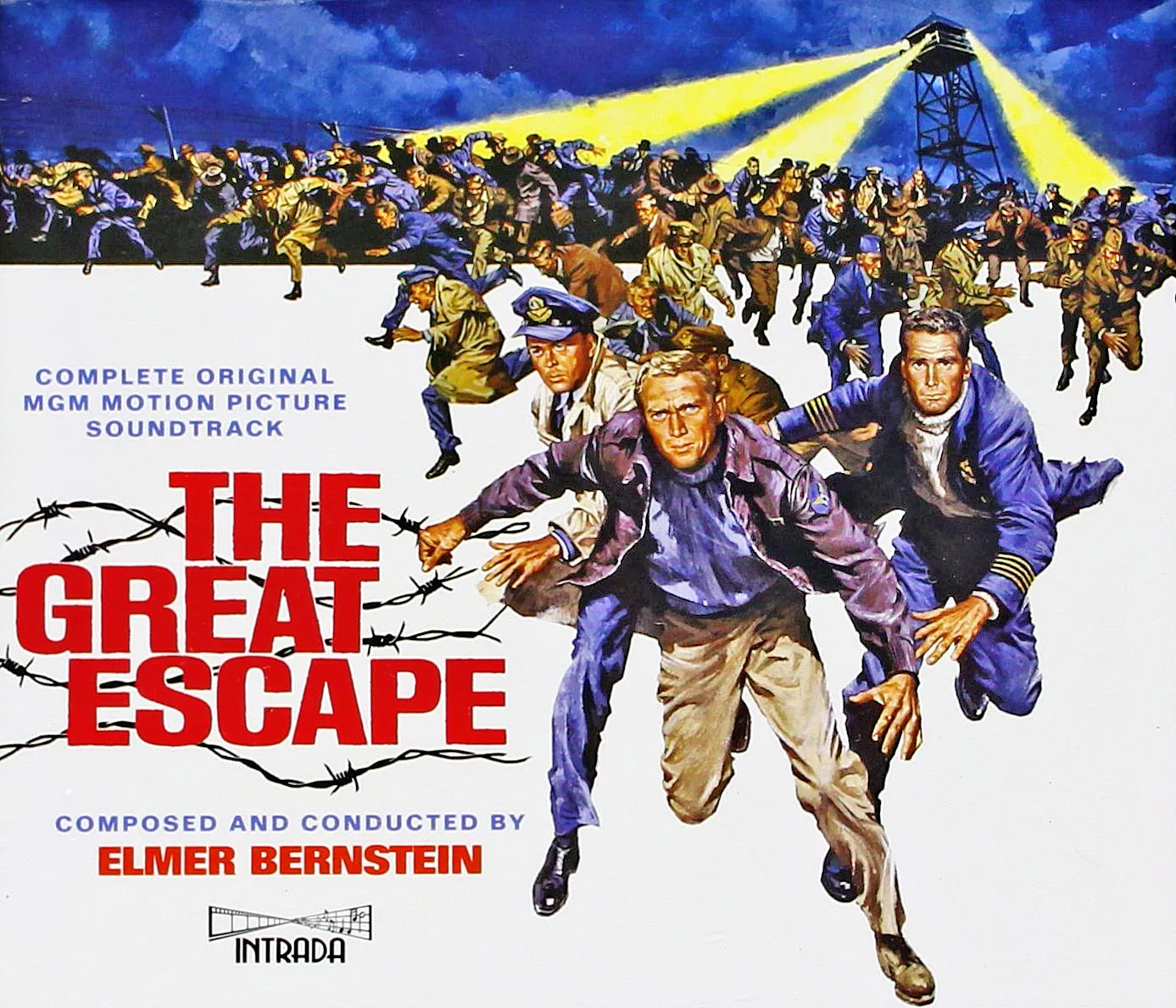 GREAT ESCAPE, THE (1963) World War Two – The mass escape from Stalag Luft III near what is today Sagan, Poland, by Allied POWs on March 24, 1944.
The same production company, Mirisch, that turned out The Magnificent Seven in 1960 made The Great Escape in 1963. Both movies were massive box-office hits. The story is basically, historically accurate, although Steve McQueen's character's exciting motorcycle chase never happened. Great part of the movie, nonetheless and it turned him into a superstar. If McQueen was the star of the picture, I felt that James Garner ran him a close second. He was perfect for the role of 'the Scrounger', a smooth-talking, manipulative conman whose job it was to obtain vitally needed documents from the German guards by whatever means he deemed necessary. Actor Donald Pleasance ('the Forger') was a real life POW of the Germans in WW2.
GREAT LOCOMOTIVE CHASE, THE (1956) American Civil War – True tale of a train hijacking.
Fess Parker portrays real life Union spy James J. Andrews who took a band of men into the Confederacy with the intention of destroying the South's railway system. They stole a locomotive but were chased by a most determined man (played by Jeffrey Hunter), the conductor of the train they had hijacked. A lightweight Disney production, this true story is entertaining throughout with both stars performing well. Buster Keaton's 1926 silent classic The General was based on the same incident. Parker must have been delighted to escape from his Davy Crockett image, albeit only briefly. He would soon perpetuate that image by becoming television's Daniel Boone.