William S. Hart & Fritz
Like most kids who attended Saturday matinees back in the fifties, I knew details about all the cowboy stars, who rode which horse and why. Most of my movie heroes back then were cowboy stars and that didn't change when TV came along in Western Australia in the late fifties. I wonder how many of these horses and riders from the past are still fresh in your memory. Probably the first real western cinema hero was William S. Hart (long before my time I hasten to add). He made 75 silent pictures, many of them westerns, between 1907 and his retirement in 1928. He rode a brown and white pinto named Fritz who also became a household name. Tom Mix was the most famous cowboy star of the silent era and he rode 'Tony the Wonder Horse', an animal he purchased for $600 in 1912. Tony lived to be 32 years old before dying in 1942, two years after his master had been killed in a car crash. Both Hart and Mix were friends of legendary lawman Wyatt Earp and were pall-bearers at his 1929 funeral.
Tom Mix & Tony
Olivia de Havilland aboard the future Trigger in The Adventures of Robin Hood (1938)
Roy Rogers & Trigger
Dale Evans & Buttermilk
The year 1938 saw the release of the Errol Flynn classic The Adventures of Robin Hood. I did not know it then, but the horse ridden by Maid Marian in that picture, a palomino named Golden Cloud, would one day be purchased by cowboy star Roy Rogers for $2,500 and be re-named Trigger by Roy's pal Smiley Burnette. Billed as 'The Smartest Horse in Movies', Trigger would live 33 years until his death in 1965. Rogers had Trigger's carcass stuffed and mounted and it now stands at the Roy Rogers Museum in Apple Valley, California. Roy's wife Dale Evans rode a nag named Buttermilk. It lived to the ripe old age of 31.
Smiley Burnette & Ring-Eye
Gene Autry & Champion
Smiley Burnette used to work with Gene Autry on a radio show called, 'The National Barn Dance', until sound arrived in the movies and there was a sudden demand for singing cowboys in the early thirties. Gene and Smiley made their screen debuts in a picture called In Old Santa Fe (1934), and eventually made over 80 westerns together. Smiley wrote around 300 western songs and even sang some of them in his movies. He provided the comic relief for other western stars such as Sunset Carson and Charles Starrett (The Durango Kid) and Roy Rogers. Incredible as it might seem, it was said he could play 100 musical instruments proficiently. He invariably road the same horse (named Ring Eye) in all his movies, a whitish nag with a black circle painted around one eye. Autry ushered in the era of 'the singing cowboy' in the 1930s and forties. His horse Champion became as famous as he did. In all there were three Champions, the original one dying while Gene was away on military service during World War Two.
Thomas Mitchell in Gone with the Wind (1939) & The Lone Ranger's horse Silver

Hopalong Cassidy & Topper
Tonto & Scout – The Lone Ranger & Silver
Fans familiar with 1939's Gone with the Wind will no doubt recall the scene in which Scarlett O'Hara's father (played by Thomas Mitchell) was killed whilst drunkenly riding his horse. The white horse he was riding would one day become Hopalong Cassidy's Topper. Later still, Topper would become the Lone Ranger's steed Silver! And if anyone ever asks you the name of Tonto's mount, you can confidently declare that its name was – Scout. Zorro's horse had a name, too. It was called Tornado and the now mostly forgotten B-features star Tim Holt galloped around on a neddy named Lightning.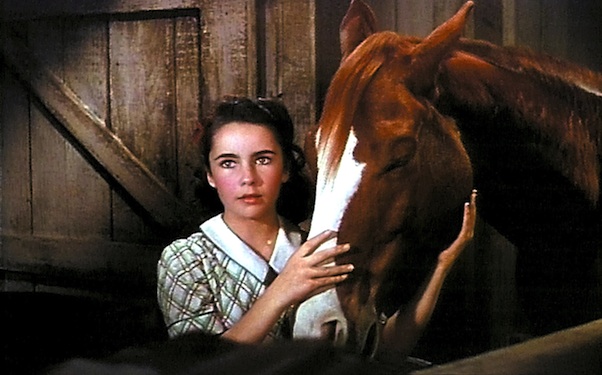 Liz Taylor & The Pie (King Charles) in National Velvet (1944)
Elizabeth Taylor was cast as Velvet Brown in the 1944 classic National Velvet, a story about a young girl's love for a horse that culminates in her riding him to victory in the Grand National at Aintree. The horse is called The Pie (short for Piebald) in the movie and was played by King Charles, a lovely animal purchased by MGM for $800. Liz became deeply attached to King Charles throughout the shooting of the picture and was allowed to keep him after filming ended.
Cisco & Pancho aboard Diablo & Loco
One of the earliest western series on TV was The Cisco Kid (1950-56), starring Duncan Renaldo in the title role and Leo Carrillo as his sidekick Pancho. While Renaldo was a former Mexican Olympian equestrian rider and handled his mount, Diablo, with ease, poor overweight (and elderly) Leo could barely hang onto his noble steed, Loco. How this pitiful series survived six seasons is one of the great mysteries of television. Perhaps, it was because it was shot in colour, although broadcasts were only in black and white at the time! During the 1953 season Renaldo was seriously injured in a rock fall and missed nine episodes. The problem was overcome by showing him wearing a mask in some of the episodes; portraying him as a ghost in others and using 'look-alikes' in others. He would read his lines from his hospital bed and the doubles would mouth them!
Gail Davis as Annie Oakley with her horse Target
In 1954, Gail Davis starred in a series titled Annie Oakley. It was a fictionalised biography of the famous Wild West Show sharp-shooter and ran for three seasons before the writers simply ran out of ideas. Annie rode about on a horse appropriately named Target. Any similarities between Annie's exploits in the series and her real life were entirely accidental.
Alan Young & Mister Ed
In January, 1961, a series started whose success surprised everyone when it turned out to be a hit that lasted until 1966. It was called Mister Ed, and had at its centre a 'talking' horse portrayed by a palomino named Bamboo Harvester. The director, Arthur Lubin, had previously directed the 'Francis the Talking Mule' movies and wanted to turn them into a TV series but was unable to procure the rights; so he opted for a 'talking' horse instead. The animal's voice was provided by former B-western actor Allan 'Rocky' Lane, best known for playing Red Ryder on the big screen.
Lee Marvin & Smoky in Cat Ballou (1965)
In 1965, Lee Marvin picked up an Oscar for his portrayal of drunken gunfighter named Kid Shelleen in Cat Ballou. His very funny performance was enhanced by a scene in which he was seen astride his horse and dead drunk. The horse (its name was Smoky, by the way), appeared to be just as drunk as its rider, for it was seen leaning against a wall with its legs crossed! Evidently, to get a horse to do that is extremely difficult. Marvin even acknowledged the animal in his acceptance speech. 'Half of this probably belongs to a horse out in the Valley somewhere', he quipped as he held his Oscar aloft.
The mighty Phar Lap 1930
Towering Inferno as Phar Lap in the 1983 movie
There is a fine 1983 Australian film called Phar Lap that follows the extraordinary career of Australia's greatest ever racehorse. Well, actually, Phar Lap was foaled in New Zealand, but Aussies have a habit of claiming anything good from New Zealand as our own. (Phar Lap and Russell Crowe are two such examples that immediately spring to mind). There are others. A New South Wales racehorse named Towering Inferno bore a strong resemblance to the mighty Phar Lap, so he was selected to portray the legendary galloper in the movie. Towering Inferno was a beautiful looking animal – but it was common knowledge he could not run out of sight in a sandstorm! Sadly, he was killed by a lightning strike in April 1999.
These are a few of the horses we have come to admire down the decades, both on the silver screen and on TV. I shall take a look at other much-loved animals at a later date.