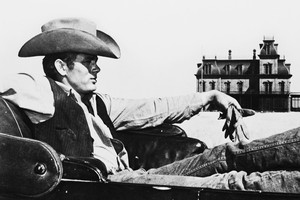 Jimmy Dean in Giant (1955)
Dean photographed with his Porsche – the crash scene.
While shooting the movie Giant in 1955, James Dean took the time to film a 'Public Service Announcement', warning young people of the dangers of speeding on the highway. 'I used to fly around quite a bit', he explained, 'and took a lot of unnecessary chances on the highways. Then I started racing and now, when I drive on the highways, I'm extra cautious because no-one knows what they're doing.' He then urged young drivers to take care, ending his message with the prophetic words: 'Because the life you save might be mine.' In September that same year he was killed in a car crash.
Jane Fonda & Tony Perkins in Tall Story (1960)
When Jane Fonda made Tall Story with Anthony Perkins in 1960, she already had a huge crush on him. Whenever the two of them rehearsed their lines in her dressing-room, she would remove her clothes and sit in front of him, suggestively powdering her body while Tony cowered behind his copy of the script. She eventually ceased trying to seduce him after someone took her aside and informed her that he was a homosexual.
Victor McLaglen in The Informer (1935)
The 1935 feature Black Fury nearly caused a boil-over at the Academy Awards. It was decided to allow 'write-in' votes this particular year and the result was almost farcical. The Academy nominated four performers for Best Actor – Clark Gable, Franchot Tone and Charles Laughton for Mutiny on the Bounty, and the ultimate winner, Victor McLaglen for The Informer, but Paul Muni received the second highest number of votes for his performance in Black Fury, even though he was not officially nominated. It is difficult enough to win if two players from the same picture are nominated in the same category, but it becomes all but impossible when three are nominated! Consequently, McLaglen was given an arm-chair ride to victory while his three opponents shared 'Bounty' votes.
Janet Leigh (Aline) & Stewart Granger (Andre) in Scaramouche (1952)
The censors were up to their usual nit-picking tricks with Scaramouche (1952). Evidently, the relationship between Andre (Stewart Granger) and Lenore (Eleanor Parker) bothered them enormously because there was every indication they may have been having a sexual relationship outside marriage. Heaven forbid! Andre's love for Aline (Janet Leigh) perplexed them even more because it actually implied incest, or so the censors felt anyway. The fact that Andre mistakenly thought Aline was his sister appears to have been lost on these guardians of public morals. He constantly fought against his love for her, but the very fact that he was attracted to a woman he thought was his sister, reeked of incest to the boys wielding the shears.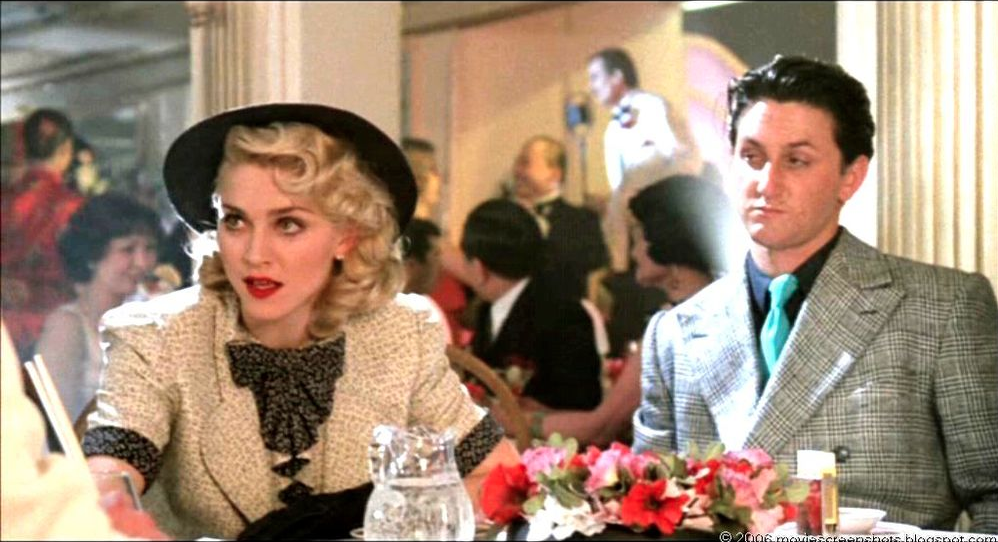 Madonna & Sean Penn in Shanghai Surprise (1986)
Shanghai Surprise (1986) was the film that newlyweds Sean Penn and Madonna made in Asia. It cost $17 million to produce and returned a paltry $3 million! Out of pocket producer, ex-Beatle George Harrison, was most unimpressed by his two stars. 'Madonna', he said, 'has to realize that you can be a fabulous person and be humble as well.' He described her husband as 'a pain in the ass.' Mr. & Mrs. Penn, who fought constantly and treated the cast and crew abominably, were dubbed 'The Poison Penns' by the press. By December 1988 their marriage was all but finished. On the 28th, following a huge argument, Sean bound and gagged his wife for nine hours until she finally managed to escape and run to police. Details of what transpired during those nine hours have never been revealed, but by September '89 their divorce had become final.
Dana Delany in 'China Beach'
James Woods
The star of TV's China Beach, Dana Delany, is now in her sixties, but in her heyday she was a most outspoken young woman who seemed to delight in setting interviewers aback. A couple of years prior to her romance with Don Henley of the Eagles, she was dating actor James Woods and commented to a reporter that he was, 'among the best-endowed men in Hollywood', alongside Willem Dafoe and Liam Neeson! She hastened to add that she had not slept with all three men, only Woods, but she had seen both Dafoe and Neeson naked. Interesting.
Medal of Honor winner Sgt. William H. Carney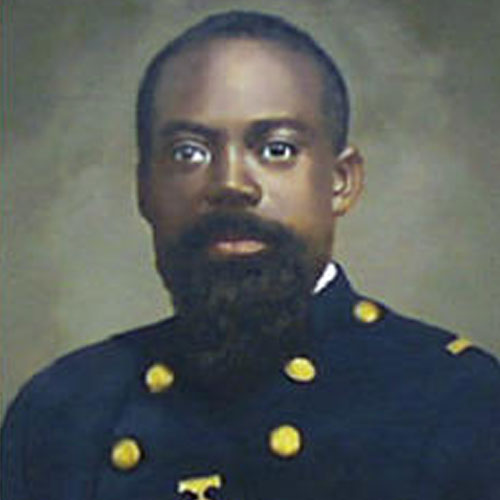 Sgt. William H. Carney
The 1989 Civil War film Glory focuses on the exploits of the 54th Massachusetts Volunteer Infantry Regiment, the first black unit in the Union Army. The 54th's attack on the confederate stronghold at Fort Wagner was a bloody affair resulting in nearly half the regiment being killed, wounded or captured. For his bravery in the action, Sgt William H. Carney became the first African-American to be awarded the Medal of Honour, the nation's highest military award. It was given to him thirty-seven years later!
Tom Hanks & Michael Clarke Duncan in The Green Mile (1999)
There is a scene in The Green Mile (1999), about 60 minutes in, where John Coffey (Michael Clarke Duncan) is required to grab Paul Edgecomb's (Tom Hanks) crotch in order to cure his urinary infection. Duncan was uncomfortable about having to do that, but when Hanks was readying himself for the scene, he slipped an empty water bottle inside his trousers for Duncan to grasp, and the scene went off without a hitch. By the way, there were 15 different mice portraying 'Mr. Jingles' in the picture. Oh yes, and the one that Percy (Paul Hutchison) stamped on – was a puppet! Even mice are protected by the SPCA these days.
John Belushi
'His drug-taking was extreme', said John Belushi's director for Animal House (1978), John Landis. 'He abused his body in ways that would kill bulls.' On March 5, 1982, that abuse cost Belushi his life in bungalow #3 at the Chateau Marmont Hotel in Hollywood. In the early hours of the morning he was visited at different times by two of his pals, actors Robert de Niro and Robin Williams. They found him doing drugs with Cathy Evelyn Smith, a back-up singer for Gordon Lightfoot who had known Belushi for quite a while. She was also a 'groupie' and reputed drug dealer. Williams described her as 'creepy'. Both visitors left quickly, unimpressed with what was transpiring.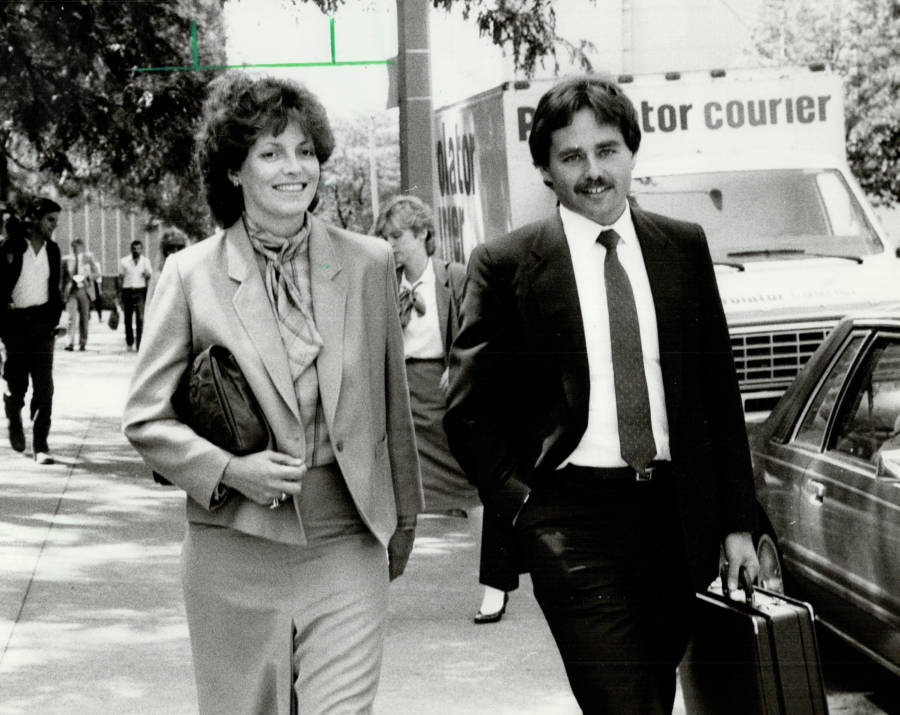 Cathy Evelyn Smith leaving the court with her lawyer
Smith left about 8am, Belushi died two hours later and his body was discovered at around noon. The coroner confirmed he had died from a mixture of heroin and cocaine injected into his veins. Cathy Smith had accepted $15,000 to give an interview with the National Enquirer in her native Canada, during which she admitted having injected Belushi with a 'speedball' of heroin and coke in the hours preceding his death. She was arrested and charged with second-degree murder. Accepting a plea bargain, she was convicted of 'involuntary manslaughter with three extra counts of supplying the dead star with drugs leading up to his demise.' In December 1986 she was sentenced to 15 months in prison.