Vera-Ellen 
Lovely Vera-Ellen hailed from Norwood, Ohio in 1921 and was a dancer from the early age of ten. A few years later she became one of the youngest ever Radio City Rockettes, although she was fired a few weeks later because she showed too much individuality on stage. During her movie career she danced with the legendary Fred Astaire and Gene Kelly. She was reputed to possess the smallest waist in Hollywood, which may or may not have had something to do with her suffering from anorexia for many years. In the fifties she dated Rock Hudson for three years and was briefly in a relationship with Rory Calhoun.
Vera-Ellen & Rock Hudson
She married twice but both unions failed, the first after only five or six years, the second lasting longer, from 1954 to '66, but ending in divorce nonetheless. Tragedy struck with the death of her only child, Victoria, from Sudden Infant Death Syndrome (SIDS) in 1963. The little girl's death saw Vera become a virtual recluse until her own death from cancer in 1981. Movie fans will recall this wonderful dancer at her very best in On the Town (1949), Call Me Madam (1953) and White Christmas (1954).
Donna Reed in From Here to Eternity (1953)
Donna Reed was a farm girl from Denison, Iowa, who was born Donnabelle Mullenger in the same year as Vera-Ellen – 1921. She won a beauty contest in Denison as a teenager and, soon afterwards, set her sights on Hollywood and a screen career. An MGM talent scout signed her to a contract and she made her screen debut with a minor role in The Getaway (1941), followed by an equally small part in Babes on Broadway with Mickey Rooney and Judy Garland that same year. By 1946, however, she was an established leading lady and starring as James Stewart's wife in It's a Wonderful Life. Donna was a fine baseball player at high school so, if you are familiar with this film, you might be interested to hear that she did her own rock-throwing in one particular scene!
Lew Ayres & Donna at MGM
As much as I like From Here to Eternity (1953), I thought Donna's Supporting Actress Oscar was a bit of a gift; reward for her playing against type as a dance-hall hostess/ prostitute. Deborah Kerr was also cast against type in that picture as an unfaithful wife, yet she missed out. Frankly, I thought her performance was far better than Donna's. In the fifties Miss Reed starred in her own television program, The Donna Reed Show, in which she epitomized the conservative, squeaky-clean American post-war woman. In real life, however, she was made of much sterner stuff and was an anti-nuclear activist, vehemently opposed to the Vietnam War in the sixties. She married three times in her life and was involved in a relationship with actor Lew Ayres, her only known lover outside her marriages. Business-wise, she was known as a tough, uncompromising negotiator when it came to determining the details in her contracts. Like Vera-Ellen, Donna died relatively young, passing away from pancreatic cancer two weeks shy of her 65th birthday.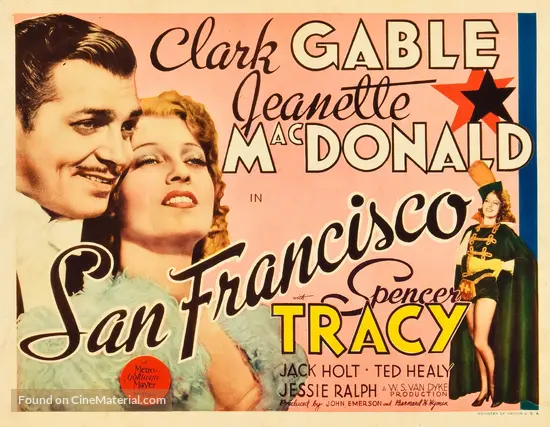 San Francisco (1936) was another movie that Clark Gable was ordered to make by MGM, because studio head LB Mayer had been compelled to pay off one of his superstar's many paramours. Clark and his San Francisco leading lady, Jeanette MacDonald, loathed one another and refused to converse throughout the shoot unless the script demanded they do so. He especially hated being sang to by Miss MacDonald and would munch on garlic before their love scenes just to annoy her. On a happier note, it was Jeanette who insisted on Spencer Tracy being cast as the second male lead, which led to him evolving into a major star. Until then he had always played 'heavies'. This role turned his career around completely and earned him the first of his nine Oscar nominations. Incidentally, the famous San Francisco earthquake of April 18, 1906 struck at 5.13 in the morning, not in the late evening as depicted in this movie.
Mae West & Alice Cooper in Sextette (1978)
Mae West was 84 years old when she 'starred' in the woeful 1978 feature titled Sextette. Alice Cooper was in the picture and stated numerous times that she not only propositioned him for sex several times, but she also asked all the other male stars in the film as well. Unsuccessfully, it has to be said. She was notorious for her morning enemas and claimed they made her skin like silk and left her 'smelling sweet at both ends.' Tony Curtis was also in the picture and he stated that she had an enema every morning at 11am after being made up. It was the last step in her preparation prior to going before the cameras. Enough already, Mae. Enough.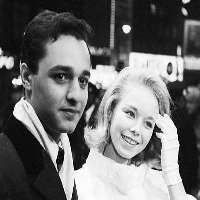 Sal Mineo & girlfriend Jill Haworth
At the age of twelve Sal Mineo appeared on Broadway in the 1951 production of The Rose Tattoo, after which he played Yul Brynner's princely son in the stage version of The King and I. His first film role was as the younger Tony Curtis character in Six Bridges to Cross (1955). Later that year his portrayal of Plato in James Dean's Rebel without a Cause earned him an Oscar nomination and put him on the map as a sought after actor. He even had a hit pop single, 'Start Movin' in My Direction', that reached # 9 on the Billboard Hot 100.
Sal Mineo, James Dean & Natalie Wood in Rebel Without a Cause (1955)
When he made Exodus (1960) and landed his second Oscar nomination, he fell in love with his co-star Jill Haworth, even though he knew he was gay and that his sexuality greatly troubled him. By 1971, movie parts had all but dried up for him, even though he had only just turned thirty. Sadly, within five years he would be dead. On February 12, 1976, an assailant knifed him in the garage space of his apartment building in Los Angeles, in what appeared to be a random killing. The unfortunate actor bled to death on the pavement as neighbours desperately tried to resuscitate him. His killer, Lionel Ray Williams, boasted of his crime to a prison inmate in 1978 and was arrested and tried. Sentenced to '51 years to life' for the pointless killing, Williams was released after serving just eleven years of his sentence, committed another crime almost immediately and was returned to prison. Tragically, no fewer than four of the stars of Rebel without a Cause, Mineo, Dean, Nick Adams and Natalie Wood, would ultimately meet a violent end.
In the wee small hours of August 18, 1977, several hundred fans and mourners were holding a vigil outside the gates of Graceland in Memphis, Tennessee, awaiting the funeral service for their idol Elvis Presley. Among them were three young teenagers, Juanita Johnson, Marie Alice Hovarter and Tammy Baiter. At 4am a car careered, seemingly out of control, and struck a group of fans. Nineteen year-olds Juanita and Marie had driven 200 miles to attend the funeral service. They were both killed before it even began. Seventeen year-old Tammy was critically injured but survived.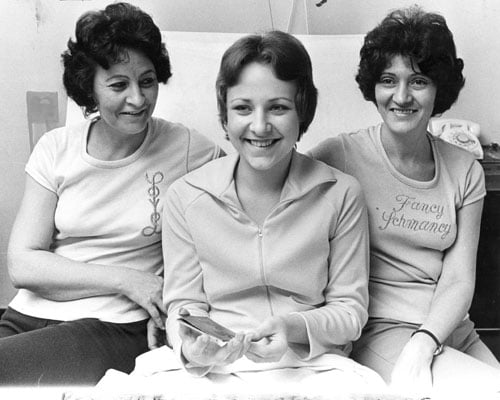 17 year-old Tammy Baiter (C) in hospital, flanked by her mother and aunt
Thirty-four years later, in 2011, a convicted killer named Donald Beaty claimed he was a hero on that 1977 night because he helped save Tammy Baiter's life after she was struck down by the car outside Graceland. Beaty's claim was a last ditch effort to escape execution for the rape and murder of a 13 year-old girl back in 1984. 'Donald Beaty never helped save my life', said Tammy, now 51, in May 2011. 'He put his hand on my knee, and that was about it. It was the paramedics who saved me. After he ran over to me and I was in the hospital, he expected me to marry him. He called me while I was in the hospital and harassed me.' Beaty was executed in Arizona in 2011 by lethal injection after spending 26 years on Death Row. 'He's a murderer', added Tammy prior to his death. 'He killed a little girl. He deserves to die.'