Marie Prevost (1898-1937)
Marie Prevost was another of Hollywood's sad stories. Born Mary Dunn in Ontario in 1898, she found her way to Hollywood in her teens and became one of Mack Sennett's Bathing Beauties. By 1921, however, Irving Thalberg had signed her to an acting contract at Universal. Not that she stayed there very long either. Warner Brothers saw potential in her and signed the young beauty next at a whopping $1,500 a week, a lot of money in the early twenties. Unbeknown to the public, however, Marie had a drinking problem and it would prove to be her downfall, especially when it caused her weight to fluctuate alarmingly.
Joan Crawford (L) & Marie Prevost in Paid (1930)
She married actor Kenneth Harlan in 1926, but to their horror Warners decided not to renew either actor's contract. In that same year Marie's mother died in a car accident and the young actress was devastated. She began to drink even more and by 1929 her marriage had totally collapsed. Talkies came along and she struggled with the transmission to the new medium, so she drank even more and her weight ballooned. To control her escalating weight problem she simply ceased to eat! She purchased a dachshund named Maxie, installed him in her apartment, and spent most of her time at home drinking and dieting. On January 21, 1937 her system simply broke down. She lay on her bed to nap and never woke up. She lay undiscovered for two days, although neighbours could hear Maxie barking incessantly. Eventually, a cleaner found her corpse. It had superficial bites to its arms and legs, evidence of Maxie's attempts to awaken his beloved mistress. The newspapers chose to report that the poor beast had gnawed on her hands and feet from hunger, but it simply was not true, as coroner's photographs proved. Still, the story sold newspapers. Her close friend Joan Crawford was inconsolable at Marie's death and generously paid all outstanding funeral expenses.
Frank Tallman
The name Frank Tallman probably does not ring any bells with movie-goers, but chances are you have seen him in action without knowing his name. Frank was a stunt pilot who formed Tallmantz Aviation in 1961, in partnership with legendary stunt pilot Paul Mantz. It was Frank who flew a Beechcraft Model 18 through a Coca Cola billboard in the 1963 chase movie It's a Mad, Mad, Mad, Mad World. A couple of years later he injured his leg in a go-cart accident while playing in his driveway with his small son. A medical error resulted in Frank losing his leg, which prevented him from flying a modified Fairchild C-82 in The Flight of the Phoenix (1965). His partner Mantz flew it instead, crashed, and was killed.
The Beechcraft stunt in It's a Mad, Mad, Mad, Mad World (1963)
Tallman was determined to fly again despite his handicap, and ultimately succeeded in regaining his airman medical certificate. He did stunt flying in The Great Waldo Pepper and Lucky Lady (both in 1975), 1941 and Capricorn One in 1978. He also did stunt flying for the TV series Baa Baa Black Sheep (1976-79). In April 1978, he was making a routine ferry flight in a twin-engine Piper Aztec from Santa Monica, California to Phoenix, Arizona when he encountered deteriorating weather, crashed into Santiago Peak and was killed instantly. He was 58.
A young Paul Kelly with Mary Miles Minter in
Anne of Green Gables (1919)
Paul & his wife Dorothy MacKaye
The Paul Kelly story is a most unusual one. Few actors do prison time for manslaughter and then resume their screen careers on being released. But he did. Just after World War One he met and befriended a New York City stage actress named Dorothy Mackaye who, in 1920, married a singer named Ray Raymond. The three friends then moved to Hollywood to take a shot at movie-acting. Seven years elapsed and the marriage became a bit rocky as Raymond got to drinking too much and beating up Dorothy on occasion. She soon renewed her relationship with Kelly and they became lovers. They were not very discreet, however, and Ray soon found out about them. He confronted Kelly. A one-sided fight ensued and the much bigger (and less inebriated) Kelly bashed Raymond so severely that he died in hospital three days later! Dorothy foolishly tried to convince police that her husband had died of natural causes, but the ensuing trial convicted Kelly of manslaughter and Dorothy of being an accessory after the fact.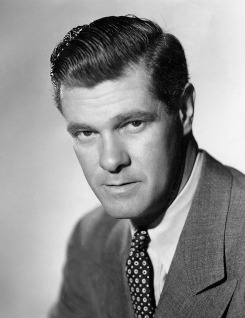 How movie fans remember Paul Kelly
Sentenced to two years, Dorothy was paroled early in January 1929. Kelly copped 10 years but was released seven months after her. In February 1931 the two parolees married, Kelly even adopting her daughter by Raymond, the man he had killed. Dorothy wrote a book about her time in prison, which later became the movie Ladies They Talk About (1933), starring Barbara Stanwyck. Paul re-activated his movie career, mostly in character roles, and was a successful actor for the rest of his life. In January 1940, nine years into their marriage, Dorothy was in a car crash and died from her injuries a few days later. Kelly was devastated. Sixteen years passed until he died from a heart attack in November 1956. He was 57. By the time of his death he had racked up no fewer than 171 screen credits between 1911 and 1957!
When the crew for the movie The Fighting SeaBees (1944) went scouting Pacific islands to get an idea of what locations could be recreated in California, the star of the film, John Wayne, tagged along. He occasionally encountered army personnel who wanted to pick a fight with him over his failure to enlist. The picture itself, even by wartime standards, was extremely racist in its depiction of the Japanese. For those unfamiliar with the term 'SeaBees', it was short for 'construction battalions' – CB's.
The Knickerbocker Hotel, Los Angeles
Elvis at the Knickerbocker 1956
The Knickerbocker Hotel in Los Angeles was opened in 1925 and has had a long history connected with the movie community. Frances Farmer was arrested at her apartment door in January 1943 on a drink-driving offence while on probation, and was dragged, semi-clad and screaming obscenities through the lobby on her way to jail. Five years later D.W. Griffith, the director of The Birth of a Nation (1915), collapsed in his Knickerbocker room and died a day later in hospital. Joe DiMaggio and Marilyn Monroe often trysted there, including the night of their first date in 1952.
Irene Lentz Gibbons
Lana Turner lived at the Knickerbocker for a while; so, too, did Mae West and Frank Sinatra. Elvis Presley roomed there while making Love Me Tender (1957). In November 1962, 60 year-old MGM fashion designer Irene Lentz Gibbons, (known simply as 'Irene'), spent the evening consuming large quantities of alcohol before opening a window on her 11th floor apartment and leaping to her death. Her body landed on the roof of the hotel lobby. Rumour has it she was despondent over the recent death of her former lover Gary Cooper. William Frawley (Fred Mertz in the I Love Lucy TV series) lived at the Knickerbocker for several years. He was walking down Sunset Boulevard with his nurse in March 1966 when he suffered a heart attack. His nurse managed to get him as far as the lobby of the hotel before he died. By the late sixties the area had a drugs and prostitution reputation. Today, it is home to elderly retirees.