Roscoe Arbuckle
Back in 1921-22, funny man Roscoe 'Fatty' Arbuckle was justly found innocent of causing the death of a young woman named Virginia Rappe, but it took three farcical trials to arrive at that decision. In truth, he should never have been charged with anything, much less have to endure a murder charge, (later reduced to manslaughter), and face the possibility of incurring the death penalty. The girl had died from a burst bladder, brought on by a number of things, none of them involving Roscoe who had simply gone to her assistance, nothing more.
Virginia Rappe
The jury at the first trial returned a deadlocked result after 44 hours of deliberation. Ten jurors voted 'not guilty' and two for 'guilty'. A woman named Mrs. Hubbard initiated the deadlock and managed to convince another juror to join her. It later emerged that Hubbard was the wife of a lawyer who frequently did business with the District Attorney's office, the same people prosecuting the case! She also belonged to a feminist organization that had called for Arbuckle's films to be banned the moment he was accused! She told her fellow jurors, 'I will vote 'guilty' until hell freezes over!' Furthermore, she flatly refused to debate her decision, to re-read any testimony or to reconsider any aspect of the case!
One of hundreds of brutal headlines prior to the first trial
The second trial was another farce. Roscoe's legal team appeared disinterested most of the time, in what can only be described as a lack-lustre, shamefully slack performance. Even when former prosecution witness, Zey Provost, recanted her first trial testimony, they still did not do enough to capitalize on such a vital change in fortunes. She admitted that the DA had threatened her with jail unless she testified against Arbuckle in the first trial, so she had blatantly lied on the stand. Astonishingly, the jury was again deadlocked. This time, however, it was 9 for 'guilty' and only 3 for 'not guilty'! A third trial was scheduled.
Another appalling article after the first hung jury
Learning from their mistakes of the second trial, Roscoe's team attacked relentlessly throughout the third one and the result was never in doubt. It took this particular jury just six minutes to return a not guilty verdict! They even accompanied the verdict with a typed apology to the accused which the foreman read out aloud to the court. Roscoe Arbuckle was at last completely exonerated, but the whole tragedy had broken him both financially and in spirit. To their everlasting shame Church spokespersons, feminist organizations and other 'morality' groups, heaped enough pressure on the movie industry to ensure Roscoe's pictures remained banned. Regardless of him being exonerated, studios were not about to upset these influential moralist forces and risk losing box-office revenue. Roscoe's heart finally gave out at 46, but it had been broken long before that.
The exquisite Hedy Lamarr
It has been said that when Hedy Lamarr entered a room at the height of her beauty, everybody would stop talking. Wherever she went she was the cynosure of all eyes. According to actor George Sanders, no-one much cared if there was anything behind her beauty. They were too busy gaping at her. 'When she spoke, men did not listen, they just watched her mouth moving and marvelled at the exquisite shapes made by her lips', he wrote. George knew her quite well, having worked with her and been one of her many lovers very briefly in the late forties. Her close friend Elaine Hollingsworth (formerly actress Sara Shane), confirmed Sanders' feelings, describing Hedy as the most stunningly beautiful woman she ever saw.
Faye & Warren making the biggest blunder in Academy Awards history
In 2017, at the Academy Awards, the stars of Bonnie and Clyde, Warren Beatty and Faye Dunaway, were invited to open the envelope holding the name of the Best Picture Academy Award for 2016, it being the 50th anniversary of the making of the movie that brought them so much fame back in 1967. Backstage, however, someone had handed Beatty the wrong envelope, one that contained the announcement that Emma Stone had won the Best Actress in a Leading Role Oscar for her performance in La La Land. Beatty stood before the microphone, opened the envelope and immediately realised that something was not quite right. Unsure what to do, he handed the envelope to Miss Dunaway who only saw the words 'La La Land' and happily announced that name as winner of Best Picture. In fact, the winner was Moonlight, but by the time Beatty was able to declare that a mistake had been made, the makers of La La Land were up on the stage and chaos reigned. It looked for all the world as if Warren had encountered a problem and had hand-balled it to poor Faye who had then compounded it.
Tim McIntire
Tim's parents – John McIntire & Jeanette Nolan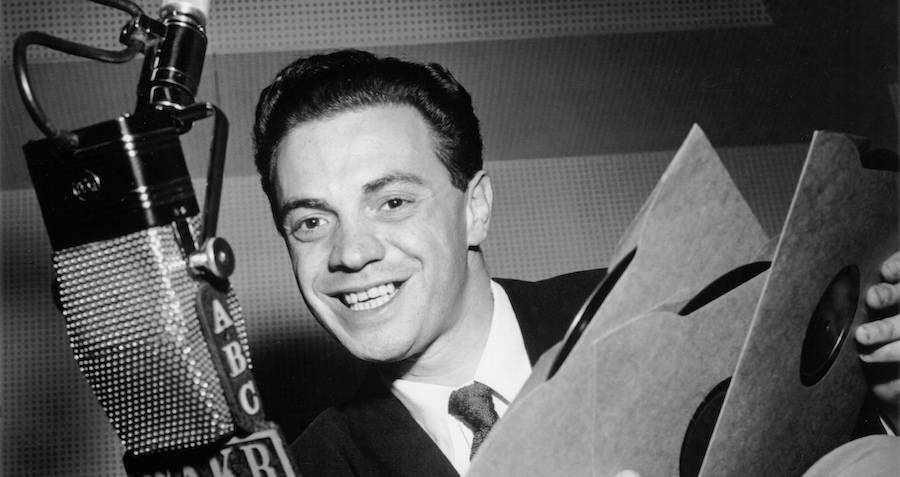 DJ Alan Freed
The 1978 biopic American Hot Wax focused on the life of disc jockey Alan Freed, the man said to have invented the term 'Rock & Roll'. It starred Tim McIntire, the son of Actors John McIntire (of Wagon Train fame) and Jeanette Nolan, a character actress of long-standing. Tim's career was patchy at best, but I recall him playing Henry, one of James Stewart's boys, in Shenandoah (1965). Both he and Freed had a severe alcohol problem and would die young because of it. Uremia and cirrhosis brought on by alcoholism killed Freed at 43 in 1965. Congestive heart failure, also caused by alcoholism, with some drug use for good measure, finished off McIntire at 41 in 1986.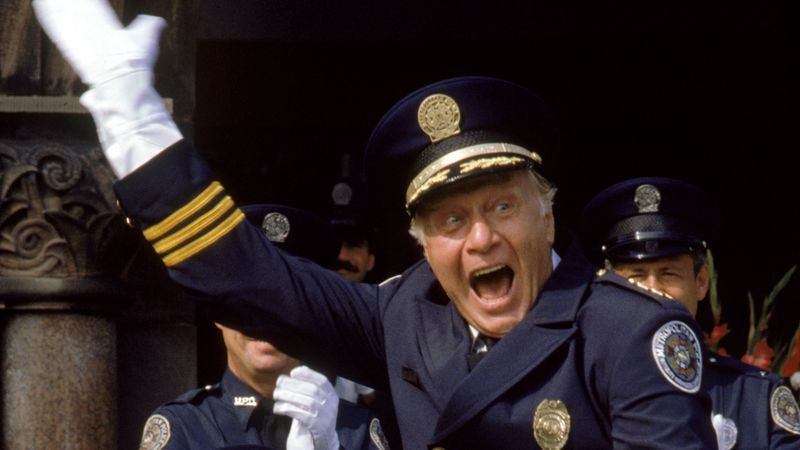 George Gaynes as Commandant Eric Lassard in Police Academy
Allyn Ann McLerie as Katie Brown in Calamity Jane (1953)
Movie fans of the Police Academy series of films (1984-94) and television fans of Punky Brewster (1984-88) will be familiar with the name George Gaynes. He portrayed Commandant Eric Lassard in all seven 'Police Academy' features and was Henry Warnimont in 'Punky Brewster. George was born in Helsinki, Finland in 1917, to a Dutch father and a Russian mother. In December 1953 he married Allyn Ann McLerie, possibly best known for playing singer and dancer Katie Brown in Calamity Jane (1953), the union lasting until his death at 99 in 2016. Allyn joined him in death two years later. She was 91.
Frances Dee & husband Joel McRea
Frances Dee met Joel McCrea on the set of The Silver Cord (1933) and they fell in love immediately. They married that year and were together for 57 years until her husband's death in 1990, but it was not always plain sailing. They briefly separated in 1935 before reconciling, and in 1966 Joel filed for divorce citing cruelty. Despite these hiccups they remained husband and wife for more than half a century. It was rumoured that their combined wealth in the seventies was estimated at between 50 and 100 million dollars. Insiders said Frances, in her heyday, had a face comparable with Greta Garbo's for sheer beauty. Indeed, she missed out on the role of Melanie in Gone with the Wind (1939) because her beauty might have overshadowed newcomer Vivien Leigh. The part was, of course, given to Olivia De Havilland. Oddly enough, Miss Dee's most memorable film was probably I Walked with a Zombie (1943), a low budget thriller she only agreed to make so she could buy her mother an automobile. She passed away in 2004 at the age of 94.