The lovely May Wynn in The Caine Mutiny (1954)
May at home with husband Jack Kelly
Donna Lee Hickey was born in New York City in 1928. When she won the role of May Wynn in the 1954 classic The Caine Mutiny, she decided to change her acting name to that of her character and was henceforth billed as May Wynn. Gig Young had done a similar thing when he was Byron Barr and played a character named Gig Young in The Gay Sisters in 1942. In 1956 May married actor Jack Kelly (TV's Bart Maverick). He was the younger brother of Nancy Kelly, the actress who played Zee, the wife of Jesse James, in the 1939 film of the same name that starred Tyrone Power in the title role. In January 2019, May will turn 91 years old, the last survivor from the cast of The Caine Mutiny.
Gloria Stuart on board the USS Arizona in 1934
Gloria as Old Rose in Titanic (1997)
The 1934 feature Here Comes the Navy is, historically, most interesting on several levels. First of all, it was shot aboard the USS Arizona which, of course, was sunk with massive loss of life at Pearl Harbor on December 7, 1941.The enormous airship seen in the picture is the USS Macon. It, too, had a fiery end when it crashed off Big Sur, California in February 1935, killing all but two of the 75 souls aboard. Towards the end of the movie Pat O'Brien's character is whisked into the air while holding onto the airship's mooring line, a scene most likely based on the tragic events of May 11, 1932 in San Diego. On that day three sailors, trying to hold the USS Akron while it was mooring, were lifted off the ground and carried high into the sky, two of the men later falling to their deaths. Actress Gloria Stuart is in several scenes aboard the Arizona. She would play Old Rose in James Cameron's Titanic in 1997, giving her a unique connection with two doomed ships and a doomed dirigible.
Clara Bow & Harry Richman 1929
In 1929, night-club owner turned actor Harry Richman became intimately involved with super star Clara Bow. He was never in love with her but he positively wallowed in the fame associated with being seen on the arm of a world famous movie star. Towards the end of that year Clara had to go into hospital to have an ovary removed. Rumour-mongers started whispering that she was really going in for an abortion. Richman knew this wasn't so and could easily have scotched the rumours, but he enjoyed being labelled as the man who had impregnated 'The It Girl', so he said nothing. Truth was, he was sterile and basked in the knowledge that people believed he was able to father a child. Clara quickly tired of him anyway and happily resumed her affair with Gary Cooper. Richman was already seeing other women so Clara called a press conference. 'I cannot marry Harry Richman', she told reporters, 'as I am expecting a nervous breakdown!'
Tom Cruise & Rebecca De Mornay in Risky Business (1983)
Bronson Pinchot with Cruise in a scene from Risky Business
Twenty-year old Tom Cruise was chosen to play the teenaged Joel in 1983's Risky Business. It was his breakout role. He received the script on the set of The Outsiders (1983) and promptly asked co-star Diane Lane if she would be interested in playing the role of the hooker. Diane's father quickly put his foot down. There was no way his 17 year-old daughter was going to play a 'twenty-something hooker', he said. The part went to 23 year-old Rebecca De Mornay instead. She and Cruise were soon romantically involved off-screen and on. Bronson Pinchot was in the picture and spoke out later. 'We all thought Tom [Cruise] was the biggest bore on the face of the Earth', he said. 'He was tense and made constant, constant unrelated homophobic comments. He always talked about himself like he was a mega-superstar; that was weird, too.'
Irina Demick & her meal-ticket Darryl F. Zanuck circa 1962
20th Century Fox head Darryl F. Zanuck was a notorious womaniser who took advantage of his position as the decision-maker at Fox to pressure would be actresses into having sex with him, if they hoped to gain a contract with the studio. His long-suffering wife, Virginia, knew all about his infidelities and usually put up with them, but even she could not turn a blind eye when he seduced newcomer Bella Darvi in their home before heading off to France with her. The couple soon parted company, but then he 'discovered' the beautiful Irina Demick and promptly fell for her. He put her into his epic 1962 movie The Longest Day as the French Resistance fighter. She was 26 years old, he was 60. It didn't last, of course. Darryl and Virginia never did divorce, remaining husband and wife (if in name only) until his death.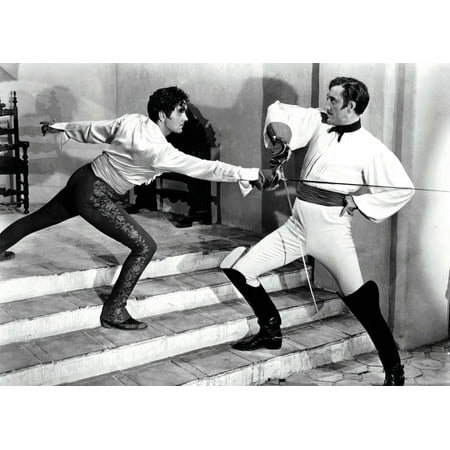 Ty Power (L) & Basil Rathbone in The Mark of Zorro (1940)
In the 1940 version of The Mark of Zorro, Basil Rathbone, a champion fencer in his own right, did all his own sword-fighting as usual. His adversary, Tyrone Power, did most of his also, except for the intricate, longer sequences in which a double was substituted, (always with his back to the camera). Rathbone was asked how Ty performed with his blade. He replied: 'Tyrone Power could fence Errol Flynn into a cocked hat!' The stunning Linda Darnell was barely 17 when she played Ty's love interest here. She was a knockout. Oh, and if you have ever wondered what 'Zorro' means in Spanish – it means 'Fox'.
Ruby Keeler & Dick Powell in 42nd Street (1933)
At the end of the title song in 42nd Street (1933), Billy and Peggy (played by Dick Powell and Ruby Keeler) pull down a shade with the word 'ASBESTOS' printed on it. Back in those days it was common in live-performance theatre to have a screen made of asbestos that could be lowered to separate the stage from the audience in case of fire. The danger of asbestos causing lung cancer mesothelioma was not known then, (not by the general public anyway), but it was known that it was a great fire-retardant. The implication was that Billy and Peggy were about to do something 'hot' behind the shade. I am still trying to figure out why this God-awful picture is now considered to be 'a classic'. Sheesh!
In the brilliant 1997 film, L. A. Confidential, Pierce Patchett (played by David Strathairn) runs a brothel in which his hookers have been 'cut' to look like famous movie stars. Such an establishment actually existed in Los Angeles in the thirties, forties and early fifties. Garson Kanin wrote in his memoirs about visiting a place called Mae's, run by a Madam dressed as Mae West. Clients could pay for a whore who looked and dressed like Carole Lombard, Marlene Dietrich, Barbara Stanwyck, Joan Crawford, Ginger Rogers or some other popular star. The girls would stay in character the whole time. If the real star became ill so would her counterpart at Mae's. When the star was away on location her 'double' would be absent until her return. Mickey Rooney wrote of being serviced there also.
Clark Gable & wife Carole Lombard on their wedding day
Not many stars, even the big ones, were prepared to antagonise Louella Parsons when she was at the peak of her power in Hollywood, but two of the biggest did just that in 1939. Clark Gable and Carole Lombard decided to announce their wedding plans to all the newspapers simultaneously. It was a bold move and Louella was furious. 'It can't be true', she wailed. 'They would have told me first.' Clark and Carole were not entirely reckless, however. They quickly placated her by paying to have Louella's bathroom completely done over with mirrored walls and brand new plumbing.