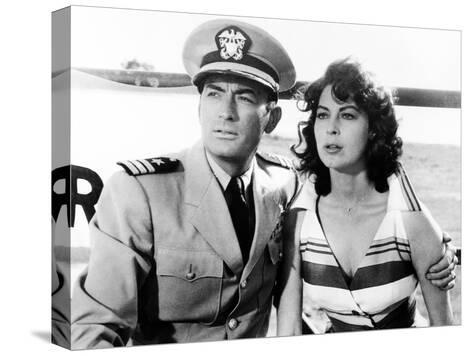 Gregory Peck & Ava Gardner in On the Beach (1959)
When Ava Gardner came to Australia to make On the Beach (1959), she did not exactly endear herself to the nation when she remarked that Melbourne was the most appropriate place on Earth to make a picture about the end of humankind. Come to think of it, most non-Melbournians would probably agree with her.  An Australian reporter then made mention of Ava's penchant for spouting foul language. Her speech, he said, 'sounded like a sailor and a truck driver were having a competition.' She did not take the comment too well and hurled a glass of champagne at him. When asked about the incident later, the reporter recalled that, at the moment the champagne struck him, all he could think was 'how bloody gorgeous the woman was!'
Lucille Ball & Desi Arnaz
Lucy as a Goldwyn Girl
Lucille Ball and Desi Arnaz met at RKO studio in 1940 on the set of a film, prophetically titled Too Many Girls. She was a former Earl Carroll chorus girl, and he an ex-bongo drummer from Cuba. Together they managed to purchase a Palm Springs hotel, then a golf course and, ultimately, a $12 million production contract with Westinghouse. Over the years they split two or three times, chiefly because of Desi's dallying with an endless stream of willing young women. Finally, in 1961, Lucy met Gary Morton on a blind date in New York City, and married him after her divorce from Desi came through.
Robert Walker, Jennifer Jones & family
Jennifer & her husband David O. Selznick
When Robert Walker landed a role in Bataan (1943), he joined his wife Phyllis Isley in Hollywood. They already had two children and she had by then changed her acting name to Jennifer Jones. Unfortunately, she had also fallen in love with producer David O. Selznick, and him with her. Selznick soon left his wife, Irene, (the youngest daughter of LB Mayer); Jennifer divorced Bob in 1945; Selznick divorced Irene in '49 and married Jennifer six months later. Bob then married John Ford's daughter Barbara. He had only known her 8 weeks. They separated six weeks later! On 29 August, 1951, a doctor was summoned to attend Walker who had been drinking and was losing control of himself. The doctor decided to inject the actor with Sodium Amytel to calm him down. Walker was panic-stricken. 'Don't give it to me', he pleaded. 'I've been drinking. It will kill me! Please, don't give me that shot.' His pleas ignored, he was injected anyway and died 90 minutes later. He was 32.
James Dean & Hedda Hopper chatting in his Giant dressing-room
Hedda Hopper was asked to meet the latest genius unearthed by Warner Brothers. She reluctantly agreed and watched as a young man sauntered into the commissary. He was 'dressed like a bum', she recalled. He slouched into a nearby chair and eyed the framed photographs of the studio's biggest stars lining the wall. Then he stood up, selected one of them, and spat full in the face of the star in the picture. As his meal arrived, he wiped the spittle off with his handkerchief, and descended on the food 'like a ravenous hyena. 'I've seen enough', said Hedda as she left.'If that's your prize package, you can take him.' The young man, of course, was James Dean. By the time he had died in a car crash, however, she was an ardent fan and even begged the Academy to strike a Special Oscar for him, one to stand on a plain granite shaft as a headstone to his grave. The Academy declined.
Al Jolson
Al Jolson promised to marry a cute 16 year-old dancer who had been performing at the Globe Theatre, but then he suddenly up and married another young thing instead. The first girl threatened to go public about the singer's shenanigans, but settled instead for a $100 payment per month for life. She was also left $100,000 in Jolson's will. His lawyer drew up the document, the girl outlived Al, and only the lawyer and Jolson ever knew her identity. Interestingly, although Jolson was the king of Broadway for almost 40 years, it took until August 2006 before he was granted any recognition for his decades of achievement there. The city renamed the block of Broadway that runs past the Winter Garden Theatre with a street sign that reads, 'Al Jolson Way'. It was 56 years since his death!
Millicent Hearst (L), William Randolph Hearst & Marion Davies
William Randolph Hearst was 50 years old, married with a family, when he first laid eyes on Marion Davies in January 1914. She was dancing in the chorus of 'Queen of the Movies' at the Globe Theatre – and she was 14 years old! In those days it was the job of the Gary Society inspectors to make sure only girls aged 16 or older ventured onto the stage in chorus lines. Lies were sometimes told and money often changed hands. Marion stayed. Two weeks after first seeing her, Hearst invited the girl to dinner. They would be together for the next forty years but never married. Hearst's wife saw to that. Over the years Marion was showered with treasure and treated like a queen. On Hearst's death in 1951 she was estimated to be worth around 8 million in her own right. She owned three skyscrapers in New York City, the Desert Inn in Palm Springs and a plush estate in Beverly Hills. Marion passed away ten years later.
Stanwyck, MacMurray & Edward G. Robinson in Double Indemnity (1944)
One of my all-time favourite moments in film is the scene in Double Indemnity (1944) where Phyllis (Barbara Stanwyck) is hiding behind the door to Neff's (Fred MacMurray) apartment while he talks with Keyes (Edward G. Robinson) in the hallway. In real life, however, that could never happen. Even back in 1944, it was against building codes for apartment doors to open outwards towards the hallway. That is because hinge-pins must always be on the inside, otherwise burglars could easily remove them. A great scene though; one dripping with tension. Double Indemnity was based on the true story of 20's murderess Ruth Snyder, the lady whose picture was snapped by an enterprising photographer with an ankle camera at the instant she was put to death in the electric chair at Sing Sing in 1928.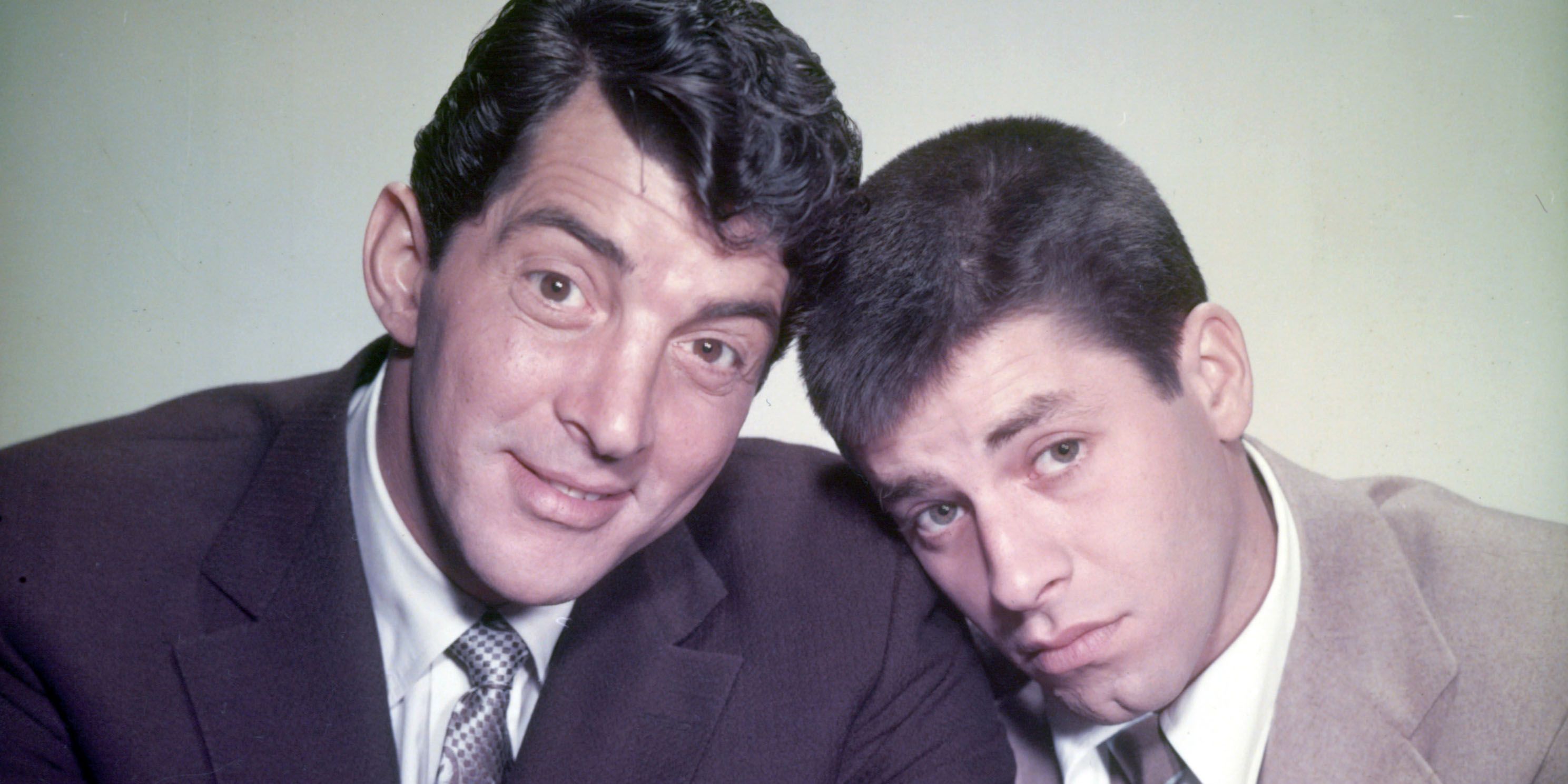 Dean Martin & Jerry Lewis
When Dean Martin & Jerry Lewis decided to end their professional relationship they were still contracted to make a further three films together for Hal Wallis, and he had no intention of allowing them to wriggle out of their obligation. Jerry's agent had him invite Wallis to lunch at the Hillcrest Country Club, the object being to outline just what would happen with the three remaining films should he insist on making them. 'Have you ever had a picture that began – Scene 1, Take 85?' the agent asked Wallis. And would he be prepared to spend six months of his life on the next Martin & Lewis movie? Wallis chose not to, released the comedy duo from the remainder of their contract, and agreed to start with Jerry alone in the next picture.