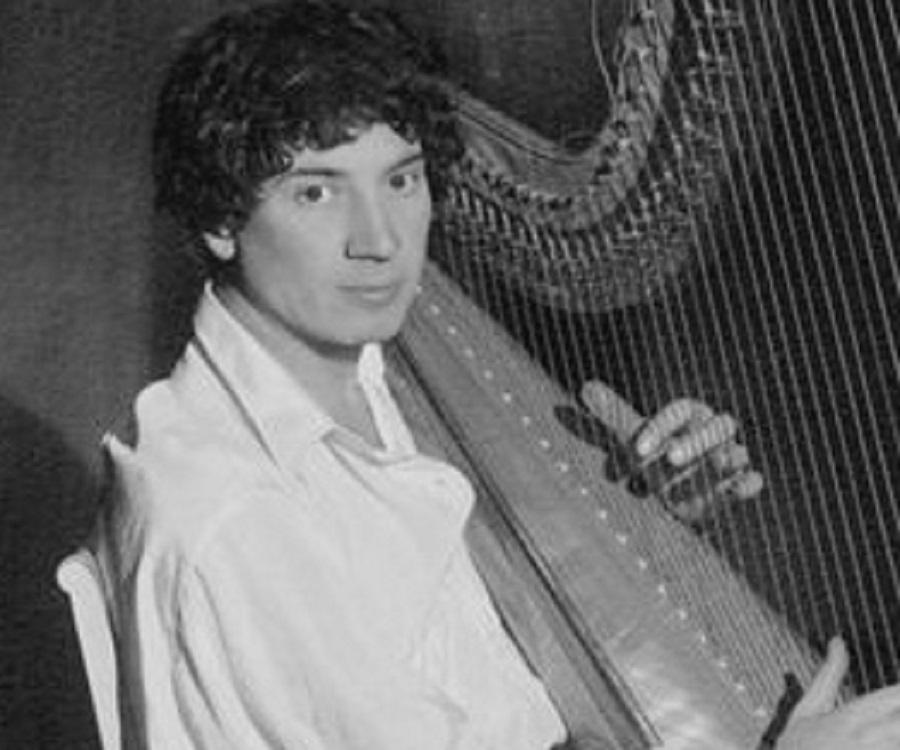 Harpo Marx        
Harpo Marx was offered $50,000 to utter the solitary word, 'Murder!' in the 1946 film A Night in Casablanca. He declined the offer, adhering to his policy of remaining mute on-screen and in public. In fact, he never spoke a word in any of the Marx Brothers movies and only spoke publicly once, and that was at a concert a year prior to his death in 1964. Because all the Marx Bros films were shot in black and white, audiences were mostly unaware that the curly wig he wore was actually bright red. On the screen it appeared to be blonde. An avid golfer, he left instructions that his ashes were to be spread in the sand trap at the seventh hole of the Rancho Mirage Golf Course in California where he played on a monthly basis.
Theda Bara in Cleopatra (1917)
Until censorship was introduced in the early thirties there was a lot of nudity in Hollywood movies, especially in the days before the arrival of sound in 1927. Cecil B. DeMille took advantage of the absence of policing nudity when he directed Cleopatra (1934) with Claudette Colbert in the title role. Paramount head Adolph Zukor wanted him to make a historical epic with plenty of sex in it. He was aware that censorship in the industry was about to become a fact of life. CB managed to lay his hands on Fox's print of the 1917 silent version of Cleopatra that had starred Theda Bara and screened it for ideas. On 9 July, 1937, a fire swept through the Fox facility at Little Ferry, New Jersey and almost all of the studio's archived prints were destroyed, including Theda's Cleopatra. DeMille was probably the last person to see it.
Lauren Bacall & President Harry Truman
In the train scene in Dead Reckoning (1947), after it is discovered that Sgt Drake (William Prince) is to receive the Medal of Honour, 'Rip' Murdoch (Humphrey Bogart) quips that maybe the President will let Drake 'sit on top of his piano'. He is referring to a then 'scandalous' photograph taken at a National Press Club dinner, showing President Harry Truman playing a tune as a beautiful blonde sits perched above him on top of the piano. The blonde is Bogart's real life wife Lauren Bacall. The snapshot is as tame as dishwater but it caused quite a stir at the time.
Cloris Leachman & Gene Wilder in Young Frankenstein (1974)
Oscar-winner Cloris Leachman, (she won three years earlier for The Last Picture Show), appeared in the Mel Brooks comedy Young Frankenstein (1974) and was singularly unimpressed by the star, Gene Wilder, and his unprofessionalism. 'He killed every take [with his laughter] and nothing was done about it!' she complained. Shots would frequently have to be repeated as many as fifteen times each before he could finally summon a straight face and avoid ruining the shot. Cloris rightly resented him making a lot of extra, unnecessary work for all concerned, herself included. By the way, director Brooks considers this picture to be the third funniest he ever made – behind Blazing Saddles (1974) and The Producers (1967). For what it is worth, I concur.
Hedda Hopper in Sunset Boulevard (1950)
Billy Wilder wanted rival gossip columnists Louella Parsons and Hedda Hopper to make an appearance at the conclusion of his 1950 feature Sunset Boulevard. Hedda loved the proposition and even came up with an idea for the scene. She and Louella would race each other for the phone at Norma Desmond's home, Hedda would trip and say sweetly, 'After you, Louella.' Unfortunately, Louella petulantly refused to be in the film if Hedda was also going to be in it. In the end only Hedda made it onto celluloid. A totally miffed Louella did not mention the picture in her column for months.
Elizabeth Taylor as Cleopatra
It is common knowledge that Elizabeth Taylor was paid a million dollars to star in Cleopatra (1963), the first movie star, male or female, to crack the magic million for a single performance. It may be less well known that she insisted a cheque for $9,000 be placed in her hand every morning of the shoot before she would condescend to start work for the day. Furthermore, her husband, the ever unpopular Eddie Fisher, had to be paid his $1,500 each week. His job? To make sure his wife made it to the set on time each day. That was his entire job. Liz was well aware that the picture was sending 20th Century Fox to the wall, but she did not appear to be in the slightest bit concerned about that.
Elvis Presley in the US Army
Elvis Presley was paid the princely sum of $145 a month while he was in the US Army. Only $12 of that, however, was realised because his pay was subject to 91% surtax. Not that this overly bothered Uncle Sam's star recruit. During his hitch, the trade in Presley merchandise – shirts, slacks, ties, statues, masks, even dog tags, plus sheet music and records – brought in a healthy $3 million! And a lovely bonus was his meeting 14 year-old Priscilla Beaulieu, the step-daughter of a USAAF officer stationed in West Germany during Elvis's tour of duty there. She would marry 'the King' eight years later.
Kim Novak & Sammy Davis Jr.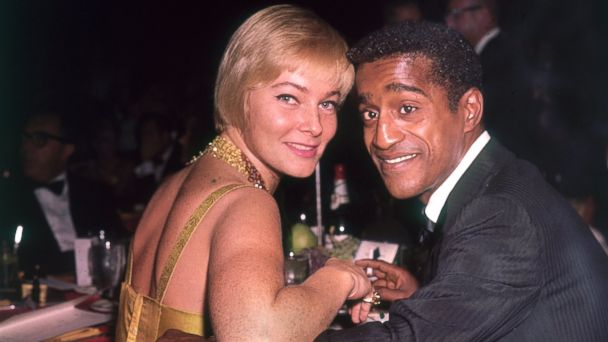 May Britt & husband Sammy Davis Jr.
Kim Novak was contracted to Harry Cohn at Columbia and he had constructed an image of her as a sweet, friendly girl from Chicago. In his bigoted eyes, however, that image took a battering when she began dating black singer/ actor Sammy Davis Jr. Intent on putting an end to their budding romance, Cohn put in a call to an enforcer in Vegas and asked him to take care of the problem for him. The man assured him he would pick up Sammy and put a proposition to him: 'You've only got one eye; want to try for none?' Sammy was duly driven out into the desert and the question was posed to him. Shortly after that he suddenly married Lorena White, an African-American Vegas show girl he barely knew. After a few weeks later they started divorce proceedings. In November 1960 he wed May Britt. Like Kim she was white but, unlike Kim, she was not one of Cohn's ingénues. She was contracted to 20th Century Fox.