Ellen Barkin as Helen Cruger in Sea of Love (1989)
Ellen & her husband Gabriel Byrne
Ellen Barkin said in an interview that Sea of Love (1989) was not her best work, an observation that movie-goers would probably not agree with, especially those of the male gender. Most men would describe her performance as one of the sexiest ever put on celluloid and the picture certainly made her a household name almost overnight. It also helped resurrect Al Pacino's career which was in decline at the time, even earning him a Golden Globe nomination along the way. Now in her 60s, Ellen has long ago ceased to play sex symbols, but she is currently enjoying success as Janine 'Smurf' Cody, the tough matriarch of a crime family in the popular TV series Animal Kingdom. From 1988 to 1999 she was married to Irish actor Gabriel Byrne.
Kevin Bacon as Valentine McKee in Tremors (1990)
Tremors is a silly movie. But it is fun. And the reason it is enjoyable can be put down to the interaction between the two stars, Kevin Bacon and Fred Ward. Bacon has the best of it but Ward is his usual reliable self. The picture did not do great business at the box-office, but it took off like a house on fire when it went to VHS. Prior to its release, Bacon felt he was at a career low. 'I broke down and fell to the sidewalk', he recalled, 'screaming to my pregnant wife, 'I can't believe I'm doing a movie about underground worms!' Incredibly, Tremors spawned no fewer than five sequels as well as a television series, not that Bacon would be seen in any of them. He had gone on to bigger and more prestigious things. A Few Good Men (1992), The River Wild (1994), Apollo 13 (1995) and others may not have been on his horizon were it not for Tremors.
Helena Bonham Carter as Ingrid Formanek in Live From Baghdad (2002)
Michael Keaton & Helena in Live From Baghdad 
Live From Baghdad (2002) is a dramatized version of CNN's Gulf War coverage in 1991 and how the company's exclusive reporting from Iraq put the news service on the map. Helena Bonham Carter portrays producer Ingrid Formanek and Michael Keaton her producer boss Robert Wiener, as they play a balancing game with the Iraqi authorities, endeavouring to report proceedings on the one hand whilst avoiding being expelled from the country on the other. The enormously versatile Helena is always interesting to watch and she is particularly effective in this, but it is the opportunity to witness history as it happened that makes this one of my all-time favourite movies. David Suchet as Naji Al-Hadithi, the Iraqi information minister is also a standout. It is fascinating to learn how CNN made it to the big time, but this movie also gives us an insight into a city in fear, as Baghdad waits to be attacked by the United States. There, but for the grace of God…
Errol Flynn as Robin Hood in The Adventures of Robin Hood (1938)
Olivia de Havilland as Lady Marian Fitzwalter
Errol Flynn made very few decent pictures but he sure had style and charm on the screen, none more so than when he played Robin Hood to Olivia de Havilland's Maid Marian in 1938's The Adventures of Robin Hood. He was married to the fiery French actress Lily Damita at the time and the marriage was anything but a happy one. Her former husband, Michael Curtiz, directed the picture and he and Errol despised one another. Olivia was just 21 and becoming lovelier every year. Errol fell hopelessly in love with her but she remained aloof and distant even though this was the third of their eight films together. The role of Will Scarlett would have been David Niven's but he was vacationing in England so it went to Patrick Knowles instead.
Lady Marian Fitzwalter: 'Why, you speak treason!'
Robin Hood: 'Fluently.'
Lauren Bacall as Marie 'Slim' Browning in To Have and Have Not (1944)
Dolores Moran in To Have and Have Not
Few actresses have ever made a more scintillating debut than Lauren Bacall (known to all and sundry as 'Betty') when she lit up the screen opposite Humphrey Bogart in 1944's To Have and Have Not. She not only knocked a million male theatre-goers for six, she also blew her co-star away from the moment she appeared on the set. The 44 year-old Bogie fell hook, line and sinker for the 19 year-old Betty. Director Howard Hawks, a notorious womaniser, had aspirations in that direction as well, but it was 'Bogie and Betty' all the way, so he had to settle instead for bedding supporting actress Dolores Moran (Hellene de Bursac). Dolores had a well-earned reputation for being seen on the town with married men, movie stars, the bigger the better. Ironically, Betty Bacall was very much like Hawks' own wife Mary Gross – demure, possessed of a smoky voice and mysterious demeanour. And she had the same nickname – 'Slim'.
Slim: 'You know you don't have to act with me, Steve. You don't have to say anything, and you don't have to do anything. Not a thing. Oh, maybe just whistle. You know how to whistle, don't you, Steve? You just put your lips together and…blow.'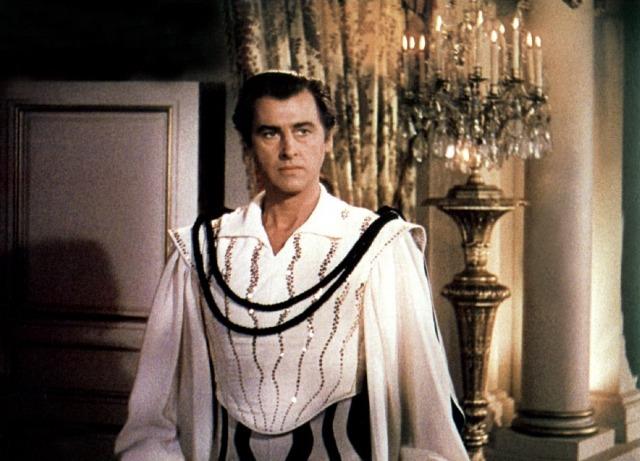 Stewart Granger as Andre Moreau in Scaramouche (1952)
Mel Ferrer & Janet Leigh in Scaramouche
Eleanor Parker in Scaramouche
Scaramouche (1952) has a lot of things going for it. First of all, it is a fine retelling of a wonderful tale by Rafael Sabatini, the author of Captain Blood, The Sea Hawk and The Black Swan, all of which were made into movies. It is shot in gorgeous Technicolor, sports a brilliant screenplay, a fine score, and has the services of a superb cast who clearly enjoy what they are doing. Granger is at his peak in the title role and Mel Ferrer has the best moments of his career as Noel, Marquis de Maynes. Eleanor Parker and Janet Leigh play the two stunningly beautiful love interests. Scaramouche is a prime example of fifties film-making at its best. It has action, romance, suspense and humour in abundance – and all without resorting to graphic violence, nudity or the use of expletives. Today's movie-makers could do well to study and learn from such a picture. It also contains the longest fencing duel ever caught on film, an eight minute sequence between Granger and Ferrer that required both stars to memorize 87 separate passes and 28 stunts.
Andre Moreau: 'Yes, you're going to die, but not by a bullet. You're going to die as he died, by the sword. You'll be driven back, step by step, until you stand helpless, as he did. And then I, Andre Moreau, will kill you as you killed him. I swear it, Phillippe, by all that I hold sacred. I swear you this man's death.'