Ann Sheridan
Errol Flynn's old buddy from his early days in New Guinea, the fortyish Dr Gerrit Koets, a Dutch adventurer, made a surprise visit to Hollywood after Errol had hit it big in the movies. Flynn put him up at his home and invited his old friend to his first celebrity party. It was always an understood thing that nobody requested or signed autographs at such gatherings, but Koets was instantly star-struck and wandered around the room begging autographs from some of Hollywood's biggest stars. Errol was deeply embarrassed. The likes of Gary Cooper, Humphrey Bogart, Clark Gable and Bette Davis were polite about it, but not so Ann Sheridan. She signed her name to a note that read: 'Dr Koets, I'm the Oomph Girl – Oomph you!' He was thrilled.
The Nicholas Brothers
Gene Kelly and Judy Garland fought desperately to get The Nicholas Brothers included in The Pirate (1948). They succeeded, but the 'Be a Clown' sequence was cut by exhibitors in Memphis, Tennessee and in other Deep South cities, simply because The Nicholas Brothers who featured in the song were black. Garland missed 99 of the 135 days of shooting because of 'illness.' Smoking four packs of cigarettes a day would scarcely have helped her overcome whatever was ailing her. She and husband/director Vincent Minnelli conflicted throughout the prolonged production which proved to be a big factor in their divorce after the picture's completion.
Hedy Lamarr & Fritz Mandl circa 1938
Hedy Lamarr was once married (the first of her six husbands) to an Austrian fascist munitions magnate named Fritz Mandl. The man must not have trusted his lovely wife because he would never permit her to wear more than two of her expensive pieces of jewellery at any one time. One evening, however, the couple hosted a prominent Nazi guest at their home, Prince Von Staremberg, the leader of the Austrian Fascist Party, and Hedy convinced her husband that she should dazzle the prince by wearing her full array of priceless jewels. Her entrance to the dining room caused a sensation. So did her early exit to the bathroom (she feigned a headache), and her non-appearance afterwards. The next thing she was in America – jewels and all.
Cole Porter
Cary Grant as Porter in Night and Day (1946)
Cole Porter was not an attractive man and he was just 5'6" tall. When the studio asked him who he would like to see portray him in the upcoming biopic Night and Day (1946), he jokingly replied, 'Cary Grant'. Warner Brothers promptly signed the 6'3" Grant for the role. Cole was very well known in Hollywood so it was a subject of derision that he was to be portrayed by Grant of all people. Censors made absolutely certain that no mention was made of Porter's open homosexuality or that his marriage to Linda Lee Thomas was neither romantic nor sexual. He attended the premiere with her and (like most people) thought the movie was rubbish. 'If I could survive that', he was heard to say to her, 'I can survive anything.'
Judith Hoag as April O'Neil in Teenage Mutant Ninja Turtles (1990)
Up until 1990, the highest ever grossing independent film (believe it or not) was Teenage Mutant Ninja Turtles (1990). It grossed a massive $201 million in domestic and foreign box-office receipts. Judith Hoag was chosen to play April O'Neil but was not asked to reprise her role in the sequels. Her complaining about the six-day work schedules and the film's violence (which she found excessive), resulted in the producers looking elsewhere for a new April. Former child star Corey Feldman accepted a paltry $1,500 to do the voiceover for Donatello's character after producers told him that the movie was a small, low budget, independent production that might have moderate success on VHS, if they were lucky. In fact, they lied to him. The budget was just over $13 million.
The Texas Chain Saw Massacre (1974) is one of those phenomenon that pop up every now and then in the movie business. It was churned out on a ridiculously small budget of $300,000 and, to the utter astonishment of all concerned with its production, returned in the vicinity of $30 million in the USA alone! Obviously, with such an infinitesimal budget, it sports a cast of complete unknowns. John Larroquette, who went on to make pictures such as Stripes (1981) and Blind Date (1987), insists his entire payment for supplying the opening narration was 'one marijuana joint'. It will probably surprise fans who have never seen this movie that, despite its title, only one person is despatched with a chain saw! Frankly, if I was bloodthirsty enough to pay good money to watch a film with such a title and the 'massacre' turned out to be just one individual, I would demand a refund!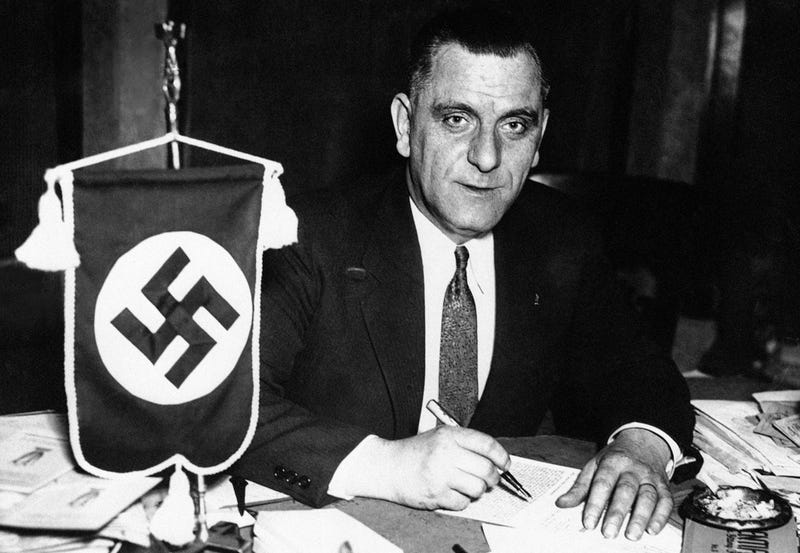 Fritz Kuhn, America's top Nazi siued Warner Bros in 1937
In February 1938 the FBI uncovered a Nazi spy ring in Washington and brought the culprits to trial. Warner Bros had long wanted to make a motion picture attacking the Nazis and now they had their chance. Confessions of a Nazi Spy (1939) commenced filming in 1938 and premiered in April the following year, but not without encountering considerable opposition and undergoing threats to the studio and its executives. Nazi Germany threatened to boycott all American movies if the picture was made, a prospect that mortified the other studios. Warners went ahead regardless.
Diane Keaton & Al Pacino in The Godfather Part III (1990)
When Al Pacino turned down the $5 million offered him to make The Godfather Pt III (1990), and demanded instead $7 million plus a percentage of the profits, Francis Ford Coppola threatened to rewrite the script, starting with Michael Corleone's funeral sequence! Pacino relented and signed for $5 million. Robert Duvall, however, would not accept $1 million offered by Paramount to reprise the Tom Hagen role and, consequently, was written out of the script. He argued that the only reason anyone would make another Godfather movie after so many years, was to make money. It irked him that Diane Keaton was getting one and a half million to play Kay again. Coppola felt it was a major mistake writing Hagen's character out of the screenplay. Re-uniting Keaton and Pacino was an issue, too. They had dated for several years after making the first film, but had parted company when Diane wanted a serious long-term relationship and Al did not. There was tension on the set of the third movie when they met again, but it was eventually resolved.