Alan Arkin as Lester Siegel  in Argo (2012)                                 
Argo is an entertaining film but should it have won the Best Picture Oscar? It followed the 'cliff-hanger' formula right down the line which was hardly anything new. Be that as it may, Alan Arkin is terrific as Lester Siegel, a composite character he said was mostly based on studio head Jack Warner. He has all the best lines, too. Zsa Zsa Gabor's Beverly Hills estate exteriors doubled for Siegel's house in the movie. The iconic Zsa Zsa was at home during filming but was far too ill to observe proceedings. She would pass away in 2016 at the age of 99 years and 10 months. As for Arkin, he was once a member of a folk group called The Tarriers and, believe it or not, co-wrote the Harry Belafonte hit tune 'Banana Boat Song' back in the fifties. In 1967 he impressed movie-goers when he played the evil killer Harry Roat who terrorizes the blind Audrey Hepburn character in the thriller Wait until Dark.
Arkin as Harry Roat in the 1967 thriller Wait Until Dark
Lester Siegel: 'Okay, you got six people hiding out in a town of what, four million people, all of whom chant 'death to America' all the livelong day. You want to set up a movie in a week. You want to lie to Hollywood, a town where everybody lies for a living. Then you're gonna sneak 007 over here into a country that wants CIA blood on their breakfast cereal, and you're gonna walk the Brady Bunch out of the most watched city in the world.'
Merle Oberon as Lady Blakeney in The Scarlet Pimpernel (1934)
Baroness Orczy penned The Scarlet Pimpernel in 1908 and Hungarian producer Alexander Korda eagerly turned it into a successful movie in 1934. He chose the exotic Merle Oberon to play Lady Blakeny. Five years later she would become his wife. When he was knighted by King George VI in 1942 she became Lady Korda, but by 1945 the marriage was over. Merle's complexion was damaged by sulpha drugs in 1940 and this would lead indirectly to her divorcing Korda. Cinematographer Lucien Ballard developed a special camera light which eliminated her facial scars on film. The light has since become known as the 'Obie' and she would wed Ballard soon after her divorce went through. Merle had been born to a 12 year-old Eurasian mother in Bombay, India in 1911, but falsely maintained for the rest of her life to have been born in Tasmania, Australia. She is stunning in this movie, a perfect foil for the brilliant Leslie Howard portraying her husband, the foppish Sir Percy Blakeny. Raymond Massey as Chauvelin, the French Revolution's head of state security, enjoys the role of his life. A wonderful movie beautifully acted.
James Cagney as Biff Grimes in The Strawberry Blonde (1941)
Jimmy Cagney was just 5'6" tall. Consequently, I have always found it difficult to fully accept him in his tough guy roles. In The Strawberry Blonde (1941), however, he plays a much lighter character, the short-tempered, brash young dentist named Biff Grimes. And he is a delight. Although obsessed with local beauty Virginia Brush (Rita Hayworth), he falls in love with her friend Amy Lind (Olivia de Havilland) and marries her. Rita was borrowed from Columbia to replace Ann Sheridan as Virginia Brush, because Ann was embroiled in a salary dispute with Warner Brothers. The picture revived Rita's flagging career and set her on the road to stardom. Alan Hale is extremely funny as Biff's father. Surprisingly, he was just 49 at the time. Cagney was 42!
Bing Crosby as Frank Elgin in The Country Girl (1954)                                      
I have never considered Bing Crosby to be much of an actor, even though he picked up an Oscar for Going My Way (1944). However, he proved me wrong with his excellent portrayal of the drunkard Frank Elgin in The Country Girl (1954). He missed out because he was unfortunate enough to be up against Marlon Brando for On the Waterfront on that occasion. Then again, it was a particularly weak field a decade earlier when he won for Going My Way, so the Oscars can often be a case of 'swings and roundabouts'. Grace Kelly won a Best Actress Oscar for The Country Girl, beating Judy Garland's A Star is Born by just six votes! For the time it took to shoot the picture, Grace is said to have had affairs with Crosby, William Holden, Clark Gable and David Niven! Busy girl.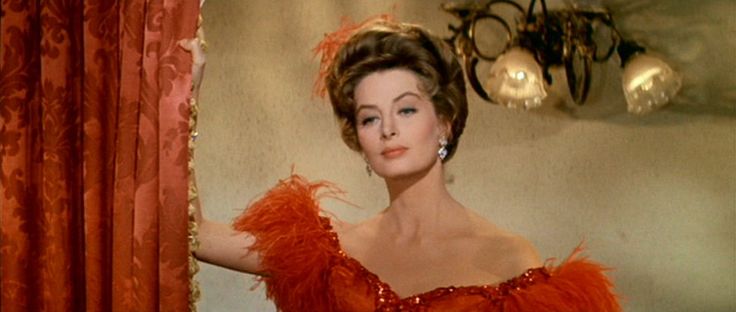 Capucine as Michelle Bonet (Angel) in North to Alaska (1960)
Director Richard Fleischer was said to have been unimpressed with the choice of Capucine to play the prostitute Michelle Bonet in North to Alaska (1960). He found her neither sexy enough nor earthy enough to convincingly portray a hooker, and was quick to point out his misgivings to producer Charles K. Feldman when he insisted on her being replaced. Possibly unbeknown to Fleischer, Capucine and Feldman were co-habiting at the time, and the producer had already promised the role to her. She stayed and it was Fleischer who found himself replaced as director. Years later, he claimed he had wanted out of the directing job because he did not like the story, so he pretended he did not wish to work with Capucine. It so happened she was terrific as the prostitute anyway, very sexy, very earthy and very desirable.
Burt Lancaster as McIntosh in Ulzana's Raid (1972) 
For scholars of the Apache warrior psyche, Ulzana's Raid (1972) provides a truly fascinating insight. Burt Lancaster portrays an army scout familiar with the ways and guerrilla tactics of renegade Apaches in old Arizona in the latter part of the 19th century. The story centres on a battle of wits – McIntosh the Army scout and his loyal Apache scout Ke-Ni-Tay versus the wily renegade leader Ulzana. Lancaster is outstanding in a fine film that is only marred by some unnecessary, bloody moments of barbarity, not just from the Apaches but the soldiers too. There are also instances in which the 'running W' appears to have been used to bring down some ponies. Lancaster must strongly have believed in the picture for he accepted a percentage of the returns, along with producing and editing rights, in lieu of an upfront salary.
McIntosh: 'Lieutenant, a horse will run so far, so fast, for so long, and then it will lie down on ya. When a horse lies down on an Apache, he puts a fire under his belly and gets him back on his feet. When the horse dies, he gets off, eats a bit of it, and steals another. Ain't no way you can better that.'