Victoria Principal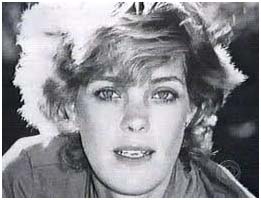 Berry Berenson
Anthony Perkins in The Life and Times of Judge Roy Bean (1972)  
Anthony Perkins led a homosexual life until he made The Life and Times of Judge Roy Bean (1972). This was the screen debut of the stunning Victoria Principal and she and Perkins were soon romantically involved. It was 1971 and he was in his 39th year. 'It was a case of spontaneous combustion', he said. 'I had never had sex with a woman. The very thought of it terrified me.' In 1972 he met Berry Berenson on the set of Play It as It Lays and the couple married in August 1973. The union lasted until his death from AIDS in 1992. Nine years later, Berry had the terrible misfortune to be aboard American Airlines Flight 11, en route from Boston to Los Angeles, when it slammed into the north tower of the World Trade Centre at 8.45am on September 11, 2001.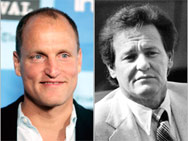 Woody Harrelson                       Charles Harrelson
In the 1992 film White Men Can't Jump, Woody Harrelson's character makes a reference to Lee Harvey Oswald in one scene. There has long been conjecture that Woody's real-life father, Charles Harrelson, may have been one of the assassins of President Kennedy. Charles Harrelson was an organised crime figure who was convicted and imprisoned on three counts of murder in his life. In 1980, after a six-hour standoff, he surrendered to police after threatening suicide and stating that he had killed District Judge John H. Wood Jr, as well as JFK! Harrelson later claimed he was high on cocaine when he said he had killed the president. Well-known forensic artist Lois Gibson matched photographs of Harrelson with photographs of the youngest-looking of the three 'tramps' stopped by police near the grassy knoll at Dealey Plaza on November 22, 1963. Harrelson died in prison in 2007.
The Man Who Shot Liberty Valance (1962) 
The confrontation in the dining-room between Tom Doniphon (John Wayne) and Liberty Valance (Lee Marvin) in 1962's The Man who Shot Liberty Valance, is a scene I have enjoyed watching many times over. Wayne and Marvin did not have to pretend to be tough guys. They were tough guys and they played it to perfection. The scene was enhanced by the great character actor Strother Martin who played Floyd, one of Liberty's cronies. He moves to pick up the Duke's steak off the floor and receives a classic kick in the face from 'the Duke', who delivers it without taking his eyes off Valance for a second. I involuntarily laugh every time I see it. Jimmy Stewart is also in the scene, but our eyes remain riveted on the two main protagonists. This, in my opinion, is one of Hollywood's finest ever westerns.
Robert Mitchum in The Night of the Hunter (1955)
Throughout the filming of The Night of the Hunter (1955), Robert Mitchum could be extremely difficult to work with, and would sometimes turn up too drunk to perform. When producer Paul Gregory told him one day that he was in no condition to work, the actor staggered over to Gregory's Cadillac, opened the door and urinated on the front seat! 'He was a charmer', said Gregory. 'An evil son of a bitch with a lot of charm. Mitch sort of scared me, to tell you the truth. I was always on guard…I came from the world of the theatre and I had never seen anyone quite like this.'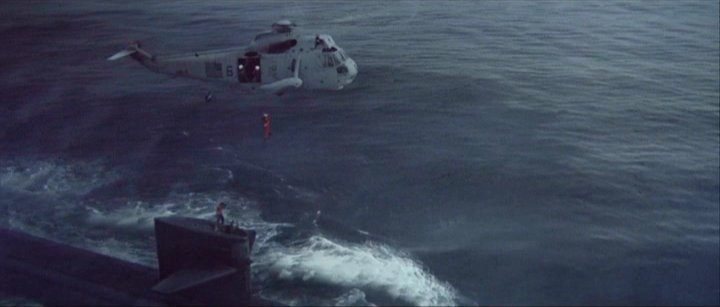 the helicopter scene in The Hunt for Red October (1990)
The scene in The Hunt for Red October (1990) where Jack Ryan (Alec Baldwin) is lowered onto the USS Dallas was filmed in the parking lot of the Long Beach Naval Station on a beautiful sunny day. Editing made it look like the ocean. Baldwin landed the role after Harrison Ford turned it down because he felt the script was too focused on the Russian Captain Ramius (Sean Connery). Kevin Costner also said 'no', preferring to make his own movie Dances with Wolves (1990). Three years later, fellow cast member Sam Neill was on the receiving end of another Ford refusal when he picked up the lead in Attenborough's Jurassic Park (1993).
Jean Simmons & Stewart Granger
Stewart Granger rejected Ava Gardner's attempts to seduce him during the shooting of Bhowani Junction (1956) because, as he was quick to inform her, he was six years into his marriage to Jean Simmons and in love. Ironically, his wife did not exercise similar restraint three years earlier when she and her co-star in The Robe (1953), Richard Burton, were at it like minks behind Stew's back. To make matters worse, Burton was one of Granger's closest friends. The marriage ended in divorce in August 1960 anyway. Three months later she married writer/director Richard Brooks.
Mickey Mantle (L) & Billy Crystal on The Dinah Shore Show
Billy Crystal has been a baseball fan all his life, ever since his father took him to Yankee Stadium to watch the New York Yankees play and 'Micky hit one out'. In the 1991 comedy City Slickers, Billy's character Mitch lovingly describes that very day. Micky Mantle signed the boy's program that day and did so a second time 20 years later when he and Billy were guests on Dinah Shore's Talk Show. Contrastingly, Yankees star Joe DiMaggio hauled off and punched Crystal in the stomach after the comedian introduced him at a big Yankees event. Why? Because Billy had unforgivably omitted to describe DiMaggio as 'the Yankees' greatest living player' in his introduction!
Lauri Peters & Jon Voight
Lauri Peters
There is a quite ordinary 1962 'family' film titled Mr. Hobbs Takes a Vacation. It stars James Stewart, Maureen O'Hara, and a cute 18 year-old actress named Lauri Peters. She plays their daughter, Katey, who refuses to smile because of the new braces on her teeth. Lauri's screen career consisted of just nine credits, six of which were television appearances. Other than this picture, her only other movies were Summer Holiday (1963), in which she played Cliff Richard's girlfriend, and For Love of Ivy (1968). In 1960, she was nominated for a Tony Award for her portrayal of Liesl Von Trapp in the Broadway version of The Sound of Music. During the show she met a young Jon Voight who was playing the Nazi messenger boy Rolfe, and they started dating. At the Old Globe Theatre in San Diego she played Juliet to his Romeo prior to their marriage in 1962. They divorced five years later.
Joseph Breen
Given the attitude of chief censor Joseph Breen when he was at the peak of his considerable power in Hollywood, it is a wonder that any movies could be completed at all to his satisfaction. Take, for instance, the 1948 John Ford classic Fort Apache. Breen made it clear to Ford that he was deeply concerned about a scene in which troopers were shovelling horse manure, describing it as 'possibly offensive to some movie-goers'. He also insisted that troopers moving the bodies of dead comrades should be very careful to do so 'discreetly' and not cause offence. Before he left the set he issued orders that, under no circumstances, was a toilet to be shown on-screen!