Johnny Depp in A Nightmare on Elm Street (1984)
Johnny Depp's maternal grandfather was a full-blood Cherokee, which probably helps to account for Johnny's sharp cheekbones and sculptured visage. As a youngster Johnny was smoking at 12, lost his virginity at 13 and had done every kind of drug there was by 14. He was 20 when he married 25 year-old fellow musician Lori Ann Allison in 1983. It didn't last but they split amicably enough. She started dating Nicolas Cage and he and Johnny became friends. Cage suggested Johnny try acting and put him in touch with his agent. A successful audition for the low budget horror film A Nightmare on Elm Street (1984) followed and a phenomenal screen career was born. Depp was only paid union scale, $1200 a week for six weeks, but he thought he was in financial heaven.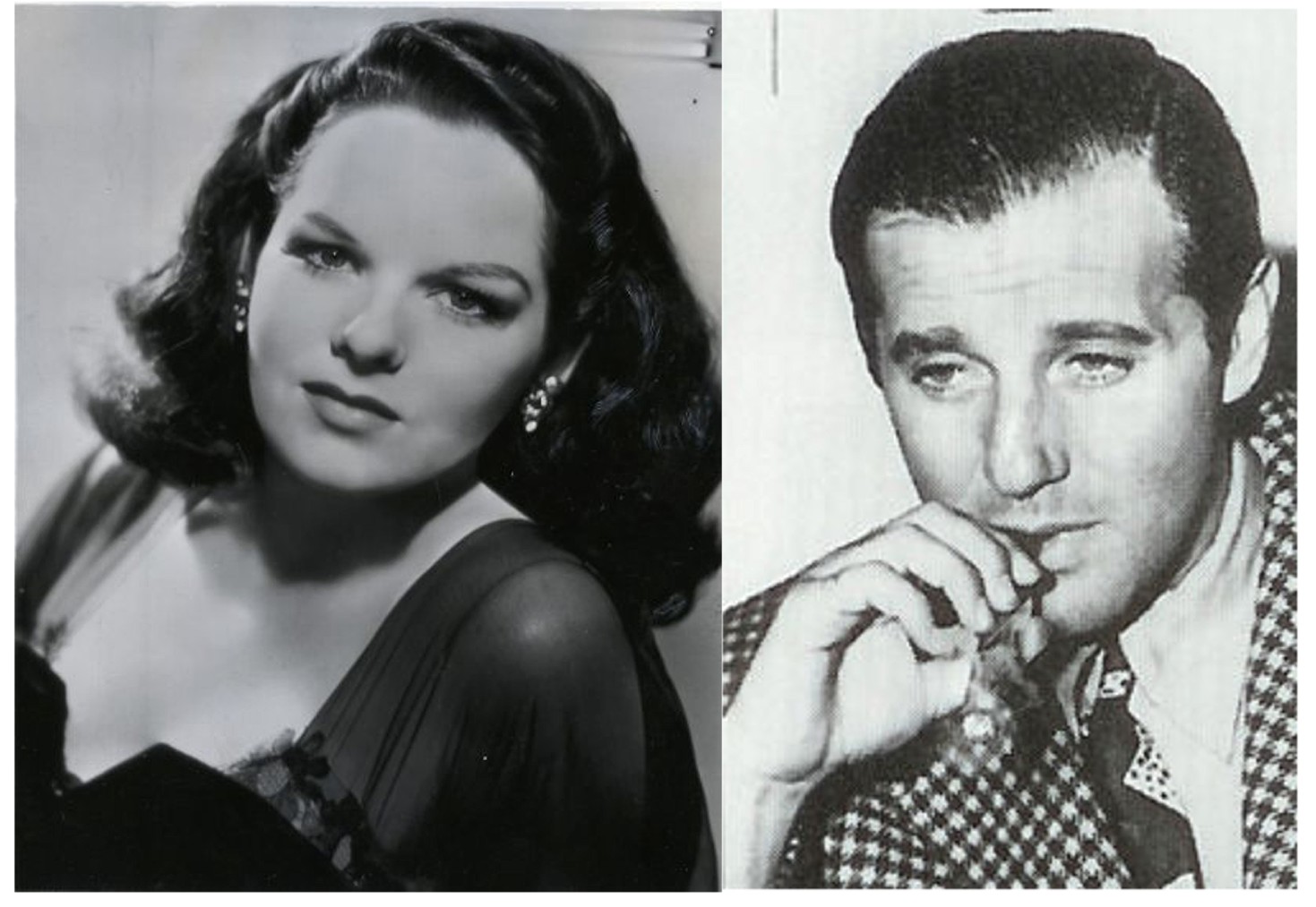 Virginia Hill                                    Benjamin 'Bugsy' Siegel
Gangster Benjamin 'Bugsy' Siegel was visiting his friend George Raft on the set of Manpower (1941) when George introduced him to minor actress Virginia Hill who had a tiny part in the picture. If you wish to see Virginia in her only film, there is a scene in this picture where Raft is brawling with Barton MacLane and, at the fight's conclusion, George gives the leg of a smashed chair to the hatcheck girl. That hatcheck girl is played by Virginia Hill, the woman who would become Bugsy's lover in real life. Before connecting with Siegel she was Joe Adonis's mistress and a courier for the Mob.
There is a scene in Curly Top (1935) in which John Boles sings 'It's All So New To Me' as Shirley Temple appears in various paintings in the drawing room. In her autobiography titled 'Child Star', Shirley revealed that a scene was shot where she appeared nude as Cupid, covered from head to toe in gilt paint. The shot had to be completed quickly before the paint clogged the pores of her skin, but for some reason the scene was cut from the theatrical release and appears now to be lost. Madame Chiang, China's First Lady, was a huge fan of Curly Top and arranged for repeat private viewings.
Shirley MacLaine 1963
In I'm Over All That, one of her many books, Shirley MacLaine wrote of visiting Monticello, the historical home of the former US President Thomas Jefferson. She claimed she befriended the curator and he allowed her to sleep overnight in Jefferson's bed! During the night she 'felt a presence', after which she heard a whistle. Unable to find anyone present, she soon fell asleep. The next morning one of the guards entered the bedroom and casually mentioned that, 'Jefferson walked last night. He walked and whistled.' The curator then gave her a small glass case that he assured her contained a lock of the great man's hair. Shirley, a confirmed believer in reincarnation and paranormal activity, was mightily impressed.
Buzz's girlfriend                                           Kevin (Macaulay Culkin)
The photograph Kevin McCallister (Macaulay Culkin) finds of his brother Buzz's girlfriend in Home Alone (1990) is, in fact, a snap of a boy made up to look like a girl. Director Chris Columbus rightly felt that it would be too cruel to have a real girl sit for the picture and then suffer the ridicule it would engender. The boy in the photograph is, in fact, the son of the Art Director. Another piece of movie trickery involved young Macaulay. His stunt double was a very short 30 year-old man! Kevin's bed-wetting cousin, Fuller, was played by Macaulay's little brother Kieran.
Billy Chapin in The Night of the Hunter (1955) 
Eleven year-old Billy Chapin was chosen by Charles Laughton to play John Harper in his classic thriller The Night of the Hunter (1955). The boy was the older brother of Lauren Chapin who would later become known to television audiences as 'Kitten' in the popular Father Knows Best series (1954-60). When Robert Mitchum attempted to give Billy advice on how to play his character, the big-headed youngster sarcastically replied, 'That's probably why I just won the New York Critics Circle prize.' Laughton overheard the bratty response and bellowed, 'Get that child away from me!' From then on Mitchum patiently directed the boy in their scenes together. Like far too many child actors, young Chapin descended into booze and drugs as he got older.
Howard Ashman (L) & Alan Menken 
Howard Ashman, a native of Baltimore, Maryland, wrote the lyrics for several successful Disney animated features in collaboration with composer Alan Menken. Starting with the Broadway production of 'Little Shop of Horrors', they went on to win a Best Song Oscar for 'Under the Sea', a delightful tune from Disney's The Little Mermaid (1989), and another for the title song from the animated musical Beauty and the Beast (1991). Sadly, two days after winning his Oscar for 'Under the Sea', Ashman confided in Menken that he had AIDS. Despite growing weaker every day, the talented lyricist continued to write songs, including several for the upcoming Disney animated feature Aladdin (1992). Tragically, AIDS-related complications claimed him in March 1991 at the age of 40. His posthumous Oscar for Beauty and the Beast was accepted by his romantic partner Bill Lauch.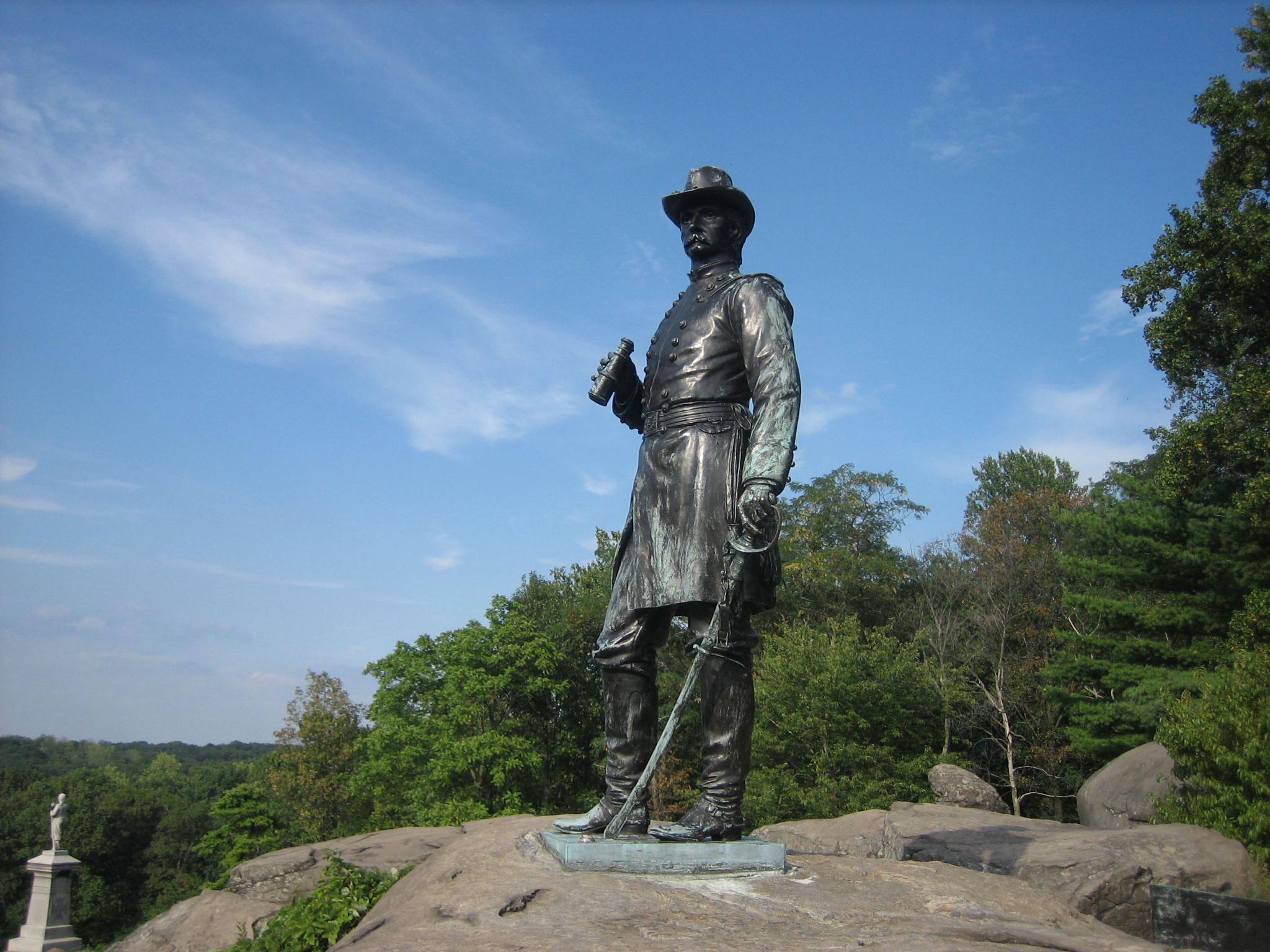 General Warren statue on Little Round Top 
At four hours and thirty-one minutes, the 1993 feature Gettysburg is the longest American movie ever made. Interestingly, the scene in which the 20th Maine reach the summit of Little Round Top was actually filmed on Little Round Top at the Gettysburg battlefield. In the movie the troops are greeted at the top by an actor portraying General Gouverneur Warren who is shown posing in precisely the same manner as the statue of Warren that today adorns the summit. In fact, the actor portraying Warren is carefully blocking the camera from seeing the actual statue. There is another scene where General James Longstreet (Tom Berenger) jovially points out that General George Pickett (Stephen Lang) graduated stone last from his West Point Officer School class in 1846. Perhaps, it might also have been mentioned that Longstreet himself graduated 54th out of 56 in his own class of 1842!
Paul Newman as Rocky Graziano
Paul Newman was already 31 years old when he was chosen to play Rocky Graziano in Somebody up There Likes Me (1956). He only got the role because the original choice, James Dean, had been recently killed in a car crash. Eileen Heckart was just six years older than Newman yet she was cast as his mother! Not surprisingly, the critics were unanimous that Newman was completely miscast as an Italian-American.