Much of the werewolf mythology we accept as gospel these days was actually made up when the 1935 production Werewolf of London was written and filmed. They came up with the notion that being bitten by a werewolf turns you into one; that a werewolf changes under a full moon and that werewolves were wolf/man hybrids. In folklore, one became a werewolf by deliberately practicing witchcraft and could change into one at will. The invented stuff is far more interesting.
Ronald Reagan the actor
After his divorce from Jane Wyman in 1949, Ronnie Reagan began seeing other women, lots of them. His co-star in Night unto Night (1949), Viveca Lindfors, said she could not recall a single conversation with him of any substance, except on the subject of sex. 'I remember him saying, sex is best in the afternoon, after coming out of the shower', she added. Nancy Davis was just one of numerous actresses and models who inhabited his bed for the next two years. Others included big stars Rhonda Fleming, Doris Day and Patricia Neal. Lesser lights included the up and coming Piper Laurie, B- actresses Ruth Roman, Ann Sothern, Evelyn Knight, Penny Edwards, Kay Stewart, Dorothy Shay, Adele Jergens and former Powers model Betty Underwood. Warner Bros. starlet Jacqueline Park, later to become Jack Warner's mistress, recalled how he never took her out in public, never bought her a gift and would not even pay for her to take a cab after their trysts. When she became pregnant to him, he ditched her flat. 'You're just going to have to work this one out for yourself', he told her. 'I don't want to be involved.' Nice guy. Presidential material.
Doris Day & Jimmy Stewart in The Man Who Knew Too Much (1956)
Doris Day has enjoyed a spectacular career in movies and in the recording studio. Of her many outstanding hit singles, the most successful was a song she initially rejected, describing it as 'a forgettable children's song'. She eventually relented and sang it in the Hitchcock film The Man Who Knew Too Much (1956) and, to her astonishment, it went on to win the Oscar for Best Song that year, selling more copies than any of her myriad hits. In fact, it became her signature tune. The song was, of course, 'Que Sera, Sera' and she would reprise it in two later films, Please Don't Eat the Daisies (1960) and The Glass Bottom Boat (1966). It was also the theme tune for all 124 episodes of her TV series, The Doris Day Show (1968).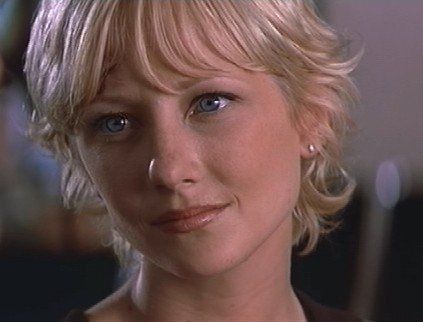 Anne Heche
In August 2000, a scantily clad Anne Heche was picked up by police at a rural home in Cantua Creek, California. She had informed the occupants she had been looking for a spaceship that was supposed to be meeting her there! The actress spent the night strapped to a gurney in the psychiatric ward of the Fresno University Medical Centre. In 2001 she released her autobiography, appropriately titled 'Call Me Crazy'. Enough said.
Chuck Connors achieved worldwide popularity as Lucas McCain, a widowed rancher with a young son, in the 1958 TV series The Rifleman which aired on ABC until 1963. After leaving college, Chuck had played minor league baseball before enlisting in the US Army in 1942. Following his military discharge in 1946, he played 53 so-so games for the newly formed Boston Celtics in the Basketball Association of America before returning to baseball. The 6'5" (1.97m) lefty played two seasons with the Brooklyn Dodgers' AAA Team, the Montreal Royals, before landing his solitary Major League game in 1949, after which the Dodgers traded him to the Chicago Cubs. There he played 66 league games, starting in 1951, had 48 hits and scored two home runs. Very few athletes have played both national basketball and national baseball. Connors is one of them.
Junior Durkin
Tragedy stalked the 1935 production of Ah Wilderness! Junior Durkin was cast in the major role of Richard, but he was killed in a car crash shortly before shooting was about to begin. The legendary Will Rogers initially intended to play Nat Miller, but changed his mind and backed out of the project. Tragically, that decision enabled him to join Wiley Post in a plane trip to Alaska. The aircraft crashed and both men were killed.
Robert Walker (L), Jennifer Jones & Guy Madison in Since You Went Away (1944)
Guy Madison was on shore leave from the US Coast Guard when he was chosen to play a sailor in the 1944 feature film Since You Went Away. A discovery of gay agent Henry Willson, Madison was sleeping with him when the opportunity suddenly arose for him to be in this major film. He took it, shot the scenes and then returned to the Coast Guard. Guy was only on the screen for three minutes but the response from movie-goers was nothing short of astounding. The studio was inundated with 43,000 bits of fan mail enquiring about him. Madison was a wooden actor but fans did not seem to care. They liked the look of him.
Denver Pyle
Ernie Pyle
Character actor Denver Pyle, who hailed from Colorado, was all set to play Matt Dillon in the new Gunsmoke TV series after first choice James Arness had turned it down, but then big Jim changed his mind. Pyle had joined the US Navy on the outbreak of World War Two and was wounded at Guadalcanal before being medically discharged back to the states. His cousin was the celebrated US war correspondent Ernie Pyle. Ernie was killed during the battle for Okinawa in April 1945.
Wedding day – Rock Hudson & Phyllis Gates
Henry Willson dancing with Shirley Temple
When he appeared to be in grave danger of being exposed as a homosexual, Rock Hudson, with the aid of his agent Henry Willson, decided it would be best if the world's number one box-office star suddenly got himself married. After all, there is nothing quite as heterosexual as a nice, boy-girl wedding. Henry's private secretary, Phyllis Gates, was elected as the most convenient candidate to become Mrs. Rock Hudson. Right up until her death in 2006, Phyllis steadfastly vowed that she married Rock out of love and not to cover-up his homosexuality. Indeed, she claimed not to even know he was gay when they wed. However, it seems highly unlikely that Willson's private secretary would not know what much of Hollywood was acutely aware of.