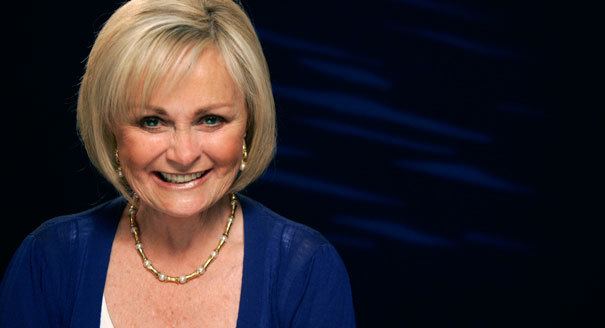 Kitty Kelley
Biographer Kitty Kelley wrote His Way in 1986, an unauthorised biography of Frank Sinatra. In it she told of his numerous conquests that included Nancy Reagan, whom he visited at the White House for romantic trysts while her husband the President of the United States was away on state visits. His list of lovers consisted of most of Hollywood's greatest beauties – Liz Taylor, Lana Turner, Natalie Wood, Kim Novak, Marilyn Monroe, Anita Ekberg, Angie Dickinson, Jill St. John, Lauren Bacall, Marilyn Maxwell, Judy Garland and Shirley MacLaine, to name but a few. And then, of course, there were his wives – Ava Gardner, Mia Farrow, Barbara Marx etc. Interestingly, he said at a concert, after the book had been published, that if Kelley were a man she'd be 'whacked'.
Dorothy McGuire
Dorothy with Tommy Kirk in Disney's Old Yeller (1957)
The McGuire family was bitterly disappointed when the accomplished actress Dorothy McGuire was not mentioned in the Academy Awards 'In Memoriam' segment in April 2002, even though she had passed away in 2001, three days after 9/11. The Academy explained that this was not an oversight, nor was it a deliberate slight, but that they only had room for 15-20 names in a single tribute, so Dorothy had missed out! They did not explain how the far less accomplished actress Aaliyah received a tribute, yet Oscar-nominated Dorothy did not. The lady surely merited recognition for her fine contribution to the industry.
Greta Garbo & Fredric March in Anna Karenina (1935)
Fredric March was born Ernest Frederick McIntyre Bickel in Racine, Wisconsin. Initially, he chose his mother's maiden name (Marcher) but because he considered 12 to be his favourite number, he shortened both his Christian and surnames to accommodate his superstition. Notorious as a seducer of his leading ladies, he met his match making Anna Karenina (1935) when his co-star Greta Garbo secreted garlic under her dress and deliberately arrived on the set with bad breath for all their love scenes.
Carroll Baker & George Peppard in The Carpetbaggers (1964)
Peppard and his future wife Elizabeth Ashley in The Carpetbaggers
Carroll Baker played Rina Marlowe in The Carpetbaggers (1964) and had this to say about her co-star George Peppard: 'When we worked together back then, he was pretentious, egotistical, a brat and an asshole – and that's just for starters! He pretended he was seven years younger than he was; he even claimed to be a bachelor and denied he was married – in front of me (I knew better) he denied their existence. The role of Jonas Cord in The Carpetbaggers really went to his big head…thought he was God's gift to women and the movies! His attitude towards me was very bizarre – he acted as though we'd never met! Or that I had a husband! George asked not 'if' but 'when' we could be intimate together! He came to my house uninvited with an ultimatum – if I don't have an affair with him, he'll have an affair with Elizabeth Ashley! [she was also in the picture and later became his second wife]. Can you believe this guy?'
Eli Wallach seducing Carroll Baker in Baby Doll (1956)
When Baby Doll was released in 1956, the response from the Catholic Legion of Decency (CLOD) and Cardinal Spellman's condemnation of the picture in its entirety, ensured its commercial failure. All across America, 20 million Catholics protested the film and picketed theatres that showed it. Spellman exhorted all Catholics to refrain from seeing Baby Doll 'under pain of sin'. The boycott saw 77% of theatres cancel their orders for the picture. A seduction scene involving Carroll Baker and Eli Wallach on a swinging chair appears to have been the major cause of the condemnation. Wallach's hands were out of shot in the scene and it was assumed by some that one of them may have been under Carroll's dress! In fact, they were not seen because it was so cold on the set that heaters had been placed just out of camera shot to keep both actors hands warm!
John Buckler
Hugh Buckler
John Buckler was born in Cape Town, South Africa in 1906, the son of British actor Hugh Buckler. Young John's character, Ham, in David Copperfield drowns in the 1935 picture. Sadly, about a year after the film's release, 30 year-old John and his 55 year-old father would themselves drown after their car skidded off the road during a rainstorm and overturned in the waters of Malibu Lake, California. Their bodies were discovered the next morning when passers-by spotted the wheels of their vehicle protruding from the water.
President Reagan, Frank Sinatra & the First Lady, Nancy Reagan 1981                                                          
Given the close association between Frank Sinatra and the Reagans (once Ronnie was ensconced in the White House), it is an eye-opener to learn how Frank felt about them back in the days of JFK and Camelot. 'Frank couldn't stand the guy', said actor Brad Dexter. 'Just couldn't stand him.' Songwriter Jimmy Van Heusen's girlfriend concurred: 'We'd be at some party, and if the Reagans arrived, Frank would snap his fingers and say, 'We're leaving. I can't stand that fucking Ronnie. He's such a bore. Every time you get near the bastard, he makes a speech and he never knows what he's talking about'. Peter Lawford said Sinatra considered Ronnie to be 'dumb and dangerous, and so simple-minded', and swore he'd move out of California if Reagan ever got elected to public office. He couldn't stand Nancy Reagan either, describing her as, 'a dope with fat ankles who could never make it as an actress.' Twenty years later Frank and the First Lady were having private lunches at the White House. Very private luncheons.
Jane Greer & Rudy Vallee – Wedding day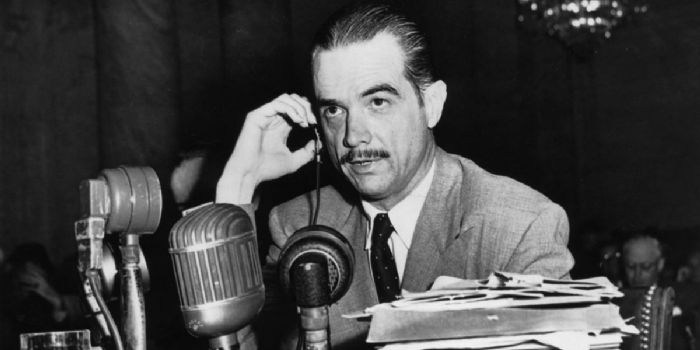 Howard Hughes
In 1943, eccentric billionaire Howard Hughes spotted a reproduction of a Second World War recruitment poster in Life magazine. It featured an 18 year-old beauty named Bettejane Greer, posing in the latest WAC uniform. Hughes issued orders to his henchmen: 'Find her and sign her'. Before long Jane Greer was stashed away in one of his bungalows and virtually kept under house arrest for the next five months. 'Hughes was obsessed with me', she said years later, 'but at first it seemed as if he were offering me a superb career opportunity.' In time, she evaded his spies and started dating crooner Rudy Vallee whom she married a few weeks later. Hughes pressured the couple until their marriage collapsed. Soon afterwards Jane moved in with the billionaire as his lover. Even after her next marriage he continued to pursue her.