Jack Nicholson in A Few Good Men – 'You can't handle the truth!'
Jack Nicholson only appeared in four scenes in the 1992 courtroom drama A Few Good Men. One of those was the final, 'You can't handle the truth', scene which ran for twenty-one minutes of screen time. He received five million dollars for the ten days he was required to perform. This was Aaron Sorkin's first screenplay but the iconic line, 'You can't handle the truth', did not come from him. It was provided by none other than Steven Spielberg who contributed several ideas that improved the script.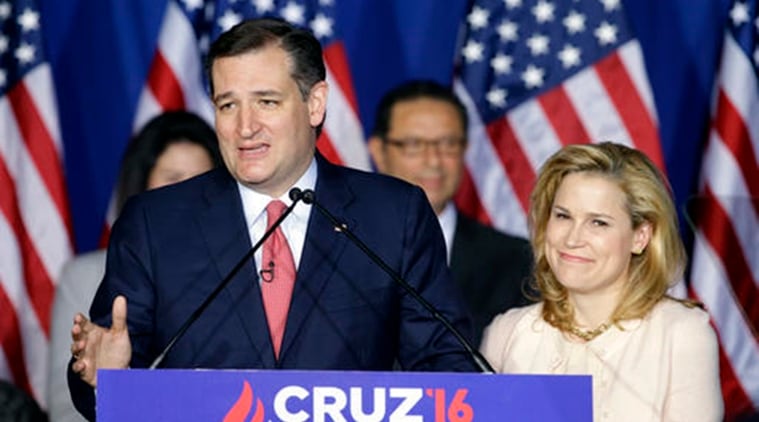 Presidential candidate Ted Cruz and his wife Heidi.
In The American President (1995), Senator Bob Rumson criticizes the girlfriend of President Andrew Shepherd, eliciting the following response from Shepherd: 'You want a character debate, Bob? You better stick with me, because Sydney Ellen Wade is way out of your league.' In March 2016, Republican Presidential candidate Ted Cruz borrowed the lines when fellow Republican candidate Donald Trump made a verbal attack on his wife. 'If Donald wants to get into a character fight', he retorted, 'he's better off sticking with me, because Heidi is way out of his league.' Cruz often quoted movie dialogue on the campaign trail.
Alice Faye was approaching 30 when she gave what she felt was one of her best ever performances in the 1945 Fox film Fallen Angel, only to find that Otto Preminger and Darryl F. Zanuck at 20th Century Fox had cut her best scenes from the movie, choosing instead to focus on newcomer Linda Darnell's performance. Still under contract, Faye walked away from the studio and her career. Even while she worked there Faye referred to the studio as 'Penitentiary Fox', although she admitted in a 1982 interview that she loved her time there. 'We were kids', she said. 'I didn't have a favourite leading man. I loved them all!'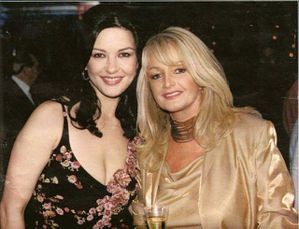 Catherine Zeta-Jones & pal Bonnie Tyler
Catherine Zeta-Jones and her husband Michael Douglas were both born on the same day, September 25, but 25 years apart! He arrived in this world in 1944; she in 1969. Her close friend, singer Bonnie Tyler, sang at their wedding in 2000. Bonnie and Catherine hail from the same part of Wales. A trained singer and dancer herself, Catherine even released singles in the eighties and nineties, including a duet with David Essex, 'True Love Ways' that reached 38 on the UK Top 75 singles charts in 1994. Another single, 'For All Time', peaked at 36 in 1992. For a while she was engaged to actor Angus MacFadyen who played Robert the Bruce in Mel Gibson's Braveheart (1995). The British press once gave her the nickname 'Catherine Zeta, the Man-eater', due to her busy love life at the time. Incidentally, The Sunday Times estimated her's and husband Michael Douglas' net worth at $278 million. And that was almost a decade ago!
Dan Duryea in Winchester '73
Character actor Dan Duryea made a healthy living out of playing ruthless, merciless psychotic killers (usually in westerns) throughout the 40s, 50s and early 60s. Away from the screen, however, he was a passionate gardener, actively involved in the PTA at his children's' school and a Scoutmaster for the local Boy Scout troop. He majored in English at Cornell University and succeeded Franchot Tone as president of the university's drama society. Although he was bedridden for more than a year after suffering a heart attack in his twenties, it was cancer that claimed him in 1968 at the age of 61. His best-known performance is probably as Waco Johnny Dean in 1950's Winchester '73.
Boris Karloff (L), Henry Stephenson & C Aubrey Smith
Boris Karloff was one of nature's true gentlemen. Of course, he will always be known for his portrayal of Frankenstein's monster in Frankenstein (1931), but he was a man of many parts. For instance, he was one of the twelve founding members of the Screen Actors Guild (SAG), a distinction that often placed him at loggerheads with studio hierarchy. He always carried with him a roll of dimes, for pay phones to discuss union business, because his own line was regularly being tapped by the studio. In the Long Room at Lord's cricket ground in London a photograph of Boris and Henry Stephenson (keeping wickets) with another British actor C. Aubrey Smith was displayed back in 2004 after Sussex won the County Championship for the first time. Smith had been a former captain of Sussex.
Gable & Garson in Adventure (1945)
Clark Gable joined the US Army Air Corps in August 1942 after his beloved wife Carole Lombard had tragically died in an air crash in January. Absent from movie screens for over three years he had relinquished his title as 'King of Hollywood' by the time MGM rushed him into Adventure with Greer Garson in 1945. The picture was accompanied by the corny catch-phrase 'Gable's back and Garson's got him!', which Clark thought was just plain stupid. The movie was released on December 26, 1945 and (despite rumours to the contrary) made a substantial profit as the seventh highest grossing film of 1946. The critics, however, hated the thing. It was the only time Gable and Garson ever starred together.
Fred Astaire & Cyd Charisse in Ziegfeld Follies (1945)
Lucille Ball aboard the future Silver.
Cyd Charisse was acting under the name of Lily Norwood when LB Mayer at MGM borrowed her from Warner Brothers for his 1945 extravaganza Ziegfeld Follies. Mayer was taken by her strong resemblance to Ava Gardner and asked Jack Warner if he could keep her and place her under a seven-year contract. Warner agreed. Comedienne Lucille Ball, who stars in this picture based on Flo Ziegfeld's legendary shows, was once fired by Ziegfeld from his production of Rio Rita in the 1930s. The white horse she rides in this movie would become The Lone Ranger's steed Silver in the TV series commencing in 1949.
Robert Alda & Alexis Smith
The 1945 biopic Rhapsody in Blue has Robert Alda debuting as famed composer George Gershwin. Alda's son Alan starred as Hawkeye Pierce in the long-running TV series M.A.S.H. (1972-83). Many liberties were taken with the truth in Rhapsody in Blue which, as we know, is par for the course with Hollywood 'based on true stories' pictures. Gershwin, for instance, was quite a ladies' man in real life and had numerous affairs, not that we could possibly ascertain that from this film. Having said that, however, there never was a love triangle between George and two women as depicted here either. It was just Hollywood hokum. And as for his music teacher dying on the very night Gershwin premiered 'Rhapsody in Blue', well, that is just more of the same.