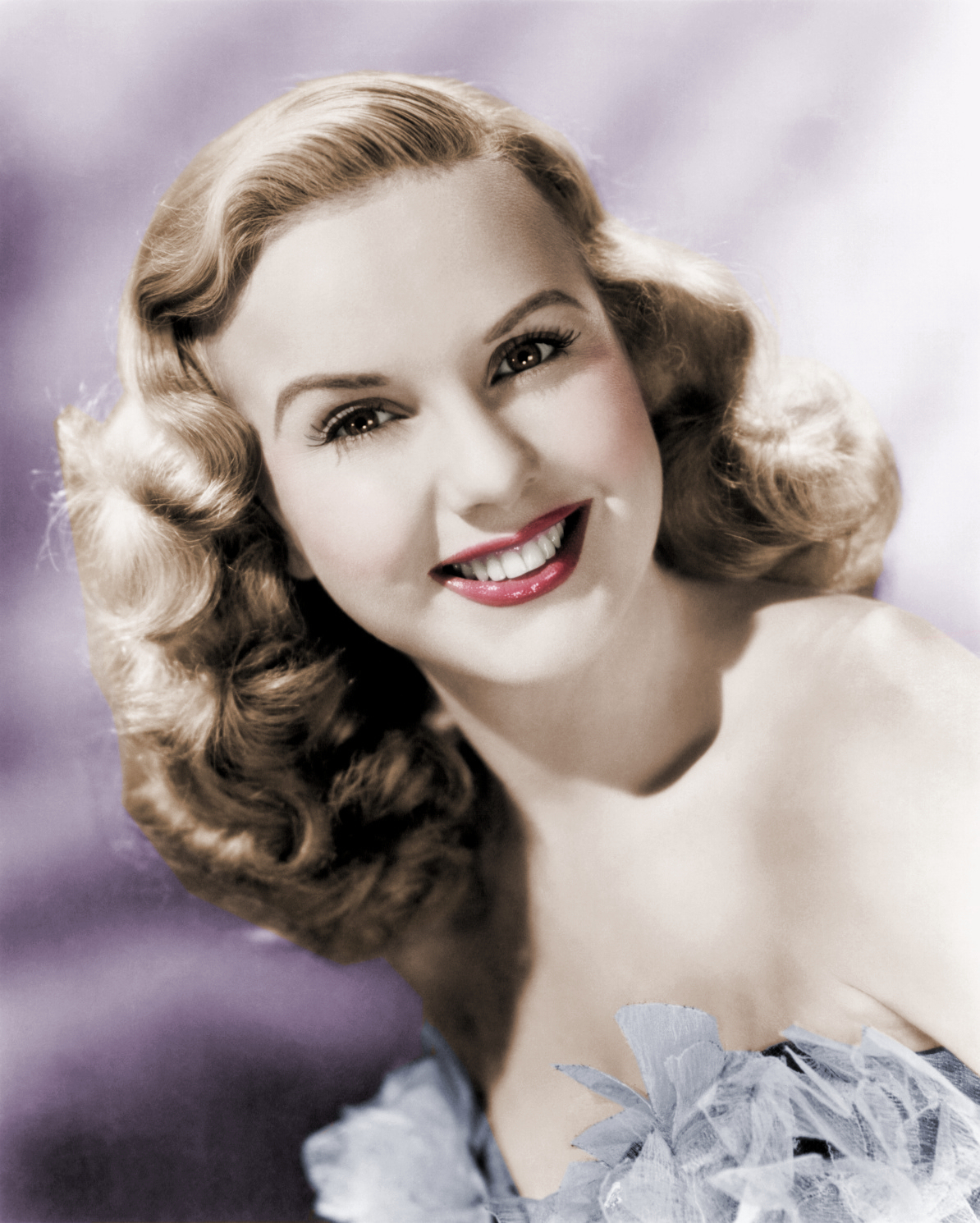 Deanna Durbin
Canadian-born Deanna Durbin was just 14 when Walt Disney tested her to be the voice of Snow White in his 1937 feature-length animated classic Snow White and the Seven Dwarfs. He chose not to use her because her voice sounded 'too mature'. By 1943, at the age of twenty-one, she was the highest paid woman in the United States and the highest paid female star on the planet. She was Universal's top performer during the Second World War, earning upwards of $400,000 per film, and was personally responsible for saving the studio from going under in the late 30s. She was Winston Churchill's favourite movie star and Holocaust victim Anne Frank had two pictures of Deanna on her 'movie wall' in the secret annex in Amsterdam where Frank and her family hid from the Nazis.
Veronica Lake & Alan Ladd
Alan Ladd's height (or lack of it) has been debated for decades by film fans. Some argue that he was just 5'5" tall, others that he was actually 5'9". When he enlisted in the US Army in 1943, however, he was officially measured at 5' 7". The reason for him playing opposite Veronica Lake in a total of seven pictures was twofold. At a tiny 4'11" she was one of very few female stars over whom he could tower and, as a screen couple, they clicked. The public truly liked them. Every once in a while a screen pairing fits perfectly – Spencer Tracy & Katharine Hepburn, Bette Davis & George Brent, John Wayne & Maureen O'Hara, to name but three. Ladd & Lake suited the war and post-war period.
Sian Phillips in Murphy's War (1971)
Although Murphy's War (1971) depicts a German U-boat commander ordering the machine-gunning of survivors of a sinking, this kind of thing only happened once during WW2. U-852, under Commander Eck, was on a mission of utmost secrecy when he ordered the killing of survivors to prevent them disclosing his presence should they be rescued. Eck was tried and executed for this crime after hostilities ceased. Murphy's War stars the then husband and wife team of Peter O'Toole and Sian Phillips.
John Wayne & Robert Montgomery in They Were Expendable (1945)
Director John Ford was especially harsh on John Wayne when directing him in They Were Expendable (1945), all because he felt Wayne was a coward for avoiding military service at that time. That was not true, of course. Wayne's studio worked hard to keep him away from the action and 'The Duke' himself always seemed to have another picture to make. Besides, he was a married man with a family and that exempted him for much of the war anyway. Robert Montgomery, himself a bona fide war hero, was also in They Were Expendable. He was a nice guy who did not take kindly to Ford's treatment of his co-star and told the director so in no uncertain terms. Things went smoothly after that, although Ford made a deliberate point of drawing attention to Wayne's non-enlistment by inserting rank and service alongside every cast and crew member in the credits who had served during the war.
Keith David in Platoon (1986) and today
African-American actor Keith David memorably played Private King in Platoon (1986). In a television interview Charlie Sheen made no bones about the fact that Keith saved his life during filming. They were aboard a Huey gunship when it banked unexpectedly and Charlie went sliding towards the open door. Keith acted quickly, grabbed him from behind and prevented him from hurtling to his death.
William Holden in The Bridges at Toko-Ri (1954)
William Holden agreed to make The Bridges at Toko-Ri (1954), but only if the producers promised to keep the ending unchanged. Holden did not want a Hollywood happy ending to interfere with the film's powerful conclusion. Both the rescue at sea and the crash-landing of the rescue chopper on land were based on actual events that took place on the same day, February 8, 1952. In reality, both the jet pilot and the helicopter pilot were captured by the North Koreans, taken to a prison camp and released at the end of the war.
Michael Douglas in Basic Instinct (1992)
'Times have changed and sex sells', said Michael Douglas when discussing his time in rehab. 'Around 1990 I voluntarily went into rehab because I was drinking too much and some smart-ass editor said, 'Oh, another boring story about an actor going to rehab. Let's give him sex addiction'. 'Then it became, 'Self-confessed sex addict!' Michael's unfortunate choice of material, Fatal Attraction (1987) and Basic Instinct (1992) added fuel to the story.
Val Kilmer as Lt. Col John Patterson
The Lions of Tsavo on display at the Field Museum, Chicago.
The 1996 feature The Ghost and the Darkness tells of a pair of man-eating lions that terrorized a bridge-building force of labourers on the river Tsavo in East Africa in 1898. According to the movie between 130 and 140 people were taken by these beasts before they were shot dead by Lt-Col. John Patterson, the overseer of the project (not the bridge builder as the movie states). Patterson kept the skulls and pelts of the nine-foot long lions until 1924 when he sold them to the Field Museum in Chicago for $5,000. They are on display there to this day.
Sonja Henie
Norwegian-born Sonja Henie became the youngest ever Olympic skating champion when she won gold at the 1928 Olympics at the age of just 15 years and 10 months. Her record was eclipsed in 1998 by Tara Lipinski who was two months younger when she won her gold medal. Henie was the first skater to use her skill to launch an acting career. She was a woefully inadequate actress, handicapped by an accent that made her almost impossible to understand. By 1939, however, she was one of the highest paid stars in Hollywood. Her career later received a major setback (unfairly in my view), when a photograph of her shaking hands with Adolf Hitler after her gold medal win at the Berlin Olympics in 1936 was published. He congratulated several winning athletes at the games (Caucasian ones anyway) and, in fairness to Henie, she had no idea he was about to commit horrendous crimes against humanity and plunge the world into war.
Meeting Hitler, Berlin Olympics 1936.
Having said that, it is worthwhile noting, however, that she was quite prepared to make use of her brief acquaintance with the Nazi leader when the opportunity presented itself. She was out of the country when the Nazis invaded Norway in 1940 and began commandeering homes all over the place. Henie telegraphed her maid and instructed her to place the picture of her with Hitler in a prominent place in her house. When German soldiers duly arrived to take possession of her home, they saw the picture (which had been personally signed by Hitler), and quickly left. Her possessions were left untouched by the occupying forces for the remainder of the war.
with Ty Power – publicity date
Sonja married three times, each time to a wealthy man, and was said to have had some high profile romances with several Hollywood stars. Tyrone Power was one of these, but years later she admitted the relationship was merely a studio publicity stunt. 'We had to consult the gossip columns every day', she laughed, 'to see if we were still in love or not.' Her 'romance' with Van Johnson probably came under the same heading. Another much-publicized affair with boxing champ Joe Louis may or may not have happened. He was said to have been intimately involved with her and Lana Turner at some stage but evidence of intimacy is sketchy at best. Henie's life ended in the air whilst en route to Oslo in 1969. Leukaemia had claimed her at 57.