There was so much media hype about Picnic at Hanging Rock (1975) being based on actual events that authoress Joan Lindsay played along with the story, neither confirming nor denying it. The novel and film are, in fact, entirely fictional. Peter Weir's film is beautifully crafted, more a mood piece than anything else; it runs almost two hours, very little unfolds and nothing is solved. After being withheld for twenty years, a final chapter to Ms Lindsay's book was released in the nineties. It attempted to explain what happened to the three girls and their teacher. Some vague notion about them being caught in a rift in time or something. Uh-huh. A bit like being promised the identity of Jack the Ripper and being told he was a visiting alien.
George C. Scott & Trish Van Devere
Scott with former wife Colleen Dewhurst
The Last Run (1971) is an interesting film, if for no other reason than it features George C. Scott playing opposite two of his wives. Well, if you count the fact that he married Colleen Dewhurst twice, it could be argued that the picture has three of his spouses in it. He would divorce Colleen (for the second time) in February 1972 and wed Trish Van Devere in September that same year, the couple having met on the set of this movie. Their marriage lasted 27 years until Scott's death in 1999. 'He's all things to me', said Trish. 'Husband, lover, daddy, child. He's not a violent person at all; he's the farthest thing from a harsh person. And he drinks much less now than he used to.' Not violent? Dewhurst and Ava Gardner would vehemently disagree with that.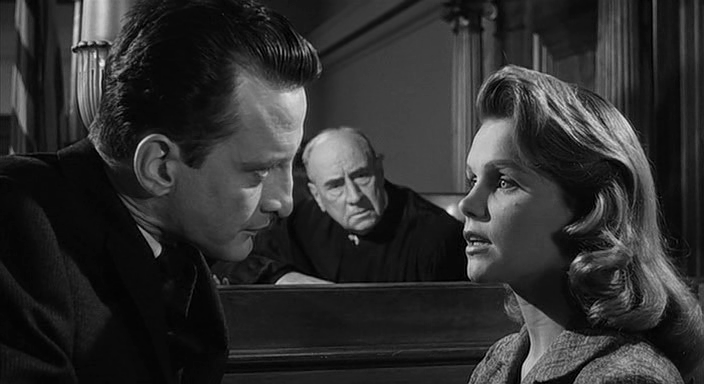 George C. Scott with Lee Remick in Anatomy of a Murder (1959)
Anatomy of a Murder (1959) was a courtroom drama starring James Stewart and George C. Scott in his screen debut. Lana Turner was signed to play the murder defendant's wife while Eve Arden played Stewart's secretary. 'I told Otto [Preminger] I wouldn't accept any shouting from him', recalled Ms Arden, 'but I was lucky since all my scenes were with Jimmy. And Otto never yelled at the star – he wouldn't dare. But he did go after others. Like Lana Turner. He screamed so much at her for her wardrobe choices, she simply quit and was replaced by Lee Remick. Otto ordered the press release to mention the fact she was 18 years younger than Lana. Jimmy later told me he got so much flak from fans about the adult language he never again accepted such a daring part.' The 'adult language' to which she referred were words such as 'bitch', 'rape', 'contraceptive', 'panties, 'slut' 'penetration' and 'sperm'.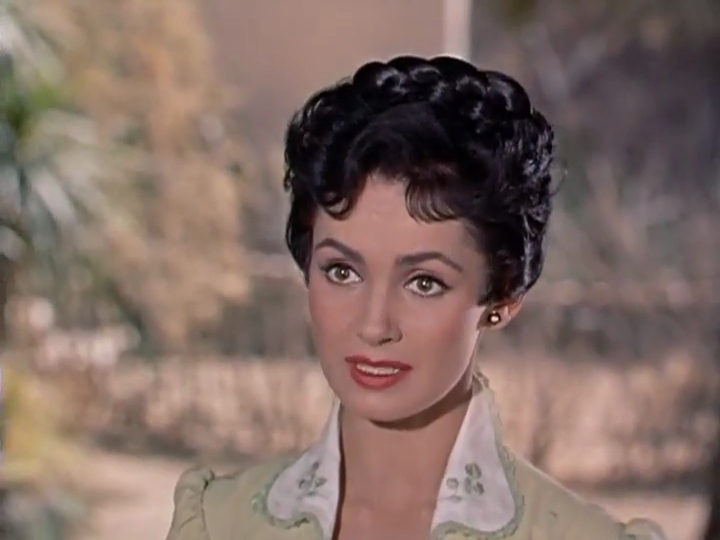 Stunning Susan Cabot in Ride Clear of Diablo (1954)                                                            
King Hussein of Jordan
Ten years after starring opposite Audie Murphy in Ride Clear of Diablo (1954), the beautiful Susan Cabot gave birth to a dwarf son Timothy. Twenty-two years later he would bludgeon her to death with a weightlifting bar while she slept in her Encino, California home. Charged with involuntary manslaughter, he received a three-year suspended sentence and placed on probation after his attorney cited years of mental and physical abuse as his defence. In January 2018 it was confirmed that Timothy's father was none other than King Hussein of Jordan, a man with whom Susan had begun an intimate relationship back in 1959. The king ended their involvement on learning she was Jewish, although it has never been explained why it took him nearly five years to find out. In the early eighties Susan started taking a growth hormone prescribed for her son to combat his dwarfism. Already mentally unbalanced and paranoid, this may have heightened her mental illness. She was 59 at the time of her death.
Dian Fossey & friends
The 1988 feature Gorillas in the Mist was filmed using a mixture of real gorillas, stuntmen in suits and baby chimpanzees made up in black face and peaked fur hats. Using actual baby gorillas would have placed the cast and crew in danger from the highly protective adults. The crew was obliged to keep its distance from the real animals when not actually filming them. Director Michael Apted seamlessly interweaves the actual and the phony gorillas expertly, making it impossible to determine real from unreal. Dian Fossey, the subject of the film, has been described in an article in the The Wall Street Journal in 2002 as 'a racist alcoholic who regarded her gorillas as better than the African people who lived around them.' There appears to be some truth in that but it is certainly harsh and far too simplistic. Her murder in 1985 is still unsolved. It may have been ordered by local government officials to protect the tourist trade; it may have been poachers tired of her interfering with their livelihood or it may have been locals convinced she was a dangerous witch. Most investigators do not believe hers was a random killing.
 Charlie Sheen in Platoon (1986)                                                          
Platoon (1986) cost $6 million to make and raked in over $200 million! Nineteen year-old Kevin Dillon played 'Bunny' in the picture and became a close friend of Charlie Sheen, the star of the film. Dillon's character was required to bash a young Vietnamese man's head open in one horrific scene. 'He didn't speak a lick of English and hardly had any idea what was going on', recalled the young actor. 'He was missing a leg and had a cataract in his eye. We had huge sympathy for him and so Charlie and I pooled our daily allowance expenses together and got him surgery on his eyes so he could get the cataract removed. To Charlie's credit, it was his idea and I went along with it. Apparently, he [the Vietnamese] had great vision after that, which is fantastic as he would have been completely blind within a year.'
Bette Davis 
Bette Davis was not your usual Hollywood ingénue. A major problem for costumers was the unusual shape of her breasts which were large and limp and hung almost to her waist. Designer Orry-Kelly wanted to fit her with wire bras to improve her shape, but she was convinced the wire would give her breast cancer so she refused to wear them. The ever creative costume genius resorted to making gowns that bore handkerchiefs, piping, corsages, bows, etcetera, above the bosom; anything that might redirect people's focus away from the lowness of her breasts. And it worked.