The Jazz Singer (1927)
Al Jolson (Jakie Rabinowitz): 'Wait a minute! Wait a minute! You ain't heard nothin' yet!'
(Almost as if it was an omen for the future, the first words spoken by Jolson in the first ever 'talkie' were completely ad-libbed.)
Casablanca (1942)
Humphrey Bogart (Rick Blaine): 'Here's looking at you, kid.'
(This line was never scripted. Bogart used it often when teaching Ingrid Bergman how to play poker between takes.)
Midnight Cowboy (1969)
Dustin Hoffman (Ratso Rizzo): 'I'm walking here!'
(When a New York City taxi driver ignored all the 'street closed' signs and almost collided with Jon Voight and Hoffman, the latter stayed in character and gave the driver a piece of his mind. None of it was scripted.)
Jaws (1975)
Roy Scheider (Chief Brody): 'You're going to need a bigger boat.'
(Scheider took one look at the shark and came up with his famous un-scripted line.)
Taxi Driver (1976)
Robert De Niro (Travis Bickle): 'You talking to me?'
(The script simply said, 'Bickle speaks to himself in the mirror'. It was up to De Niro to improvise. So he did.)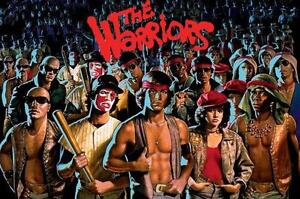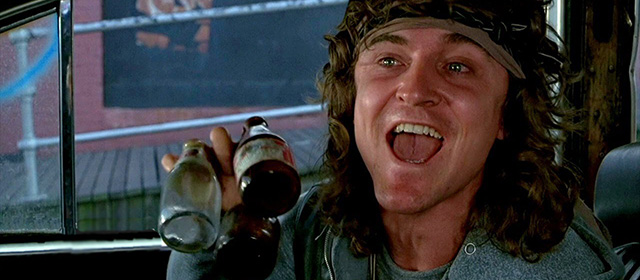 The Warriors (1979)
David Patrick Kelly (Luther): 'Warriors, come out to play!'
(Kelly played the psycho leader of the Rogues. He was scripted to simply drive up and provoke the Warriors by clinking bottles together. The line he added himself and the scene has become one of the film's most remembered moments).
The Empire Strikes Back (1980)
Harrison Ford (Han Solo): 'I know.'
(When Princess Leia (Carrie Fisher) says, 'I love you', to Han Solo, he was scripted to say, 'I love you, too.' Instead, Ford ad-libbed 'I know', and his response made it into the final print.)
The Shining (1980)
Jack Nicholson (Jack Torrance): 'Here's Johnny!'
(Jack hacks his way through a bathroom door with an axe, makes a hole big enough to poke his head into, and shouts a phrase previously made popular by Ed McMahon when announcing Johnny Carson on The Tonight Show. It was an ad-lib.)
Caddy Shack (1980)
Bill Murray (Carl Spackler): 'What an incredible Cinderella story! This unknown comes out of nowhere, to lead the pack at Augusta. He's at the final hole. He's about 455 yards away, he's gonna hit about a 2-iron, I think. Oh, he got all of that. The crowd is standing on its feet here at Augusta. The normally reserved crowd is going wild…for this young Cinderella who's come out of nowhere. He's got about 350 yards left, he's going to hit about a 5-iron, it looks like, don't you think? He's got a beautiful back-swing… that's, oh, he got all of that one! He's gotta be pleased with that! The crowd is just on its feet here. He's a Cinderella boy. Tears in his eyes, I guess, as he lines up this last shot. He's got about 195 yards left, and he's got a, looks like he's got about an 8-iron. This crowd has gone deadly silent…Cinderella story, out of nowhere, former green-keeper, now about to become the Master's Champion. It looks like a mirac…It's in the hole! It's in the hole!'
(The entire scene was developed by Murray on the spot.)
Raiders of the Lost Ark (1981)
Harrison Ford (Indiana Jones): 'It's not the years, honey, it's the mileage!'
(Ford himself came up with this gem of a line that sounds as if it must have been scripted. But it wasn't. In the same movie there was a scene in which an enormous scimitar-twirling swordsman was to have a fight to the death with Indiana in the market-place. That day, however, Harrison Ford was not well and suffering from diarrhoea, so he suggested to director Steven Spielberg that he was not well enough to fight and should simply pull out his gun and shoot his adversary. Spielberg agreed and the resultant moment became one of the highlights of the entire movie; possibly even the highlight. A very amusing moment.)
E.T. – The Extra-Terrestrial (1982)
Drew Barrymore (Gertie): 'Gimme a break!'
(When Elliott tells her that only little kids can see E.T., Drew ad-libs the above response. She also looked down at the group of wires coming out of the E.T. puppet, and said, 'I don't like his feet.' This, too, was an ad-lib).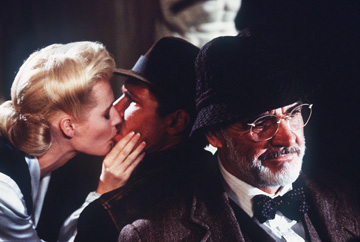 Indiana Jones & the Last Crusade (1989)
Sean Connery (Professor Henry Jones): 'She talks in her sleep.'
(When Harrison Ford asks Connery (who is playing his father) how he knows that Dr. Elsa Schneider (Alison Doody) is a Nazi, Connery comes up with the above unscripted response that had the film crew rolling about laughing. 'Well', said director Steven Spielberg, 'that's in.')
Ghost (1990)
Whoopi Goldberg (Oda Mae Brown): 'Molly, you in danger, girl.'
(Whoopi's entire performance was first class and won her a much-deserved Oscar. She created this line herself).
The Silence of the Lambs (1991)
Anthony Hopkins (Hannibal Lecter): 'A census taker once tried to test me. I ate his liver with some fava beans and a nice chianti.'
(The above statement from Lecter was most certainly scripted, but the slurping sounds Hopkins added to emphasize the point were of his own volition. 'You're a sick man, Hopkins', commented director Jonathan Demme, but he kept the ad-lib in his movie. In time Demme would grow to regret leaving it in, but by then the thing had a life of its own.}
A Few Good Men (1992)
Jack Nicholson (Colonel Nathan R. Jessep): 'You can't handle the truth!'
(The scripted line was, 'You already have the truth', but Jack fiddled with it and came up with an iconic line.)
The Fugitive (1993)
Tommy Lee Jones (Marshal Sam Gerard): 'I don't care.'
(This was Tommy Lee's unscripted response when Richard Kimble (Harrison Ford) pleads his case, saying, 'I didn't kill my wife.' Immediately, we know that Tommy Lee's character, Gerard, is only interested in apprehending an escaped felon, not in justice, innocence or guilt.)
Throughout the hundred and ten years or so of mainstream movies there have been numerous instances, other than the above, where actors and actresses have let bodily functions dictate their actions. Kenneth Connor, for example, angered Joan Sims in one of the earlier 'Carry On…' films when he violently broke wind during their love scene. Only he knew if it was intentional or not, but it was definitely not scripted. Neither were the erections numerous actresses found themselves confronted with during bedroom scenes with excitable young (and not so young) male stars. Of course, these issues rarely (if ever) made it to the final print, although Jack Nicholson (to name one) was very keen for his 'stinger' to be recorded for posterity in the hot kitchen seduction scene with Jessica Lange in the re-make of The Postman Always Rings Twice (1981). It wasn't. Indeed, whereas full frontal feminine nudity is relatively commonplace, full frontal male nudity is somewhat of a rarity and erections are still taboo, as is sexual penetration. For the moment anyway…