The British have always been exceptionally good at making movies about World War Two. They seem to possess a knack for underplaying heroism which, unfortunately, tends to make warfare even more heroic than any amount of gaudy flag-waving might otherwise imply. Americans would probably be the first to admit that flag-waving, my country right or wrong stuff, is their style and they are proud of it. The Brits, however, prefer the quiet, unflappable, stiff upper lip approach and are equally proud of that. It is only quite recently that both nations have at last chosen to portray the abomination that is war in all its horror and degradation and, hopefully, future generations may benefit from that approach. As Oscar Wilde once famously said: 'As long as war is regarded as wicked, it will always have its fascination. When it is looked upon as vulgar, it will cease to be popular.' It would be nice to think that movie-makers are starting to heed his words and dealing less with the so-called glory of war and more with its vulgarity.
CARVE HER NAME WITH PRIDE (1958)
Virginia McKenna is wonderful as Violette Szabo, an extraordinarily heroic British woman who volunteered to be dropped behind the lines in Nazi-occupied France as an operative with Special Operations Executive (SOE) during the Second World War. Fans of the 1966 feature Born Free will recall Virginia and Bill Travers, playing Joy and George Adamson, and their affection for a lioness named Elsa. During the 92 days required to film Carve Her Name with Pride, Virginia took just two days off, and these she spent with Bill on their brief honeymoon!
Virginia McKenna as Violette               The real Violette Szabo
Both women were very attractive, but the blonde, blue-eyed Virginia bore little resemblance to the real Violette who was a 5'5" brunette with dark eyes. Playing Violette affected Virginia deeply. 'There are some roles you can put out of your mind the moment you get home', she said, 'but not this one. It's the part of a lifetime.' Violette was just 23 when she and two other female British agents were executed in Ravensbruck Concentration Camp in Germany on February 5, 1945.  A posthumous recipient of the George Cross, Violette left behind a daughter Tania Damaris Desiree Szabo. In 2000, at the age of 69, Virginia performed the opening ceremony of the Violette Szabo Museum in Herefordshire.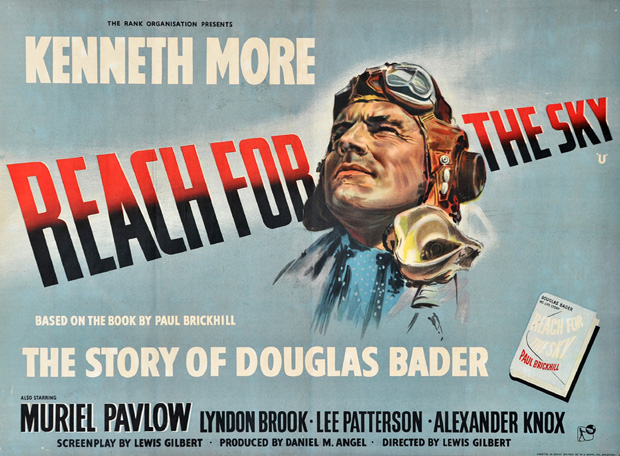 REACH FOR THE SKY (1956) 
When Reach for the Sky hit screens in the UK in 1956, it became the biggest grossing movie in Britain since Gone With The Wind in 1939. Its star, Kenneth More, was immediately whisked off to the United States to promote the picture, but Americans showed little interest in it. Douglas Bader was an amazing individual, a fighter pilot who lost both legs in a horrendous air crash prior to the Second World War in 1931. The movie follows his rehabilitation and his determination to fly again against the German Luftwaffe in the Battle of Britain. Bader himself was asked to double for More in some long-shots, but he proved so difficult to get along with that the idea was ultimately abandoned. His main gripe was over the omission of many of Bader's pilot friends from the screenplay. The director tried in vain to explain that including them all would result in a movie twenty hours long, but he remained resentful. Consequently, doubles were used in the occasional long-shot.
Kenneth More as Bader                                                                        the real Douglas Bader
If there was any doubt about Bader's ability as a fighter pilot it was soon put to rest when he went into combat. By the summer of 1941 he had claimed 22 victories and was ranked the fifth highest-scoring fighter pilot in the entire Royal Air Force. Already an exceptional pilot, his injuries actually gave him an advantage over other pilots. In tight turns he would not 'black out' due to blood draining to his legs, simply because he had none. His luck ran out on August 9, 1941 over France when his aircraft was downed, possibly shot down in error by one his RAF colleagues. He was soon captured by the Germans, escaped and then re-captured. Ultimately, he would spend the remainder of the war in Colditz Castle, the prison camp for troublesome Allied airmen.
Richard Burton was first asked to play the lead in this movie but, as so often happens, he turned it down to play the title role in another feature, the very ordinary Alexander the Great (1956), reportedly for about four times the fee. Kenneth More was terrific as Bader, his performance earning him the first of his four BAFTA nominations. His only win, incidentally, was for the less than brilliant Doctor in the House two years earlier. Prior to accepting the role as Bader, More arranged to meet the man to prepare for the task of portraying him. Kenneth was a good golfer so he agreed to play a round with him. The legless Bader won decisively! Kenneth More passed away on July 12, 1982. Bader died on September 5 that same year.
                                                               PURSUIT OF THE GRAF SPEE (1956) 
Readers living outside the United States might not recognize the title of this film because it was called The Battle of the River Plate everywhere else. Possibly, this was because of the mistranslation of the Spanish name for the river, Rio de la Plata. 'Plata' is Spanish for 'silver. 'Plato' is Spanish for 'plate'. Oops! So, the original title really should have been The Battle of the Silver River. Oh, well.
The future director John Schlesinger who would win an Oscar in 1969 for Midnight Cowboy, can be seen portraying a young German officer aboard the Graf Spee. He is the lieutenant who escorts Captain Dove of the Africa Shell to meet Captain Langsdorff who is played by Peter Finch. In 1971, Schlesinger would reluctantly choose Finch to play the homosexual doctor in Sunday, Bloody Sunday after Ian Bannen was fired. He had become flustered and refused to kiss actor Murray Head in a scene while engaging in a sexual affair with a woman. Finch had no such compunctions. The movie is now regarded (rightly or wrongly) as a masterpiece.
THE COLDITZ STORY (1955)
Although John Mills plays Pat Reid in The Colditz Story, he far more closely resembled another Colditz prisoner, a three-time escapee named Mike Sinclair (alias The Red Fox). Sadly, Sinclair's final attempt to leave Colditz forever ended in tragedy and he was shot to death by the guards on September 25, 1944.
                Eric Portman (L) and John Mills in The Colditz Story
Lt-Colonel Airey Neave was the first Brit to make a 'home run' after his escape in January 1942. His life, too, ended violently, although not until 1979. He was elected as a Conservative Member of Parliament in 1953 and 26 years later was murdered by the Irish National Liberation Army. All in all, the prisoners at Colditz in Saxony, Germany made a total of 320 escape attempts during the Second World War, 56 of which resulted in 'home runs'. The French scored the most with 22, the Dutch 15, the British 14 and the Poles 5.
Respected British actor Eric Portman played Colonel Richmond, the senior British officer in the movie. His aristocratic and often ominous demeanor often saw him cast as a Prussian or German officer, causing many movie-goers to assume he was German by birth. But that was not the case. Future director Bryan Forbes (who was also in The Colditz Story) was of the opinion that Portman's chronic drinking problem ruined what could have been an outstanding career. The man remained a bachelor throughout his life, living in an intimate relationship with assistant director Knox Laing from the 1940s until Eric's death in 1969.