Joan Collins in The Opposite Sex (1956)
The Opposite Sex (1956) was a musical re-make of the 1939 film The Women. It was also one of the early vehicles for the new British bombshell Joan Collins. New to the movies and to MGM, she recalled walking past the studio mail-room and being whistled at and asked out to dinner by a brash 18 year-old worker there. She turned him down, so he propositioned Liz Taylor and then Yvette Mimieux with similar results. The brazen employee would one day be a star himself. His name – Jack Nicholson.
     John Wayne & Geraldine Page in Hondo (1953)
Geraldine Page was a seasoned Broadway performer by the time she came to the movies. Hondo (1953) was her second picture and it was not a good film. When John Wayne saw that he would have a kissing scene with her, he arranged a series of free dental appointments for her. Geraldine had severe hygiene issues with her teeth so 'The Duke' addressed them anonymously prior to the commencement of shooting.
Debra Paget & Jimmy Stewart in Broken Arrow (1950)
When filming began in 1949 on the western Broken Arrow (1950), lovely Debra Paget was still 15 years old. On the other hand, James Stewart, whose character will marry her character in the picture, was 41! No wonder he said later that he felt uncomfortable in their love scenes.
              Joan Collins & Richard Burton in Sea Wife (1957)
A lot of people fully expected the rampant Richard Burton to seduce new-comer Joan Collins off-screen when they made Sea Wife in 1957. Already, the 24 year-old beauty was acquiring an unsavoury reputation as a bit of a man-eater. A fellow actress who wished not to be named, scathingly commented: 'Joan's had more hands up her than the Muppets!' Be that as it may, she did not fancy Burton at all. Even when he kissed her after filming finished on day four and began unfastening her bikini top. She disliked his pockmarked skin, his blackheads and pimples, so she resisted him for two months. Instead she slept with a 26 year-old cameraman until her boyfriend Arthur Loew Jr arrived. She switched to Loew's bed until shooting concluded, then returned to England (with her cameraman) and shacked up with him for a few months.
            Natasha Lytess & Marilyn Monroe
Lauren Bacall had this to say about working with Marilyn Monroe on How to Marry a Millionaire in 1953. 'Marilyn was frightened, insecure – trusted only her coach and was always late. During our scenes she'd look at my forehead instead of my eyes. At the end of a take she would look at her coach, standing behind Jean Negulesco [the director] for approval. If the headshake was no, she'd insist on another take. A scene often went to fifteen or more takes, which meant I had to be good in all of them as no-one knew which one would be used. Not easy – often irritating. And yet I couldn't dislike Marilyn. She had no meanness in her – no bitchery. She just had to concentrate on herself and the people who were there only for her.' The general feeling among cast and crew was that Natasha Lytess, Marilyn's coach, fed on the actress's insecurity, advised her badly and merely justified her own presence on the set by insisting on take after take.
Deborah Kerr & Stewart Granger in King Solomon's Mines (1950)
Errol Flynn was originally cast as Allan Quartermain in the 1950 version of King Solomon's Mines, but he did not fancy sleeping in a tent in Africa so he went off to make Kim in India instead. There, the cast were booked into a resort hotel. Stewart Granger took his place and gained the added bonus of becoming intimately involved off-screen with his co-star Deborah Kerr.
                                             Cantinflas
Mexican comedian Cantinflas played Passepartout in Around the World in 80 Days (1956) and western audiences found him to be 'unfunny', an assessment that must have shocked and disappointed his millions of Mexican fans. In his own country his popularity was such that the government would close all pawnshops two days before the opening of his latest film, because there was genuine concern that the poor would pawn their meagre possessions to purchase tickets!
Fred MacMurray had a reputation for being extremely frugal with his money and he had plenty of it. In fact, he was the proud owner of a large portion of Wilshire Boulevard. Robert Vaughn worked with him on a movie called Good Day for a Hanging in 1959, and recalled how Fred would always bring his lunch with him to the set every day. It was always a solitary sandwich from home in a brown paper bag
   Bobby Driscoll & Robert Newton
The British Government introduced post-war restrictions that prevented the Disney Company from transferring profits from its animated movies out of the United Kingdom. That left Walt Disney with two options; to either build an animated features studio in Britain (which he did not want to do), or to use the money he had there to make a live action film. He chose the latter and decided to shoot his first ever live action picture Treasure Island (1950). Young Bobby Driscoll as Jim Hawkins was the only American in the entire cast.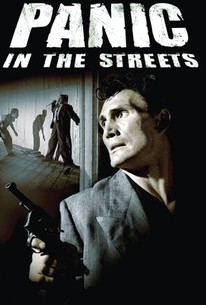 Jack Palance in Panic in the Streets (1950)
Richard Widmark was physically afraid of Jack Palance when they appeared in Panic in the Streets (1950) together. So was Zero Mostel. In one scene Palance had to hit Widmark over the head with a pistol. The two stars rehearsed with a rubber gun, but in the printed scene Jack substituted a real gun and knocked Richard out cold for twenty minutes! 'Why did he switch?' Widmark asked rhetorically. 'Who knows?' To get into the mood for the character he was playing, Palance also beat up Zero off-screen and poor Zero had to be hospitalized after the first week of shooting.
Burt Lancaster & Nick Cravat in The Crimson Pirate (1952)
Nick Cravat and Burt Lancaster were an acrobatic team long before either man went into acting. In the 1952 adventure film The Crimson Pirate, Cravat was cast as a mute named Ojo, not because he was incapable of speaking, but because he found it impossible to rid himself of his thick Brooklyn accent which was completely inappropriate for a movie set in twelfth century Lombardy.