The Last Valley (1971) was panned almost universally, probably because it echoed writer/director James Clavell's well-known atheism. Churches hate that kind of thing and they had enough clout back then to strongly influence many critics in their reviews. Personally, I thought the script was brilliant, the acting excellent, and John Barry's incredible score worth the price of admission in itself. I believe it gives us an insight into a moment in history almost entirely overlooked by movies and the education system. The Thirty Years War seems to be one of those conflicts that have slipped under the radar of most people. Indeed, in the movies it has only formed the background of two films that I am aware of – this one and the Greta Garbo classic Queen Christina (1933). Neither British nor American school curriculums include it, possibly because what was happening in England and her American colonies around that time was considered to have more relevance to both nations.
James Clavell
As a historical lesson, therefore, The Last Valley offers us a unique window into what it must have been like to be a peasant in Europe during those bleak times. Staying alive was more a matter of luck than anything else as fanatical mercenaries plundered and killed at will, all in the name of God. Clavell's low opinion of organized religion is evident at every turn and, historically, he makes a very telling argument. The opening prologue sums up the times succinctly and powerfully: 'The Thirty Years War began in 1618. It started as a religious war – Catholics against Protestants. But in their relentless pursuit of power, princes of both faiths changed sides as it suited them and in the name of religion butchered Europe.'
Sharif (Vogel) & Caine (The Captain)
Michael Caine would more than likely be the first to admit that he has been guilty more than once in his career of taking money for roles that were sub-standard at best. But this picture is not in that category. He received no official accolades for his performance as 'The Captain' in The Last Valley, yet I personally believe it is the best performance of his entire career, and that includes his two Oscars and four nominations! As an actor he must have salivated when he read the script for the first time. He has so many marvelous lines to deliver – and, boy, does he deliver them!
the inimitable John Barry
The picture is greatly enhanced by the fantastic John Barry score. In my opinion he was the best of the best at capturing the mood of an era. Apart from the dozen James Bond scores he produced, among them 'Goldfinger' and 'From Russia with Love', he won Oscars for 'Born Free', 'Out of Africa', 'The Lion in Winter' and 'Dances with Wolves'. And that is not to mention his iconic 'Zulu' theme of 1964 which somehow slipped by un-noticed by the Academy. His opening score in The Last Valley is equally as dramatic and the melodic air heralding the valley itself is as beautiful a piece of cinematic music as has ever graced the screen. The man was an exceptional talent. Coincidentally, back in the early sixties the composer of both 'Zulu' and 'The Last Valley' shared lodgings with the star of both films, Michael Caine, when they were struggling for recognition. Mr. Barry died from a heart attack in 2011 at the age of 77.
Per Oscarsson as Father Sebastion
The Last Valley is most illuminating when it comes to explaining the process involved with the issuing of holy indulgences by the Roman Catholic Church's priests. The all-encompassing power and authority wielded by these men is difficult to understand today, but to the illiterate masses of the era there was no mystery to it at all. They were God's and the Pope's representatives on Earth. Their word was law. Superb Swedish star Per Oscarsson, a prestigious veteran of stage and screen in his homeland, gives a stunning performance as the fanatical priest, Father Sebastion in this picture and very nearly steals it from Caine. If his portrayal is indicative of a seventeenth century religious fanatic, then it is little wonder the clergy at the time held sway over the masses. He is ruthless, unrelenting in his beliefs, and a law unto himself, even after the village comes under the control of 'The Captain' and his mercenaries. Tragically, Oscarsson would perish in a house fire in 2010 at the age of 83. This movie, I believe, is his cinematic legacy.
Brian Blessed, Sharif and Caine
Omar Sharif is also very convincing as Vogel, the sole voice of reason and compassion in the village, an educated stranger who walks a tightrope between the mercenaries and the head man, Gruber, played intelligently (as always) by the under-rated Nigel Davenport. It is Vogel who must find a way to keep the soldiers from falling upon the townspeople like a pack of wolves, yet at the same time maintain an uneasy peace with the head man who could, if he chose to, arrange to have the invaders poisoned at any given time. Sharif is perfect in the role.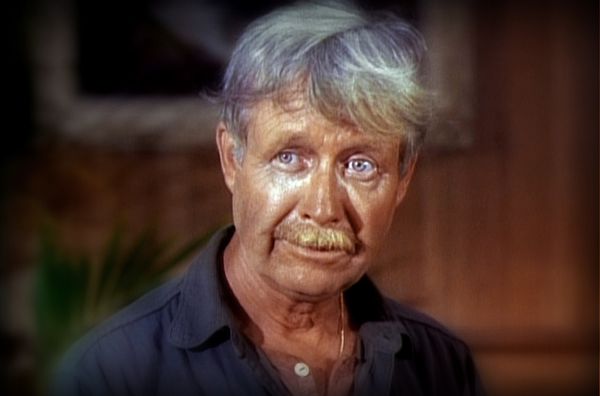 Nigel Davenport as Gruber                                  Arthur O'Connell
Arthur O'Connell plays Hoffman, the devout father of the virginal village beauty Inge (played by Madeleine Hinde). He was once a member of Orson Welles' Mercury Theatre Players and can be seen in the bit role of a reporter in the closing scenes of Citizen Kane (1941). Arthur returned to New York City after 'Kane' and built up his skills on Broadway, before returning to Hollywood where he was twice unsuccessfully nominated for Supporting Academy Awards (Picnic in 1953 and Anatomy of a Murder in 1959). Three years before making this movie he ventured to the 24th Evacuation Hospital in Vietnam where he personally visited hundreds of wounded American soldiers individually. He would laboriously write down their names and home addresses, phone numbers and loved ones' names, promising to make personal calls on their behalf upon his return to the states. His presence and the messages he relayed boosted morale and surely aided in the healing process for many of these men. In the 1970s, not long after completing The Last Valley, this gentle, compassionate man contracted Alzheimer's disease which curtailed his workload. It claimed him in 1981.
the irrepressible Brian Blessed
The much-loved, boisterous Brian Blessed appears only briefly in this movie as the unfortunate Korski. In retrospect, no doubt the producers wish they had used him more in the picture. This extraordinary man has the dual distinction of being the oldest human being to ever have reached both the geographical North Pole and the magnetic North Pole – on foot. He has also attempted to climb Mount Everest three times, without supplemental oxygen, reaching the height of 28,200 feet (8,600 meters) in 1993 and 25,200 feet (7,700 meters) in 1996.  He has, however, reached the summits of Mount Aconcagua in Argentina and Mount Kilimanjaro in Tanzania. This truly remarkable man has also completed 800 hours of space training at Star City, Russia! As of April 2017, he is 80 years young and still going strong.