MARLA ENGLISH (1935 – 2012)
Marla was one of those 'promising' beauties who might have been successful in the movie business if she had taken the opportunities presented to her and if she had gotten the right breaks at the right time. Success or failure in Hollywood often depends on such things. As it happened, however, she only managed to chalk up seventeen screen credits in total, all of them between 1954 and 1957, – and five of those were inconsequential 'uncredited bits'.
In 1951 (or possibly 1952), she was noticed by Hal Wallis and picked up by Paramount. They gave her an extensive period of grooming and coaching at the studio's talent school and she roomed with fellow newcomer Kathryn Grant. On 20 August 1953, eighteen year-old Marla eloped to Las Vegas with minor Paramount player Richard Shannon. The marriage did not last long, however, and by April 1954 she was free again and dating singer Guy Mitchell. A month later she was is 'borrowed' by Howard Hughes on a 20-week deal. He announced he had her lined up for a very important picture, but it never eventuated.
Marla posing at an LA beach 1954
In August she was dubbed 'Miss Scorpion of 1954' by the US Air Force's Flying Tigers fighter-interceptor squadron at Presque Isle. It is one of those silly titles that were everywhere during and after the war. This one was accompanied by the equally silly caption, 'the personality calculated to arouse the most tiger in us'. By November she was madly in love with actor Bud Pennell when Paramount offered her the lead opposite Spencer Tracy in The Mountain. In what can only be described as 'a poor career move', she turned it down because she did not want to go on location to Europe and be parted from Bud. It was a decision that had far-reaching consequences. The part went to Barbara Darrow and Marla was suspended by Paramount.
Less than a year later, her romance with Bud a distant memory, she married a young San Diego businessman named Paul A. Sutherland. He owned a large parking complex in San Diego and Marla promptly announced her retirement from the movie business. They will have four sons and, after encountering evangelist Billy Graham, will become devout born-again Christians. Marla passed away in Tucson, Arizona in 2012 after a four-year battle with cancer, her husband of 56 years at her bedside.
Marla's main screen credits were a handful of B features – The She Creature, Runaway Daughters, Three Bad Sisters, all in 1956, and Voodoo Woman (1957). Could she have become a star? She had the looks and figure, and her acting was passable, but studios back then took a dim view of starlets who did not toe the line. Turning down a Spencer Tracy picture was a big deal and she was made to pay the price. Then again, she seemed happy to place love before career anyway. A 56-year happy marriage was probably preferable to stardom in her eyes.
LORI NELSON (1933 – )
Lori hailed from Santa Fe, New Mexico. Voted the city's most talented and beautiful child, the three year-old toured the state in the thirties, billed as 'Santa Fe's Shirley Temple'. At four she moved to Hollywood with her parents where she was named 'Little Miss America'. On the eve of her 17th birthday she was signed to a 7-year contract with Universal-International
In 1952, two 19 year-old starlets, Debbie Reynolds and Lori were sent out on publicity dates with 20 year-old Tab Hunter, the studio's latest heart-throb; the media being led to believe they were the secretly homosexual  actor's girlfriends. Before long, Debbie fell for Eddie Fisher and dropped out as a 'boyfriend'. Natalie Wood hit it big with Warner Brothers' Rebel without a Cause, so she took Debbie's place and officially became Tab's latest lover.
In 1953, Lori was put into a couple of B features, mainly for experience, opposite Audie Murphy and new boy Tony Curtis. She dated Richard Long for a while, but he fell in love with Suzan Ball and married her in 1954. Lori attended the wedding. When Pier Angeli bowed to her mother's ultimatum and ditched Jimmy Dean for Vic Damone, Lori was seen around town for a while, consoling the dejected Dean. In April 1955 she was a bridesmaid at her good friend Debbie Reynolds' wedding to Eddie Fisher.
Lori & Tab Hunter on yet another publicity date
By 1956, Lori had been dating Tab for four years and even Walter Winchell thought they were in love. In reality, they were firm, platonic friends, nothing more. 'When Tab Hunter kissed me', she told Winchell, 'it was a nice, affectionate kiss, not one of those kiss-kiss-kiss things.' And Walt still didn't get it. For over a year she dated Robert Peterson, the editor of Hot Rod magazine, but the romance ended in March 1957 when he was spotted dating Eva Bartok.
Lori's career had been going nowhere until mid-1958 when she, Barbara Eden and Merry Anders were selected to star in the new TV series How to Marry a Millionaire. It will prove to be the high-point in Lori's career. Merry's, too, for that matter. Barbara will go on to make the hugely popular I Dream of Jeannie series in the sixties.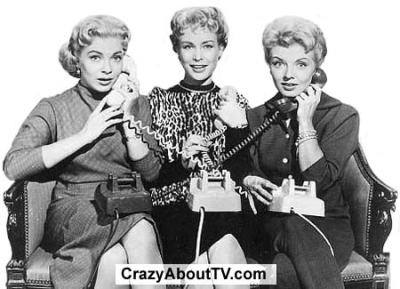 Lori, Barbara & Merry in How to Marry a Millionaire 1957          The new line-up with Lisa Gaye centre.
In 1959, Lori and Burt Reynolds, the new star of TV's Riverboat series, became the hottest item in town and everybody expected to hear wedding bells at any moment. Something went wrong, however, and they broke up. Perhaps, that was the reason for Lori withdrawing from How to Marry a Millionaire, in January 1960, after just 39 episodes. She and Burt took another crack at sorting out their differences that same month, but to no avail. Lisa Gaye (Debra Paget's real life sister) took over Lori's character for the final 13 episodes before the series folded.
Johnny Mann
By August 1960, Lori was in love again, this time with Liberty Records music arranger Johnny Mann. They announced plans to wed in December and Tab Hunter graciously threw a party for the happy couple, 'to show I harbour no hurt feelings', he told the media. As if. The marriage lasted until 1971 (or 1973, depending on which source you care to believe), but it struck the rocks long before either date. It did produces two daughters, however.
Lori in her best film Bend of the River 1952
In 1983, Lori married a second time, this time to a policeman named Joe Reiner. She was 49, he 46, and as of December 2017, they are still together. Lori's career never really amounted to much. Other than the TV series, her best movies would arguably be – Bend of the River (1952), Tumbleweed (1953), All-American (1953), Francis Goes to West Point (1952), Ma & Pa Kettle at the Fair (1952) and Ma & Pa Kettle at Waikiki (1955).