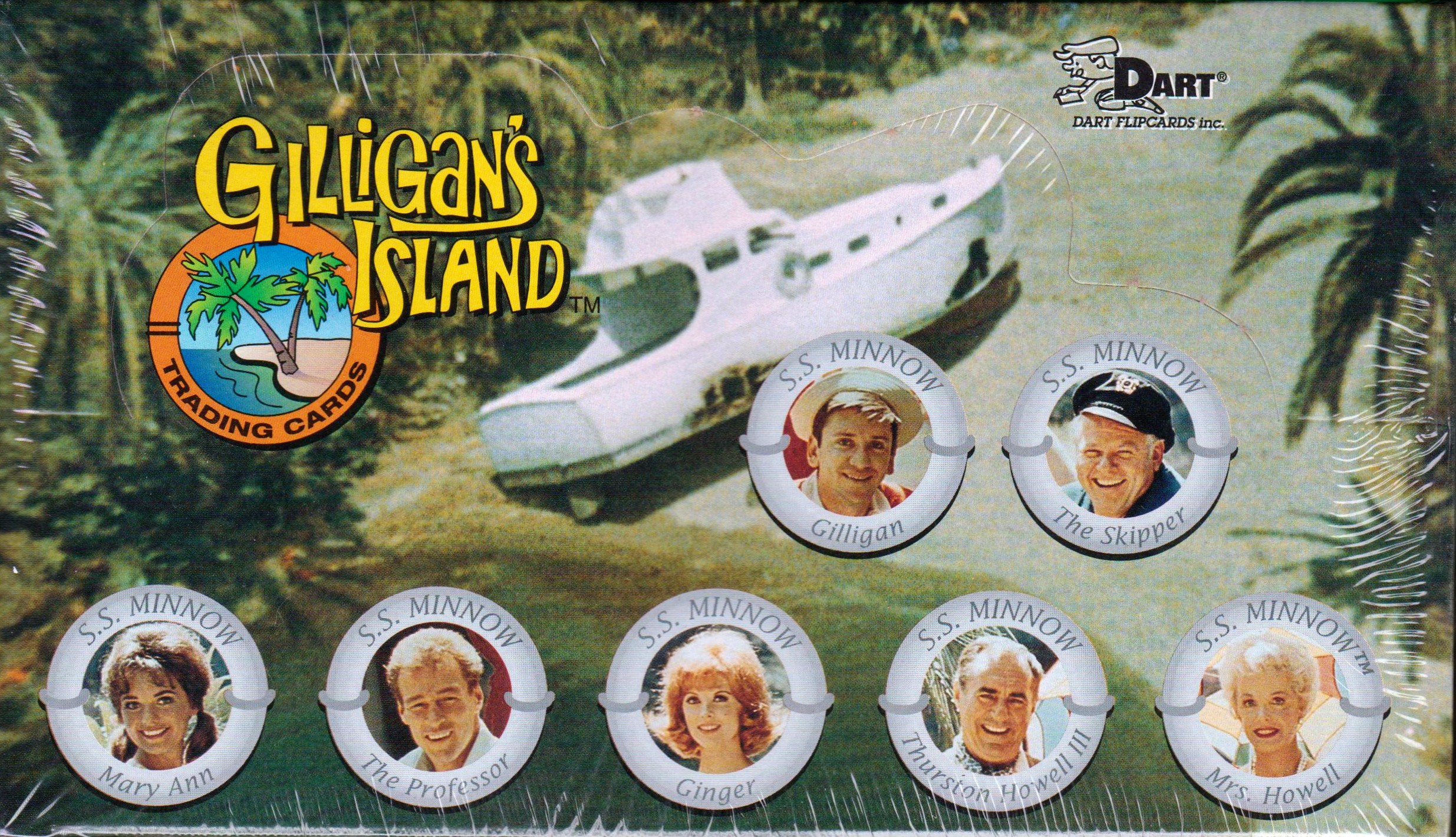 This immensely popular series commenced shooting in late 1963. In the very first shot of the opening credits, the American flag is quite evident, flying at half-mast. Not long before filming began, President John F. Kennedy was assassinated in Dallas in November.
Back in 1961, Newton Minow was head of the Federal Communications Commission in 1961. He made himself highly unpopular with the television industry by referring to it as 'America's vast wasteland'. The creator of Gilligan's Island, Sherwood Schwartz, had little time for Minow, so he named the soon to be wrecked boat the SS Minnow for the man. In the first season credits, Russell Johnson and Dawn Wells were simply referred to as 'the rest' in the opening song. It was Bob Denver who insisted that, for the second season and onwards, 'the rest' should be changed to 'the Professor and Mary Ann', and Schwartz agreed.
As the series progressed, the producers decided to introduce (wait for it) a pet dinosaur. Fortunately, the idea was eventually canned because the cost of the special effects would have been prohibitive. Incidentally, if fans of the 1954 classic Creature from the Black Lagoon have noticed a similarity between the lagoon in that picture and the Gilligan's Island lagoon, well, take a bow. They are one and the same.
The following people either tested for roles in the series or were offered them. Some were not selected and others turned down the offers: Jerry Van Dyke, the brother of Dick (Mary Poppins), turned down the chance to play Gilligan. Carol O'Connor, (later Archie Bunker), tested for the role of the Skipper but missed out. Jayne Mansfield could have been Ginger but she said 'no'. Raquel Welch unsuccessfully tested for the part of Mary Ann and Dabney Coleman's test for the role of the Professor also bombed.
There are just two survivors from the series today (December 2017) – Tina Louise (Ginger Grant) and Dawn Wells (Mary Ann Summers). Here is a run-down of the seven principle players.
JIM BACKUS (1913 – 89)            Thurston Howell III
The first member of the cast to shuffle off this mortal coil was the hugely popular Jim Backus, the show's inimitable Thurston Howell III. Born in Cleveland, Ohio in 1913, his primary school teacher was the wonderful Margaret Hamilton, the lady who, at the age of just 26, would brilliantly portray the Wicked Witch of the West in 1939's The Wizard of Oz. A gifted comedian, it is probably grossly unfair that Jim will almost certainly be remembered for providing the voice for the cartoon character Mr. Magoo in the TV series of the same name that ran for 130 episodes from 1960.
as the voice of Mr. Magoo (1960)
In Gilligan's Island he was priceless as the filthy rich Thurston Howell III, a man whose pampered upbringing is never more evident than when he is handed a shovel in one episode. After examining it very thoroughly, he asks the obvious question (to him) – 'How do you turn it on?' Personally, I thought he was the best thing in the series by a country mile. Sadly, he suffered from Parkinson's disease in his last years. Pneumonia claimed him at 76.
ALAN HALE JR (1921 – 90)  Jonas 'the Skipper' Grumby                         Alan Hale Sr with Errol Flynn in Gentleman Jim
Alan Hale Jr passed away just 6 months after Backus. He was only 68 and had suffered from cancer of the thymus for several years. Los Angeles born and bred, Alan was the son of Alan Hale Sr, a great character actor who played Errol Flynn's sidekick in numerous movies. Alan dropped the 'Jr' from his name when his father died. He lived not far from co-star Dawn Wells and they were close friends all his life. He enjoyed being 'the Skipper', even after the series ended, and would happily visit children's wards in hospitals dressed as his Gilligan's Island character. Even when he was in hospital for the final time, he visited the kids in the cancer ward. Of the surviving cast members, only Dawn attended his funeral.
NATALIE SCHAFER (1900 – 91)   Lovey Howell                                 Natalie the stunner in her 20s
Natalie was by far the oldest member of the Gilligan's Island cast, a full 12 years senior to Jim Backus who played her husband. For that reason she had a clause inserted in her contract that forbid any close-ups of her for the run of the series. From 1933 until 1942 she was married to actor Louis Calhern. Four years after their marriage ended in divorce, she was engaged to comedic character actor Charles Butterworth when he was killed in an automobile crash in 1946. Natalie underwent a double mastectomy late in life, but cancer still claimed her at the age of 91.
BOB DENVER (1935 – 2005)             Willie Gilligan                                                   as Maynard G. Krebs
New Yorker Bob Denver first came to prominence on television as beatnik Maynard G. Krebs on the popular The Many Loves of Dobie Gillis (1959-63) TV series. And he was terrific. For reasons known only to God and millions of viewers, however, he will always be remembered, not as Maynard G. Krebs, but as Willie Gilligan of Gilligan's Island. By the way, his first name was indeed Willie, but creator Sherwood Schwartz never actually got around to mentioning it in the series. Unlike the characters he portrayed throughout his career, Bob was talented, introverted and well-read, with a degree in political science. After surviving quadruple bypass surgery he was diagnosed with terminal cancer. His good friend from the Dobie Gillis days, actress Sheila Kuehl (she played the boy-crazy Zelda Gilroy), became a California senator. When Bob passed away on September 6, 2005, the Senate granted her request to adjourn in his memory.
RUSSELL JOHNSON (1924 – 2014)          Professor Roy Hinkley                                  Russell in 2011
Russell is the fifth member of the cast to pass away thus far. He was 89 when kidney failure took his life in 2014. Russell became a household face, (if not exactly a household name) because of his stint as the Professor in Gilligan's Island, but before that he had racked up a lot of parts in a lot of mostly B features throughout the fifties. During the Second World War he had a most interesting time of it. Rising to the rank of a First Lieutenant, he flew as a bombardier, mostly in B-25s, on a total of 44 combat missions over the Netherlands East Indies and the Philippines. In March 1945, he was aboard a Liberator B-24 on a bombing run against Japanese targets in the Philippines when he was shot down and wounded. After surviving the experience he was awarded the Bronze Star and the Air Medal with Oak Leaf Cluster.
TINA LOUISE (1934 – )                               Ginger Grant                                                     Then                                                       Now
Russell Johnson said that Tina hated playing Ginger Grant. She was told she would be the star of the show when she signed on, only to find that her part was relatively small and that Bob Denver and Alan Hale clearly shared top billing. Consequently, she was anything but happy on the set, although her professionalism ensured she did her job efficiently. As soon as the series wound up, however, she 'divorced' herself from it entirely. She did agree to appear in the reunion movie Rescue from Gilligan's Island (1978), but she wanted far too much money so they went with another actress instead. Tina and Dawn Wells (Mary Ann) have never liked each other and have refused to appear together on talk shows or in advertisements. 'Dawn and I have never been close', said Tina. 'We just never clicked. She was very much about pleasing everyone and I have never been that way.' On the series set, only Tina of all the cast members experienced difficulty with the crew. She will be 84 in February 2018.
DAWN WELLS (1938 – )                             Mary Ann Summers                                   Then                                                   Now
Dawn was Miss Nevada 1959 and in the Miss America pageant of 1960. In numerous surveys, her character Mary Ann was voted as more loved than Tina Louise's character Ginger, and the results only added to the tension between the two actresses. Dawn's theatrical career has continued unabated for over fifty years, yet wherever she goes she is met with affection, not just from fans of the sixties, but by their children and grand-children who still watch re-runs of Gilligan's Island. She will turn 80 in October 2018.