'DAD'S ARMY' (1968-77)
The BBC hit series Dad's Army ran for nine seasons, from 1968 until 1977. It started rather lamely and it must have been a touch and go decision to continue with it after the first season. The acting was so-so, the screenplays generally quite poor, and the direction pretty amateurish in that first year. But gradually they all improved. The show did have a couple of real 'pluses', however, in the shape of two of its stars – Arthur Lowe and Clive Dunn. They played Captain Mainwaring and Lance-Corporal Jones respectively and were wonderful. Lowe, in particular, as the pompous, self-important bank manager and commanding officer of the Walmington-on- Sea Home Guard, around whom the series was based, was perfect in the role. Indeed, many fans (myself included) watched the program simply because he was its leading character.
There were twelve actors who regularly made up the cast of Dad's Army, of whom only two are still living today (December 2017). In case you have ever wondered what happened to the rest, this article should satisfy your curiosity.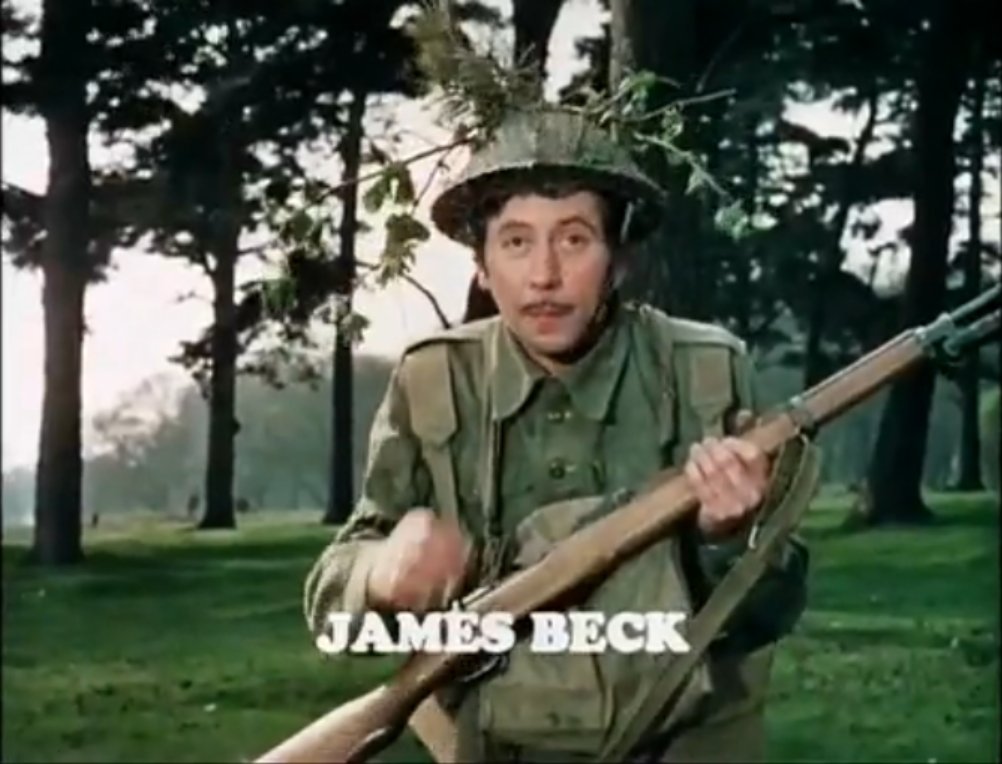 as Private Walker
JAMES BECK (1929-73)
Beck played Private Walker, the black market dealer and all-round shifty conman, in 60 episodes of the series over five seasons. He was opening a fete for Guide Dogs for the Blind in 1973 when he suddenly took ill and was rushed to hospital. Three weeks later he died from pancreatitis, a legacy of his heavy drinking. In the series Captain Mainwaring explained his absence, saying he had gone 'to the smoke (London) to set up a deal' and he was never again mentioned in the series. He was only 44 when he died.
   as Verger Maurice Yeatman
EDWARD SINCLAIR (1914-77)
Sinclair was the second cast member to pass away. He played the Verger Maurice Yeatman, a furtive, smarmy character, in 49 episodes. He died from a heart attack at 63, one month after the final episode of Dad's Army was shot. He did not get to see the ninth season. At his funeral service, Arthur Lowe stated: 'With the loss of Teddy, it is now quite clear that there will be no more Dad's Army.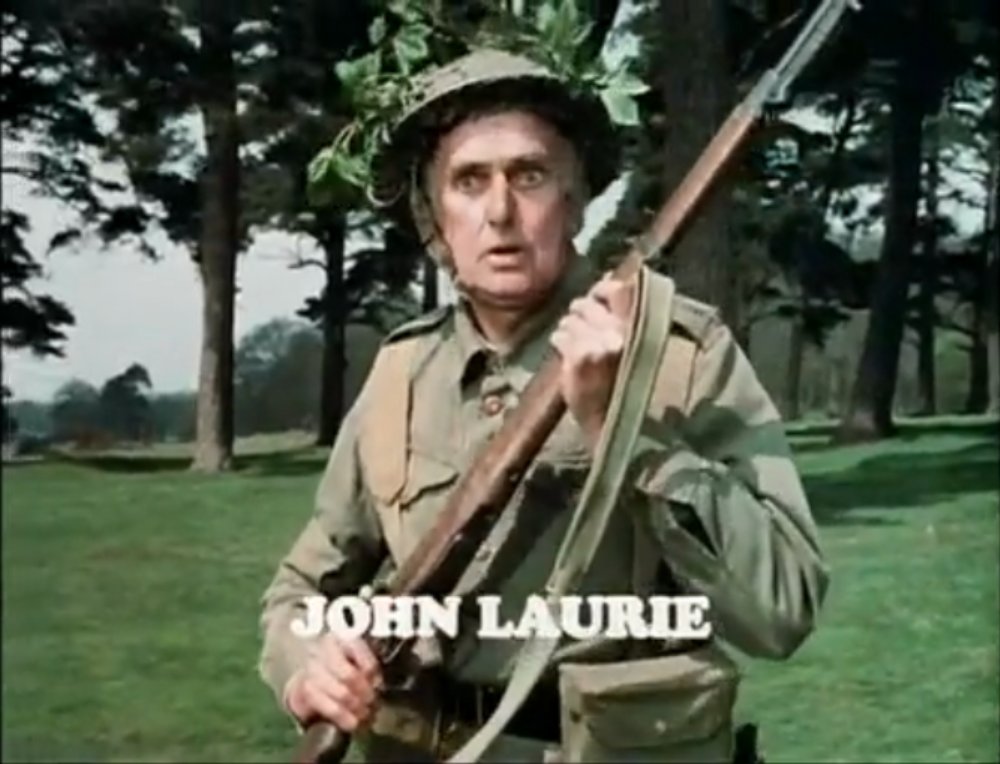 as Private Frazer
JOHN LAURIE (1897 -1980)
Laurie was an actor of considerable note long before his role as Private Frazer in Dad's Army came along and made his face known to millions. A veteran of World War One, he racked up 120 screen credits throughout his long and distinguished career, playing Shakespearian leads on numerous stages, and even portraying the Mahdi in the British version of The Four Feathers in 1939. He was all but unrecognizable in it. In his later years it troubled him that, despite all his many fine stage and screen performances, he would probably be best remembered as Private Frazer 'in this load of crap!' Emphysema claimed him at 83.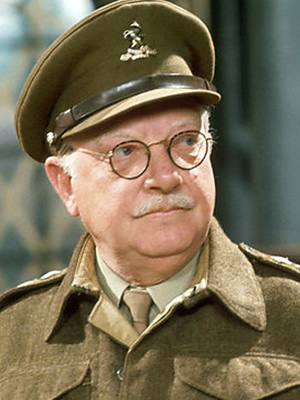 as Captain Mainwaring
ARTHUR LOWE (1915 – 82)
Cast members of Dad's Army recalled Arthur Lowe being much like the bumbling, pompous Captain Mainwaring he portrayed. But for all that, he was remembered as being a kind man who helped his colleagues whenever they were troubled. When the series ended in 1977 he was still much in demand and was offered work in Hollywood. However his wife, an actress named Joan Cooper, wanted to enjoy basking in his reflected glory playing opposite him in stage work around Britain, so he bowed to her demands and remained at home. His alcoholism worsened over the years and his smoking got heavier. He also suffered from narcolepsy. On 14 April 1982 he suffered a stroke in his dressing-room and died the next day in Birmingham Hospital at the age of 66.
   as Sgt. Wilson     
JOHN LE MESURIER (1912 -83)                                                                                              John & his wife Hattie Jacques
The vague and absent-minded Sgt. Wilson in Dad's Army was beautifully played by the unflappable John Le Mesurier. The pronunciation of his surname, incidentally, is 'le measurer'- the 'i' is silent. In real life he could be aptly described as 'a most forgiving man'. When his first wife betrayed him and had an affair with his best friend, comedian Tony Hancock, John not only forgave her, but took her back after Hancock suicided in Australia in 1968. Furthermore, he defended her not so good name for the rest of his life. When his second wife, Hattie Jacques of 'Carry On' fame, began an affair with her driver, Le Mesurier took the blame in their divorce case in order to protect her reputation and save her career. They remained friends after the divorce. He really was a delightful man whose only real issue was his drinking. Before cirrhosis claimed him in 1983, he asked his wife to place an ad in The Times after his death. It read: 'John Le Mesurier wishes it to be known that he conked out on November 15. He sadly misses his family and friends.' A twinkle in his eye to the end.
   as Private Godfrey
ARNOLD RIDLEY (1896 – 1984)
Private Godfrey was not always a bewildered old man. Arnold Ridley who portrayed him was a veteran of World War One, thrice injured on the Somme, including a severe bayonet wound that left him with no strength in his right arm. In 1927 he wrote a play, a smash hit titled The Ghost Train, which is still being performed on the West End almost a century later. Sadly for Arnold, when things got tight in the late twenties, he sold the amateur rights for just 200 pounds! He was wounded once more in WW2 and was forced to start acting again to make ends meet. Arnold was the oldest member of Dad's Army, having been born a year before John Laurie. He died in 1984 aged 88.
   as Mrs. Mavis Pike
JANET DAVIES (1927 – 86)
Janet Davies enjoyed a recurring role in Dad's Army playing Private Frank Pike's doting mother, Mrs. Mavis Pike. She appeared in 30 episodes over the nine seasons, including the very first one, 'The Man and the Hour', and the very last, 'Never Too Old'. Tragically, she contracted breast cancer and it metastasized into her lungs, killing her at the age of 58. When the first film version of Dad's Army materialized in 1971, Columbia unwisely replaced her with Liz Frazer as Mrs. Pike because they wanted 'a less homely type' to play Mavis. The rest of the cast (and the public) were angered by the decision and it harmed the picture.
   as Private Sponge
COLIN BEAN (1926 – 2009)
Colin Bean lined up in the back row of the Walmington-on-Sea Home Guards during the early seasons, not having many lines to say as Private Sponge. However, with the death of James Beck (Private Walker), he was 'promoted' to the front ranks. Surprisingly, he appeared in 76 of the 80 episodes! Bean served in WW2 and was in the Occupational Force in Japan until 1948. His autobiography, 'Who Do You Think You're Kidding!' was published in 1998.
   as Lance-Corporal Jones
CLIVE DUNN (1920 – 2012)
When the series commenced in 1968, Clive Dunn was only 48 years old, playing Corporal Jones who was in his 70s. His catch-phrases 'Don't panic!' and 'Permission to speak', still made us smile in the ninth season, such was his quirky delivery. It is interesting to note that Dunn spent four years in an Austrian POW camp during the Second World War. A staunch socialist, he did not get along with the equally staunch conservative Arthur Lowe on the set. In the early seventies he topped the British charts with a pop song titled 'Grandad' that remained in the charts for 28 weeks. He died at 92, as a result of complications following surgery in Portugal. Ian Lavender said of him: 'Out of all of us he had the most time for the fans…he always made time for fans.'
   as Chief ARP Warden Hodges
BILL PERTWEE (1926 – 2013)
Bill Pertwee was the cousin of Jon Pertwee (one of several 'Doctor Who's). Apart from playing Chief ARP Warden Hodges, it was also Bill's job to 'warm up' the studio audience for Dad's Army. As of December 2017, he is the most recent member of the cast to pass on. He was 86 when he died in Cornwall in 2013.
THE SURVIVORS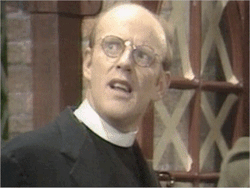 as Reverend Farthing
FRANK WILLIAMS (1931 – )
Frank Williams played the Vicar, Reverend Farthing, and at 86 is still going strong. Between 1985 and 2000 he served three terms as a member of the General Synod of the Church of England.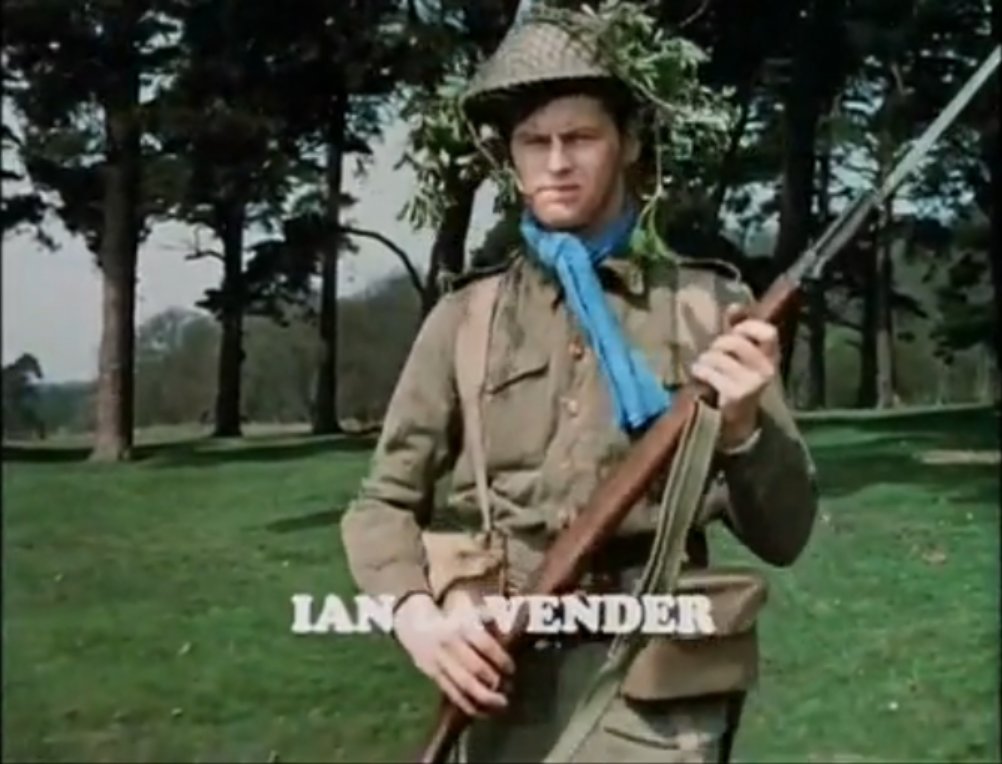 as Private Frank Pike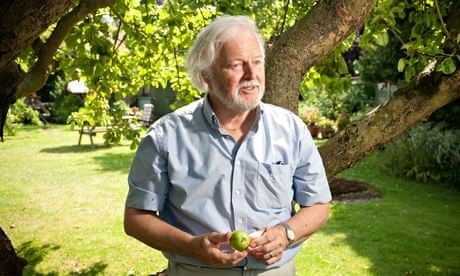 and today
IAN LAVENDER (1946 – )
The only surviving member of the actual platoon, Ian Lavender (Private Frank Pike) is now in his 70s. He was 22 when the series began. In the 2016 film version of Dad's Army he plays Brigadier Pritchard, a cameo that provides a link with the old series. 'Dad's Army' cost me a career in the movies', he says.