The hugely successful M.A.S.H. series on TV ran from 1972 to 1983, 251 episodes. There were twelve regular players over that time. Five of them have since died. Only two of the dozen appeared in all 251 episodes – Alan Alda and Loretta Swit. Two others made over 200 appearances and they were Jamie Farr (Corporal Klinger) and William Christopher (Father Mulcahy). Here is a run-down of the twelve principles, beginning with the deceased.
   as Colonel Henry Blake
MCLEAN STEVENSON (1927-96)
The first member of the cast to leave us was (in my opinion) the best of them all – McLean Stevenson who played Colonel Henry Blake. The fumbling Henry Blake preceded Harry Morgan as the CO and he was wonderful. Unfortunately, he disliked playing 'second banana' to Alan Alda season after season, so he asked to be released from his contract after 73 episodes. In the final episode of the 1974-5 season, Colonel Blake was killed off. McLean headlined in a number of TV series after leaving M.A.S.H. but they all failed. 'The biggest mistake I made', he said later, 'was I thought everybody loved McLean Stevenson. It was Henry Blake that people loved.' A second cousin of Adlai Stevenson, McLean was press secretary for Adlai during both his unsuccessful presidential campaigns. McLean was recovering from surgery in hospital in 1996 when he suffered a fatal cardiac arrest. He was 68.
   as Major Frank Burns
LARRY LINVILLE (1939 – 2000)
The second member of the cast to die portrayed another extremely important character in the series. Larry Linville was priceless as Major Frank Burns, the guy everybody loved to hate. For 121 episodes he was the butt of most of the jokes, the victim of most of the pranks and the lover of 'Hot Lips' Houlihan. On the set he was well-liked by his peers, especially Gary Burghoff (Radar) who was a close friend. Privately, he must have been a little more difficult to live with, having gone through five wives by the time of his death from cancer in 2000 at the age of 60. He had walked away from the show after the fifth season because he felt he had wrung everything out of the Frank Burns character that was humanly possible.
   as Colonel Sherman Potter
HARRY MORGAN (1915 – 2011)
Harry Morgan died in 2011. One of Hollywood's most prolific character actors, he graced over 100 films before he became Colonel Sherman Potter in the first of 180 episodes of M.A.S.H. Before that he was Officer Bill Gannon, Jack Webb's off-sider, for eight seasons of Dragnet. He often described James Arness (Matt Dillon of Gunsmoke) as his closest male friend and his neighbor Loretta Swit as his closest female friend. Although Harry was a heavy drinker and smoker he lived to the ripe old age of 96. One of his wives, Barbara, was the grand-daughter of silent star Francis X. Bushman.
   as 'Trapper John' McIntyre
WAYNE ROGERS (1933 – 2015)
Wayne toiled for fifteen years in off-Broadway productions, movies and television without amounting to much, but all that changed when the 39 year-old actor landed the role of 'Trapper John' McIntyre in M.A.S.H. As 'Hawkeye' Pierce's buddy his face soon became recognizable around the world as the series took off. Initially, he and Alan Alda had equal top billing, but as the series progressed 'Hawkeye' gradually took over as the main character and Rogers rebelled against becoming a 'supporting actor' to him. After three seasons and 74 episodes his character was discharged. In later years he became a highly successful businessman until pneumonia claimed him in 2015 at the age of 74.
   as Father Mulcahy
WILLIAM CHRISTOPHER (1932 – 2016)
In my opinion, Father Mulcahy was the least interesting character in the series, yet William Christopher somehow managed to play him for 213 episodes, the fourth highest total of all the cast. Christopher was, in fact, a Methodist playing a Catholic priest. In real life he taught himself Latin and became a longtime student of Homeric Greek. He died one year to the day after Wayne Rogers. He was 84.
   as 'Hawkeye' Pierce      
   Robert Alda as George Gershwin
ALAN ALDA (1936 – )
He was born Alphonso D'Abruzzo in The Bronx, New York City in 1936. Cinema fans who have seen the 1945 film Rhapsody in Blue will remember watching his father, Robert Alda, portraying George Gershwin. His mother was Joan Brown, a former Miss New York pageant winner. Alan's portrayal of 'Hawkeye' Pierce was unique and extraordinarily popular with fans, yet Richard Hooker who wrote the novel on which M.A.S.H. was based, did not like the series and especially disliked Alda's interpretation of the lead character. So much for pleasing everybody. Alan only agreed to accept the role six hours before the pilot episode was ready to shoot. By 1980 he was being paid $200,000 a week, quite a sum back then. Quite a sum now, come to think of it.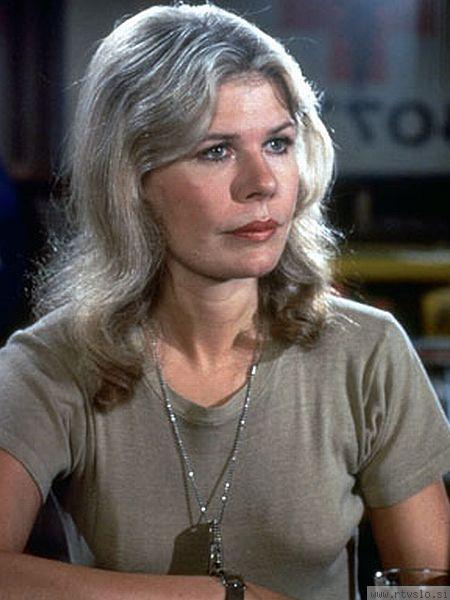 as Major 'Hot Lips' Houlihan    
   Loretta with Dennis Holahan in M.A.S.H.
LORETTA SWIT (1937 – )
There have been hundreds, probably thousands, of more beautiful actresses since movies and television have been around, but there was something incredibly sexy about Loretta Swit. Playboy magazine thought so too, but she resisted their requests for her to do a centerfold. Perhaps, we adolescents felt that if Frank Burns could get her – well, any of us could! If you ever happen to see a 1983 episode titled 'UN, The Night and the Music', take note of the actor playing Per Johannsen. He is Dennis Holahan and he was Loretta's husband from 1983 to 1995. In 1981, she desperately wanted to leave M.A.S.H. in order to play Chris Cagney in a new series called Cagney & Lacey, but Fox would not release her from her contract. It is hard to believe that 'Hot Lips' Houlihan is now in her 80th year!
   as Corporal Max Klinger
JAMIE FARR (1934 – )
Born Jameel Farah in Toledo, Ohio to Lebanese parents, Jamie is one of only two cast members who actually served in Korea. His tour of duty came after the war's conclusion, whereas Alan Alda served a six-month stint as a gunnery officer during hostilities. Jamie's character (Corporal Klinger) was only supposed to be in one episode, but he proved so popular that he was signed up full-time in the third season. His 215 episodes placed him third behind Alda and Swit with 251 each. He was relieved to play the company clerk late in the series when Gary Burghoff left the show, because he did not want his children being teased about Klinger's cross-dressing while they were growing up.
   as BJ Hunnicutt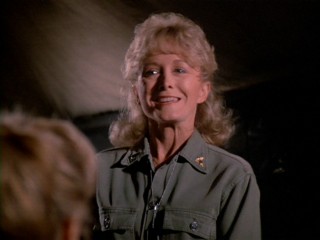 Judy Farrell as Nurse Able
MIKE FARRELL (1939 – )
Mike Farrell played BJ Hunnicutt in 179 episodes of M.A.S.H. Between 1977 and 1983 his first wife, Judy Farrell, portrayed Nurse Able in eight episodes. Incidentally, his second (and current) wife is the lovely Shelley Fabares, veteran of The Donna Reed Show of the sixties. Farrell is Alan Alda's best friend and was a close pal of the late Harry Morgan. Like the entire cast, he adored the truly great Harry Morgan who, when asked at a press conference if M.A.S.H. had made him a better actor, replied: 'I don't know about that, but it made me a better human being.' As Farrell was quick to comment: 'It's hard to imagine a better one.'
   as 'Radar' O'Reilly
GARY BURGHOFF (1943 – )
No matter what he does in the remainder of his life, Gary Burghoff will always be Radar O'Reilly to television fans. He was the only actor in the 1970 20th Century Fox feature film to reprise his role in the TV series. In all, he appeared in 174 episodes before throwing in the towel. Several of the series' lead performers have since disclosed (separately and on different talk shows) that they were not sorry to see him leave. They said he was often hours late for rehearsals and, at times, did not show up at all. He complained about not getting extra screen time for his character, but whenever changes were made to the script to accommodate him, he did not show up for filming anyway. Once he left the series his career did not proceed as he expected. Job offers were few and far between.
  as Lt. Kellye Yamato RN
KELLYE NAKAHARA (1950 – )
Kellye was born in Oahu, Hawaii in 1950. As a lifelong fan of the series, I am staggered to discover that she appeared in 167 episodes, just seven less than Gary Burghoff and more than double those of both Wayne Rogers and McLean Stevenson! She played Lt. Kellye Yamato RN for over ten years. Her screen career has not been notable because she spends most of her time as a watercolour artist, painting under her married name Kellye Wallett. She has two children.
   as Major Charles Winchester
DAVID OGDEN STIERS (1942 – )
It might surprise fans to learn that David Ogden Stiers who played the stuffy Major Charles Winchester in 131 episodes is 6'4" (1.93m) tall! Less surprising, given the character he plays, is the fact that he is the resident conductor of the Newport Symphony Orchestra in Newport, Oregon, and that he has conducted 70 orchestras in over 100 appearances. When he came out as a gay in 2009, he is quick to explain that his reasons for outing himself were quite selfish and not a noble desire to forward the gay cause. 'Now is the time I wish to find someone', he says, 'and I do not desire to force any potential partner to live a life of extreme discretion for me.' A noble notion nonetheless.