Darwin Porter is a prolific writer, a man who has been an entertainment columnist for The Miami Herald since he was 20 years old. He has written and sold more celebrity biographies than anyone else, yet he has his 'knockers', people who think he is little more than a sensationalist muckraker. And they may well be right yet, when we consider that generations of movie fans have been weaned on the fakery dished out by the studios about their stars and their private lives, it is little wonder that anyone who challenges the studio hogwash is bound to attract detractors.
I am currently reading his biography about Katharine Hepburn, a lengthy tome titled Katharine the Great, in which he makes scores of controversial statements about a great many Hollywood folk including Miss Hepburn herself. Frankly, I do not know if all he writes is entirely accurate or not, but many of the conversations he relates are clearly contrived. Indeed, most of his seduction scenarios are pure Mills & Boon and quite pathetic. Those involving Kate with Herbert Marshall and Franchot Tone are particularly abysmal.
Some of what Porter says can be confirmed elsewhere, but an equal amount (such as his comments on Paul Bern for example) simply reiterate old, unsubstantiated rumours. His inference (via a Tone anecdote) that Jimmy Stewart was bisexual, I simply do not believe. This article looks at a number of his assertions and gives you the opportunity to agree or disagree with any or all of them.
(L to R) Kate, Marion & Peggy Hepburn
*As a teenage tomboy Katharine Hepburn insisted she be called 'Jimmy'. Another of her eccentricities was her life-long passion for breaking into other people's homes to simply 'look around'. Incidentally, her sister Peggy was her virtual double to look at.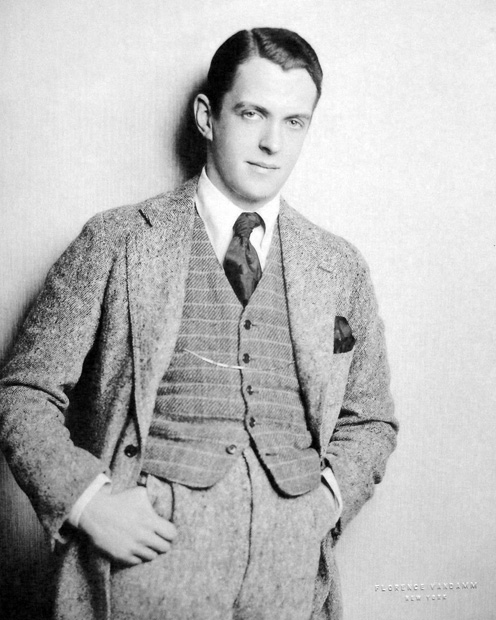 Kenneth MacKenna                          Hope Williams
*Kate surrendered her virginity to handsome actor Kenneth MacKenna in 1928. They were both bi-sexual and on one occasion they ended up seducing the same man – Joan Crawford's former husband, actor Douglas Fairbanks Junior. At the time Kate's role model was lesbian actress Hope Williams whom she under-studied on Broadway.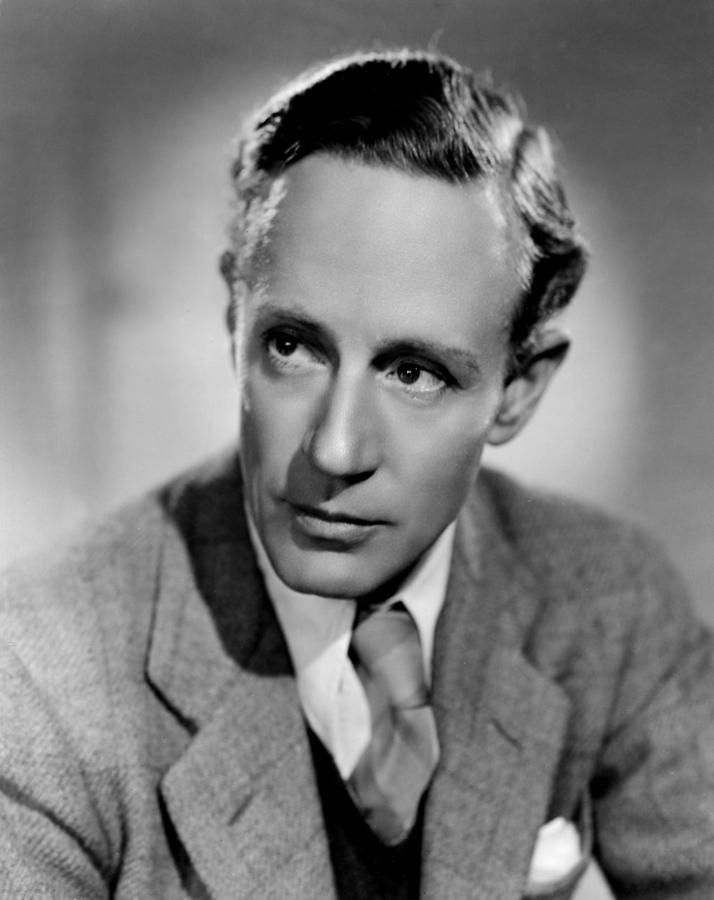 Leslie Howard
*British actor Leslie Howard would gain immortality as Ashley Wilkes in 1939's Gone with the Wind. As a lover he was far less impressive, according to Kate who had a tumble with him after hours when they made the play The Animal Kingdom in 1931. 'Thank God that Miss Scarlett never went to bed with Ashley', she remarked to friends. 'She would have been so disappointed.' The upshot of their brief encounter was that Howard had her fired from the play. He was equally disappointed with her.
Joel McCrea & Kate Hepburn 1932
*Kate briefly dated handsome Joel McCrea when she first arrived in Hollywood but, 'I never got into his bathing trunks', she lamented. 'I think he was in love with Gary Cooper at the time', she added wistfully. 'Who wasn't?' Joel would shortly meet and marry the lovely Frances Dee.
Leland Hayward
*The hottest agent in Hollywood during the thirties was Leland Hayward. He was a super-stud who was intimately involved with Kate and Garbo simultaneously. Kate and Garbo were bed-mates as well. Eventually, along came Margaret Sullavan, an actress Kate described as 'that dreaded fiend', who stole Hayward away from her. For a while Garbo was sleeping alternately with Hayward and Kate until she called to tell them both she had contracted a case of gonorrhoea! Kate was cleared by her doctor. If true, it is possible this was just Garbo's way of terminating relationships she had tired of.
Margaret Sullavan
*Few people had much time for Maggie Sullavan. Louella Parsons referred to her as a 'rude, contrary, spiteful bitch'. Hayward told Kate that he deeply regretted marrying her. 'She castrates a guy', he wailed. 'Makes him feel like two cents – and two inches.' Margaret was reputed to spend a lot of time sitting in her car watching men pass by. When she spotted one she fancied she would blink her lights to attract his attention. Highway pick-ups were her specialty. For her part, she always referred to Kate as 'that dykey bitch'.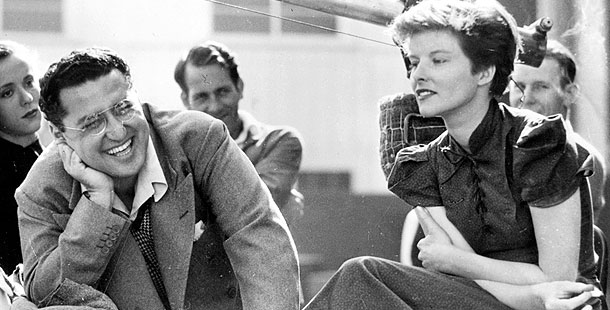 George Cukor and Kate Hepburn swapping tales
*George Cukor recorded some notes on Kate following her screen test: 'Leggy, certainly. Definitely toothy. A New England blue-blood. Heiress, I hear. Very definitely a patrician WASP. An intellectual. By all means a snob. Broad Bryn Mawr vowels. Headstrong. Opinionated, I'm certain. Flashy. Strangely masculine. No doubt a lesbian!' After she was signed, he still had reservations. 'I think this Katharine Hepburn is going to be one bitch to work with', he predicted. 'But she hasn't met a bitch until she's met George Cukor. I can out-bitch any actress in Hollywood.'
Kate & John Barrymore in A Bill of Divorcement 1932
*Kate made her movie debut in the 1932 drama A Bill of Divorcement, in which the aging John Barrymore played her mentally unbalanced father. Known as 'The Great Profile', he invited her to his dressing-room where he promptly stripped naked and suggested the two of them 'get on with it.' Kate admitted that he seduced her 'but only on the second attempt.' Any number of actresses would attest to his bullish method of seduction.
Billie Burke in The Wizard of Oz 1939                             Director Dorothy Arzner
*In 1933 Kate made Christopher Strong, an awful movie that became known around the RKO lot as Sapphos on Parade, a less than subtle reference to the lesbianism of its star Kate, the director Dorothy Arzner, co-star Billie Burke (the good witch in 1939's The Wizard of Oz) and the notorious scenarist Zoe Akins. Billie's marriage to Flo Ziegfeld had limped along until his death in 1932. His numerous dalliances with showgirls and Billie's lesbianism had taken their toll. Two days after his death she was back at work. Soon afterwards she was heavily involved with director Dorothy Arzner.
Loretta Young & Spencer Tracy at the Coconut Grove
*Kate was yet to meet Spencer Tracy, but at this time he was heavily involved with Loretta Young. Years later, he confided to Clark Gable: 'I love Loretta more than I've ever loved Kate.'
Jed Harris                                                       Ruth Gordon in the 1920s                   in her later years                                                                                                                                       
*Broadway producer Jed Harris had a rather disturbing habit of greeting business clients of either sex in his offices stark naked! He regularly seduced his leading ladies. In fact, one of them, Ruth Gordon, bore him a son. He also enjoyed forcing actors (especially heterosexual ones) to perform fellatio on him if they wanted opportunities in the business. According to Helen Hayes, he had a love affair with Kate as well. 'That is', she added, 'if you could call anything with Harris love.' According to his secretary Jimmy Schure, he received oral sex from Olivier and Cary Grant and sodomized Jimmy Cagney! Actress/theatrical agent Jean Dalrymple who had both Grant and Cagney as clients supported those claims.
*Schure warned Kate to expect Harris to be naked when he interviewed her in his office. That did not bother her in the slightest. She had been brought up seeing her own father walking about stark naked at home, sometimes sporting a full erection! Writer George S. Kaufman endured one of Harris's nude interviews, totally ignoring the man's nakedness until the meeting concluded and he headed towards the door. 'Oh Jed, by the way', he called back, 'your fly's open.'
Laura Harding (L) and Kate with others during summer stock in the 30s
*The truly great love of Kate's life was not, as most people assumed, Spencer Tracy. It was American Express heiress Laura Harding. Their love affair began in 1928 and lasted (on and off) until Laura's death in 1994. When Kate married Ludlow Ogden Smith she took Laura with them on their honeymoon. Ludlow brought along his male lover. When Ludlow and Kate eventually divorced, Laura went along to Mexico for that as well. So, why did she marry Smith in the first place?  Well, for starters he had money. She also needed a semblance of respectability as well. Above all, however, being married removed a lot of the would-be male admirers who yapped at her heels. It allowed her to pick and choose her bed-mates of either sex. At home her husband slept with his lover and Kate slept with Laura.
PT2 will follow on October 26 and PT3 on October 28.