Part 2 contains more of the revelations to be found in the Darwin Porter best seller 'Katharine the Great', his biography of Katharine Hepburn. Below are more random statements about the private lives of Miss Hepburn (and others). Judge for yourself how much you believe or do not believe.
Ernest Hemingway
*Kate took her ship-board romance with legendary writer Ernest Hemingway a lot more seriously than did he. As their ship the SS. Paris pulled into New York Harbour their fling had become just another ship-board tryst as far as he was concerned. 'At least he went for me and not Marlene', she told friends later. Marlene Dietrich was also on board. Whether or not Hemingway seduced her as well is not known.
Charles Boyer & Hepburn in Break of Hearts 1935          Kate & Fred MacMurray in Alice Adams 1935
*RKO made Break of Hearts in 1935 and paired Kate with French heart-throb Charles Boyer. She fell for his Gallic voice and his 'come to bed' heavy-lidded look, but the romance was over quickly. Similarly, and in that same year, she fell for her co-star in Alice Adams, Fred MacMurray, but they drifted apart after she turned her attentions to the picture's director George Stevens. George, she said, 'was all fire and brimstone when you peeled off his layers.' Kate would inhabit his bed off and on for years until, in her own words, 'the invading praying mantis' Ginger Rogers, came along.
Director George Stevens                                  Anderson Lawler
*Actor Anderson Lawler met Kate at director George Cukor's home. George did not care a fig if colleagues knew he was homosexual and his home was a place of congregation for gays of both sexes. Lawler was in a sorry state, Cukor told Kate, having just been tossed aside by his long-term lover Gary Cooper. Lawler referred to Joel McCrea 'that cock-sucking son of a bitch' and blamed him for stealing Cooper away from him. Lawler became Kate's confidant in all things sexual or otherwise private but felt she and Garbo took their privacy 'to psychotic limits.'
*Years later Kate would admit to 'coming close' to consummating her relationship with McCrea, without actually going through with it. 'We did attempt it one time at a beach cabana at Santa Monica', she said. 'Somehow we started giggling when we got all jaybird naked with each other. We decided not to be lovers but good friends. Besides, that Montana Mule, Gary Cooper, is a tough act to follow.'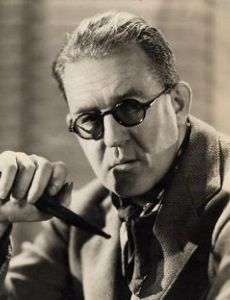 Director John Ford
*If Laura Harding was her first love and Spencer Tracy her second, it might surprise to learn that director John Ford was number three. And the feeling was mutual. The man who notoriously said, 'all actors are crap' was completely smitten. He confided to his pal John Wayne: 'Kate Hepburn is the kind of woman a man could almost leave his wife for.' Apparently, Kate even went to Mary Ford and offered her $150,000 for his freedom. Mary kicked her out.
Fredric March & Kate in Mary of Scotland 1936
*Fredric March was one of those big stars who expected every one of his leading ladies to sleep with him. When he and Kate made the abominable Mary of Scotland in 1936, he blithely walked into her dressing room, intent on having his way with her on the spot. Aware of his reputation, Kate had secreted an unripened banana inside her panties. 'My God', he told producer Pandro S. Berman, 'I reached up her dress and felt nine hard inches – maybe ten. Kate Hepburn is a man after all!' The story spread and for some time many believed Kate was a 'shemale'!
with Franchot Tone in Quality Street 1937
*Franchot Tone was suave, sophisticated and super-endowed. From 1935 to 1939 he was married to Joan Crawford, not that his marital status concerned Kate at all. She had a one-night stand with him during the making of Quality Street in 1937. Bette Davis also nailed him (in 1935) but, unlike Kate, she fell hopelessly in love with the guy. Kate said he was 'too much man for me. That one bout was enough.'
*Ginger Rogers and Kate Hepburn loathed each other. 'If you have anything good to say about Ginger Rogers', Kate told her friends, 'don't say it in my presence.' The main problem was they often competed for the same men – Howard Hughes, George Stevens, Jimmy Stewart…Kate says she even went after Ginger's husband Lew Ayres – but Howard Hughes got him first.
Lew Ayres                                             Howard Hughes                                            Cary Grant
*Kate and Cary Grant were the two most closeted bisexuals in Hollywood history, spending their lives denying who they were for career reasons. For a while Kate lived at the Muirfield Estate owned by Howard Hughes, but his regular bed-mate was not Kate. It was Grant.
*Kate's first meeting with the legendary Tallulah Bankhead brought an invitation that was typical of the notorious TB. Tallulah was visiting the dressing-room of one of her lovers, actress Hope Williams, when she suddenly walked over, kissed Kate on both cheeks and wished her well. 'Give me a ring one rainy night, darling', she called as she left. 'Maybe we'll get together and suck each other's cocks!' Tallulah loved saying outrageous things at the top of her voice in company.
Tallulah Bankhead
*Later in their relationship Tallulah told Kate of her experiences on the set of The Devil and the Deep in 1932. She recounted how she and Charles Laughton had madly chased after their co-star Cooper. Coops did not fancy Laughton at all, she said, which left the road clear for TB. 'I got him, darling', she said, 'but he gave me the clap.'
Constance Collier
*Noel Coward called actress Constance Collier 'The Grand Dame of All Western Dykes'. When Connie and Kate came together to make Stage Door in 1937, a life-long friendship that was completely non-sexual began. Kate's Bryn Mawr diction was a constant source of criticism throughout her career. Connie worked tirelessly to help her overcome the problem. She even taught Kate how to play Rosalind in Shakespeare's As You Like It.
Cary Grant and Randolph Scott in the 1930s
*Kate and Laura often dined at the home shared by Cary Grant and Randolph Scott. The press were always snooping around, convinced they were all gay or at least bisexual. Thought was given to all four venturing out on dates as two mixed couples, but nothing ever came of it. Kate and Cary became friends although Cukor felt they were more like 'two sisters'.
*Upon seeing newcomer Van Heflin on a Broadway stage, Kate recommended RKO cast him opposite her in A Woman Rebels (1936). The two were soon sleeping together and she used her clout to suggest him for the part of the reporter in the stage version of The Philadelphia Story. However, when she did not insist he get the same role in the film version as well, Heflin ended their relationship.
on stage with Heflin 'The Philadelphia Story'
*Franchot Tone was married to Joan Crawford when he met Kate on the set of Quality Street (1937) and they became lovers. He told her of his experiences on the set of The Gorgeous Hussy a year earlier, claiming that Lionel Barrymore, Robert Taylor and James Stewart all wanted to seduce him. Melvyn Douglas and he were the only straight guys in the picture, he told her.
*The press hailed Kate's relationship with Howard Hughes as 'the romance of the century', but it was a sham. She claimed privately that he was far more interested in his once beautiful, now dead mother than he was in Kate. Even so, he once asked Kate to marry him, although she was one of four women he was currently proposing to; the others being Joan Fontaine, her sister Olivia De Havilland and Ginger Rogers. Kate told friends that Cary Grant would have made a far more suitable bride for the famed aviator.