There has been endless speculation over the reasons for the sudden cancellation of the wedding between Kiefer Sutherland and Julia Roberts, just days before it was due to take place in June 1991. 20th Century Fox had decided to turn the nuptials into a major publicity event to herald the release of Julia's latest movie, the somewhat disappointing Dying Young, but it was not to be.
Julia and Kiefer
Julia and Kiefer had fallen in love on the set of their 1990 movie Flatliners and had appeared devoted to one another since.This was not 23 year-old Julia's first serious relationship. She had met Liam Neeson on the set of Satisfaction (1988) and they had lived together for over a year until she met Dylan McDermott on the set of Steel Magnolias (1989). Liam received his marching orders from Julia over the phone and she moved in with Dylan soon afterwards. Before long they were engaged to be married, but Dylan began hearing rumors of his betrothed supposedly dallying off-screen with her Pretty Woman (1990) co-star Richard Gere.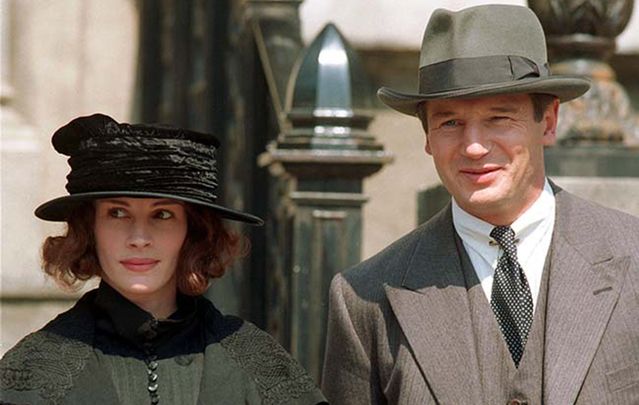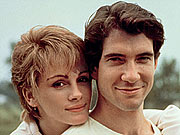 with Liam Neeson in Michael Collins (1996)                    with Dylan McDermott
Both Gere and Julia denied the rumors and do so to this day, but the gossip was strong enough at the time to lure McDermott all the way from his location in North Africa to the set of Pretty Woman to judge for himself. He was convinced his beloved was 'involved' with Gere, an argument ensued and the Julia-Dylan engagement and relationship ended forthwith. Julia and Kiefer had already begun co-habiting, Julia happily declaring her undying love to whomever would listen. Kiefer had well and truly replaced Dylan in her affections. Kiefer was the first to admit that he had a drinking problem that surfaced every now and then. He also acknowledged that he had a temper that would flare on occasions. The couple partied hard and flirted occasionally, but they seemed suited nevertheless.
But then, in February 1991, a report emerged in the tabloid newspaper Globe of Kiefer being seen with a busty, 24 year-old stripper named Amanda Rice, aka 'Raven'. He had chatted her up at the Crazy Girls Club in Hollywood where she worked. Kiefer and Julia had a 'knock-down, drag-out' over the allegations and he walked out (or maybe Julia ordered him out). He moved into a $105 a week room at the seedy St. Francis Hotel, just across the street from Hollywood Billiards where he claimed he had first met Amanda. And there was another problem with his relationship with Julia, a work-related one. Julia was by now the hottest property in the movie business. Her phone rang with offers all the time. Kiefer's phone hardly ever rang.
with Richard Gere in Pretty Woman
A week after the Globe story, all appeared to be forgiven as Kiefer and Julia suddenly announced their wedding date! Evidently, she had accepted his word that nothing of a sexual nature had occurred between him and Amanda. Preparations were soon in full swing for the June 14 event. Fox spent a half million dollars on the setting alone, a fantasy wedding set on the cavernous Soundstage 14, not unlike the southern garden in Gone with the Wind all those years ago – magnolias and all. Two hundred choice filet mignons, a hundred bottles of the best champagne and a four-tiered cake with all the trimmings. The soundstage was roofed, so there was no need to worry about press helicopters. Even so, Fox spent a further $100,000 on security just in case.
Disney's Tinkerbell                            Spielberg's
Everything seemed to be back on track until, on May 7, Amanda Rice gave an interview to the London newspaper The Sun. And it was a 'doozie'! Not only did she admit to having had a sexual relationship with Sutherland, she also revealed comments he made to her about his relationship with Julia, details that made their way into every newspaper in the English-speaking world. According to Miss Rice, Kiefer described Julia as self-centered, demanding and suffering from low self -esteem. Furthermore, 'she bites her nails to the quick', has 'tiny breasts' and 'no butt', and was 'an ice princess' in bed. Amanda went on: 'Kiefer said making love to her was like making love with a corpse. After we made love one night, Kiefer told me he could never wed Julia because she was so demanding, so bad in bed, and just wanted him there for her every whim.' Back in the States the story was picked up by The National Enquirer.
Jason Patric and Julia                                                                     Daniel Day-Lewis and Julia became an 'item'
If these revelations were not enough to terminate the relationship, Julia's encounter with actor Jason Patric on a flight to Arizona, sometime between her bridal shower and the cancellation of the wedding, must surely have provided the straw that broke the camel's back. She and Patric had met once before on the set of The Lost Boys, but this time around they fell heavily for one another. An eyewitness told People that the two were seen 'slipping off' after a meal, with Jason seemingly 'comforting' Julia. Kiefer was incensed and ended their engagement over the phone before Julia had a chance to end it herself.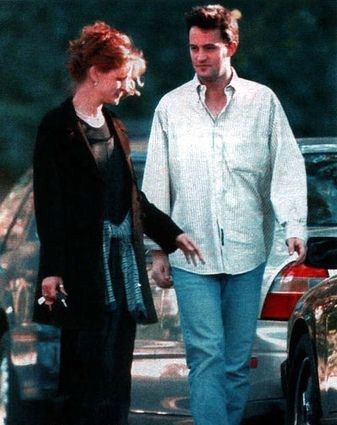 with her husband Lyle Lovett                                                 Kelly Willis                            Julia with Ethan Hawke 1994            and with Matthew Perry
At the time of the break-up Julia was in the middle of making Hook (1991) with Steven Spielberg. He had already agreed to her taking four weeks' leave for her honeymoon. She used the vacation time to travel to Dublin, Ireland with Jason instead. Jason always maintained he was completely averse to publicity of any kind, yet here he was involved with possibly the most famous woman on the planet! He hailed from a theatrical/movie background and should have known what to expect. His father, Jason Miller, had played Father Karras in The Exorcist, a picture that generated a mountain of publicity in itself. His grandfather was none other than comic legend Jackie Gleason. One might argue that neither man ever hit the headlines as did Jason when he flew to Ireland with America's most famous movie star. Even Jason's two-year marriage to Robin Wright, the future Mrs. Sean Penn, did not spark comment of anything like this magnitude. Jason and Julia were big, big news.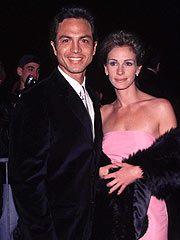 with Benjamin Bratt                      and Danny Moder
For all their open affection towards each other, Julia and Jason, too, would go their separate ways before too long. A few months with Daniel Day-Lewis in Britain, as the two pondered whether or not to make Shakespeare in Love together, ended when Daniel made it clear he had no intention of marrying. Julia's romance with her personal trainer, Pat Manocchia, lasted a year and the 'eternal ring' he gave her spawned media talk of an impending marriage that never happened. Then she met singer Lyle Lovett and wed him in June 1993. In September 1995 they officially separated but the union was virtually over by mid 1994 after Lyle was spotted coming out of a motel room with 26 year-old C & W singer Kelly Willis. Julia was already involved with Ethan Hawke by then anyway. Between 1997 and 1998 she was again heavily involved, this time with a handsome aspiring actor come bartender named Ross Partridge. She broke with him in the spring of 1998 and Ross was shattered. While filming in Venice, she treated herself to flings with two Italian men; 28 year-old Mario Fontanella, a gondolier, was one and 35 year-old bodyguard Lorenzo Sylvan the other. She terminated both affairs the moment filming ended. After them came Matthew Perry of Friends, but that was over within a month or so. H could not abide her untidiness and she found his drug problem unacceptable. She dated actor Benjamin Bratt from 1998 until 2001 and both appeared to be deeply in love. They never married because he wanted a family and she did not. Besides, on the set of The Mexican she had already set her sights on a cameraman named Danny Moder, a married man with three children. They married in July 2002 after Julia paid his wife Vera $400,000 to release him. They are still together despite rumours of cheating by both of them. Most people on the set of Ocean's Eleven were convinced that Julia and George Clooney were intimately involved but, needless to say, both claim they are 'just friends'. Julia is said to have walked in on Danny and Kirsten Dunst in her trailer. They, too, pled innocence, saying they were 'discussing the film'.
Kiefer and wife Kelly Winn
As for Kiefer, he married Kelly Winn in 1996 but they, too, separated in 1999 and filed for divorce five years later. After that Kiefer enjoyed a lengthy romance with the former '10', Bo Derek. Being a fine actor, his career has steadily evolved mainly through his sound selection of roles. He was particularly good in the Tom Cruise courtroom drama A Few Good Men (1992). In an interview 25 years after his break-up with Julia he conceded that she showed 'great courage' to call off their intended nuptials when she did, particularly given the enormous trouble and expense Fox had gone to and the enormous pressure that placed on her. The marriage, he felt, would not have lasted. Clearly, Julia felt the same way.