PIER ANGELI (1932-71)                                     
Anna Maria Pierangeli was born in Sardinia in 1932 and would one day evolve into Hollywood movie star Pier Angeli. Her twin sister, Maria Luisa, would also change her name and achieve limited screen success as Marisa Pavan. The family moved to Rome when the girls were three, and then to California in 1950. Pier's first boyfriend in Hollywood was 28 year-old Arthur Lowe Junior, son of the boss at MGM. She was signed by the studio in 1951 to a five-year contract at $1,600 a month. Not yet 19, she was soon dating Marlon Brando and John Barrymore Junior, although her real romantic interest lay with up and coming actor Richard Anderson.
Pier & twin sister Marisa Pavan                         
In 1952 Pier made The Devil Makes Three on location in Germany, part of which was shot among the ruins of Hitler's bombed out Berghof in Berchtesgaden. Singer Vic Damone was in Germany on military service at the time and visited her on the set. Within two years he would become her first husband. Later in 1952, however, she replaced Ava Gardner in Sombrero and was photographed being escorted around Mexico City by the son of the nation's president. In fact, Pier discovered she enjoyed dating famous, wealthy men. Brazilian diplomat Raoul de Surandel and another Brazilian nobleman named Francesco Matarazzo escorted her about town. Actors John Ericson and Carlos Thompson all dated her as her star began to rise.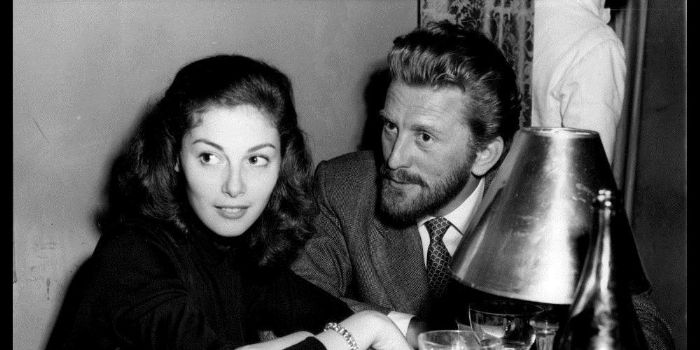 Pier and Kirk Douglas circa 1953                                                                   in The Story of Three Loves (1953)
It was 36 year-old Kirk Douglas, however, who spent most of his nights with her. Unfortunately for Pier, he spent the rest of his time tom-catting around and she soon learned of his nocturnal wanderings. Tired of Kirk's two-timing she ended their relationship and started dating Damone and actor Carlos Thompson. On her 21st birthday in June 1953, however, Kirk suddenly showed up and presented her with a Bulgari diamond engagement ring. For a few months they were a couple again, but then she handed it back to him in December and began seeing other men again. Recording agent Bobby Weiss and young singer/dancer Tommy Rall dated her more than once. She was being publicly seen with the Shah of Iran's brother when she attempted a reconciliation with Kirk. He refused to see her. A month later she was on a date with Gene Tierney's ex-husband, the notorious skirt-chaser Oleg Cassini, when they learned that Douglas had just wed Anne Buydens. Pier became hysterical and had to be escorted home.
Kirk & his new wife Anne Buydens 1954
In mid-1954 she met James Dean. His agent had suggested he date her for publicity purposes. On her 22nd birthday Dean presented her with a gold bracelet and necklace, and before long he was a regular guest at the family home on Sunset Boulevard. The couple were soon spending their weekends at the Arrowhead Springs Hotel. Pier's heartbreak over Kirk had seemingly evaporated. In July her mother discovered that her precious daughter and Dean were lovers and she did not like it one bit. She complained to Jack Warner who promptly carpeted Dean and told him to 'stop fuckin' that broad'. Dean, as expected, ignored the order. A month later he proposed marriage to Pier in New York City, but she refused to elope with him. Her mother told her to choose between Dean and her. Pier chose family and ditched him.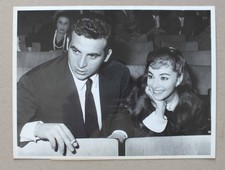 on a date with James Dean                               Tommy Rall                                                             Pier and Maurizio Arena 1960
In October 1954 she started dating Damone again. Within a day of doing so she announced their engagement! Douglas was staggered when they married in Hollywood a month later and then honeymooned in Las Vegas where Damone was booked to perform. By January 1955 Pier was pregnant. Contrary to popular belief, friends present at the time vowed she did not even shed a tear on hearing of Dean's death in a road accident in September 1955.
Mr. & Mrs. Vic Damone 1954            Somebody Up There Likes Me  (1956)
Her big career break came when she played Norma opposite Paul Newman in Somebody Up There Likes Me (1956). However, she would not reach such dizzying heights again in her brief movie career. By 1958 her marriage to Damone had deteriorated to the point where she alienated her closest friend, singer/actress Anna Maria Alberghetti, by making a play for her husband, director Claudio Guzman. By December 1959 Pier's marriage was over. Her subsequent affair with Italian actor Maurizio Arena saw his fiancée attempt suicide. At the completion of filming Sodom and Gomorrah, in the summer of 1960, Pier gave a dinner party, inviting all of the lovers she had sampled during the filming! After cutting a swathe through numerous studs since her divorce, she opted to marry again, this time to an Italian bandleader named Armando Trovajoli, a man 14 years her senior. It was February 1962 and she had begun to drink heavily. By 1965 the marriage was over and they divorced in 1969. Her drinking and sleeping around had wrecked whatever love they once had for each other.
marrying Armando Trovajoli 1962
Virtually single again, Pier's reputation as a promiscuous drunk gained momentum as she took many lovers, mostly personalities from the underground of Italian cinema. From 1967 to 1968 a wealthy businessman kept her a virtual prisoner in his Rome apartment for almost two years! In 1969 she filmed the X-rated Addio Alexandra in Rotterdam. Diagnosed with clinical depression in early 1970, she was treated with electric shocks at a clinic in Rome. In December she moved back in with Damone after his own marriage had collapsed. It was a brief reconciliation only. She was soon involved with a string of wealthy men.
In September 1971, her close friend Dr Ramon Spritzler responded to a call from a highly agitated Pier to come to her apartment. He administered a shot of Compazine to calm her down and then left. The next day, September 10, he returned to find her dead. Pier's family have always maintained that Spritzler was not only her friend but her lover as well, and that she had died as a direct result of the Campazine. The once beautiful and talented Pier Angeli had not lived to reach forty.
Since Pier's death a lot has been written about her love for James Dean, that he was indeed the love of her life. But was he really? How much of that was just Pier cashing in on the hype surrounding his early death; keeping herself in the public eye by building on their romance in some kind of endeavour to extract as much sympathy and understanding for her subsequent promiscuous lifestyle? Three years before her death she told the National Enquirer that he was the only man she ever truly loved. If anything, I would be inclined to think that her greatest love was more than likely Kirk Douglas, not Jimmy Dean. One thing does seem certain, however. She started out as an innocent, wide-eyed young girl before stardom and adulation turned her head. She enjoyed being a star, she liked men and she got used to living the high life. And she needed to be loved. Sadly for her, the system and its denizens used her until her beauty started to fade. And, when it did, the 'using' became a two-way street that ultimately destroyed her.