TWO FACES WEST (1960-1) 39 EPISODES                   
Just when we thought there were no gimmicky ideas left for TV westerns, along came Two Faces West in 1960. Charles Bateman starred as both Dr Rick January and his identical twin brother Marshal Ben January. The Marshal is a violent man and quick on the draw; the doctor a quiet, peaceful man who hates violence. Or so it would seem. You see, every so often the good doctor masquerades as his lawman brother and guess what? He is just as fast with his guns and with his fists as Ben. Whatever way you look at it, this is a unique gimmick. Unfortunately, the show had little else going for it. At times split-screens were utilised when it became necessary for the two brothers to talk to each other; at other times when one brother had his back to the camera, a stand-in (Paul Pepper) would be used. This was the first use of split-screens on a perpetual basis in a television series.
Charles Bateman as Rick and Ben January
The series is situated in the 1860s, in the town of Gunnison, Colorado. Francis De Sales plays Sheriff Maddox, Paul Comi his deputy Johnny Evans, and Joyce Meadows (no relation to Audrey), who portrayed Stacy in eighteen episodes. Unfortunately, I have been unable to unearth any further details regarding the character Joyce played in the show, not even her surname. It appears that the twin brothers were in love with the same woman, but was that woman Joyce's character Stacy or a character named Julie Greer portrayed in at least two episodes (maybe as many as six) by June Blair. Since the series has never been repeated and has not been released on DVD, there appears to be no way of verifying either possibility, short of asking Charles Bateman directly. Oh yes, he is still living (now in his nineties) and, if his genes have anything to say about anything, he might be around for another twenty years or so, given that his mother lived to be 110!
UNION PACIFIC (1958-9) 38 EPISODES           
Jeff Morrow (no relation to Vic Morrow) portrays Bart McClelland, a rail construction supervisor for the Union Pacific Company. Aided by surveyor Billy Kinkaid, played by Judson Pratt, he deals with marauders, land issues and an assortment of problems that beset construction of a railway line in the Old West at that time. German-born Susan Cummings is cast as Georgia, proprietor of the mobile Golden Nugget Saloon and is the love interest who never quite gets her man. The series was inspired by the 1939 feature film of the same name that starred Joel McCrea, Barbara Stanwyck and Robert Preston.
Susan Cummings & Jeff Morrow
The television series was filmed by California National Productions at the Iverson Movie Ranch situated in Chatsworth, Los Angeles County. It was distributed by NBC. McClelland mostly deals with right-of-way issues as his section of the railway wends its way from west of Omaha, Nebraska to Promontory, north-west of Salt Lake City, Utah. He has to deal with stubborn landowners, ranchers, outlaws and Indians. Even the somewhat contrived presence of Georgia and her rolling bar, aimed at providing a romantic angle, was unable to garner Union Pacific a following strong enough to save it from cancellation after a single season.
THE VIRGINIAN (1962-71) 249 EPISODES
The Virginian ran for nine seasons (249 episodes), making it the third-longest running western, behind Bonanza (fourteen seasons, and 430 episodes) and Gunsmoke (twenty seasons and 635 episodes). Furthermore, it was shot in colour and eventually ran for seventy-five minutes per episode (with a further fifteen minutes of ads). James Drury (in the title role) and Doug McClure (as 'Trampas') are credited with all 249 episodes, but both actors could not possibly be available for every one of them. The show's original theme was composed by Percy Faith.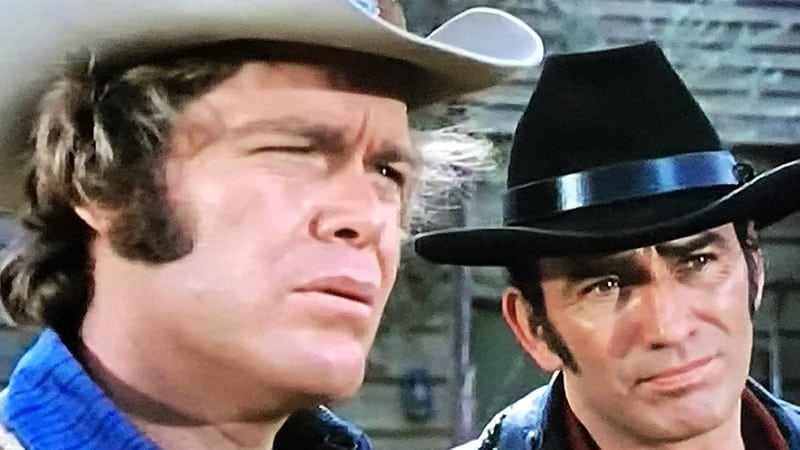 Doug McClure & James Drury in The Virginian
The series was set in the late nineteenth century and revolved around the tough foreman (played by Drury throughout the entire run of the show), who was in charge of the Shiloh Ranch situated outside the town of Medicine Bow, Wyoming. The producers chose to make Drury's character a mysterious individual by never giving him a name or a detailed background. Throughout the whole nine seasons he is only ever referred to as 'the Virginian', 'the foreman' or 'the ramrod'. The show was very loosely based on The Virginian: Horseman of the Plains, a 1902 western novel by Owen Wister. Those readers who are unfamiliar with Wister's book may find the following information of interest: For instance, the ranch is actually named 'Sunk Creek' in his novel and is situated two hundred and seventy miles from Medicine Bow. The Virginian and Trampas are not friends at all; in fact, near the end of the novel Trampas is actually killed – by the Virginian!
Author Owen Wister
It was decided to alter the character of Trampas completely for the TV series. Producers transformed him into a fun-loving, rowdy character – and McClure was perfect in the role. He would develop into the most rounded out identity in the series, providing a light-hearted touch of comedy that offset Drury's more serious portrayal of the title character. The first owner of the ranch is Judge Henry Garth (played by Lee J. Cobb) and his de facto daughter Betsy (Roberta Shore) lives at the ranch with him. Roberta left the show, her departure quickly followed by Cobb's. In time, (in season five), John Grainger (Charles Bickford) would become the new owner of Shiloh. In season six he, too, would exit the series and his brother Clay Grainger (John McIntire) would take over. John's unexplained departure was due to the sudden death of Bickford in November '67.
Season nine saw the series' name altered to The Men from Shiloh. The ownership of the Shiloh Ranch changed hands for the final time when Colonel Alan Mackenzie (Stewart Granger) took over. Throughout the years of its run The Virginian had witnessed the coming and going of numerous characters (and actors portraying them), the last of these being Lee Majors (as Roy Tate) in episode five of season nine. The show had managed to rank in the Top 30 in America in eight of its nine seasons, quite an achievement.