JEAN SIMMONS (1929 – 2010)
Jean Simmons was her real name and she hailed from Crouch Hill, London. She was barely sixteen when she landed a miniscule part in the British film Caesar and Cleopatra in 1945. The production proved to be an opportunity (however small) for several future stars of British and international film. Roger Moore played an uncredited Roman soldier, Kay Kendall an uncredited slave girl, Michael Rennie (1st Centurion), Felix Aylmer (1st nobleman), John Laurie (1st auxiliary sentinel), Zena Marshall an uncredited lady-in-waiting, Peter Bayliss an uncredited aide to Mithradites and Cathleen Nesbitt as an uncredited Egyptian lady. Still in her teens, she made Black Narcissus (1947) and was Ophelia to Laurence Olivier the following year in Hamlet, and Oscar-nominated for her performance. The Blue Lagoon in 1949 was a commercial success and in 1950 she was married to Stewart Granger, a star in his own right.
Mr. and Mrs. Stewart Granger
She awoke one morning in the early-fifties to learn that RKO owner Howard Hughes had purchased the last six months of her Rank Organization contract and she now belonged to his company. Evidently, Hughes was infatuated with her beauty and determined to woo and win her. This was to be the first step. Her wedding to Granger was paid for by Hughes whom they had befriended, but when he informed her of an oral agreement he had with Rank that forbade her to be loaned out to any other studio, Jean responded by suing RKO and Howard. Granger threatened him over the phone as well.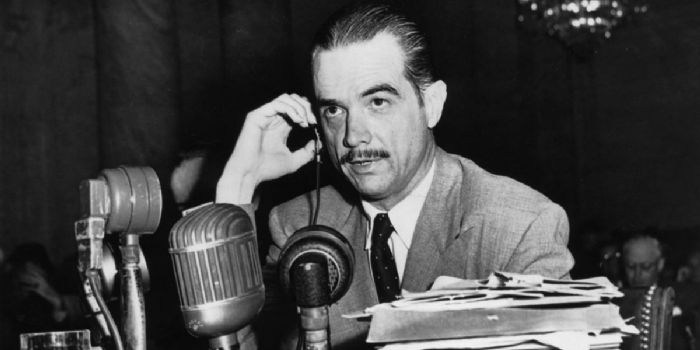 Howard Hughes
While the legal battle raged, William Wyler wanted her for the lead in Roman Holiday (1953), but Hughes vindictively refused to loan her out and Audrey Hepburn famously won the role and instant stardom. In the end Jean wound up with a three-year contract with RKO who were obligated to pay her $250,000 plus all her legal fees. She had also won the right to be loaned out to other studios at a substantial salary. 'I had to do four pictures [for Hughes] and then I was free', she recalled. 'I never signed a contract with a studio after.' By the time the legal smoke of battle had cleared, any hopes Hughes had entertained of winning her personally were long gone.
with Richard Burton in The Robe     Stewart Granger and Deborah Kerr
Jean's ten-year marriage to Granger (1950-60) had its ups and downs. Her torrid affair with his good friend Richard Burton, which took place while she and Burton were making The Robe (1953), understandably placed enormous pressure on the union. Granger's affair with Deborah Kerr did likewise. When Jean made Guys and Dolls in 1955, she and director Joseph L. Mankiewicz were 'very close'. She admitted years later, 'Yes, I was aware that he was in love with me, and I think I was with him, really, which I've never admitted to anybody.'
Joseph L Mankiewicz                          with Richard Brooks
Shortly after divorcing Granger in 1960 she married director Richard Brooks in November of the same year. The marriage lasted 20 years, but ultimately succumbed to Jeans alcoholism and her husband's obsession with work. She starred in his 1969 film The Happy Ending as an alcoholic wife. Brooks had also written the screenplay in an attempt to make his wife aware of her condition. Jean was actually Oscar-nominated for her performance but their marriage collapsed a decade later anyway.
with Robert Mitchum 1952
In 2009, at the age of 80, she was asked in a newspaper interview if she had ever had any off-screen dalliances. 'All right, then – Robert Mitchum', she answered. 'He was a real man. He was a ladies' man and a man's man. He was also extremely bright, despite those sleepy eyes.' She also admitted to loving two other big stars. 'I had two big loves: Spencer Tracy, whom I adored, and Larry Olivier. But they were not sexual relationships', she quickly added.
CLAIRE BLOOM (1931 – )                        
Gorgeous Claire Bloom was another English rose, a native of Finchley, London and two years younger than Miss Simmons. She started out in radio, but it was not long before she was getting important stage roles. Hers was not a face for radio. At 17 she played Ophelia to alternating Hamlets, Paul Scofield and Robert Helpmann, at Stratford on Avon, and two years later was playing opposite up and coming hotshot Richard Burton on the West End stage in London. Then, overnight, she was catapulted into movie stardom when Charles Chaplin chose her for his leading lady in Limelight (1952).
with Burton on stage
Richard Burton's biography stated that he took Claire's virginity in 1949, just a few days after his wedding to Sybil Williams. 'We made love quietly in my room', she recalled, 'with my mother sleeping upstairs. Richard left me early in the morning to go back home…I felt absolutely no guilt because I knew that to make love with Richard was something that had to happen.' The affair continued intermittently until they co-starred in Look Back in Anger in 1958. 'Our old intimacy quickly came back – too quickly. Richard already had the airs of a practiced roué.' During filming she accidentally walked in on him servicing visiting actress Susan Strasberg who was seven years Claire's junior and very much like her in looks. 'Fuck off, both of you!' screamed Claire and that was the end of her romance with Richard Burton.
Susan Strasberg
Six years passed and Burton used his clout to insist that 34 year-old Claire be given the starring role of the 17 year-old in The Spy Who Came in from the Cold. He was married to Liz Taylor by then and the lady was most unhappy that he was renewing acquaintances with his old flame. Liz was on the set for every scene her husband played opposite Claire. Soon afterwards Claire became involved with Laurence Olivier whose marriage to Vivien Leigh was in meltdown. 'Perhaps he was trying to show her he could still enjoy success with young girls', was Claire's view on their trysting.
with Olivier 1955                            Claire and her husband Rod Steiger in The Illustrated Man (1969)
Elvis Presley made a rather rudimentary attempt to seduce her. 'Honey, when I want something I want it quick', he said. She dodged him but not her co-star, Yul Brynner, in The Brothers Karamazov. She was 27 by then and was beginning to fear being left on the shelf. 'To meet a man who was neither married nor gay was extremely difficult.' She went off to Sicily with her latest co-star Rod Steiger and came back two months pregnant. They married in 1959, the start of ten turbulent years. 'He was utterly absorbed in the roles he played', she said later. 'I couldn't understand how anyone could take himself so seriously.' He also suffered from chronic depression. They divorced in 1969 and Claire rushed into marriage with 40 year-old Broadway producer Hillard Elkins. He introduced her to cannabis, went through all her money and cheated on her right up until their divorce in 1974. Claire starred with Anthony Quinn in the 1975 Boston stage production of The Red Devil Battery Sign and detested him. Nevertheless, she went to bed with him, despite the play only running a week or so. Sex was important to her.
with Brynner in The Brothers Karamazov       Mr. & Mrs. Philip Roth
In 1990 she married author Philip Roth and it was even worse than her previous unions. He got her to sign a pre-nuptial agreement that promised her absolutely nothing if they broke up for any reason whatsoever. He drove her only daughter from the house because 'her conversation bored him'. He plunged into depression and was admitted to a psychiatric hospital. When Claire refused to honour the agreement they had signed Roth sued Claire for 62 billion dollars – a billion dollars for each of her 62 years. They divorced in 1995 and she has lived alone ever since.