LANA TURNER (1921-95)
1936:   Wayne Morris, who would become a fighter pilot hero in World War Two, was Lana's first Hollywood crush.
1937:   Ronald Reagan was her first studio-arranged romance, although it is generally believed that their relationship did not go beyond a few horse-riding outings. However, given the healthy sexual appetites of both parties – who knows?
Lana in Love Finds Andy Hardy                      Ann Rutherford, Rooney, Judy Garland & Lana
1938: Lana made Love Finds Andy Hardy with Mickey Rooney who later claimed he took her virginity and impregnated her which resulted in her having an abortion. Lana denied this vehemently. Mickey insisted it was true equally vehemently. Who do we believe?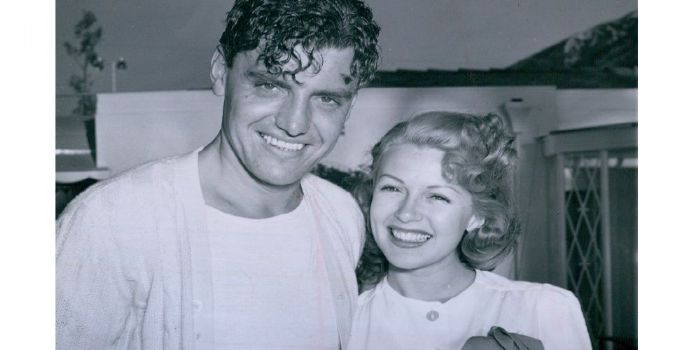 Greg Bautzer and Lana
1938:   It is probably more likely that notorious 'ladies' man' and attorney to the stars, Greg Bautzer, took Lana's virginity at 17 when he became the first serious love of her life. Unfortunately, he was sleeping with Joan Crawford at the same time and Lana ended their relationship the moment she learned about him two-timing her.
Bob Stack & Lana 1944
1939-45: Robert Stack dated her many times over the period ending with the culmination of the Second World War. He usually managed to catch her between serious relationships (hers not his), a kind of 'back-up' boyfriend. Was he a back-up lover as well?
Mr. & Mrs. Artie Shaw
1940:   Immediately following an argument with Bautzer who had stood her up on a date, Lana dashed off to Vegas with bandleader Artie Shaw, a man she had met before and didn't particularly like. On the drive to Vegas he discussed his philosophy of life (or so she said), and she fell in love with him (or so she said). They married that night and divorced four months later, having quickly discovered they had nothing at all in common. She was pregnant to him, but Shaw even doubted he was the father so she aborted the baby.
1941:   Lana dated Victor Mature prior to the Japanese attack on Pearl Harbor in December '41, but their romance was short-lived because he had also met and fallen for Rita Hayworth.
1941: Singer Tony Martin had only recently divorced Alice Faye (1940). He met Lana while they were making Ziegfeld Girl (1941) and their relationship developed to the stage where they were briefly engaged to be married. Marriage did not eventuate and he would later wed the gorgeous Cyd Charisse in 1948.
Gene Krupa
1941-45:          Lana's love of music was one of the things that had very briefly attracted her to Artie Shaw. During the war she enjoyed late night jam sessions with a lot of well-known musicians and dated quite a few of them. These included Buddy Rich, Benny Goodman and Tommy Dorsey, but the most serious of these romances was with drummer Gene Krupa who was going through a messy divorce at the time. Friends say she might even have married him but his love affair with marijuana deterred her.
1941:   When Lana joined Robert Taylor to make Johnny Eager (1941) the sparks really began to fly. Cast and crew were astonished to see both actors engaged in steamy love scenes that continued after the cameras stopped rolling. Taylor's wife, Barbara Stanwyck, was informed of the goings on and headed to the set to tell Lana to back off. But when Taylor confided that he was prepared to divorce Barbara, Lana backed off of her own accord.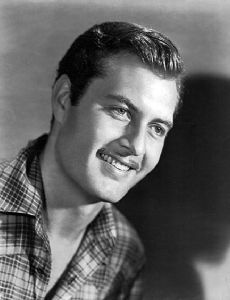 1942:   Lana and George Montgomery were an item a year before he married singer Dinah Shaw. Before that he was engaged to the stunning Hedy Lamarr, but chose to put off marriage in favour of going overseas to fight in the war. While he was gone she married the non-descript actor John Loder instead.
1942: There is no doubt that Lana and Frank Sinatra were lovers while he was married to Nancy and after he was married to Ava Gardner, but Lana always vowed she was never with him while he was actually married to her pal Ava.
1942:   Struggling actor Stephen Crane met Lana in 1942, they dated briefly and quickly wed in July. But Stephen's divorce from his first wife was not yet finalized. Pregnant with her daughter Cheryl, Lana got an annulment and reluctantly remarried him in July 1943, primarily to save Cheryl from the stigma of illegitimacy. They divorced in August 1944.
1944:   Lana and Austrian actor Turhan Bey dated for a while, but his mother did not approve and he was compelled to end the relationship. Fifty years later he ran into Lana at a party and informed her that she was the love of his life. (But obviously not enough for him to defy his mother's wishes).
1946:   When Tyrone Power divorced Annabella in 1946 he was soon romantically involved with Lana. She was quickly pregnant to him and desperately wanting to become his wife. He was far less enthusiastic about fatherhood, so she promised him she would get an abortion while he was away on a pre-arranged 12 week tour. On his return he heard she had been seeing Sinatra. He also advised her that he had fallen in love with Linda Christian whom he later wed. Lana was shattered. Power, she said later, was the love of her life.
1947: Peter Lawford was briefly involved with Lana in the late forties, but Lawford was far more in love with her than she with him.
1948:   Enter millionaire Bob Topping. Lana married him after he showered her with expensive gifts. They embarked on a lavish 5-month honeymoon and she thoroughly loved the lifestyle of the super-rich. For a while. She lost their baby in 1949 and divorced him in 1952.
with Fernando Lamas in The Merry Widow
1951:   At a Marion Davies party in 1951, Lana busted up with her lover Fernando Lamas, a volatile Latin who was her co-star in The Merry Widow. At their table that evening were two other couples – Esther Williams and her husband Ben Gage, and Arlene Dahl and her husband Lex Barker. The highly jealous Lamas took umbrage at Barker asking Lana to dance and a violent altercation ensued. Incredible as it might seem – Lana later married Barker and Lamas married both Arlene Dahl and Esther Williams (at different times of course). The ultimate example of 'Hollywood musical chairs'.
1952:   Lana began dating Lex Barker in 1952 and he became her fourth husband a year later. After losing her third baby, Lana was informed by her mother that Cheryl (her daughter by Crane) had told her that Barker was sexually abusing her. When Lana ordered him out of the house (without explaining why), he said, 'Whatever your daughter told you, it's a lie!' Cheryl's name had not been mentioned until then.
1955:   Richard Burton wrote that he seduced Lana when they made The Rains of Ranchipur together in 1955.
1958:   While making Another Time, Another Place (1958) in London, it was rumoured that Lana and co-star Sean Connery were involved off-screen. Lana's boyfriend Johnny Stompanato certainly believed the rumours and turned up on the set to challenge Connery. The Scotsman apparently knocked him out with a single punch.
with Johnny Stompanato         Lana and her daughter Cheryl
1958:   In 1957 Lana began a relationship with a man who called himself Johnny Steele. By the time she learned his real name, Johnny Stompanato, she was deeply involved with him. He was a bodyguard for mobster Mickey Cohen and he was trouble. More than once he bashed her. At Easter 1958, he was stabbed to death in Lana's bedroom. Cheryl was charged with his murder but the verdict was deemed to be 'justifiable homicide' and she walked free. Many people still believe she took the rap for her mother and maybe she did.
1959:   Lana's fifth husband was an amiable guy named Fred May. The couple had lived together for a year before marrying in 1960. They got along well, yet they divorced in 1962 and nobody seems to know why the marriage failed. He died two years later.
1965:   Robert Eaton was ten years younger than Lana when he became her 6th husband in 1965. Her friends thought he was an opportunist but she would not listen to them, not until she returned home from making a movie and found him with another woman anyway. They divorced in 1969.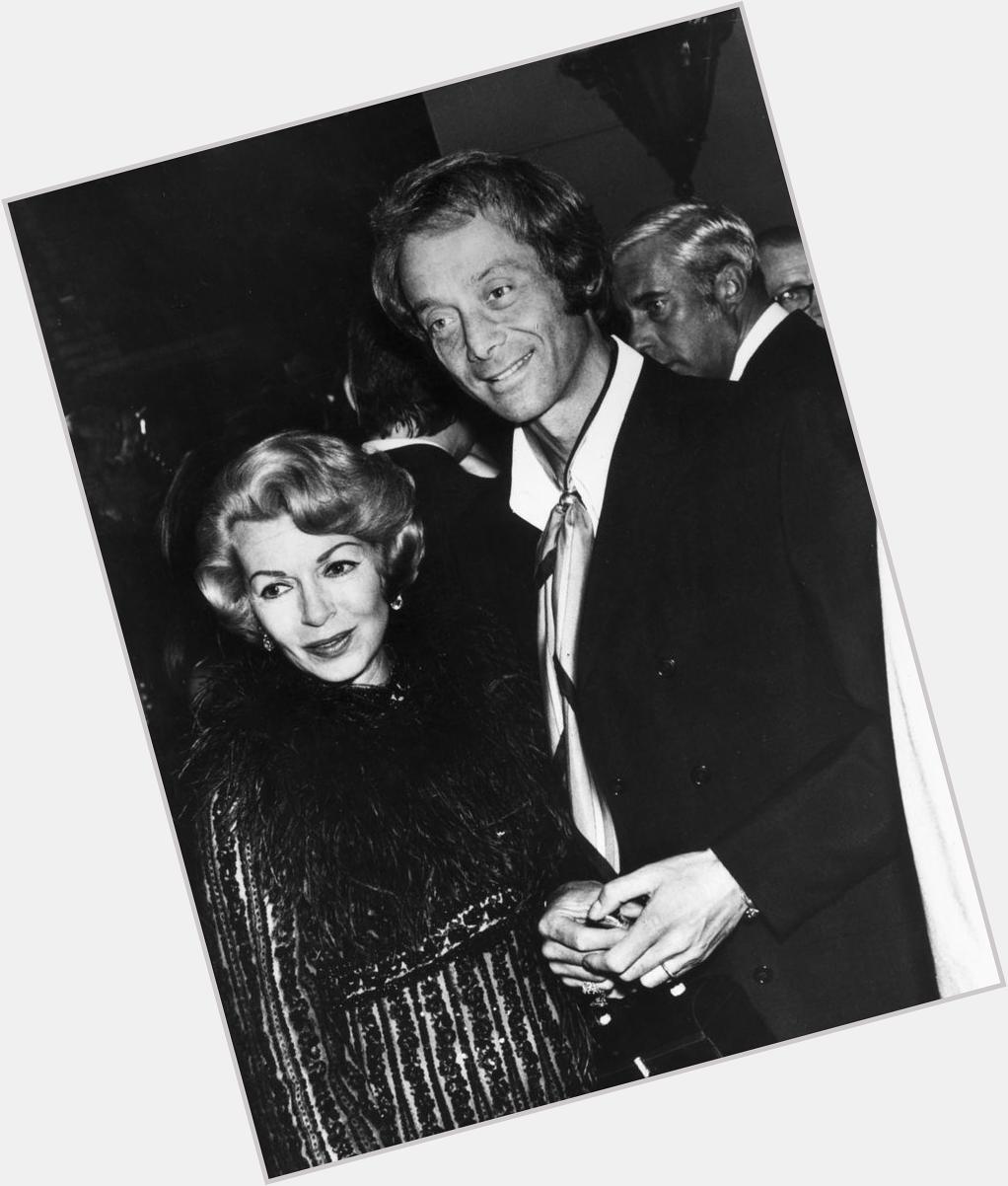 1969:   Ronald Dante was a long-haired motor-cycle rider who worked as a nightclub hypnotist. Lana made him her seventh and final spouse, probably because he made her feel young. He also stole her money and they divorced in 1972.  
The final 20 or so years of Lana's life were considerably less tempestuous than those that preceded them. In the eighties she starred in a popular television series called Falcon Crest, but her health began to fail and she was diagnosed with throat cancer in the nineties. She died in 1995 at the age of 75.