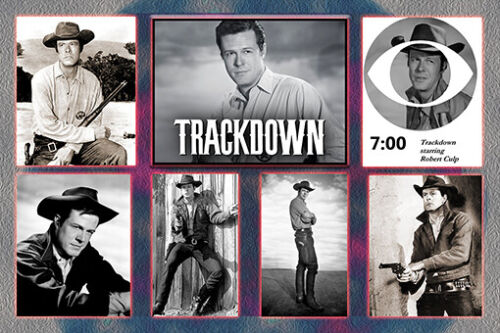 TRACKDOWN (1957-9) 71 EPISODES                
Robert Culp starred as Texas Ranger Hoby Gilman (who thinks up these Christian names?), who travels throughout the Old West hunting down bad guys and bringing them to justice. The end credits claim the stories are true and based on actual cases from the Texas Rangers' files, although there is a fine print rider that reads: 'The story is true. Names, firms and locales have been changed to protect relatives and descendants who may be living.' Uh-huh. The problem with the 'based on fact' claim is borne out in an episode titled 'The Bounty Hunter', in which Steve McQueen's fictional character Josh Randall is featured. McQueen was being considered for the lead in a new series titled Wanted: Dead or Alive, and the producers wanted to test public reaction to a series about a 'good guy' bounty hunter.
Unlike almost every western hero on TV or in the movies, Holman does not wear a .45 Colt revolver on his hip, preferring instead to use an 1877 Smith & Wesson New Model 3 revolver. He also has the sleeve cut off and turned upwards on his drawing hand, which also made his character unique in an era where quick-draw gunmen were a dime a dozen on American TV. In order to give the show a more 'factual' air a narrator (Ed Prentiss) was used in each episode. Prentiss was the voice of Captain Midnight on the radio during the forties. The character of Hoby Gilman was introduced on the Zane Grey Theatre in an episode in season 1 titled 'Badge of Honour', aired in May 1957.
Culp had the looks and the acting ability to become a big star, particularly in romantic comedy, but he never really rose to that level. He tended to be cast as second leads, the star's good buddy, brother of the female lead etc. His biggest 'moment in the sun' came when he co-starred with comedian Bill Cosby in the ground-breaking series I Spy in 1965. Perhaps, being a poker-playing pal of Hugh Hefner and, thereby, a frequent guest at the Playboy Mansion was success enough for him. He died aged eighty after suffering a heart attack whilst out walking. Evidently, it was the head injuries incurred when he fell, rather than the heart attack, that brought about his demise.
TRAVELS OF JAMIE MCPHEETERS, THE (1963-4) 26 EPISODES             
Pulitzer Prize winner Robert Lewis Taylor wrote his novel of the same name, about a wagon train bound for California's gold rush and the problems and adventures that the travellers encountered along the way. Disney youngster Kurt Russell played Jamie and many of the episodes focused on him and his trials and tribulations. Quite often the show turned surprisingly violent. Michael Witney, in his screen debut, started out as the wagon master but after only fourteen episodes he appeared to be replaced by Charles Bronson as Linc Murdock, completely without explanation. Witney was a former minor league pitcher (Whitney Armstrong) who married British model Twiggy in 1977. They had a daughter but divorced in 1983. A heart attack took him at just fifty-two.
Kurt Russell as Jamie
Kurt Russell was eleven years old when he got to kick Elvis Presley in the shins in It Happened at the World's Fair (1963). That same year he landed the Jamie McPheeters role. The series only lasted a solitary season but Kurt became one of very few child stars in Hollywood to remain successfully acting in adulthood, often working with director John Carpenter. He played pro baseball as a second baseman with AA California Angels until a torn shoulder muscle forced his retirement in 1973. Kurt and long-time partner Goldie Hawn have appeared in five films together thus far.
Twiggy & Michael Witney
Dan O'Herlihy portrayed young Jamie's father, a wastrel of a man, caught in the grip of both the gambling bug and alcoholism. By the time the series had run its race, however, there were only two main characters being featured in the series and he was not one of them. Russell and Bronson virtually dominated the closing episodes although Jenny (a young pioneer woman played by Donna Anderson), befriends Jamie in the final thirteen episodes and features quite prominently.
Kurt & Charles Bronson (as Linc Murdock)
It is interesting to note that the promo for The Travels of Jamie McPheeters was broadcast on November 22, 1963, and played after the announcement of the assassination of President John F. Kennedy. Apparently, the promo came on after the announcement of the tragedy in Dallas because the ABC did not have their news studio prepared. Consequently, they continued showing commercial television until the news studio became fully operational.
26 MEN (1957-9) 78 EPISODES                
The title of the series relates to the Arizona Rangers, a law enforcement group in the Old West that consisted of just twenty-six men. It is believed that the number of members was limited to twenty-six 'to avoid vigilantism'. Set entirely in the first decade of the 20th century, in Arizona (and filmed there), local residents were often used as extras and even filled the occasional role. The two lead players are Tristram Coffin (as Captain Thomas Rynning) and Kelo Henderson (as Ranger Clint Travis).
Coffin held a degree in speech from the University of Washington and was picked up by a Hollywood talent scout who suggested he use his voice in the movies. The result was staggering. Tristram racked up an astonishing two hundred and fifty eight screen credits (TV and movies) from 1939 until his retirement in 1982! He lived until 1990 before succumbing to lung cancer at eighty. The actor who portrayed Ranger Clint Travis (Kelo Henderson) had the tiniest of screen careers, just eight credits over eight years before calling it a day. He lived to be ninety-six.
The episodes in this series are said to have been taken directly from the organization's own files. The Territorial Governor created the Arizona Rangers in 1901 with a specific task in mind. They were to rid the territory of crime and corruption so that Arizona could become a state. There had been Arizona Rangers and other similar-sounding groups back in the 1860s, but these were in no way connected to this organization. The Governor of the Arizona Territory was well aware that the territory had no chance of achieving statehood unless law and order prevailed, so he created the Rangers with the firm intention of dissolving them the moment their goals had been fulfilled. And that is precisely what he did in 1909. Modelled on the Texas Rangers, these twenty-six individuals were well-trained, well-equipped and highly effective. By 1908, most of the territory's outlaws had been arrested, killed or had fled into Mexico. Shortly afterward, Arizona became the 48th state.