The stunning American actress Grace Kelly only made eleven movies in her brief but spectacular career. By most accounts she made hay with most of her leading men while the sun shone. But not all of them. Her supporters argue that she was basically seeking a father substitute to compensate for her own father's aloofness, that she was neither promiscuous in the true sense, nor was she a nymphomaniac as some claim. I imagine the truth lies somewhere in the middle. One thing seems pretty certain, however. She had scant regard for the sanctity of marriage, neither her own nor anyone else's. With regard to her alleged romances I have taken a brief look at each of the eleven pictures she made prior to marrying Prince Rainier of Monaco in April 1956. I have disregarded several 'rumoured' involvements and have endeavoured to focus on those which are quite well documented.
FOURTEEN HOURS (1951)
Grace Kelly's first film appearance saw her listed tenth in the cast of Fourteen Hours in 1951. Her performance was not memorable and did not attract further movie offers, but one good thing came of it. Gary Cooper visited the set and was taken by her unusual beauty. She would become his co-star a year later in High Noon. During filming of Fourteen Hours, the wife of the picture's leading man Richard Basehart died suddenly from a brain tumour. He was devastated yet soldiered on and completed the movie.
HIGH NOON (1952)
Coops and Kelly in High Noon
Gary Cooper was 51 and Grace Kelly 22 when they made this picture and embarked upon a torrid off-screen affair. Her attraction to older men was already known. Before he died in 1961, Coops described Grace (rather ungallantly) thus: 'She looked like a cold dish with a man until you got her pants down. Then she'd explode.' As often happens, once filming ended so did the affair.
MOGAMBO (1953)
with Gable in Mogambo
A year after High Noon, the ever eager Grace fastened onto the 52 year-old Clark Gable whilst on location in Kenya making Mogambo. Their affair lasted several months despite Gable's protestations that 'nothing happened'. Supporting actor Donald Sinden recalled accidentally walking in on the two of them having sex in Gable's tent. During the London shoot Clark arranged for a room in an out of the way hotel where they could continue their trysting, but the romance abruptly ended when Grace's mother rolled in and started making noises about her daughter and the King of Hollywood tying the knot. 'He likes to conquer', co-star Ava Gardner told Grace. 'And when he's done, he's through with them, and he leaves.'
DIAL 'M' FOR MURDER (1954)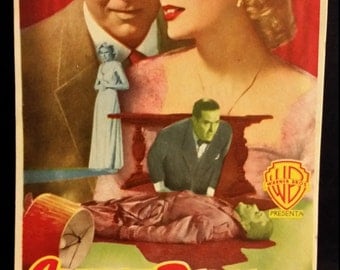 Ray Milland and Grace                                          Anthony Dawson
Ray Milland was only 47 and a happily married man when he fell hook, line and sinker for Grace when they made the Hitchcock thriller Dial 'M' For Murder in 1954. For Milland this was no flirtation, although he had indulged in them in the past. This was something else, according to Grace's sister Lizanne in whom he confided. The Millands separated after his wife's sister followed Ray to the airport and watched him board a plane with Grace. Their studios tried to scotch the rumours about the liaison but too many people knew. Ultimately, it all came down to money. Everything the Millands owned was in Ray's wife's name and she bitterly reminded him of that until he finally saw sense and returned to his family.
Mrs. Henry Hathaway, the widow of Grace's first director, had no time for the future princess at all. When asked whom else Grace had had affairs with in Hollywood, she replied: 'You name it. Everybody. She wore those white gloves, but she was no saint.' In fairness to her, Grace seemed to genuinely care for the men she bedded. The fact that far too many of them were already married is a concern though. Anthony Dawson, the actor who played the assassin in 'Dial 'M'', wrote in his unpublished memoirs, 'Rambling Recollections', that he drove Grace home from an early meeting with Hitchcock and had a brief affair with her that evening, before Milland later came on the scene.
REAR WINDOW (1954)
with Jimmy Stewart in Rear Window
Rear Window was shot on the heels of Dial 'M' For Murder. This time Grace was playing opposite 46 year-old James Stewart and for once she kept her hands to herself. 'Everybody just sat around and waited for her to come in the morning, so we could just look at her', Stewart recalled. 'She was kind to everybody, so considerate, just great, and so beautiful.' By then Grace's reputation with her leading men had preceded her and Gloria Stewart, Jimmy's wife, was taking no chances. She drove her husband to and from the set every day and stayed to watch all the takes. Jimmy and Grace did not have an affair.
THE BRIDGES AT TOKO-RI (1954)
and with Bill Holden in The Bridges at Toko-Ri
It was no secret that the marriage of William Holden and Brenda Marshall (Ardis) was an open one, that either party was free to see others. Whether or not Ardis did so is eminently debatable, but Bill had many, many girlfriends, Audrey Hepburn, Stephanie Powers and Grace, to name but three. Bill was just 36 years old so the quest for a 'substitute father' argument is a little thin in his case. Friends of Holden always maintained that he had no intention of divorcing his wife. 'If I were to lose Ardis', he told them, 'I would lose everything.' Grace, on the other hand, was convinced for some time that he would divorce Ardis and marry her. Not a chance.
THE COUNTRY GIRL (1954)
An intriguing publicity still for The Country Girl
Holden was also in Grace's next picture, The Country Girl. And so was 51 year-old Bing Crosby.    During the course of the shooting of this picture Grace excelled herself in the bed-hopping stakes by sleeping with no fewer than four men, evidently without any of them knowing about the others. Her affair with Holden was still proceeding (but not progressing); she enjoyed a brief fling with David Niven which would evolve into a lifelong friendship; she was still entangled with Clark Gable and Bing Crosby was using the home of his neighbour Alan Ladd to service her at every opportunity. 'Doesn't he know any place else where he can go at night?' Ladd complained to his wife. 'There must be hotels or motels…' The Bingo was totally smitten and even asked Grace to be his wife. 'She loved him', said Lizanne, 'but she wasn't in love with him.' So exit the Bingo. Grace actually won a Best Actress Oscar for her performance in this picture Just one more 'dodgy' result in a history of 'dodgy' Oscars results.
GREEN FIRE (1954)
Stewart Granger and Grace in Green Fire
Grace made this rather disappointing picture with Stewart Granger about four months before she met Prince Rainier for the first time. Eighteen months hence she would become Princess Grace of Monaco. Granger was in the middle of his 10 year marriage to Jean Simmons which probably explains why he and Grace never 'got it on'. He did, however, admit to having a six-month extra-marital affair with Deborah Kerr when they made King Solomon's Mines in 1950. Since he wed Miss Simmons in December that year and the picture was released in November, I am at a loss to determine how he could possibly be having an extra-marital fling. Unless the affair with Miss Kerr carried on into 1951, perhaps. Maybe, he was still coming to terms with his wife sleeping with his best friend, Richard Burton, while Stew was away making a movie.
TO CATCH A THIEF (1955)
Grace about to kiss Cary Grant in To Catch a Thief – WOW!
Yet again Grace was placed opposite a lover played by an actor (this time it was Cary Grant) who was over 50 years old and twice her age. It is almost as if the Hollywood moguls believed that young women with elderly men was the way of the world. Prior to the picture's release there was considerable concern shown by the media that Cary was 50 and Grace just 24, yet no such concern was evident when she played the lover or wife of Gable (52), Cooper (51), Crosby (51) or Milland (47). Then again, the entire 'age' thing seems to confuse the life out of Hollywood producers. Take Jessie Royce Landis, for instance. She plays Cary's potential mother-in-law here, but in North by Northwest (1959), another Hitchcock production, she plays his mother, despite being just 8 years older than him in real life. In To Catch a Thief the French actress Brigitte Auber (Danielle) makes a point of how much younger she is than Grace's character (Frances), yet in reality she is eighteen months older than Miss Kelly.
By the time he was shooting this picture Cary's 12 year marriage to the rather erratic Betsy Drake was over and he was free to look elsewhere. Betsy was once asked if he was homosexual. Her response: 'Why would I believe that Cary was a homosexual when we were busy fucking?' Er…nicely put, Betsy. Questions about his bisexuality were not so easily brushed aside, however. All that aside, it would appear that he and Grace remained close friends but were probably not intimate. Probably not.
THE SWAN (1956)
with Alec Guinness (later Obi-Wan-Kenobi) in The Swan
Grace made this film about a princess preparing for marriage in the same year as she wed Prince Rainier in real life. There was never any possibility of an off-screen romance with Alec Guinness her co-star. His homosexual side would emerge after his death, but his colleagues and friends were well aware of this even before his arrest for 'a lewd act in a men's toilet block' back in 1946. Unlike John Gielgud seven years later, Alec was smart enough to give police a false name (Arthur Pocket) and avoided exposure to the public. Exposure would have devastated this gentlest of men. Was his wife of 62 years ever aware of all this? I do not know. I hope not.
HIGH SOCIETY (1956)
Crosby and Kelly…again                                                                    and with Sinatra in High Society
Grace would retire forever from acting after this her eleventh motion picture. She had no choice in the matter. The people of Monaco would never accept their princess appearing on screen in any capacity other than as their sovereign. Neither would the prince. George Jacobs, Frank Sinatra's personal valet from 1958 until 1968, was asked by an interviewer if Frank and Grace had been lovers. 'He did a movie with her, and he dated her, but I don't know', was his response, adding that Sinatra went to Monaco a couple of times 'to support her charity work'. He was also a good friend of Prince Rainier, according to Jacobs. Did Frank date beautiful women and strike out with them? Not often, is my guess.  One thing is certain, however. Rainier was totally unaware of his fiancé's previous history with her other co-star in High Society, Bing Crosby. Indeed, he married Grace convinced she was a virgin. When his medical people discovered her hymen was broken, she lied and said it was the result of a hockey accident at school!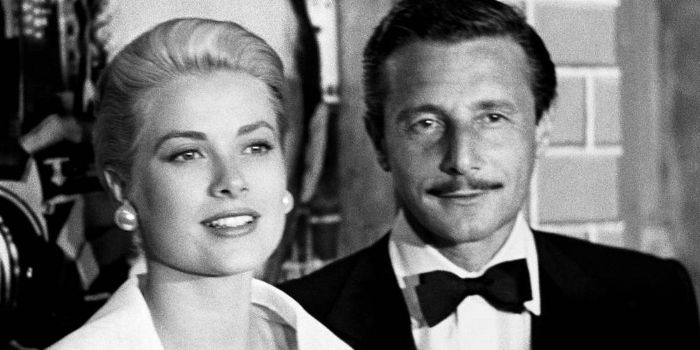 Spencer Tracy and Grace dining                   and with Oleg Cassini
There were many other lovers in Grace Kelly's life besides those mentioned above. Spencer Tracy is believed to have had a fling with her and both the former Shah of Iran and Prince Aly Khan slept with her in her modelling days. So did agent Gene Lyons and she was engaged to Oleg Cassini for a while. In 1955 she was briefly involved with French star Jean-Pierre Aumont and, even as late as 1980-1, she was secretly seeing Austrian director Roger Dornhelm.