Australian-born director John Farrow was Mia's father. He rarely cast a female extra whom he had not already bedded or was about to. In Mia's autobiography she mentions knowing about her father's affair with Ava Gardner from an early age. The two became involved while making the 1953 film Ride, Vaquero! Her mother, actress Maureen O'Sullivan, also knew and promptly moved him into a separate bedroom with its own private entrance. Farrow's promiscuity was matched only by his piety and the fact that he was loathed by most of his colleagues. When he was not taking advantage of lovely young things he could be found ensconced in deep discussion with Catholic Church officials, pondering Church doctrine and ecumenical history. A massive heart attack claimed him at 58. Few missed the man.
Mia's folks – John Farrow & Maureen O'Sullivan
Mia's family played the Hollywood game right down the line. Columnist Louella Parsons was all-powerful as her parents knew only too well, so they asked her to be godmother to Mia. Director George Cukor was her godfather. Every Christmas the Farrows would drive the few blocks to the Parsons place and deliver their gifts to Louella. More precisely, they would carefully place their packages alongside the ocean of gifts already deposited in her huge lounge-room. There was never a shortage of sycophants in Hollywood when Louella and Hedda Hopper ruled the waves.
Mia was as surprised as anybody by the enormous popularity of Peyton Place when it hit TV screens in 1964. Overnight she was famous and life changed forever. At the time 20th Century Fox was on its knees and facing bankruptcy because of the sinkhole that was their blockbuster Cleopatra. The studio had been shut down for two years, even the commissary was locked and boarded up. But salvation in the shape of a musical called The Sound of Music was just around the corner. Meanwhile, Peyton Place helped keep the creditors from the door. Teenagers everywhere could not get enough of newcomer Ryan O'Neal even though he was married with a couple of kids. Mia fell for him like everyone else but nothing came of it. Besides, she was quite smitten with actor Charles Boyer's son Michael and had been for much of her young life although he barely acknowledged her. His suicide at 21 affected her deeply. Following an argument with his girlfriend, he played Russian roulette with a .38 revolver and blew his brains out.
   Peyton Place
Mia as Alison MacKenzie
When Mia met Frank Sinatra on the set of Von Ryan's Express around that time her life would change even more. Frank was already 50 years old. Mia was not only nineteen but she was more or less known the world over as the naïve, innocent 16 year-old Allison in Peyton Place. Frank whisked her off to his Palm Springs mansion in his private jet the next day and they became lovers that night. For a few months they kept their romance a secret until he chose to make an announcement. The media went crazy. Millions of words were written about the 50 year-old womanizer, the Mafia-connected singer and his boyish-looking teenaged girlfriend.
Mr. & Mrs. Frank Sinatra
Mia and Frank were a generation apart and had nothing in common when they married in 1966. At home he liked to do crosswords and watch golf on TV for hours. She detested golf and was hopeless at it. Before they met she had never listened to a Sinatra song or seen any of his movies. Her generation loved the Beatles. He had two daughters, Tina and Nancy, who were both older than her. When he talked about how Tommy Dorsey had taught him how to phrase and sneak breaths while he was singing, Mia had to ask who Dorsey was.
with John Cassavetes in Rosemary's Baby
Worst of all, however, was his lifestyle. He could polish off a bottle of Jack Daniels in an evening and their Palm Springs home was refurbished to accommodate 22 guests at a time. Lots of partying. There were friends, house-guests and hangers-on around all the time. In Vegas he rarely came to bed before 5am and he slept until the afternoon. Mia could not sleep during the day. Visiting friends would often bring their children, some of whom were Mia's former school friends. They would be seated at 'the kids' table' while she would be seated at 'the grown-ups' table'. Life for the new Mrs. Sinatra was very weird. It did not get any less weird when Frank's former love of his life Ava Gardner drunkenly confided to her one day: 'You know, Mia, you're the child Frank and I never had.'
Mr. & Mrs. Andre Previn
Mia was offered Rosemary's Baby by Paramount and Frank did not want her to do it. He wanted her available to co-star with him in The Detective and the shooting dates were probably going to clash. They did, but Mia could scarcely walk out on her film when it was so near completion. It would be professional suicide. She could scarcely believe it when Frank's lawyer suddenly appeared on the set of Rosemary's Baby with divorce papers for her to sign. Her husband had never even mentioned divorce at any time. Not one to argue with reality, she signed.
Her performance in Rosemary's Baby made Mia a hot item. She was offered Paint Your Wagon by Joshua Logan and True Grit by John Wayne, but she was 21 and had just lost her husband. She needed some peace for a while. Her sister Prudence suggested joining her in India, meditating with the Maharishi, and she agreed. There she met the Beatles and their wives and girlfriends. Ringo and his wife left after a few days because of the flies and Mia packed up and left after the Maharishi made a pass at her, despite Prudence's efforts to convince her that being touched by him after meditation was a 'traditional honour'. Interestingly, before she left the ashram, John and Paul wrote their song 'Dear Prudence' for her sister.
Mia, Satchel, Woody Allen and Dylan
Mia would go on to marry Andre Previn and bear twins to him. In all she would have seven children, but her marriage would not survive their long professional separations. She would fall in love with Woody Allen after being introduced to him by her good friend Michael Caine in New York. Allen had lived his 45 years without children. In fact, he had never dated a woman with even one child. 'I have zero interest in kids', he told Mia. For all that, he appeared to try his hardest to come to terms with his lover having seven of them at that time and, despite opinions to the contrary, the couple seemed happy together. Mia's apartment was on one side of Central Park and Allen's was on the other. In the entire twelve years of their relationship they never actually co-habited.
Allen and Soon-Yi
Actress Ruth Gordon was a close friend of Mia and was married to writer Garson Kanin. Allen enjoyed the Kanins' company, but Ruth did not like him. 'He may be brilliantly talented', she exclaimed to her husband, 'but he's no good. I wouldn't trust him from here to the end of the block.' Perhaps, Ruth questioned the well- known fact that there were three people in the Woody and Mia relationship – Woody, Mia and his therapist. He never made a decision about anything without consulting her first. Never. He had been in psychanalysis three or four times a week for 30 years or so!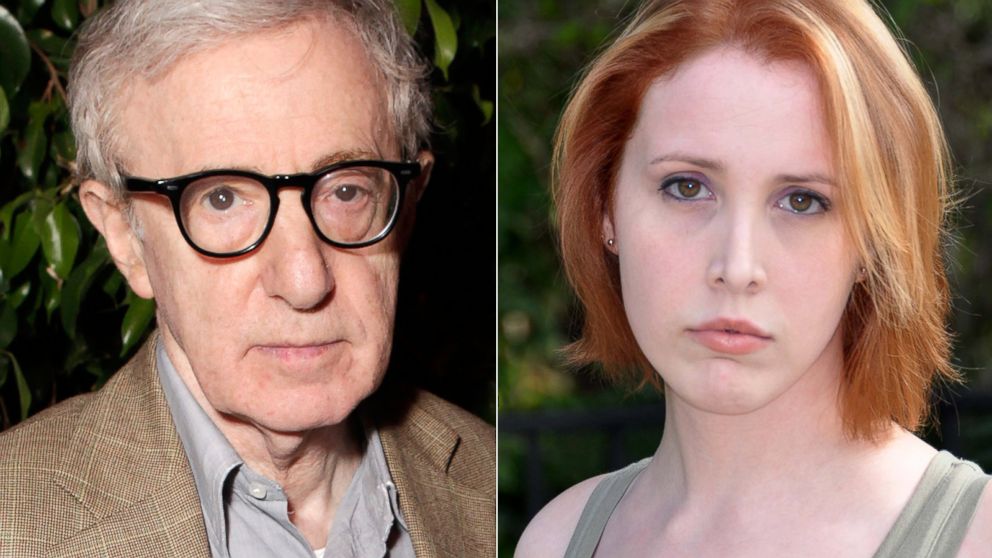 Allen and a grown-up Dylan
Mia adopted a daughter she named Dylan in 1985.  Two years later she and Allen became the natural parents of a boy named Satchel. Woody's therapist had decided it was OK for him and Mia to have a child even though he made it very clear to Mia, 'Look, I don't care about the baby. What I care about is my work.' According to Mia's memoirs, she confronted him about his attitude towards Dylan who was approaching three years of age in 1988. He stared at the girl 'in a sexual way' especially when she was naked and he was forever fondling her. He was at last starting to show interest in Daisy and Soon-Yi, Mia's other daughters, but he had no time for little Satchel at all.
Allen's 'interest' in Mia's daughters descended into sexual abuse with Soon-Yi and with Dylan. A Supreme Court judge barred him from seeing Dylan or even his natural son Satchel without strict supervision. In the interests of protecting 7 year-old Dylan from further publicity, the DA decided not to proceed with an investigation into Allen's conduct even though he found 'just cause' to do so. Allen had filed a suit accusing Mia of being an unfit mother simply to deflect intended accusations of sexual misconduct being laid against him. It was a 'blind' that the judge saw through when he found in favour of Mia all the way down the line. Allen's suit was despicable, a vicious public attempt to discredit a woman who had done nothing wrong, whatsoever. I have read Mia's memoirs 'What Falls Away' and I have absolutely no doubt at all that they are accurate and heartfelt. In his callous attempts to get his hands on her daughter once again, he has gone to great lengths to tarnish Mia's good name. And he has failed time and again.
Mia had 14 children in all by 2016, ten of whom were adopted, (three are now deceased). Some people find her eccentric. Others marvel at her kindness and self-sacrifice, for she is a devoted mother in every way. She has adopted children from all over the world, many of them with health issues, and has given them a home and a caring, loving family environment. Even so, supporters of Allen ridicule her and belittle her efforts. She has been accused of craving vengeance against him for betraying her with Soon-Yi. Those involved in the situation know better. There is only one despicable low-life in this story and it is not gentle-hearted Mia Farrow.
When the judge suggested that Allen may have unsupervised visiting rights to his natural son (Satchel), but not to his adopted daughter Dylan, whom he had been accused of sexually molesting (accused by a therapist, incidentally, not by Mia), he refused point blank. The judge, not surprisingly, described his response as 'bizarre'. Mia, of course, knew why he rejected the proposal. He had never shown any interest in Satchel or any of the boys. Never. As for the pornographic photos of Soon-Yi that were taken by Allen, Mia has them locked in a vault as insurance against him ever gaining custody of any of her girls.
Soon-Yi (inset), Allen and their adopted
daughters, Manzie and Brechet
In 1997, Allen married Soon-Yi and they have since adopted two children of their own. Two girls, I hasten to point out. Allen is now in his eighties and Soon-Yi is approaching 50. Their girls are teenagers. One hopes they (Manzie and Brechet) fare better than their predecessors – their own adopted mother included. The big question remains, however. Woody Allen is known to have pornographically photographed and had sexual relations with his girlfriend's adopted teenaged daughter (Soon-Yi). He has been accused of having engaged in sexual misconduct with another adopted daughter (Dylan), a three year-old at that, and avoided prosecution only because the DA did not want to put the child through any further trauma. How in Hell then, could this creature ever be permitted to adopt baby girls himself? There must be something dreadfully wrong with the system somewhere for this to occur. Has to be.