10                    M.A.S.H. (1972-83)                                       11 SEASONS
I know M.A.S.H. owes much of its popularity to Alan Alda's portrayal of Benjamin 'Hawkeye' Pierce, but I was never overly enamoured by his character. I mean, nobody was a witticism in every sentence he utters every moment of his life! Besides, I thought McLean Stevenson as Henry Blake was just wonderful, and Loretta Swit as Margaret 'Hot Lips' Houlihan, and Larry Linville as Major Frank Burns were far more interesting. I have always been a Harry Morgan fan, but Henry Blake's exit from the series was a major blow as far as I was concerned. There were 251 episodes and only Alda acted in every one of them. Loretta Swit was cast in all 251 but was not on screen in a handful.
9                      THE SIMPSONS (1989-PRESENT)          30 SEASONS AND COUNTING
Whichever way you look at it, The Simpsons must rank as the most successful TV series of all time. Thirty seasons and still going, syndicated all over the world and more than six hundred episodes are testament to the incredible popularity and longevity of this remarkable series. When we consider that the animation process for each episode takes teams of workers six to nine months to complete, it is even more remarkable. The decision to colour the Simpsons yellow was taken simply to 'capture' channel-jumpers watching TV and looking for something to settle on. Pretty clever really.
8                      FRIENDS (1994-2004)                                 10 SEASONS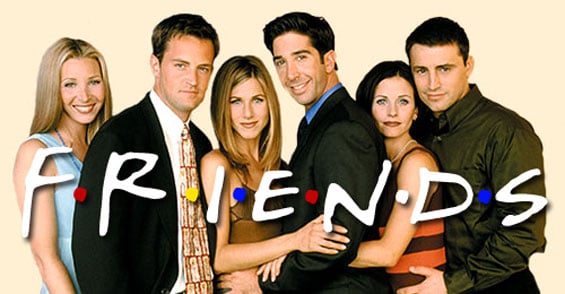 Friends is one of those collaborations that sees quality performers make the most of good writers' material year in and year out. It was also the 'flavour of the month' for guest stars year after year. Just about anybody who was anybody bobbed up at one time or another over the ten seasons and 236 episodes. Tom Selleck, Bruce Willis, Kathleen Turner, Reese Witherspoon, Julia Roberts, model Elle MacPherson and singer Chris Isaak are just a sampling of the scores of guest stars who turned up on the Friends set. Of the principals, Jennifer Aniston and Matthew Perry were probably the most popular, but only narrowly ahead of Lisa Kudrow, Courteney Cox, Matt LeBlanc and David Schwimmer. Quality comedy over a long period.
7                      CHEERS (1982-93)                                       11 SEASONS
It takes a certain quality for a series to remain successful over 11 seasons when its premise is a Boston bar and a few patrons and staff. A lot of the success of Cheers has to go to the flawless timing and considerable charm of Ted Danson who plays Sam Malone, the owner of the bar, a former womanizing alcoholic baseball star. Shelley Long and Kirstie Alley provide his love/hate interests. Danson stayed for all 236 episodes. Woody Harrelson had no desire to work on the series without him and refused to take over as the bar's new owner when Danson chose to quit the series. The cast were a tight-knit unit, except for Shelley Long who preferred her own company in down-time. It was generally felt by her colleagues that she considered herself to be 'above' those she worked with on the show. Rhea Perlman who played Carla Tortelli was (and is) the real life wife of Danny DeVito.
6                      FAWLTY TOWERS (1975 & 1979)           2 SEASONS
I suppose general feelings about the character of Basil Fawlty are poles apart. You either love him or you hate him. John Cleese's portrayal is certainly 'over the top' on occasion, but to Cleese fans it matters not. And I am a Cleese fan through and through. The show only ran for a total of 12 episodes but it was unique. Basil and Sybil Fawlty were based on a real-life couple, Donald and Beatrice Sinclair, who actually ran the Gleneagles Hotel in Torquay. Beatrice has since accused Cleese of 'making millions out of our unhappiness' and described him as 'an utter fool'. Bloody funny though. Andrew Sachs, who played the hapless Spanish waiter Manuel, was a German. Prunella Scales was brilliant as Basil's harpy wife Sybil. A gentle, tender-hearted soul by nature, it often required multiple takes for her to hit or berate Basil with enough force to appear convincing. Cleese was married to Connie Booth (Polly) in real life, but the marriage ended in divorce by the time the second season was filmed.
5                      THE GOLDEN GIRLS (1985-92)              7 SEASONS
In Australia this series is in regular re-run on Foxtel and I find myself watching it more and more. When it first appeared on normal TV back in the eighties I was younger and had better things to do than watch television, so I am now appreciating the remarkable comedic talent of the four stars. Bea Arthur (Dorothy) is the cynical 'boss' figure, Betty White (Rose) is a delightful 'airhead', Estelle Getty (Sophia) is Dorothy's caustic mother, and the wonderful Rue McClanahan (Blanche) is the forever-randy man-hunter. If you have ever wondered who wrote the very clever scripts for the series, well, I can tell you it was not just one writer. There were 36 of them! All four stars won awards over the seven seasons. When the first season began Estelle Getty was 63 years old and Bea Arthur (who played her daughter) was 62! As of 2017, only Betty White survives. She is 95.
4                      'F' TROOP (1965-7)                                     2 SEASONS
Frank De Kova as Wild Eagle
I doubt if there would be many 'experts' who would include this hilarious series in their 'Best' lists. Fortunately, I am no 'expert'. I just know what I like. And, boy, did I like F Troop! Still do. The first season consisted of 34 black and white episodes; the second of 31 colour episodes. And that was all she wrote. I still believe that Larry Storch (Corporal Randolph Agarn) was the most under-used (or mis-used) funny man in movie history. Frank De Kova as Chief Wild Eagle was also extremely funny as the dead-pan leader of the Hekawe tribe. Network censors would not allow the tribe to be called the Fugawe. 'Where the Hekawe?' was acceptable. 'Where the Fugawe?' was not. There was a third attraction in F Troop, and that was Melody Patterson as Wrangler Jane. Nobody knew it, but she lied about her age when she successfully auditioned for the role. She was not quite sixteen. From 1970-77 she was the wife of James MacArthur (Danny Williams in Hawaii Five-O) – 'Book 'em Danno.' The series was dropped by Warner Bros new owners 'Seven Arts', despite its good ratings, because they did not want a large portion of the Warner Ranch taken up by a single half-hour TV comedy.
3                      WOULD I LIE TO YOU? (2007- PRESENT)      10 SEASONS SO FAR
It might seem odd that I have included a panel show in my list (and very high up at that), but the fact remains that I cannot recall a single episode that did not make me laugh out loud. Nothing appears to be scripted but, in all honesty, the three stars – David Mitchell, Lee Mack and Rob Brydon – are so brilliantly witty with their repartee that a script would be superfluous anyway. The producers seem to put a lot of work into selecting guest panellists as well. Pretty much every wit in the UK has appeared and contributed to the mirth over the last decade. The premise is a simple but effective one. Participants read a statement from a prepared card that they have never seen before and the opposing team interrogate them to determine if the statement is true or false. Whenever I need a laugh I merely switch on WILTY and they deliver.
2                      YES, MINISTER/ YES, PRIME MINISTER (1980-7)    6 SEASONS
Has there ever been a more cleverly written series? I doubt it very much. The extraordinary performances of the three principals, Paul Eddington, Nigel Hawthorne and Derek Fowlds, are even more commendable when we consider that they were compelled to perform 'live' in front of an audience. And they hated doing so. No wonder, given the extremely lengthy and complicated scripts they had to deliver. It started out as Yes, Minister in 1980, which lasted until 1984 (22 episodes). The series returned in 1986 (until 1987) as Yes, Prime Minister (16 episodes). It should have gone longer.
1                      THE HONEYMOONERS (1955-6)                                    1 SEASON
Thinking back, I find it extraordinary that the very first comedy I ever watched on television turns out to be the best one I have ever seen! I have the series on DVD, of course, and the performances have not dated one iota. Jackie Gleason as Ralph Kramden is as incredibly funny today as he was over half a century ago. And the same applies to Art Carney as Ed Norton. In spades. The superb Audrey Meadows as Ralph's wife Alice is the perfect foil. Her put-downs are highlights of their own and she possessed the ideal voice to make them hit home with a vengeance. Gleason refused to do a second season of The Honeymooners because he felt the writers would not be able to sustain the quality of writing for another year. Since 2000, a life-sized statue of Jackie as Ralph in his bus-driver's uniform has stood outside the Port Authority Bus Terminal in New York City.