AVA GARDNER (1922-90)           
Ava was a 'knockout', possibly the sexiest woman ever to grace a movie screen. She married Mickey Rooney when he was the number one box-office draw in movies (she refused to sleep with him unless he married her first). Within three weeks or so of the marriage he was cheating on her and she caught him out. She became involved with Howard Hughes following her divorce, but his paranoia and jealousy drove her away. Ava and Frank Sinatra were crazy about each other, but they fought like cat and dog, especially as her star rose and his went down the drain. As she began to lose her looks and the booze got to her she spent most of her time in Spain in the company of bullfighters and gypsies. Ava lived out her final years in London, befriending (platonically) British actor Charles Gray of The Rock Horror Picture Show fame. She was just 67 when bronchial pneumonia claimed her in 1990. Sinatra wept like a small child when told of her death. Ava had many, many lovers, always maintaining that Rooney educated her in the wonders of sex and she became addicted to it. I have only listed the liaisons that are proven beyond any reasonable doubt, although I do mention Clark Gable as a 'possible', simply because most sources seem to assume he and Ava had a 'thing'. They were friends for years so it probably happened. Probably.
Ava with Charles Gray in the late 80s
Confirmed liaisons:
1941:   Ava met Mickey Rooney in 1941, married him in 1942 and divorced him in 1943. Mickey was a serial philanderer and she flatly refused to sleep with him unless they were married. Even his mother knew what he was like. When he brought Ava home to meet her and announced they were to be married, the old lady drily commented: 'I guess he hasn't been in your pants yet, has he?' Ava met him on her first day at MGM when she was dragged around the studio by an executive and introduced to the stars. Mickey was wearing a bunch of fruit on his head for Babes on Broadway. After they were married she asked him what he thought when he first saw her. 'I figured you were a new piece of pussy for one of the executives', he replied. 'The prettiest ones were usually spoken for before they even stepped off the train. I didn't give a damn. I wanted to fuck you the moment I saw you.' Ah, true love! Clearly, Rooney was a classy guy.
The end of the marriage came in a bar when Rooney whipped out his address book in front of his cronies and Ava, and called out the names of actress after actress and what each one's specialty was in bed! Peter Lawford drove Ava home that evening, quietly informing her: 'There's a girl Mick's seeing. She's about 15. It's been going on for quite a while.' Rooney was still huge at the box-office, so Ava agreed not to name names in a divorce action. Mayer and MGM gave her a salary increase as reward for her silence.
1943:   Ava's romantic involvement with billionaire Howard Hughes began immediately after her divorce came through. 'He had to be the first to grab the new girl in town', she explained. He was drunk and incoherent when he called and she said 'yes', thinking she was going to be dating Howard Hawks, the big director. Hughes showered her with money and jewels (his usual and highly successful seduction technique), but she said later that he was 'smelly and made love like a horse whisperer', whatever that meant. Smelly or not, they would carry on intermittently for 20 years, usually while Ava was between husbands. Usually – but not always.
Eventually, she learned that he had microphones planted in every room of her bungalow, on every phone, and even in her car. A fight erupted, he dislocated her jaw and she knocked him unconscious with a heavy ashtray. Fearful he might die from the blow, LB Mayer sent in a clean-up team in case the room evolved into a murder scene. Not for Ava's benefit, of course, but to avoid any studio scandal. Hughes recovered and promptly proposed marriage. She refused him.
1944:   Minor Egyptian actor Alexander D'Arcy was photographed dancing with her at the Trocadero during their affair.
1944:   Mervyn LeRoy, producer/director (43) had a brief tryst with Ava (21).
1944:   Ava met band-leader Artie Shaw in 1944, married him in 1945 and divorced him in 1946. 'Artie was an intellectual', she said. 'I was smart but I had no education at all. We were made for each other.' One day he caught her reading Forever Amber and blew his stack. 'I won't have a wife of mine reading that rubbish!' he screamed. After he and Ava divorced, Shaw married Kathleen Winsor – the author of the book. Ava hated that he gave up his friends to the HUAC during the Red Scare. 'I think he was full of shit', she said.
1945:   She met Frank Sinatra in 1945, married him in 1951 and divorced him in 1957. After a 1950 Palm Springs party at which they both got plastered, they drove through the town shooting out shop windows and streel lights with a couple of .38 pistols Frank kept in his car. It was an omen to the non-stop fireworks in their relationship.
with Walker in One Touch of Venus
1947:   Jennifer Jones' ex-husband, Robert Walker, was crazy about Ava when he co-starred with her in One Touch of Venus (1948). And who could blame him? Although the picture was shot in black and white, Ava never looked more captivating. Unfortunately for Walker, he was a pitiful drunk so she tired of him very quickly.
1947:   Austrian-born actor Turhan Bey was a regular 'man about town', escorting, wooing and bedding many of the beautiful women of Hollywood. Ava was one of them.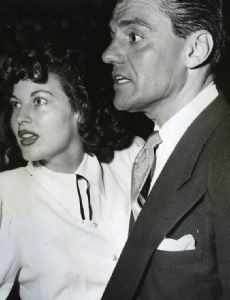 1947:   Attorney to the stars, Greg Bautzer, was another 'love 'em and leave 'em' guy who added Ava to his sizeable trophy collection.
Ava and Clark out to dinner
1947:   Ava was nervous about working with Clark Gable in The Hucksters. She had been a fan of his all her life. He gave her assurance and encouragement and they remained friends all their lives. Five years later they co-starred in Lone Star and again in Mogambo a year later. Were they ever lovers? Everyone seems to take it for granted, but finding any direct proof (other than Peter O'Toole stating that Ava told him they were) is very hard to find. Frankly, I am not entirely convinced. They were certainly not intimate on the set of Mogambo in Kenya. For one thing, Gable was busy bedding Grace Kelly, and for another, Sinatra was present throughout most of the shoot.
1948:   Robert Taylor's marriage to Barbara Stanwyck was damaged by his affair with Ava. Stanwyck and Gardner shared a wonderful scene in East Side, West Side (1949) in which they verbally jousted over Ava's character's power over Barbara's character's husband played by James Mason. Shortly after this picture was completed, Robert Taylor made The Bribe with Ava and they immediately fell into a turgid affair. Life imitating art, so to speak.
Ava and Van on the town
1949:   Van Heflin and Ava dated in 1949, presumably after meeting on the set of East Side, West Side.
1949:   When Sinatra learned that his pal Peter Lawford had slept with Ava he severed all ties with him. No matter how hard Lawford tried to mend their relationship, he was never again permitted to make contact with Sinatra. Many historians thought Frank blamed him for the last minute decision by President John F Kennedy to stay at Bing Crosby's estate instead of Sinatra's, but that was only a minor part of it. In fact, it was Bobby Kennedy who made the decision. It had nothing to do with Lawford at all.
1949:   Ava and Robert Mitchum had an affair while shooting My Forbidden Past (released in 1951). He taught her how to smoke joints, but in the end she preferred to drink.
1950:   Mario Cabre, a minor bullfighter who was obsessed with Ava and followed her everywhere, finally got to sleep with her, although she had little time for him.
1950:   She fell madly in love with actor Howard Duff, became pregnant to him and suffered a miscarriage. They had met on the set of One Touch of Venus when he visited the set. Robert Walker caught the couple in her dressing room and slugged Ava and not the bigger Mr. Duff.
Ava, Fernando & Lana at Marion Davies' party
1952:   Fernando Lamas, the Argentinian actor, caused heads to turn at Marion Davies' amazing party held at her mansion a year after her lover William Randolph Hearst had passed away. He walked in with two of his lovers on his arms – Lana Turner on his left and Ava Gardner on his right.
1954:   Joseph L. Mankiewicz directed Ava in The Barefoot Contessa and became intimate with her.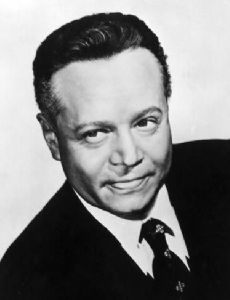 1954:   Billy Daniels, African-American singer of 'That Old Black Magic' was another of her lovers.
1955:   Luis Miguel Dominguin, the famous bullfighter, had a lengthy affair with Ava when she went to live in Spain for several years.
1955:   Singer Vic Damone was another lover.
1955-7: Italian actor Walter Chiari had a small part in the movie The Little Hut and was soon in her bed.
1957:   Ernest Hemingway introduced her to bullfighting after she divorced Sinatra. She skinny-dipped in his pool, although Hemingway said they were 'just friends'. (He usually said that). Mind you, he did tell his staff afterwards – 'The water is never to be emptied.' So, judge for yourself.
1957-8:  Studio executive Robert Evans did not miss out on many of the sex sirens. He didn't miss Ava either.
1958:   Johnny Stompanato met Ava through her good friend Lana Turner.
1959:   Former world No 1 tennis player Tony Trabert was seen with Ava on his arm for several months.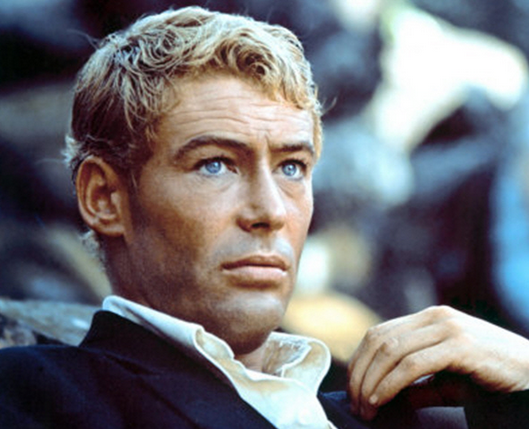 1960:   Peter O'Toole was introduced to Ava by John Huston. She and O'Toole spent three nights in her Savoy Hotel room. Peter confided to an associate: 'She told me that I was ten times the lover that Gable was, but not quite the equal of Robert Mitchum.'
1962:   Peter Duchin, world-renowned pianist was a lover whom Ava met while she was secluding in Spain.
Scott and Ava in Rome
1964:   Ava was manipulated and controlled by an abusive George C. Scott who all but held her hostage during their stormy relationship. Old flame Frank Sinatra heard about his treatment of her and confronted him. He made it very clear that Scott either remove himself from Ava's life or he would get a visit from some of Frank's Mafia friends. Scott gave her up at once.
In the final decade of her life Ava indulged herself with the occasional one-night stand, if for no other reason than to convince herself that she was still attractive to men. All quite sad really. Age catches up with us all.