Italian-Americans have been prominent in the lists of Hollywood movie actors since the silent era. Stars such as Rudolph Valentino, Mario Lanza, Robert De Niro, Sylvester Stallone and Al Pacino obviously have Italian roots, but quite a few others may come as a surprise to you – as they did to me when I delved into the subject. Here are some actors and actresses whose Italian ancestry is perhaps not as apparent:
Alan Alda (1936 – )
The popular star who became a household name playing Captain 'Hawkeye' Pierce in the long-running M.A.S.H. series on TV was born Alphonso Joseph D'Abruzzo. His father, Robert Alda, was also born Alphonso D'Abruzzo.
Anne Bancroft (1931 – 2005)
Anne as Mrs Robinson in
The Graduate with Dustin Hoffman
The wife of funny man Mel Brooks was born in The Bronx to Italian parents – Michael Italiano and Mildred DiNapoli. Her real name was Anna Maria Louise Italiano. Although she won an Oscar for The Miracle Worker in 1962, it was her role as Mrs. Robinson in The Graduate (1967) that fans today remember most.
Robert Blake (1933 – )
From 1975 to 1978 he starred as Detective Tony Baretta in the series Baretta, but it was his personal life that took precedence in 2001 when he was arrested and tried for the murder of his wife. He was acquitted in a trial that made world headlines. Blake was born in New Jersey as Michael James Gubitosi to Italian parents Giacomo Gubitosi and Elizabeth Cafone.
Ernest Borgnine (1917 – 2012)
McHale's Navy fans loved Borgnine as Commander McHale from 1962 to 1966. In 1955 he was a surprise winner of the Best Actor Oscar for his performance in the title role of Marty. Born in Hamden, Connecticut to Italian parents, his birth name – Ermes Effron Borgnino.
Lorraine Bracco (1954 – )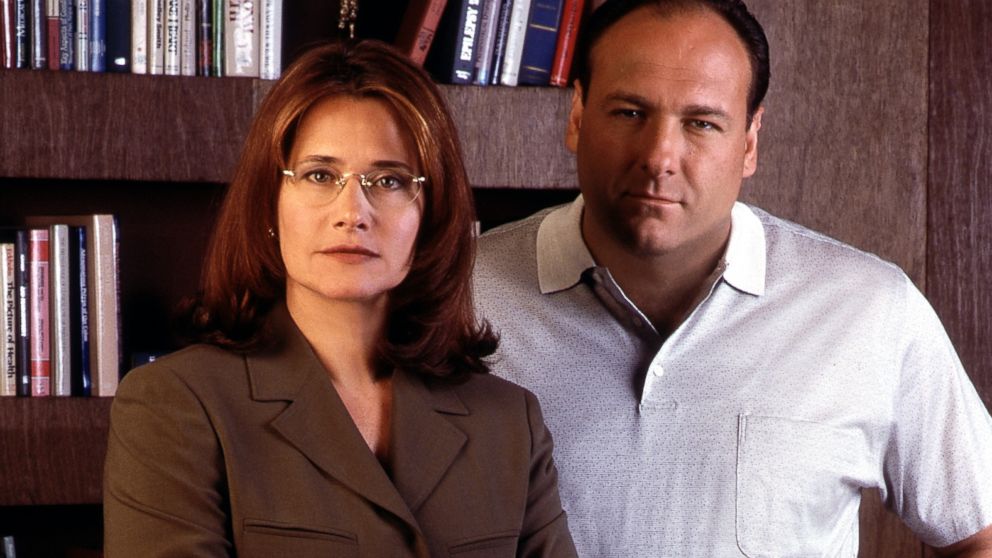 with James Gandolfini in The Sopranos
Brooklyn-born Lorraine is well-known to fans of The Sopranos as Dr. Jennifer Melfi, Tony Soprano's shrink. Her mother had French parents but met her father, an Italian named Salvatore Bracco Sr, in England during the Second World War. They migrated to the USA soon afterwards.
David Caruso (1956 – )
Caruso plays Lieutenant Horatio Caine in CSI: Miami and also Detective John Kelly in NYPD Blue. His father, Charles Caruso, was part Irish and part Sicilian. David's red hair presumably hailed from the Irish side of the family. He was born in Queens; his father deserting him and his mother when the boy was two years old.
Lou Costello (1906 – 59)
The funny half of Abbott & Costello was born Louis Francis Cristillo in Paterson, New Jersey to Sebastiano Cristillo, an Italian from Calbria, and a mother of Italian, French and Irish ancestry. Most fans assumed that his partner Bud Abbott was more than likely of Italian descent, but he was as American as apple pie.
Richard Crenna (1926 – 2003)
In the 'Rambo' films Crenna played Colonel Trautman, but his career spanned several decades. It included years on radio as well as a stint in the US Army as a radioman during which he saw action in the Battle of the Bulge. Both his parents were of Italian descent, his father being Domenick Anthony Crenna, his mother Edith J. Pollette.
Yvonne de Carlo (1922 – 2007)
as Lily Munster
Yvonne was born Margaret Middleton in British Columbia. Her father was an Australian salesman who abandoned the family when Margaret was three. Her mother had an Italian father, a man named Michele de Carlo from Messina, Sicily. Yvonne was a great screen beauty in her prime yet most TV fans will remember her only as playing Lily Munster in the popular sixties series The Munsters.
Beverly D'Angelo (1951 – )
with Chevy Chase in National Lampoon
Vacation
Beverly was nominated for a Golden Globe for her portrayal of Patsy Cline in Coal Miner's Daughter (1980), but most movie fans, probably to her disappointment, would recognize her because of her role as Ellen Griswold opposite Chevy Chase in the National Lampoon Vacation series of films shot between 1983 and 2015. She came out of Columbus, Ohio, the daughter of a violinist and an Italian bass player named Eugene Constantino D'Angelo. Her Italian ties have always remained strong, having married an Italian man and lived in a relationship with Al Pacino for seven years.
Vincent Edwards (1928 – 96)
as Doctor Ben Casey
Back in the sixties the chances of anyone in the western world not having heard of Doctor Ben Casey would have been remote. Ben Casey was one of the hottest shows on television and Vincent Edwards as the star was a face and name known to all. He hailed from Brooklyn, the son of an Italian-American bricklayer named Vincento Zoine.
Anjelica Huston (1951 – )
in Prizzi's Honor
Anjelica was born in Santa Monica, California. Her father is the famous movie director John Huston, her mother a former prima ballerina named Enrica Soma. She was from New York City but of Italian descent. Anjelica won an Oscar for her performance in Prizzi's Honor (1985). From 1973 until 1989 she lived with actor Jack Nicholson.
Ashley Judd (1968 – )
in Double Jeopardy
Ashley's mother is the well-known country singer Naomi Judd. Her father is a marketing analyst for the horse-racing industry, a man of Italian descent named Michael Charles Ciminella. Her paternal grandfather was a Sicilian. She has made many fine films, among them the very popular Double Jeopardy with Tommy Lee Jones. From 2001 until 2013 she was married to racing driver Dario Franchitti.
Bruno Kirby (1949 – 2006)
in City Slickers
Bruno first came to prominence playing the young Peter Clemenza in The Godfather: Pt II in 1974, but his most popular role was as Ed Furillo in the very funny City Slickers (1991). Another native of New York City he was born Bruno Giovanni Quidaciolu Jr to an Italian father. Bruno died in 2006 from complications related to leukemia.
Penny Marshall (1943 – )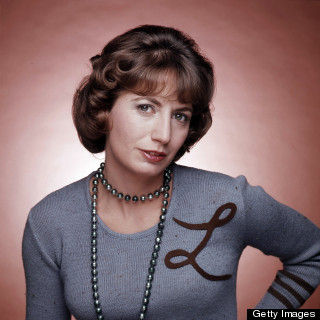 as Laverne DeFazio
To baby boomers Penny Marshall will forever be known as Laverne DeFazio, one half of Laverne & Shirley, an enormously successful TV series that ran from 1976 until 1983. In the decades since then she has become an accomplished director (as indeed her brother Garry has), with credits such as Big (1988), Awakenings (1990) and A League of Their Own (1992). Her mother ran a tap dancing school, her father was Anthony Masciarelli and hailed from Arbruzzo, Italy
Victor Mature (1913 – 99)
in Samson & Delilah
Pictures such as My Darling Clementine (1946), Kiss of Death (1947) and Samson & Delilah (1949), to name but three, made Victor Mature a screen heart-throb in the forties. He was still going strong throughout the fifties in movies such as Million Dollar Mermaid (1952), The Robe (1953) and Demetrius and the Gladiators (1954). His list of conquests was as long as any screen idol's and included an engagement to Rita Hayworth. Vic's father was Marcello Gelindo Maturi from the town of Pinzolo in what is now Trentino in Italy.
Susan Sarandon (1946 – )
One of filmdom's most recognized faces is that of the quite brilliant Susan Sarandon. She won an Oscar for Dead Man Walking (1995) and has been most unlucky not to have added to it with her other four nominations – Atlantic City (1980), Thelma & Louise (1991), Lorenzo's Oil (1992) and The Client (1994). Another New Yorker, she was born Susan Abigail Tomalin to an Italian mother, Lenora Marie Criscione, and her father, Phillip Leslie Tomalin.
Connie Stevens (1938 – )
as Cricket Blake in Hawaiian Eye
with Robert Conrad
Yet another native of Brooklyn, Connie arrived in this world as Concetta Rosalie Ann Ingoglia, daughter of an Italian-American musician who performed under the name of Teddy Stevens. From 1959 to 1963 she played Cricket Blake in the Warners TV series Hawaiian Eye and even found time to record a top-selling single titled Sixteen Reasons. She was briefly married to singer Eddie Fisher (1967-9) and their daughters, Joely and Tricia Leigh, have since established themselves in the acting profession.
These are but a few of the many actors and actresses from Italian background who have graced American movies over the last century or so. There are, of course, many, many more.