BROLIN, James                                SMITHERS, Jan                               1986 – 95 (div.)
                                                                STREISAND, Barbra                       1998 –
James Brolin
Jan Smithers
Barbra Streisand
James Brolin has been acting since 1961 and has over a hundred screen credits to his name. He never really became a big star, yet he will be remembered best for two quite popular pictures – Westworld in 1973 and Capricorn One in 1977. Fans of the supernatural might say The Amityville Horror (1979) was his most memorable effort, considering how strangely popular it turned out to be. He also co-starred in the highly rated TV series Marcus Welby, M.D. (1969-76).
James and Richard Benjamin in Westworld
He has been married three times. His first wife, a non-actress, died in a car crash in 1986, (apparently swerving to avoid a deer), shortly after their amicable divorce. Later that year he married pretty actress Jan Smithers who played Bailey Quarters in the TV series WKRP in Cincinnati (1978-82). Five years after the series folded she retired from acting and moved to Nova Scotia.
Jan in WKRP in Cincinnati
Brolin's third wife is none other than the staggeringly talented singer, actress, director and producer Barbra Streisand. Apart from being the best-selling female singer of the 20th century (68 million records sold), she has won every acting and singing award known to man. Given her notorious ego and temper, the fact that she and Brolin are still together after 18 years could be construed by some as nothing short of a minor miracle. Even a major one.
BROLIN, Josh                                  LANE, Diane                         2004 – 13 (div.)
Josh Brolin is the son of actor James. It would be fair to say that he is at least as accomplished as his father in the movie business, even more so, with credits of the caliber of No Country for Old Men (2007), Milk (2008) and W (2008). He was actually Oscar-nominated for Milk. Away from the screen he has been even more fortunate, marrying the superb Diane Lane in 2004. Unfortunately, they went their separate ways less than a decade later.
Josh in No Country for Old Men
Diane in Under the Tuscan Sun
Diane Lane has also been nominated for an Oscar (for her leading role in Unfaithful in 2002). The mystery is why she has not been recognized more than that, given that her father was an acting coach and she made her stage debut at the ripe old age of six. Her mother, by the way, was a Playboy centerfold (Miss October 1957), which accounts for Diane's looks. At 13, Sir Laurence Olivier described young Diane as 'the new Grace Kelly'. She was certainly beautiful enough, and a far better actress to boot. By the age of 18 she was a multi-millionaire. Affairs with actors Timothy Hutton and Christopher Atkins followed until, at 23, she wed another thespian Christopher Lambert. That lasted five years and produced a child. She had the lead in Pretty Woman (1990) sewn up until scheduling problems caused her to give it up to Julia Roberts.
BRONSON, Charles                         IRELAND, Jill                                  1968-90 (her death)
                                                                WEEKS, Kim                                    1998 – 2003 (his death)
Bronson in Death Wish
Charlie Bronson's career spanned 50 years and over 150 screen credits. He enjoyed great success, especially in three films now considered classics – The Magnificent Seven (1960), The Great Escape (1963) and The Dirty Dozen (1967). Later in his career he made far too many action films, among them Death Wish (1974) and four progressively worse sequels. In 1963 he turned down A Fistful of Dollars, so Sergio Leone asked Clint Eastwood instead.
Charlie and Jill
Charlie and Kim
David McCallum in The Great Escape
One of Bronson's co-stars in The Great Escape, David McCallum introduced him to his wife, British actress Jill Ireland. They married five years later and she appeared regularly in his movies, happy to have her own career play a very minor second fiddle to her husband's. Sadly, she contracted cancer and passed away in 1990. She was only 54. Ten years later Charlie was diagnosed with Alzheimer's disease. By then he was wed to his third wife, a minor actress named Kim Weeks who also adorned a couple of his films. It is truly sad to imagine such a wonderful man of action suffering from Alzheimer's at the end. He died in 2003 at the age of 81.
BROSNAN, Pierce                            HARRIS, Cassandra                         1980-91 (her death)
From the moment Pierce Brosnan turned around in the front seat of the IRA's car in The Long Good Friday (1980), and leveled his revolver at Bob Hoskins character in the back seat, you just knew he was going to be a big star. Maybe it was the self-confident smirk and the casual gum-chewing, but the guy had 'star material' written all over him. Many fans today consider him the best of the Bonds, possibly the only threat to Sean Connery for that title. Interestingly, if you watch his first Bond film (Goldeneye in 1995) and then watch his fourth one (Die another Day in 2002), you will virtually see two Pierce Brosnans. In Goldeneye he weighed in at 164 kilos (the lightest Bond ever), and in Die another Day, seven years later, he had stacked on forty-seven kilos to be the heaviest 007 ever at 211 kilos!
in The Long Good Friday
in Goldeneye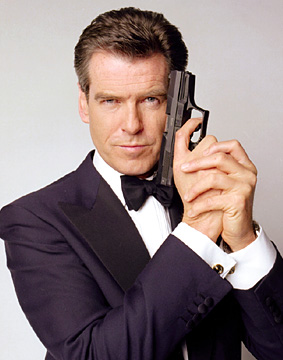 in Die Another Day
In 1980, Australian-born Cassandra Harris introduced her new husband (Pierce) to the James Bond franchise producer Albert 'Cubby' Broccoli on the set of For Your Eyes Only, a Roger Moore 'Bond' film in which she had the small part of Countess Lisl von Schlaf. She had previously been married to Dermot Harris, the brother of Irish star Richard Harris. Tragically, her marriage to Brosnan was cut short when she contracted ovarian cancer and passed away one day after their eleventh anniversary in 1991.
BROWN, Bryan                                WARD, Rachel                                  1983 –
Bryan Brown is the quintessential 'Aussie' actor. Whereas most other antipodes actors adopt a 'mid-Atlantic' accent to disguise their Australian origins, he has always retained his Aussie twang. And that says a lot for the man's self-belief. Born in New South Wales in 1947, he is extremely proud of being an Australian and has never felt he fitted into the American way of life. 'In America I would never be able to make myself a person who could contribute. I wasn't interested in that society; I was interested in this society.'
Bryan & Rachel in The Thorn Birds
Rachel in Sharky's Machine
His beautiful wife, actress Rachel Ward, is ten years his junior and English, an Oxfordshire girl. She and Bryan met on the set of The Thorn Birds in 1983 in which they were portraying husband and wife – and they have been doing so ever since. Any heterosexual male movie fan who happened to see her in Burt Reynold's overly violent Sharky's Machine in 1981, is probably still getting hot flushes over the experience. I know I am – because she was sensational! The fact that Bryan managed to woo and win her has much to do with my enormous respect for him, if not as an actor, then surely as a 'bird-catcher' of exceptional taste and judgment. If that sounds a little sexist, I (most reluctantly) apologize. In my defense, all I can say is that I hail from a generation that truly admires women for their beauty and appeal, and is not afraid to say so. If that is now deemed to be 'politically incorrect', well – so be it. There is something terribly wrong when waxing lyrical about the inherent beauty of a rose is acceptable, yet expressing similar thoughts about a stunning member of the female gender is condemned as both sexist and un-acceptable. Who the hell decides these things for the rest of us, anyway?