In 1944, 20th Century Fox made a movie, a re-enactment about four Hollywood actresses/singers/dancers during World War Two, who traveled to England and North Africa and entertained the American troops stationed there. Of course, there were plenty of USO tours throughout the war, but it was unique to have an all-girl group risking their lives in this way. The four ladies who took part for real (and in this re-enactment) were Kay Francis, Carole Landis, Martha Raye and Mitzi Mayfair. Unsure if they had enough clout to carry a film on their own, Fox included performances from top flight stars including Betty Grable, Alice Faye, Carmen Miranda, Dick Haymes, George Jessel and Jimmy Dorsey and his orchestra. Phil Silvers provided a comedic element.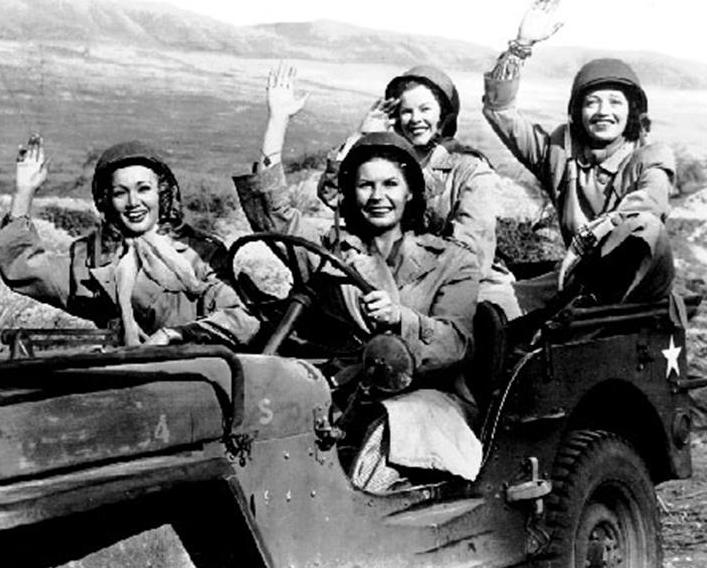 The movie itself is only so-so, but as a piece of history, albeit a rather corny Hollywood interpretation of it, it is priceless nostalgia. Just recently Four Jills in a Jeep has become available on DVD and I purchased it right away. I have long been an admirer of the tragic Carole Landis and have always wanted to see her in this. In many ways it is her signature movie, for it epitomizes her determination from the war's outset to do whatever she could to play some part in helping her country emerge from it triumphant. Fox never utilized her natural talent as it could have and should have. She was a fine singer and a dazzlingly beautiful, statuesque blonde with a heart of gold and a nature that was both friendly and demeaning. Sadly, she seemed to always marry the wrong types, men who resented her desire to continue her acting and singing career, ultimately leading to one divorce after another. Her wartime wedding to Captain Wallace of the USAAF seemed to be a match made in heaven, yet it, too, did not produce the happy home life she craved.
1943 – Carole's wedding day to Capt. Wallace
Even this movie's release did her reputation more harm than good. For some reason it was judged by much of the American public to be an exercise in 'self-praise', a grossly unfair and unkind assessment, especially when we consider the damage inflicted on Carole's health by her tireless traveling throughout the Pacific theatre of war. At great personal risk she volunteered to entertain troops in the tropics, suffering bouts of amoebic dysentery, malaria and near-fatal pneumonia along the way. If the average fan was asked who he or she thought had spent the most time overseas during WW2 entertaining troops, chances are the name of comedian Bob Hope would come up the most. Given the man's flair for self-promotion that comes as no surprise, yet few people accused him of indulging in 'self-praise'. The fact that his 'shows' down the decades in all theatres of war earned him millions from the networks seems to have slid by un-noticed as well. In fact, it was the much-maligned Carole Landis, not Mr. Hope, who spent more time visiting troops overseas in World War Two than any other Hollywood star. 'We had a wonderful time everywhere overseas', she said. 'But it was hard. For five months, we never gave less than five shows a day. It was too cold to sleep nights and there wasn't water enough to take a bath. I had to do my own washing. And I ate more sand and fog, than food.'
L-R: Carole, Mitzi Mayfair, Kay Francis & Martha Raye
Carole's pitiful attempts to find true love saw her marry five times in her brief 29 years of life. Her first trip to the altar, in 1934, was annulled almost at once (she was only fifteen). Then, in August of the same year, she married the same guy again! Five years later they divorced. Marriage number three, in 1940, lasted just four months. That particular husband, incidentally, would be stabbed to death by his sixth wife some 30 years later. In 1943, while touring with the USO, Carole fell deeply in love with Captain Thomas Wallace and married him in 1943. That union lasted just over two years, and probably ended because Carole did not wish to give up her career. She was in the throes of divorcing her fifth husband when she took her own life in 1948.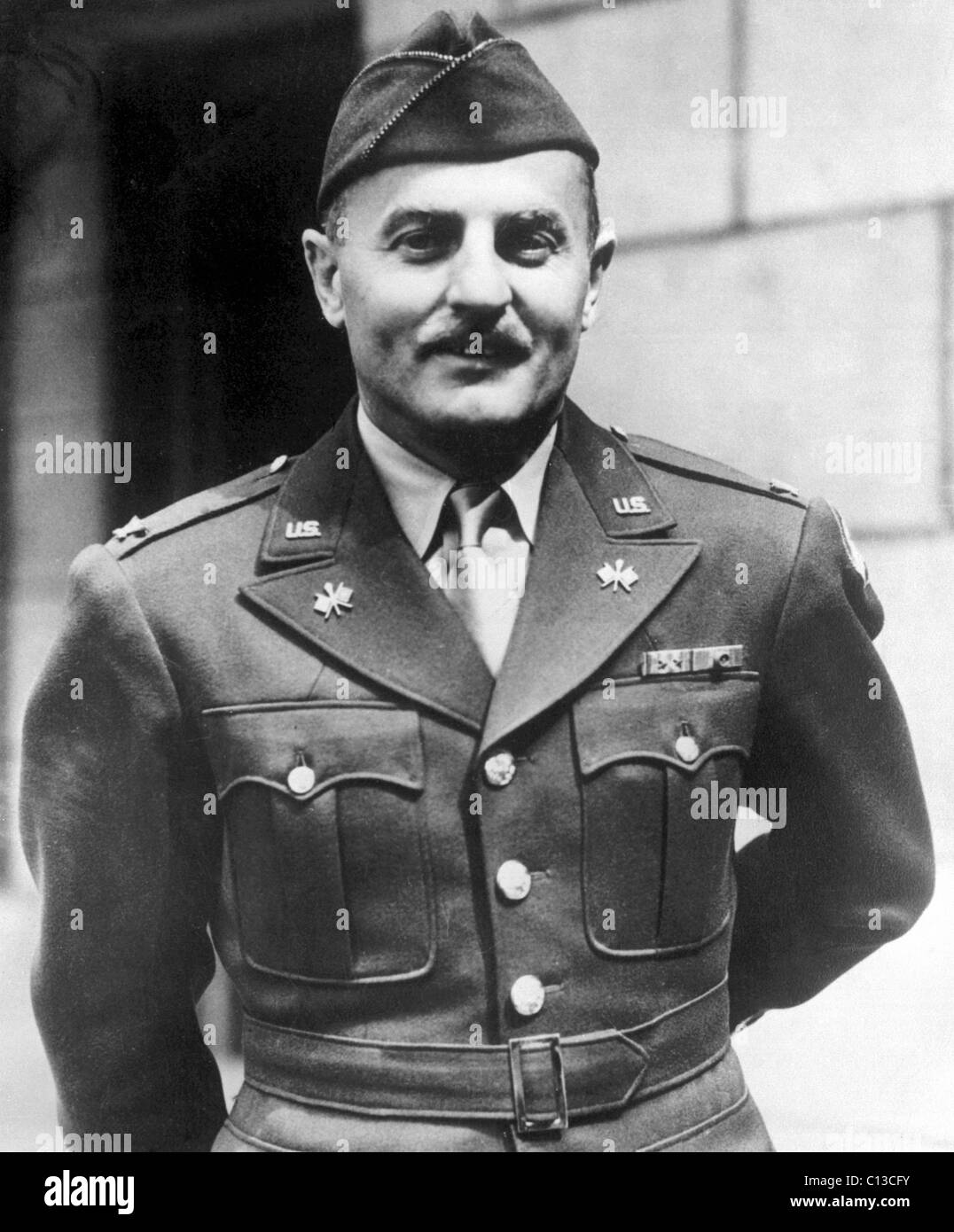 Lt. Col. Darryl F. Zanuck in WW2
Kay & Carole at the 1943 wedding
Stories were rife in Hollywood of her being one of Darryl F. Zanuck's '4 o'clock girls'. She and Kay Francis were also rumored to have been lovers during the USO touring. Kay made no bones about her many lesbian affairs when she was on Broadway, but ceased to reveal further romances once she settled in Hollywood. Carole's desperate need for affection may very well have been filled by Miss Francis on occasion, but it appears that her doomed liaison with British actor Rex Harrison may have been the final straw for the 29 year-old actress. She had once remarked on the suicide of troubled actress Lupe Velez: 'I know how Lupe Velez felt', she said. 'You fight just so long and then you begin to worry about being washed up. You fear there's one way to go and that's down.' Carole had always feared turning 30, convinced that if a girl had not made it to the top by then, it was already too late. Perhaps, Harrison's refusal to consider divorcing his wife to marry her tipped Carole over the edge that evening. Perhaps this, coupled with her desire to have children and her inability to have them, (she suffered from endometriosis), plus her manic depression, all drove her to take her own life. For years Carole's mother and daughter tried to find evidence to connect Harrison with her death, but never succeeded in doing so. They maintained until the end that she would never have committed suicide, that she was, in all probability, murdered, and that the Englishman was the most likely suspect. Her certainly discovered her body and he , more than likely, destroyed a box of love letters of theirs, but there is nothing at all that even remotely indicates anything more than that.
A rare shot of Harrison and Carole
Over the years there have been millions of words written about the tragic life and death of Marilyn Monroe, yet next to nothing about Carole Landis's equally tragic end. While both deaths are sad indictments of the pursuit of fame and fortune at the expense of personal happiness, Carole's is, to me, the sadder of the two. Why? Simply because she seems to have been a genuinely kind and generous person. Many, many individuals have testified to Marilyn's self-absorption, her disregard for the feelings of others on many occasions, and her willingness to trade sexual favors in order to advance her career whenever she felt it necessary. Carole, on the other hand, appears to have been remembered with real love and friendship by just about everyone who came in contact with her. Of the two ladies, she comes across as totally unselfish, generous, self-sacrificing and kind-hearted. She had her faults, of course, but how many of her failed relationships were merely a desperate search for the right man?
Marilyn has now become part of history, the ultimate example of the Hollywood system devouring a naïve, innocent girl. Well, she was many things to many people, but 'naïve and innocent' were not among them. Even so, most people feel sorry for her, while those that have actually heard of Carole Landis consider her to be little better than a trollop who was responsible for her own unhappiness. It really is time that some of the mountains of sympathy and understanding heaped on Marilyn Monroe be allowed to spill over onto poor Carole Landis. At least Marilyn realized much of her dream. She made a lot of fine movies. Her legacy is intact, whereas Carole's dreams never reached fruition. Not on the screen nor off it. Hers is the sadder tale. The rather lame Four Jills in a Jeep is not much of a legacy, but it will have to do. Lovely Carole Landis deserved better.