IRINA DEMICK (1936-2004)                      
Irina was born Irina Dziemiach to Russian/Polish parents in France in 1936. She became a highly paid model, appeared in a French film, then met Hollywood movie mogul Darryl F Zanuck, a notorious womanizer who quickly seduced her and put her into his blockbuster war film The Longest Day. Of course, Irina was just another of his baubles, following hard on the heels of Juliette Greco and Bella Darvi, and preceding another stunning model named Genevieve Gillaizeau.
Irina in The Longest Day (1962)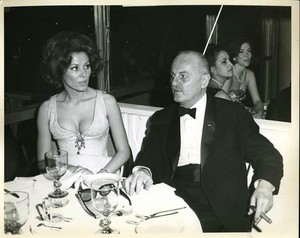 Irina dining with Darryl Zanuck
Irina played the small role of a French Resistance fighter in The Longest Day. Whether she could act or not was quite immaterial to most young male movie fans (myself included). It was enough just to look at her, not just in this picture, but also in the delightful comedy Those Magnificent Men in their Flying Machines, in which she played no fewer than seven parts. Her screen roles were few, however. Sadly, her role as Zanuck's mistress drew more attention than did her acting. Inevitable, he tired of her and moved on to other young things. Irina wed a Swiss entrepreneur in 1964, the marriage lasting fifteen years. In 2004 this enchanting Frenchwoman passed away at 67.
In Those Magnificent Men…
PEGGIE CASTLE (1927 – 73)                                
Recently, I saw Peggie Castle for the first time. It was a 1955 Korean War picture called Target Zero. It was not much of a movie and I did not see it through to the end, but what I saw of Peggie intrigued me enough to research her career and life. Sadly, her story did not end happily for she developed a severe problem with alcohol that resulted in her death at 45 from cirrhosis of the liver in 1973. Four years earlier she had attempted to kill herself by slashing her wrists and ingesting a huge amount of barbiturates. The attempt landed her in a Californian state hospital for alcoholics. Unfortunately, once she was released she slipped back in her rehab until her tragic, almost inevitable, end.
Audie Murphy
According to Hollywood folklore, she was discovered in 1949 by 20th Century Fox, dining on a shrimp cocktail in the seafood bar of the Farmer's Market in Los Angeles. A screen test followed, but it was Universal who signed her that same year. A cynic might be inclined to believe that her father being a studio manager at Goldwyn Studios may have had something to do with getting her foot in the door. He later became Donald O'Connor's business manager. A few words from Peggie's then boyfriend Audie Murphy may have assisted her to land the contract with Universal. She stayed there until 1954 and then chose to freelance. Although she married her first husband at 19, they soon became estranged and she and war hero Murphy became an 'item' for about a year until she reconnected with her spouse. But they divorced that same year. She and Audie went their separate ways as well.
Throughout 1949-50 the studio did its usual thing, promoting its new starlet via the time-honored practice of announcing to the press that she had been voted 'Miss something or other'. In Peggie's case there were more than one of these idiotic titles – 'Miss Cheesecake', 'Miss Three Alarms', 'Miss Jet Job', and 'Miss Classy Chassis'. Along with other up and coming starlets, Piper Laurie, Mona Freeman, Barbara Payton and Barbara Bates, she was given yet another 'title', that of 'Baby Star'. And the public lapped it up, of course.
with Peter Brown and John
Russell in Lawman (1959-62)
Peggie's 57 screen credits were not all television and B-Grade westerns and dramas. She scored a decent part in Bette Davis's comeback film Payment on Demand, (released after All about Eve), playing her daughter, and the lead in I, the Jury (1953) opposite John Payne. She was also highly billed in Miracle in the Rain (1956) and Seven Hills of Rome a year later. In 1959 she commenced three years' regular work playing a saloon-keeper in the popular TV series Lawman. A singing saloon-keeper at that. 'Good heavens', she said. 'I'd never sung in my life. Not even in the bathtub, and all of a sudden I find myself singing in about every third episode of the program.'
By 1955 Peggie was on her third husband, assistant director Bill McGarry. They remained together until 1970. By then her alcoholism had become a major problem, yet she married again, this time to 39 year-old Arthur Morgenstern who unfortunately died in April 1973. Just over three months later Peggie, too, died – at McGarry's apartment. The couple were working on a reconciliation that never happened. She became just one more Hollywood statistic, another beautiful young woman who succumbed to booze or drugs at an early age.
FIELD, Virginia  (1917-92)                              
Virginia was a drop dead gorgeous British blonde who, according to most historians, shot her career in the foot via her penchant for saying what she felt about whomever she felt warranted a personal 'put-down'. Born in London in 1917, she was signed by 20th Century Fox after she stood in for another actress at a screen test as a favour. Columnist Walter Winchell gave her profile a huge boost by describing her as 'the most beautiful blonde in the world', yet she never made it to the top of the pile. In fact, she did not even come close. She was talented, had personality, beauty and opportunity, but she also had a big mouth.
Virginia and Vivien Leigh in Waterloo Bridge
Loretta Young was a big star when the lowly Virginia had this to say about her: 'She was, and is, the only actress I really dislike. She was sickeningly sweet, a pure phony. Her two faces sent me home angry and crying several times'. She also described musical star Betty Hutton as 'moody'. When David O. Selznick made a pass at her she hit him over the head with a decanter! Clearly, Virginia did not believe in playing the Hollywood game.
Willard Parker
In 1940 she landed the role of Kitty, the best buddy of Vivien Leigh's character in the romance starring Robert Taylor, the still popular Waterloo Bridge. In 1942 she married the rather homely Paul Douglas, but the union faltered when he learned she was cheating on him with actor/director Dick Powell. She separated from her second husband after just three months, but union number three to actor Willard Parker was the real deal, lasting forty years until her death from cancer in 1992. Virginia Field's career was very much a case of 'what could have been', if only she had kept her opinions to herself.