They say that movie 'chemistry' strikes every now and then, and when it does it lights up the screen. The people that make these kinds of decisions are forever mixing and matching, trying to find a combination that just 'clicks' with audiences. And it does not always have to be a guy and a gal. 'Buddy' pictures (male or female) achieve the same result – big box-office bucks. With that in mind, I racked my tiny brain and came up with 6 'doubles' that I personally enjoyed. Some of them may not be examples of brilliant acting, maybe none of them, come to think of it, but all six have one thing in common – they made me feel good. So, in no particular order, here they are:
Cary Grant & Audrey Hepburn in Charade (1963)
This thoroughly enjoyable romantic comedy mystery owes its appeal to the interaction between the two leads, even though Cary turned 59 during filming and Audrey was just 33. To his credit, Grant was well aware of the age disparity and was uncomfortable with a script that had him looking like a dirty old man lusting after a pretty young woman. So, he hit upon an idea. What if all the flirting and chasing was done by Audrey while he was trying to keep her at arm's length? They tried it and it worked beautifully. Cary was transformed from a dirty old skirt-chaser to an elderly gentleman positively oozing integrity. And the result was a terrific romance – comedy – mystery – thriller that has not aged an iota since 1963.
Kirsten Dunst & Michelle Williams in Dick (1999)
Perhaps, it's the historian in me, but I really like this spoof. The idea that two air-headed teenagers could, by accident, become entangled in the Watergate incident and emerge as (of all things) 'Deep Throat', the FBI informer credited by Woodward and Bernstein of the Washington Post as their undercover source, is a priceless concept. The writers have a ball weaving the girls into history, but it is the delicious performances by Kirsten and Michelle that set this picture above your average teenager flick. Furthermore, it is done tastefully, which in itself is a rarity these days. Kirsten was 17 and Michelle nearly 19 when they portrayed a couple of 13 year-olds here, and they are terrific.
Joe Pesci & Marisa Tomei in My Cousin Vinny (1992)
As a rule I have little time for scripts that are full of expletives, but with My Cousin Vinny I make an exception. Why? Because it is bloody funny from beginning to end! In fact, I cannot really recall another film ever that had me laughing so often. Joe Pesci was responsible for most of the comedy, but the fabulous Marisa Tomei is perfectly cast as his wiseacre girlfriend. She swears a bit too, but she is so natural with it (and so lovely to look at), that I found myself saying, 'So what?' and just going along for the ride. I realize that appreciation of comedy is a very individual thing. I love this movie. You may very well hate it. After all, there are an awful lot of people who think Adam Sandler and Will Ferrell are hilarious, whereas I find them as about as humorous as a trip to the dentist!
Tommy Lee Jones & Robert Duvall in Lonesome Dove (1999)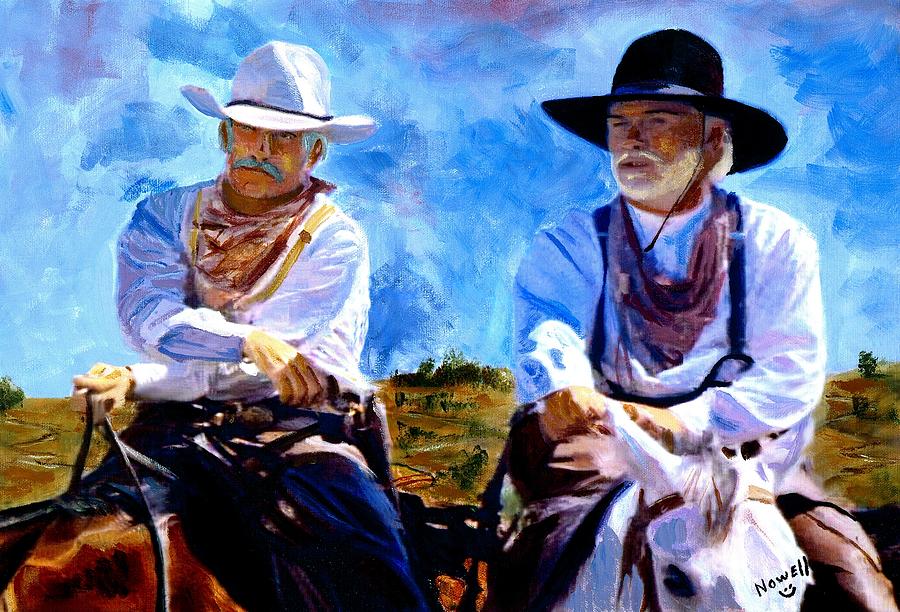 I know, I know, Lonesome Dove is not technically a movie – it's a mini-series. Well, in my mind it is a very long movie, so there! It is also one of the truly great productions in the history of the cinema. It is that good. It contains some of the most superb characterizations I have ever had the pleasure of watching. I refer to the likes of Diane Lane, Danny Glover, Robert Urich, Frederic Forrest, D.B. Sweeney, Barry Corbin and the wonderful Chris Cooper, just to name a few. But the standouts in a standout cast are undoubtedly Tommy Lee Jones and Robert Duvall. They are nothing short of astonishing throughout the six and a half hours of this landmark western. I have no idea if the two stars got along during the production, but they sure as hell came across as lifelong friends despite their entirely opposite characters. I am forever hearing how wonderful Game of Thrones is, and I have had a couple of cracks at it, but could not get into the thing. Maybe, it's a younger generation series. Well, Lonesome Dove is an older generation thing, for those who appreciate superb writing and utterly believable characterizations. And for those who like to see two out and out pros strut their stuff.
Peter O'Toole & Audrey Hepburn in How to Steal a Million (1966)
I should state at the outset that I am not a great fan of Peter O'Toole, except for Lawrence of Arabia (one of my favorite films), and this light comedy. He is a bit too 'stagey' for me. Audrey, on the other hand, could feature in a K-Tel ad and I'd watch her! I watched this picture again yesterday (about the 10th time in my life, I would say), and I found it even more enjoyable than the previous nine. It kind of grows on you, and so (surprisingly) does O'Toole. Of course, it could be that Audrey could make anybody dazzle when placed alongside her, but I am more inclined to believe that they made a highly suitable screen couple. Pity they did not make more pictures together. I am always rather bemused when I read all the glowing appraisals of Audrey in Breakfast at Tiffany's, while this film hardly even rates a mention. Why she should have been cast as a hooker in the Tiffany's picture almost defies belief. The cinematic equivalent of casting Mamie van Doren as Mother Superior!
Kevin Bacon & Fred Ward in Tremors (1990)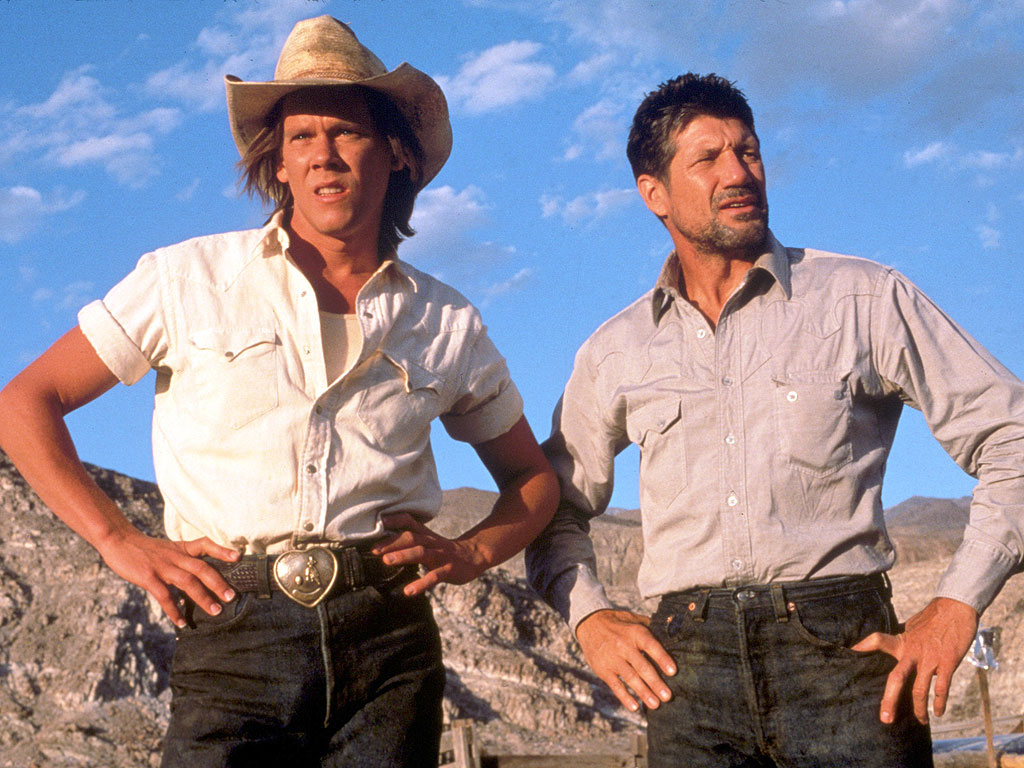 This might seem like a pretty strange choice given the apparent genre. Actually, the DVD cover for Tremors instantly turned me off the picture because, frankly, horror flicks leave me cold. One glance at those gaping jaws and I said, No thanks', and took no further notice. Until it came on TV while I was occupied writing, and my wife insisted on watching it. To my pleasant surprise, Tremors was not a schlock pic at all; it was a thoroughly enjoyable, tongue-in-cheek romp featuring two leads who seemed to be having a great time. So, like millions of other fans of Tremors– I joined in. If you discard that abominable Footloose, Kevin Bacon has made some fine films. Fred Ward has always been good to watch without rising to the top of the heap. Together they are good fun. Just why I go to the movies.