BOW, Clara                          Bell, Rex                                 1931 to 1962 – (his death)
Clara was just about the hottest property in Hollywood in the Roaring Twenties, especially after starring in It in 1927. Previously known as 'The Brooklyn Bonfire', she suddenly found herself with a brand new nickname – 'The It Girl'. She led a raucous private life and had many lovers, but the coming of sound, combined with a devastating court case that revealed details of her sex-life, resulted in her turning her back on the high life. She married cowboy star Rex Bell in 1931 and retired to private life on their property called 'The Walking Box Ranch' in Searchlight, Nevada. She was only 26 and Rex 28. In 1954 he was elected Lt. Governor of Nevada and was running for Governor eight years later when he died from a heart attack. A heart attack took Clara just three years later.
BOXLEITNER, Bruce         GILBERT, Melissa               1995 to 2012 (div.)
Melissa as Laura Ingalls
With Rob Lowe in the 80s
Bruce as President Sheridan
Bruce Boxleitner became known worldwide when he spent four seasons playing opposite Kate Jackson in the TV series Scarecrow and Mrs. King from 1983 to 1987, and then for his five season stint as President Sheridan on Babylon 5 (1994-98). His first wife was a minor actress named Kathryn Holcomb, the union lasting a decade and producing two children, and it was she who introduced him to her successor Melissa Gilbert. As a 10 year-old she gained international fame portraying Laura Ingalls Wilder in TV's smash hit series Little House on the Prairie (1974-83). In the eighties she was involved in a lengthy relationship with heartthrob Rob Lowe. It appears they may even have been engaged for a while.
BOYER, Charles                   PATERSON, Pat                   1934 to 1978 (her death)
Boyer & Bergman in Gaslight
Frenchman Charles Boyer was one of the screen's great lovers. Even though he was a star during the silent era, once sound arrived his career took a giant leap upwards as female fans around the globe became seduced by his soft, French-accented exhortations of love. His heavy-lidded eyes gave him a kind of Valentino look as well. The famous quote – 'Take me to the Casbah' has forever been attributed to him, even though he never said it in any of his pictures. Charles was anything but a lothario in real life. In 1934 he married an English B-grade actress named Pat Paterson and, unlike most big stars of the time, spent the rest of his life with just one love. He openly confessed to being a willing casualty of 'love at first sight'.
Equally unusual for a matinee idol, Boyer did not have a vain bone in his body. He wore a toupee in his films because the studio insisted, but away from the screen he refused to wear it in public. He was a bookworm and a happily married man. His friends described him as a 'stick in the mud'. He was nominated four times for an Oscar without winning, his most memorable role being opposite Ingrid Bergman in 1944's Gaslight. Charles and Pat suffered the loss of their 21 year-old son Michael in 1965. After quarrelling with a girlfriend, he played Russian roulette with a .38 revolver and shot himself dead. More tragedy followed in 1978 when Boyer's beloved Pat passed away. Two days later he decided life was not worth living without her. He joined her in death by overdosing on barbiturates.
BRACCO, Lorraine             OLMOS, Edward James            1994 to 2002 (div.)
Fans of The Sopranos (1999-2007) will instantly recognize Lorraine Bracco as the lady who played Tony Soprano's analyst, Dr. Melfi. In June 1999 she filed for bankruptcy, having spent everything she had on legal fees fighting a custody battle with her long-time boyfriend actor Harvey Keitel. A highly accomplished actress, she is fluent in no fewer than six languages – English, French, Spanish, Italian Arabic and Japanese.
Harvey Keitel & Lorraine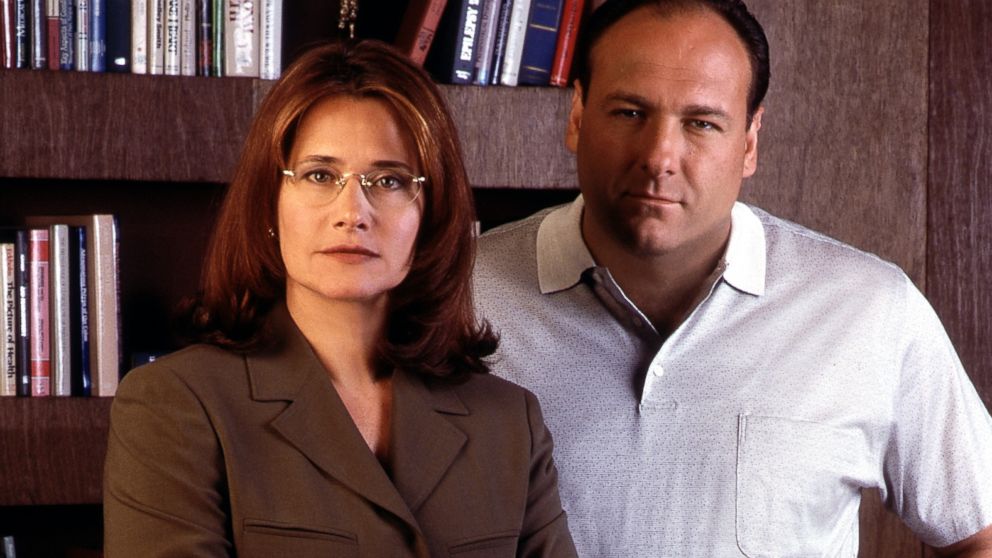 As Dr Melfi in The Sopranos
Olmos as Martin Castillo in Miami Vice
Her second husband was actor/musician/activist Edward James Olmos (Lt. Castillo in Miami Vice 1984-90), but they divorced in 2002. Olmos was once married to the daughter of musical star Howard Keel. During the 1992 Los Angeles riots over the Rodney King fiasco, Olmos courageously stepped out onto the street with a broom and began to sweep. He was joined on the street at 11 am by 400 others. It is generally conceded that his actions helped ease the situation and brought about an eventual cessation of hostilities.
 BRANAGH, Kenneth           THOMPSON, Emma            1989 to 1995 (div.)
Emma & Helena Bonham- Carter 1994
Branagh as Professor Lockhart
Emma and husband Greg Wise
Belfast-born Kenneth Branagh gave every indication that he might well be the next Olivier in the early nineties, but his career has not come on as expected. At 23 he became the youngest ever actor in the history of the Royal Shakespeare Company to play the lead in the Bard's Henry V. In 2000 he also became the youngest actor to ever win the Golden Quill (the Gielgud Award). Harry Potter addicts would know him as Gilderoy Lockhart. It is somewhat ironical that Branagh's ex-wife, Emma Thompson, has won two Oscars from her four nominations, while he has none from his four. It was his production of Mary Shelley's Frankenstein that led to the marriage break-up. Branagh became involved with actress Helena Bonham-Carter, Emma found out about it, and divorce followed. Emma has since met and married Greg Wise (Willoughby in Sense and Sensibility (1995). The fell in love on the set of that film in the same year as Emma's divorce was finalized.
 BRANDO, Marlon                KASHFI, Anna                      1957 to 1959 (div.)
                                                      MOVITA                                  1960 to 1962 (div.)
Brando and Anna Kashfi
Brando and Movita
With Tarita in Mutiny on the Bounty
Brando married three times. Anna Kashfi and Movita had movie careers; Tarita appeared only in Mutiny on the Bounty with him in 1962, so cannot really be classed as an actress. His acting career is common knowledge to most movie fans, so I shall focus on his acting wives here. Anna Kashfi made a few decent movies such as The Mountain (1956), Battle Hymn (1957) and Cowboy (1958), but she was really famous for marrying Brando and for the mystery surrounding her ethnicity. Born in Darjeeling, West Bengal, to Welsh parents, it did not take a Sherlock Holmes to figure out that one of her parents had to be Indian. In her autobiography she said that her father was an Indian named Devi Kashfi, yet both her Welsh parents denied this. Her son Christian would one day be incarcerated for murdering the boyfriend of his half sister Cheyenne.
Movita in Flying Down to Rio
Movita Castaneda was Brando's second wife. She was a Mexican-American, born on a train in Arizona, and was eight years older than her husband. Fans of Ginger Rogers and Fred Astaire might recall her first screen appearance when she sang The Carioca in Flying Down to Rio way back in 1933! She and Brando married when she was 44. Two years later she played a Tahitian girl in Mutiny on the Bounty. That same year he divorced her and then married his co-star in 'Bounty', Tarita Teriipaia. Both Anna and Movita died in 2015. Movita was 98 years old, Anna 80.