The 1934 picture Bolero teamed Carole Lombard and George Raft for the first time. True to Hollywood form they were soon embroiled in a steamy affair. Raft was renowned in Tinsel Town for being a 'sexual technician'. When asked by a reporter to name Hollywood's greatest lover, Carole quickly replied, 'George Raft'. Then, realising she had put her foot in it, she promptly inserted the other foot by asking, 'Or did you just mean on the screen?'
Raft & Lombard in Bolero (1934)
George became Norma Shearer's third lover after her husband Irving Thalberg died in 1936. Having restrained herself sexually for nearly a decade on account of Irving's frail health, Norma quickly made up for lost time. First up, she set her sights on Tyrone Power, but he did not fancy aggressive women and backed off at a hundred miles an hour. Undeterred, she embarked upon a six-week fling with 30 year-old Jimmy Stewart until he, too, took fright and beat a hasty retreat. Third in line was the notoriously randy 16 year-old Mickey Rooney. That boisterous romp was ended in no uncertain terms by L B Mayer. The last thing MGM (or LB) needed was for its walking gold-mine, Andy Hardy, to be sprung servicing a woman more than twice his age and a recent widow to boot!
Out dancing with Norma
The 'Queen of the Lot' was nothing if not broad-minded. If she was forbidden to seduce her ever eager teenager, perhaps an older man might satisfy her needs. Enter 44 year-old George. He was a survivor from New York's Hell's Kitchen and an intimate of some notable mobsters. He was an illiterate, a former prize fighter, a taxi-dancer and, according to a lot of star-struck women, one hell of a lover. George was married and broke when he took up with Norma. And she was loaded. Unfortunately, George was also married. When his wife demanded $500,000 for a divorce, most of which would have to come from Norma, the 'Queen of the Lot' turned his picture to the wall and hit the road.
Pals – 'Bugsy' & George
Many people in Hollywood did not trust Raft one inch. And with good cause. Howard Hawks believed he was sent out to California by the New York mob to 'carry a gun for the gangs'. This was pretty much confirmed when Raft hosted a welcoming party for mobster Benjamin 'Bugsy' Siegel on his arrival in the movie capital. Siegel was representing Lucky Luciano, Meyer Lansky and other mob bosses in their move to take over certain rackets on the west coast.
Raft & Cagney in Each Dawn We Die (1939)
According to Jimmy Cagney's autobiography, Cagney by Cagney, Raft used his clout with the mob to abort a hit on Jimmy who was President of the Screen Actors Guild at that time and bent on defying mob infiltration in the movie industry. The Mafia plan was to have a several hundred pound klieg light fall on the actor's head. Evidently, it was George who managed to get the hit cancelled. It would be bad for business.
Betty Grable and George
With Marlene Dietrich
He would go through a succession of celebrity lovers, prominent among them Marlene Dietrich and the teenaged Betty Grable, but his career never really took off like it should have. It is generally accepted that he proved to be his own worst enemy, turning down role after role that ultimately became hits for other people. Even George admitted later that his rejection of the leads in Casablanca and The Maltese Falcon severely hampered his career and turned his replacement Humphrey Bogart into a screen legend. George Raft lived out his final days as a host/greeter at mob clip joints.
 Johnny Depp & Winona Ryder
Winona Ryder is actually a natural blonde. Her hair was dyed black for the movie Lucas in 1986 and has remained so ever since. She has an interesting grounding in both sides of the religion issue. Her mother is a Buddhist and her father a confirmed atheist. Although she claimed to have lost her virginity to Johnny Depp in 1988 (when she was 17), her name had been romantically connected with Charlie Sheen, Robert Downey Jr and Rob Lowe before that. She and Lowe dated for two years (1986-8). After four years with Depp, Winona gathered a reputation as a bit of a man-eater from the early nineties, dating her Dracula co-star Gary Oldman in 1992, singer Chris Isaak, Christian Slater, David Duchovny, Daniel Day-Lewis and Matt Damon in the latter half of the decade. Her name was connected romantically with Val Kilmer in 2005 and Keanu Reeves in 2008.
With Keanu Reeves at the MTV Awards
There is no doubt that she shoplifted thousands of dollars' worth of clothes from Saks Fifth Avenue department store in Beverly Hills in 2001, but her prosecution by LA District Attorney Stephen Cooley reeked of overkill as he seemingly pursued his own agenda. Setting up a team of no fewer than eight prosecutors, he filed four felony charges and insisted on the trial being televised. It seems certain that Winona would have embraced any chance to plead 'no-contest' on misdemeanour charges had she been afforded the opportunity, but she was not. Prior to her prosecution over 5,000 other defendants on similar charges had been given that option. At the conclusion of the much-publicised proceedings she was found guilty of grand theft and vandalism but cleared of the third charge of burglary. She received three years' probation, ordered to complete 480 hours of community service and was fined varying amounts. In 2004 the felonies were reduced to misdemeanours. And not before time.
Winona in court
Winona with Courtney Love 2001
Courtney Love was the lead singer of Hole, and the wife of Kurt Cobain (of Nirvana fame.) There are still idiotic rumors floating around from Nirvana fans that Love was the one that took the life of the late singer.  The conspiracy theory probably gathered steam due to the fact that Love got a big stake in the Nirvana catalogue of songs. After Cobain's death she ended up spending way too much money and turned a big drug habit into an even bigger one that sent her into bankruptcy. As a result she had to sell her house and give up a piece of her stake in the catalogue. Hardcore Nirvana fans still don't feel too sorry for her.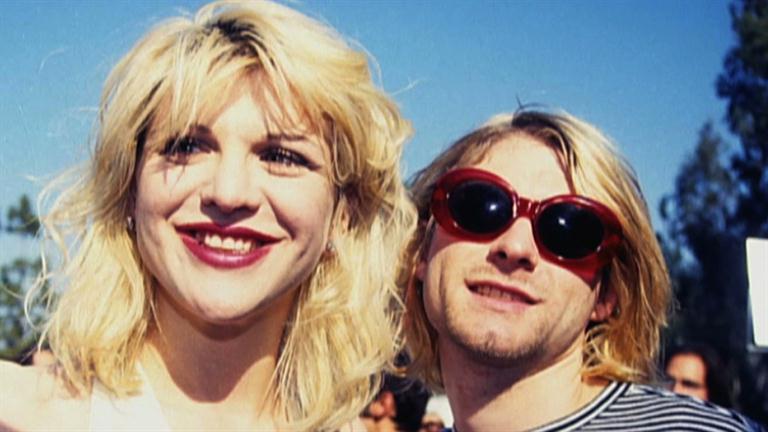 Courtney and Kurt
Once a close friend of Winona Ryder, Love did not help their relationship with comments such as: 'you're no-one in the rock industry unless you've feuded with me or slept with Winona Ryder.' With friends like that who needs enemies? In October 2003 she lost custody of her 11 year-old daughter Frances after being arrested on cocaine charges. 'Cocaine is like real evil coffee', she once advised the girl.